Data, conversions, optimization. These are words that are commonplace in any conversation surrounding ecommerce development and how we develop and execute digital marketing campaigns.
On data, ecommerce uses it as both fuel and fire; data generates insights for effective ecommerce strategies, and data-collection is a superpower of the platform. And conversions are the single-most concrete benefit they bring you in business.
Those said, it's hard to argue against the fact of permanence for ecommerce. It's a need for today's businesses, and it's one that will remain for years to come – regardless of its advantages and disadvantages.
Chapter 1
Introduction
Establishing an ecommerce business requires that you pay attention to a lot of details often neglected by most entrepreneurs. During the development phase, many tend to default to templated structures that prove to be too generic to benefit their unique business structures.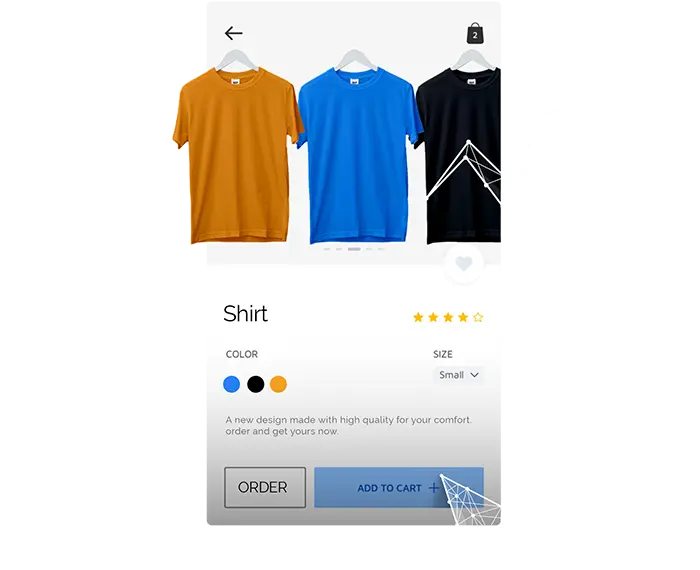 Ecommerce – a growing mammoth industry
Forbes estimates that the global ecommerce market will reach USD 6.3 trillion by the end of 2023. Recent data from eMarketer also reported that global online sales represented 18% (USD 4.28 trillion) of total retail sales in 2020 and is projected to grow to 21.8% by 2024.
But these figures don't just represent the opportunity businesses can achieve by going online. For us, we can take it as solid evidence of the growing and sustaining influence of ecommerce.
Driven by high internet and mobile penetration, accelerated ecommerce adoption (due to the COVID-19 pandemic), and favorable infrastructural developments, growth projections are tipping to the positive.
Contributing further to its acceleration is the nature of current online audiences towards ecommerce and the internet as a whole. In this, we specifically focus on Generation Z, or Gen Z, for short.
As an internet audience, Gen Z, in particular, is the embodiment of "digital nativity." Being born to an era where the internet is a societal norm, navigating the web comes natural and expected of them. Consumption of media – be it for entertainment, education, or otherwise – is normal for this generation. And it's true as well for consuming and purchasing goods.
Although due to limited purchasing power, Gen Z still spends less than other generations. Despite this, however, Statista reports that 28% of all purchases made by Gen Z in 2021 were made online. That's huge, considering that Gen Z now makes up at least 40% of all global consumers.
Ecommerce in the Philippines
Ecommerce is growing in popularity – and quick in the country. Thanks to widely popular marketplaces Shopee and Lazada, ecommerce acceptance has largely grown in the country.
In fact, both platforms were found to be one of the most popular ecommerce platforms in the country. Amazon, meanwhile, is just beginning to make waves.
We take this information as a sign of even greater acceptance of ecommerce, even – and particularly – for small-to-medium enterprises (MSMEs). However, ecommerce penetration in this sector has proven difficult thanks to a few hurdles.
As far as local MSMEs are concerned, ecommerce is still a budding industry because of lacking support in funding, technology, skills, and knowledge to implement, to name a few. The Department of Trade and Industry (DTI) estimated that the value of ecommerce growth can balloon to PHP 14.3 trillion or USD 285 billion by 2030, but without the adequate support, tapping into that remains a pipedream for many startups in the country.
All things considered, we encourage exploration of ecommerce for MSMEs as an avenue to ensure business survival and growth.
Empowering local businesses with ecommerce
But, as you may have guessed, ecommerce growth doesn't end at putting up shop online. In this moment, we think back to two key terms: conversions and optimization. The unfortunate reality is that, not many businesses know how to follow-up their ecommerce efforts with conversion optimization. Hence, after starting up, life expectancy of businesses shorten – rarely outliving ten years. This is largely due to lack of technical expertise, budget constraints, and even lack of infrastructure support from both private and public entities leave much to be wanted. Innovation will be the much-desired turnkey to open revenue floodgates, opening you up not just to business survival but, ultimately, growth, brand recognition, a constantly improving marketing strategy, and more. This guide, among others found on this website is here, thankfully, to help you tap right into the heart of that growth potential. Let's start by tackling some of the key trends that are pushing the growth of ecommerce beginning with social and mobile commerce.
Chapter 2
Trends shaping online commerce: Social and mobile commerce
As social media continues to enmesh with our daily lives, it's no surprise that commercial activity has also become integrated into these platforms. So much that it's becoming a key driver of online sales. How will the market and consumer behavior shift with the influential presence of social and mobile commerce and how can you plan for capturing? We take a look at that in this section.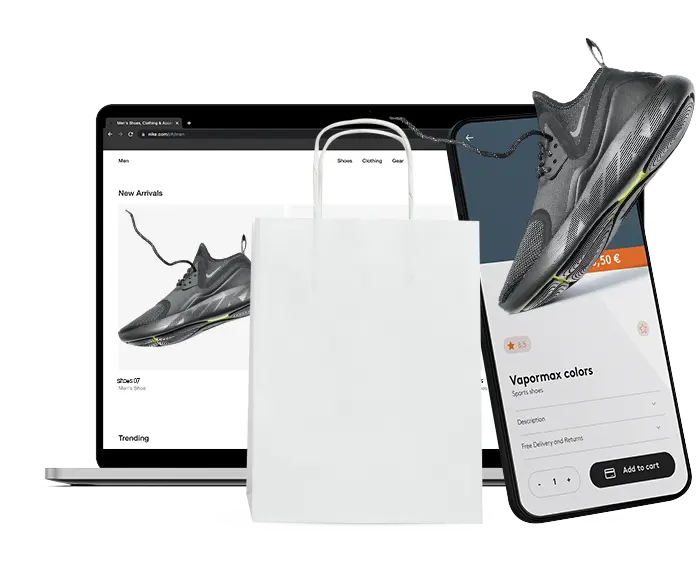 Technological advancements have helped open new doors for ecommerce in such a way that shopping exists where we didn't think to imagine.
On one hand, mobile devices that are getting smarter by the years, have allowed us to shop with just a few taps on our phone. On another, social commerce opens yet another door for commerce transactions to happen right as you seek to stay connected with friends and family.
With these developments, more businesses are empowered to grow with the ability to cast a wide net and capture their audiences at various touchpoints.
In this section, we'll explore these specific commerce channels and how they make sense among and with other online channels and strategies.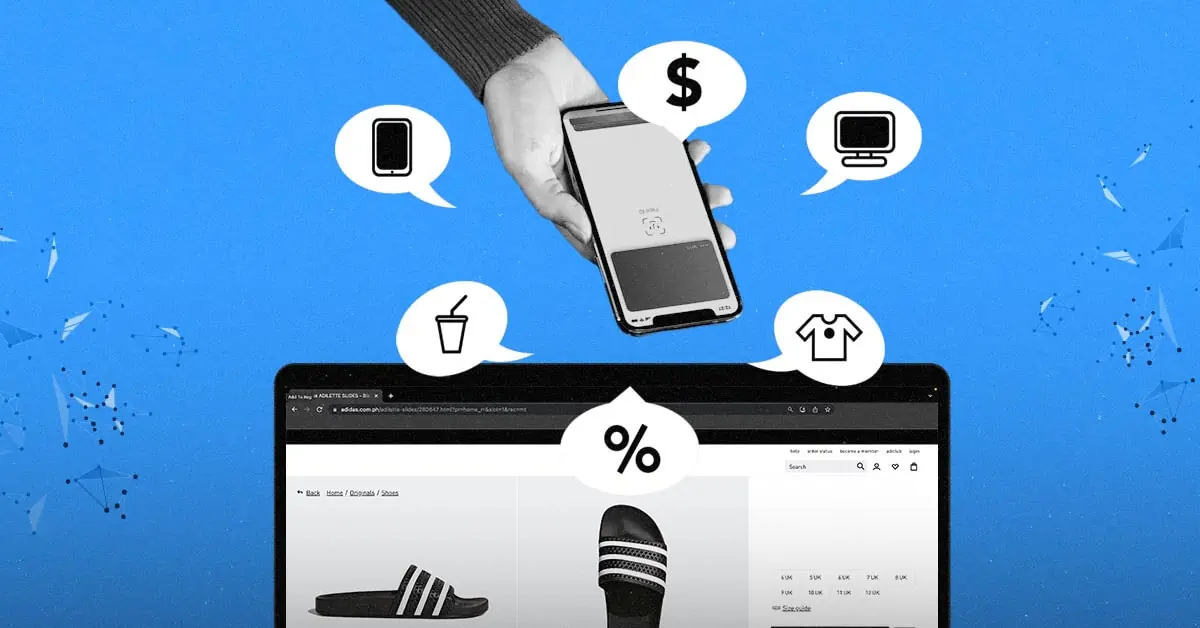 We'll also tackle what your priority metrics and key performance indicators (KPIs) are, and how to develop robust and effective strategies for winning customers.
Social commerce – shopping in shared spaces
Social commerce refers to the use of social media platforms to facilitate online shopping. Depending on which platforms you decide to open up a shop on, you can access a number of features that make marketing and selling your products online easy.
Not to be confused as separate technologies from the social media platforms, social commerce exists as features within them. With them, you can:
create shoppable posts (more details on this below);
post lifestyle images that highlight your product's best features, and/or;
deploy ads with 'Buy Now' call-to-action buttons, and more.
Today, the two most popular social commerce platforms are still Meta's Facebook Shops and Instagram Shops because they have the largest audience of all the social media platforms.
What's more is that, given how robust Meta Ads tools and algorithm are, you can also streamline advertising efforts with ease.
FURTHER READING: In-depth Meta Ads Checklist for Optimization [Updated for 2023]
Facebook Shops
Also known as Facebook Marketplace, this feature within the Facebook (or Meta) app or website is their version of social commerce.
Through this feature, you can reach and communicate with interested buyers directly – offering a convenient transaction for both parties.
You can post products with details such as the price and even include a detailed description of features and specifications for your products and/or services. Apart from product landing pages, you can also optimize your page to deliver information about your business location and means of contact on the page.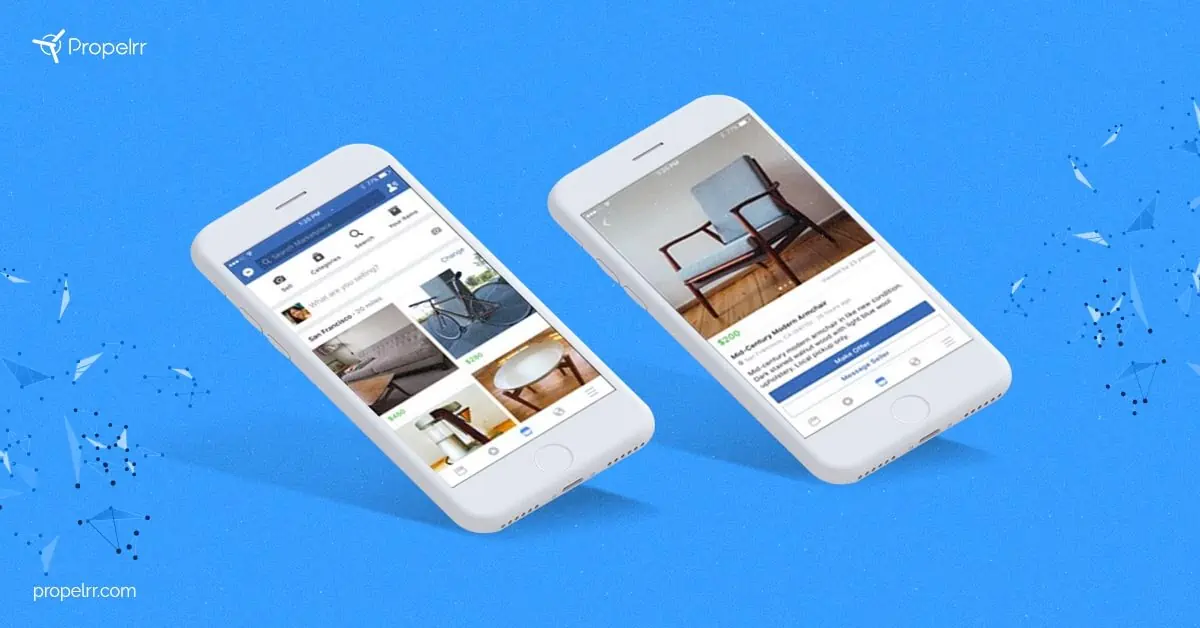 Instagram Shops
Much like Facebook Shops, Instagram Shops also provide you with the same conveniences. The only major difference is that it fronts an audience that is mainly active on the Instagram app.
Additionally, however, Instagram Shops also allows you to create Shoppable Posts that allow you to add price tags right on the product post displayed on your feed (see example below). These are posts that allow users to tap on a product post and get details on pricing, as well as navigate to a product landing page so they can learn more about or purchase the item directly.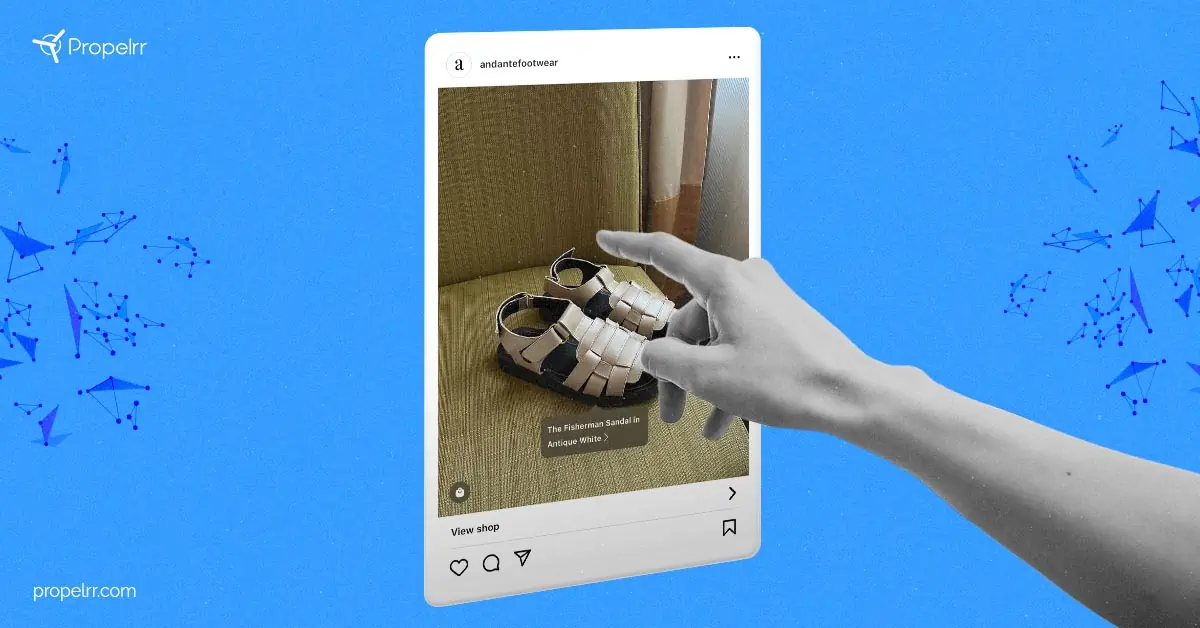 We have a guide on how to make your Instagram Feed more shoppable to help you with that.
Both Facebook Shops and Instagram Shops offer unique opportunities for businesses to reach potential customers, increase their social media conversions, and improve their business performance through social media.
Mobile commerce
Mobile commerce, or m-commerce, refers to the use of mobile devices such as smartphones and/or tablets to facilitate online purchases. This can include using a mobile browser to shop on a retailer's website, marketplace apps (like Lazada or Shopee), or a dedicated mobile commerce app.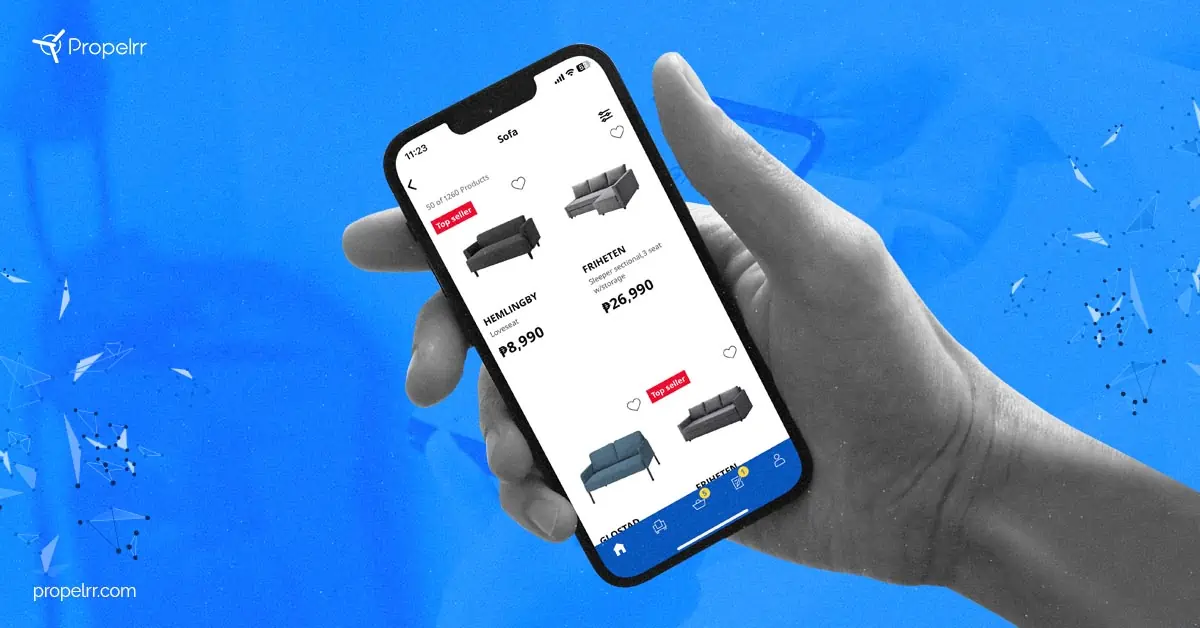 This innovation in online commerce meets in-step the widening penetration of mobile usage. The fact is, our smartphones have become somewhat integral to how we conduct our daily businesses. From searching, staying on top of to-do lists, purchasing goods is done on our hand-held phones.
With that you could say mobile commerce is poised to become the new norm for acquiring goods and accessing services. And the figures vouch for this with recent reports stating that the mcommerce is projected to hit USD 534.18 billion by 2024. That will represent 40.4% of ecommerce sales.
If growth in mobile commerce is something you're eyeing for your business, then below are the options you can explore.
Owned mobile commerce apps
One approach to mobile commerce is the development of a branded mobile app or owned mobile commerce apps. These allow you to provide a tailored brand experience and distinguish your brand from competitors.
Moreover, personalized push notifications also help with engaging active users and reengaging inactive ones, all while boosting brand recall in the process. Take, for example, the IKEA app which allows shoppers to purchase their furniture directly on it.
Order tracking, notifications on discounts and limited offers, as well as branch locators are also provided to help customers transact with them frequently and easily.
Ultimately, all these combined help you achieve brand loyalty as you improve upon the customer experience. Despite the costs of mobile app development, you'll find that it can be the right investment for you, especially if it satisfies an aching need of your audiences.
Marketplace shopping apps
Another popular approach to mobile commerce is to sell through marketplace shopping apps such as Lazada or Shopee.
These apps allow businesses to reach a large audience of potential customers, and can provide a convenient way for users to shop across multiple brands and product categories.
However, marketplace shopping apps often charge fees or commissions, and businesses may find it challenging to differentiate themselves from competitors within the platform.
Social commerce or mobile commerce – deciding which to go with
When deciding whether to build an owned mobile commerce platform or acquire placements in third-party commerce app platforms, you should look into factors factors such as your target audience, product and service offerings, and marketing and sales goals.
Below are a few other considerations to take into account:
Know where your market is at. Researching and identifying where your cusomters are transacting is an important aspect of the decision. This information tells you which exact platforms you should be marketing on so that you're not wasting resources on ineffective ones.
Match the costs with your capacity. While casting a wide net is important, doing so impractically will only strain your business. Hence, it's important to do a cost-benefit analysis that will guide you towards which platforms are within your capacity to sell on.
Start with a good fit, then scale up as needed. Growth doesn't happen overnight – not even for the biggest commerce brands. Digitalization can strain marketing budgets significantly and so it's more prudent to invest and grow one platform first, then plan on how you can scale up for expansion as you pool the profit and operational budget for it.
Try a mix of both, so you can test. Considering a hybrid approach that combines both owned and third-party mobile commerce platforms to reach a wider audience and provide a more diverse range of shopping options.
Chapter 3
Boosting ecommerce conversions – top 7 metrics to track
The one thing that all of the most lucrative ecommerce businesses know is that: Growth isn't achieved by putting up the site alone. All of them have the awareness of and clarity with seeing the results they want to achieve, and they tune into this with keenness. The thing is, with numerous metrics to track, it's hard to stay focused on one, two, or even three things. What's more is: You might be focusing on the wrong ones.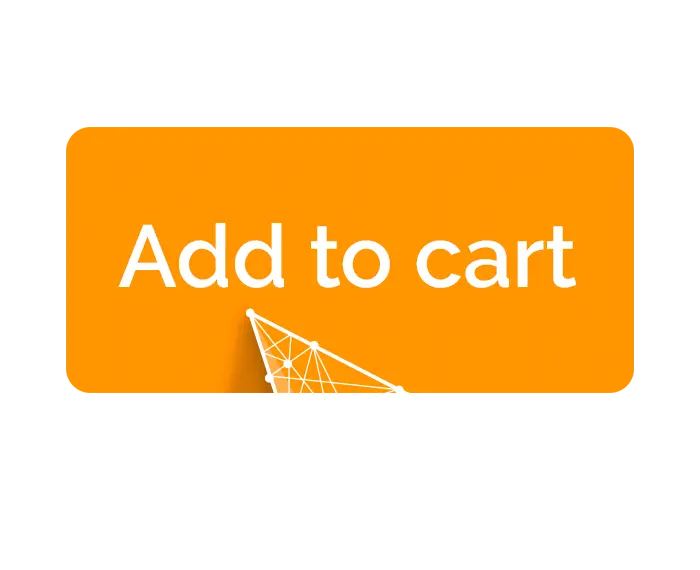 We don't need to rehash the conversation on goals. You know what they are and why outlining them are important.
In fact, given the state of a metrics and data-driven business landscape, the more important question to answer is:
What metrics should I be looking at, exactly?
And ironically, as analytics tools become more accessible, this is the area most of you will fail at. This is because with the overwhelming amount of data available to you, it's hard to pin-point which metrics actually signal business performance, versus those that are just noise.
What follows from looking at the wrong metrics is inaccurate insights which then leads to out-of-touch or ineffective campaigns. Data, which should be a valuable tool, ends up as a dangerous trap.
The only remedy for this is to filter your data – pinning down the quintessential metrics that signal performance, both in a general and specific business context.
Top ecommerce KPIs to track
We know very well that, as a uniquely operating business, you will have your own metrics that you want to prioritize. And that's all well and good.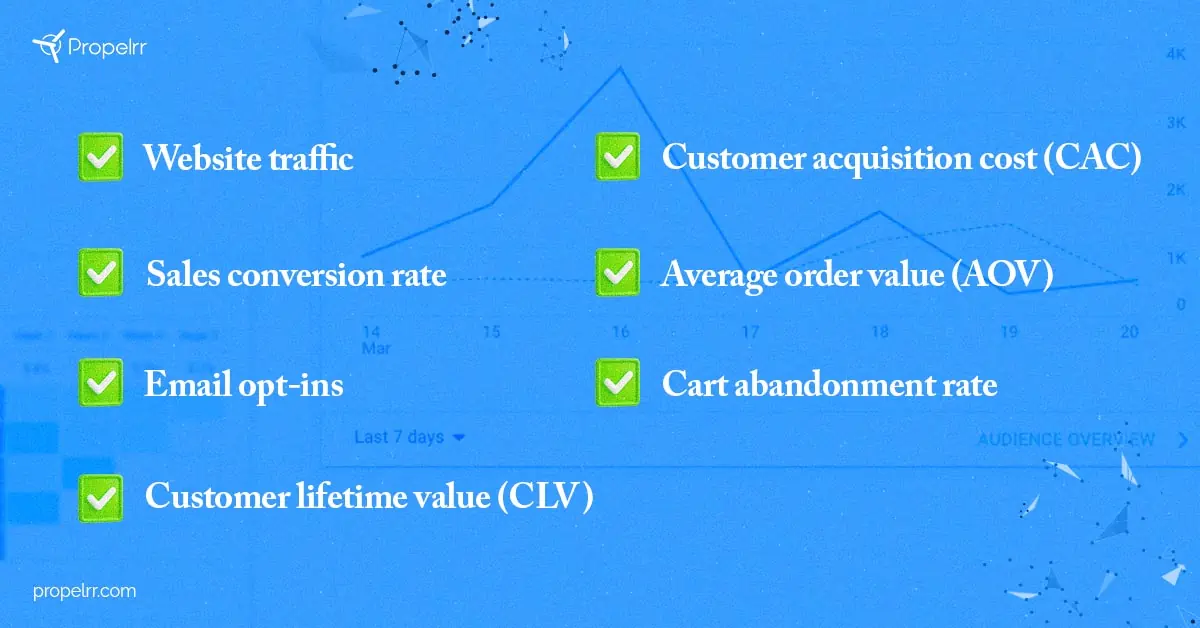 Keep track of those if you see them to be relevant. But let's also take a moment to think about the top-performing ecommerce businesses and what metrics they are tracking in common.
After all, if they're doing great by tracking these metrics, then there's no reason you shouldn't add it to your tracking list. Moreover, knowledge of this makes it easier to spot performance issues – both internal and external – and tackle them accordingly.
Below are these ecommerce conversion metrics we're referring to.
1. Website traffic
Website traffic refers to the total number of users who are visiting your ecommerce platform. The higher your traffic, the more visitors are checking out your brand's website. To increase your site traffic, you can make use of the following quick tips:
Run paid ad campaigns to encourage people to visit your website.
Engage with users on social media, either directly or through influencers.
Apply SEO strategies to boost your search engine results page (SERP) ranking.
2. Sales conversion rate
Your sales conversion rate, on the other hand, is the rate at which visitors on your ecommerce platform are buying products, or converting for sales. You can compute for this by dividing the total number of visitors on a landing page by the total number of conversions. To boost your sales conversion rate, you can do the following:
Narrow down leads to focus on customers with more sales potential.
Optimize your copies to clearly lead audiences towards an intended conversion.
Invest in social proof by collecting consumer data and feedback.
3. Email opt-ins
This next KPI refers to the number of users who have "opted in," or have subscribed to your email marketing list. The more opt-ins you have, the more consumers you can reach. To boost this metric, try these quick tips:
Promote across all channels to bring your email subscription to people's attention.
Make the signup process smooth so that more users are enticed to subscribe.
Promise exclusive content so that new customers are encouraged to sign up.
4. Customer lifetime value (CLV)
The customer lifetime value (CLV) KPI clues you into the worth of a user to your business over their time as a customer for your brand. An increase in this value means that you are strengthening your relationships with shoppers and leveraging their loyalty as well. To boost CLV, you can do things like:
Run exclusive deals only available to current customers.
Run a rewards program to encourage repeat purchases.
Offer unique freebies for each purchase.
5. Customer acquisition cost (CAC)
Your customer acquisition cost (CAC) clues you into how much your brand spends to "acquire" new customers – that is, how much you spend on marketing per individual user. The lower the CAC, the less you spend to acquire each buyer. To lower your CAC, try to prioritize your organic marketing efforts. That way, you spend less but gain more loyal consumers in the long run. You can do this through free or low-cost channels like social media, email marketing, SEO, and referral marketing.
6. Average order value (AOV)
Your brand's average order value (AOV) refers to the average amount that consumers spend on each order from your business. The higher your reported AOV, the more consumers are spending on your products. To boost your AOV, try the following tips:
Create packages to bundle products together on sale.
Set a minimum order amount or fee for shoppers to avail of free gifts or shipping.
Run a customer rewards program that gives freebies for higher order values.
7. Cart abandonment rate
This last KPI on the list tells you how many users are adding products to their carts, but not checking out. A high cart abandonment rate might be indicative of issues with the overall retail checkout process. To lower your cart abandonment rate, ensure the following:
Make sure checkout flow is smooth and frictionless to ensure user satisfaction.
Be upfront about shipping costs so shoppers aren't turned off at the last minute.
Provide secure payment methods so consumers can trust the transaction.
Take these metrics as clues to performance. When your ecommerce site is underperforming in specific areas, take that as an opportunity to investigate and optimize.
But more than internal performance, these metrics can also be clues to understanding your customers. Lower cart abandonment rates are a perfect scenario for asking yourself "why don't they continue to payment?"
Some internal issues that could cause that are bad user experiences and/or confusing copies. Meanwhile, an external – and arguably difficult – issue to resolve is declining consumer trust in ecommerce, which we tackle in the next section.
Chapter 4
Factors contributing to declining trust in ecommerce
As disinformation, data privacy breaches, and scams plague our online spaces, users and consumers are becoming increasingly distrusting. That phishing or fake news sites are designed to look more credible than ever are of no help in this matter, too. And while it's easy to just tell people to avoid these websites altogether and to assert that you are a trustworthy brand, accomplishing it is not. You can't expect someone to trust you just because you say you're reliable, right? That will take a lot of proving. As an ecommerce business owner, you know that customer trust greatly influences your revenue. But how can you win it, with such odds stacked against you?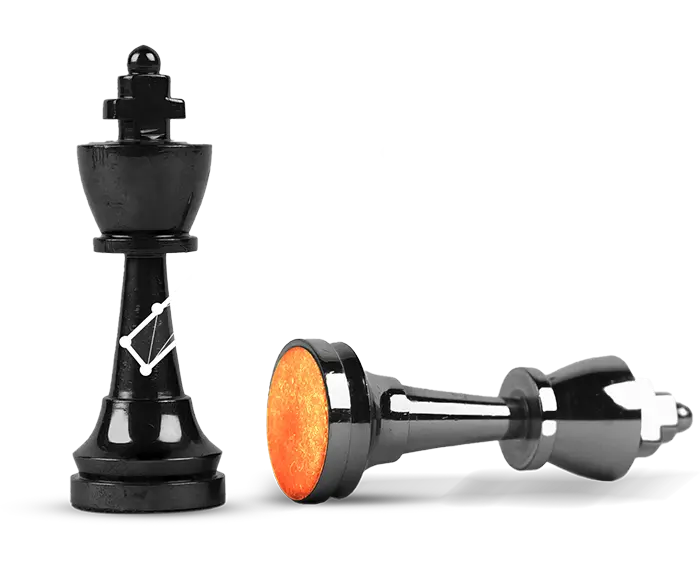 Declining ecommerce trust is not a whole new topic on the internet. In fact, if you do a quick search, you'll uncover deep and detailed information about how and why users are or become wary of online commerce sites.
But when the COVID-19 pandemic hit, all the talk about user trust – both for transactional and non-transactional websites – has all but simmered down. The spotlight shone on digitalization and technological advancement brought to view much of both the bad and good side of either.
On the one hand, the pandemic turned our online spaces into petri dishes where misinformation, scams, and other malevolent online behavior multiplied. Repercussions were felt in our offline spaces and to terrifying degree.
But on the other hand, digitalization also became a saving grace at the time – one that not just helped keep a plethora of businesses stay afloat. Some were even able to double or triple their growth.
Earn trust, earn business
Today, these businesses still enjoy their wins from the pandemic albeit faced with the challenges of lingering threats.
The definitive lesson we as a collective can take from this is that there is much to gain from balancing healthy degree of cautiousness with openness to the unique opportunities technology offers. For, by achieving and sustaining such balance, you can earn trust and grow your ecommerce business.
Working towards earning this trust is not easy; let us clear that up now. But the small steps you take to do so will just as incrementally be rewarded. To get started, one of the first things you can do is to understand where the distrust stems from, and the types of trust you can foster online.
Types of trust in ecommerce
It's best to identify the underlying reasons why trust ecommerce is in a bad shape. Addressing any kind of issue with trust takes understanding the types of trust in ecommerce that exists. Thereafter, you can work on specific steps that answer to these within your ecommerce structures. There are four main types of trust in ecommerce: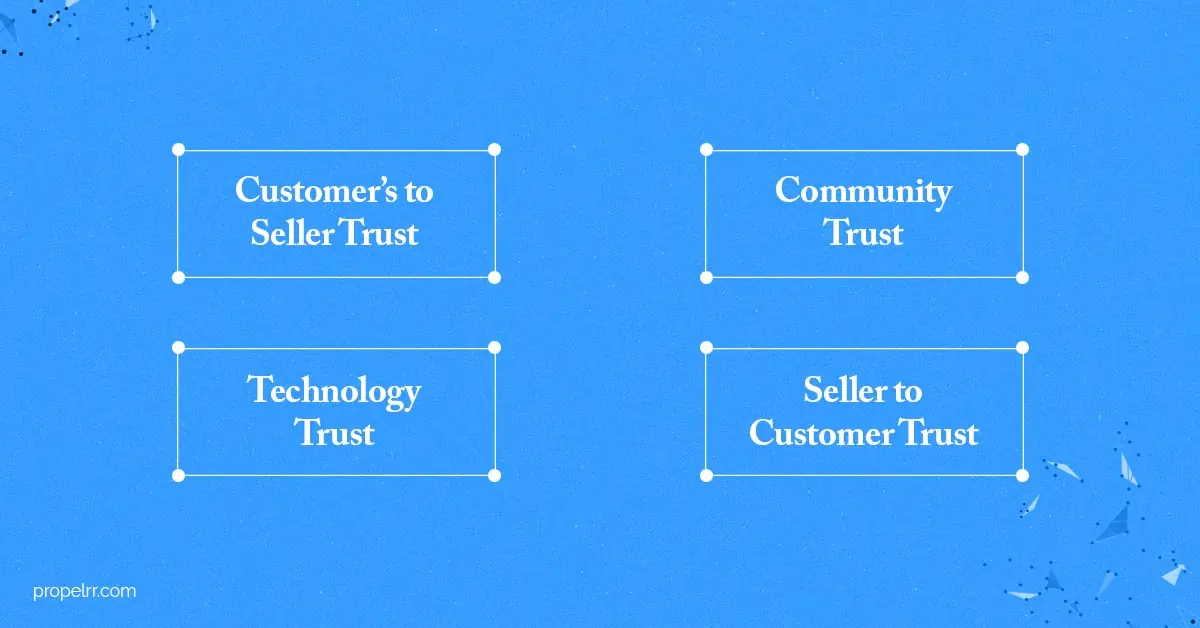 1. Customers' trust in sellers
This type of trust is a given in any transaction. Typically, customers expect sellers to perform certain tasks: ensure the quality of product being sold, charging fair prices, etc. This type of trust is specific to your business, ergo, how can you make customers trust you?
In ecommerce, that trust can be difficult to acquire – especially for new customers. Unlike in traditional commerce, buyers don't really know who is behind their screens unless they are working with a well-known brand.
This is why customer retention and customer loyalty are essential for any online business. Returning buyers are more trusting of your service, and will likely purchase from your shop again. The more loyal customers might even hesitate to switch brands when purchasing similar products, for fear of the uncertainty of finding a new seller.
2. Community trust
This type of trust is a more general perception of the entire ecommerce framework. In other words, buyers would expect all sellers to deliver on their sales promises, while sellers would expect all buyers to complete their purchases.
It is simply a matter of believing that everyone else on the platform would behave as they normally would. That is not only limited to big named brands with online stores, but also to smaller vendors and buyers. It's also part of the reason why rating systems are so strong – it's because buyers and vendors alike want to make the entire ecommerce experience better for others.
3. Technology trust
This type of trust is simply defined as how well both buyers and sellers trust the platform they are operating on. Mostly, it is about whether buyers believe the platform ensures the quality of the product they purchased, which includes online tracking and information specificity. Leaving customer reviews is also a good way for buyers to warn others about dubious sellers.
On the other hand, sellers must also trust the platform to deliver to them the revenue that they earned while selling products online.
4. Sellers' trust in customers
As with any transaction, both parties must trust each other. That also involves the seller believing the buyer to be acting in good will and benevolence.
Most sellers understand the risk of going online: flaky buyers, operation costs, lower than anticipated, ROI, etc. It's why their trust in buyers has to be so high. Most sellers would like to believe that their customers are acting in good faith, and will improve their sales. But that's unfortunately not always the case.
Website-related factors for declining trust
It's time to go over what website-related factors contribute to the decline of trust in ecommerce. Note that these are common problems that e-vendors face, and have control over.
1. Poor UI/UX design
It's simply a matter of convenience for both buyers and sellers alike. If their user experience is terrible, or if an entire platform's interface does not make sense, most users will just jump ship to a competitor (or leave ecommerce entirely). It's always recommended to optimize your website for a better customer experience. You can do this by performing A/B tests on which elements of your site you need to improve on, or simply using machine learning to provide personalized interactions with your users.
2. Negative reviews
Most platforms offer buyers the opportunity to send reviews to dubious sellers or products. Buyers can simply leave one-star reviews to let other buyers know which sellers to avoid transacting with. This presents two unique problems on ecommerce websites. First, is the possibility that buyers constantly receive substandard products from many sellers. That eventually leads the buyer to quit online shopping for good. The second is what is referred to as "review bombing" vendors. It is often a concerted effort to manipulate the rating system by giving out numerous one-star reviews to push vendors lower down an ecommerce platform's merit system. This may be done by competitors or unsatisfied buyers, and may even force vendors to pull their stores out of ecommerce platforms.
3. Technology trust
One of the more pressing issues surrounding technology is a user's data privacy. After all, users are giving complete strangers sensitive information with the expectation that these will not be used against them. Platforms like Shopee, Lazada, and Amazon all have their own digital security measures, but even these are not 100% foolproof. If you're hosting your own online store separate from these platforms, you should ensure your website is secure and protects user data.
4. Sellers' trust in customers
Consumers are ever-evolving. Gen Z, as mentioned, are very particular when it comes to engaging with brands. They're more likely to commit to boycotts when a brand is not vocally supportive of many social and political engagements as they would like. This, coupled with the fact that information can be gathered at the snap of a finger, can make sellers lose sight of their actual values in favor of gathering more customers. Additionally, you might be losing sales if you keep asking your customers to sign up to your website before they purchase from you. Believe that your customers want to pay and send them off to their preferred payment gateways.
Quick ways to earn ecommerce trust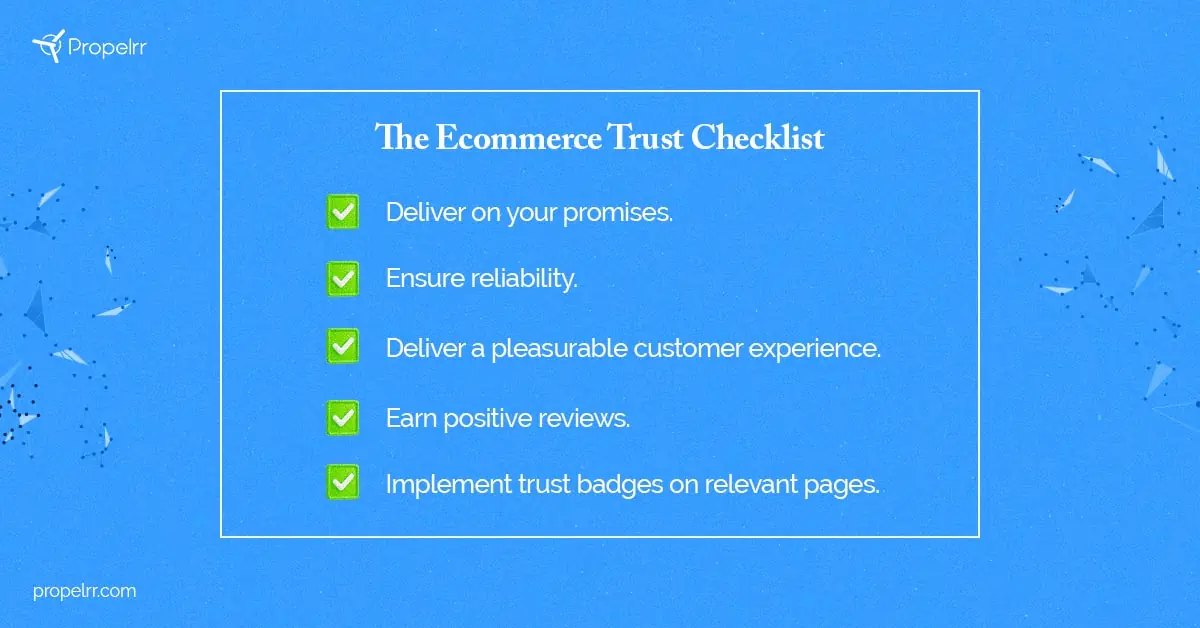 There's no saying it enough: Trust really is earned, especially online. You can, however, take a significant first step in creating stronger bonds with your customers by committing to these five simple tips:
Deliver on your promises. Customers know when a product is substandard, or is not the same as what your product previews indicated. Deliver to them the proper item, and within the same timeframe as you promised.

The same thing applies to refund or exchange policies, if you have them.

Ensure reliability. Newer customers may get anxious when their purchase has not yet arrived to them. You can earn their trust by giving them the product's tracking information, or other forms of support.

You may want to try having chat support bots direct your customers to FAQ pages or opening channels that allow them to approach any of your customer service representatives. Again, follow through on whatever promises are made during these interactions.

Deliver a pleasurable customer experience. Before your customer purchases products from you, they still have to maneuver through your website. Make their browsing experience intuitive and provide them with clear pathways to their desired products. For example, lead them to "Active Wear" if they're looking for something to wear to the gym.

When they add items to their cart, make sure your payment gateways are accessible and easy-to-use. Give them copies of their receipt as well, or provide them with ETAs on when their product will be delivered.

One other thing: if customers do add something to their cart or if they have recently completed a purchase, don't direct them to your home page – especially if you know you have long load times. Instead, opt to recommend them items while thanking them for their purchase.

Positive reviews. These also indicate a trusted brand, While review bombing is a thing, you do not want to artificially inflate your reviews by having fake five-star reviews on your product or business pages. That's arguably more of a turn-off than having only a few one-star reviews on your products.

Instead, allow your customers to leave the proper reviews. You can even interact with them on their reviews, and invite them to purchase a related product in the future.

Implement trust badges on the transaction pages. A trust badge is a symbol you can place on your web pages to let your customers know that your services are secure and that user data is kept private. You can get some trust badges from companies such as Google and McAfee and post them on your platform.

You can opt to place these badges on your home page, but these are typically located during the checkout process. After all, these badges signify that big brands believe that your website is secure and can deliver on your promises.
Once trust is established, it's time to look further inward and into your infrastructure. Because why waste all that hard-earned trust all because of poor customer experience on the site?
That is a headache that you should – least to say – avoid with some guidance in the following section.
Chapter 5
Ecommerce website issues: Keeping it efficient and optimized
The fastest way you can lose hard-earned customers in ecommerce is through faulty user experiences. This fact is known by and large by owners of the most successful ecommerce businesses.
Imagine: You toiled over earning trust from audiences – would you really want them turning away just because of a tiny glitch in your commerce fulfillment platform? That doesn't sound like a happy story for us.
That's why we advocate for keeping your ecommerce sites optimized in every way possible – from search engine optimization down to security.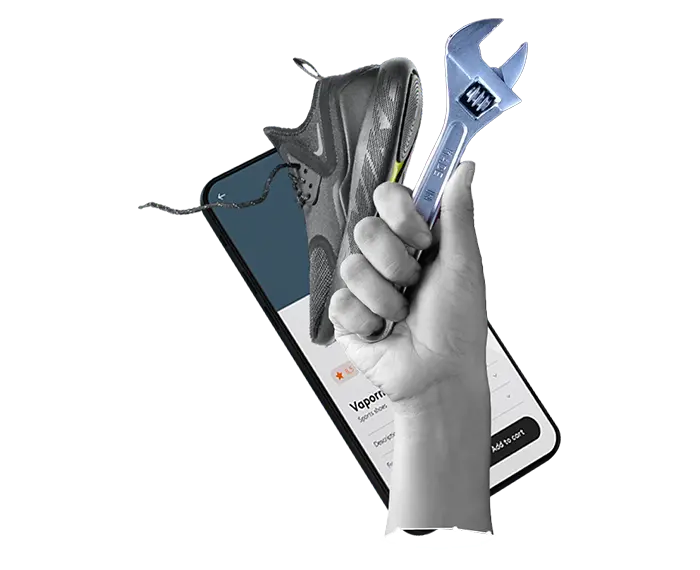 After you've bolstered security, your next step is to ensure that customer experiences are optimal. This, so that you don't lose the hard-earned trust of customers to tiny glitches in your transaction process.
Don't worry; you're more than halfway through the task of boosting ecommerce conversions. You've chosen the right ecommerce platform for you and you've made sure it's secure. The next step is to ensuring that specific technical aspects are well-programmed for better discoverability, ease of access, and other considerations that make up an overall pleasing customer experience.
In the following sections, you'll find a prescriptive list of tips to help you optimize specific layers of your ecommerce platform including user interface (UI) and user experience (UX) issues, payments, and others.
Troubleshooting common ecommerce issues
This is one of the challenges that you will be encountering when you decide to build your own ecommerce website. You must be equipped with the skill on how to troubleshoot your own ecommerce website. Here are some common issues that you will be encountering on your website and how to effectively troubleshoot it.
1. Website security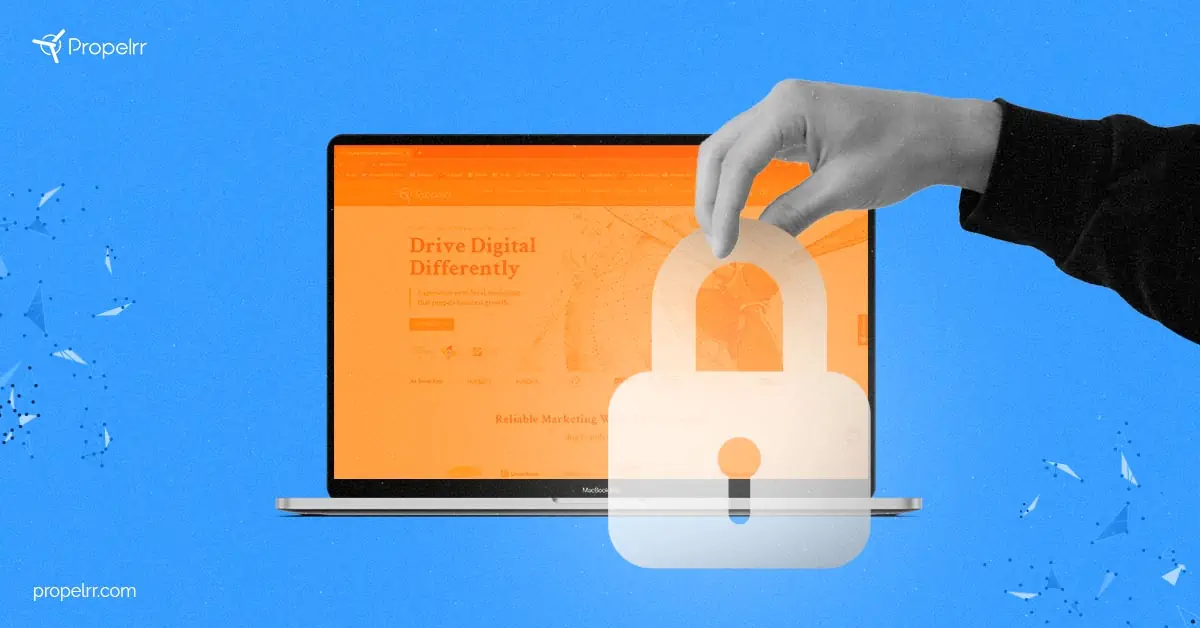 As your business scales up, it will come to collect and store a wealth of business and customer data. These are things you need to make invulnerable to malicious agents that wish to misuse your and your customer's data for their gain. There are various threats you need to protect yourself against like phishing schemes, malware, and distributed denial of service (DDoS) attacks. Below are some of the measures you can take to secure your website against these:
Download anti-virus and malware protection software – These will help you detect whenever a virus or malware is trying to access your website information. Though they can come at a steep price, the cost you face if you don't invest is much greater. We recommend the following software for this:

Put up firewalls to secure transactions –

Using a

Website Application Firewalls (WAF)

can protect your website and audience from XSS, SQL, Injections and forgery requests. WAF also protects your website from any hacking attempts.

Authorization failure – This can happen when hackers can find functions that they can alter if they find an authority function missing. To avoid this situation you should regularly do a routine check on your database and also change the passwords. With regard to passwords, make sure to use complex combinations instead of straightforward, easy-to-guess ones.

Distributed Denial-of-Service (DDoS) Attack – These are one of the more troubling attacks on cybersecurity. They are difficult to mitigate and prevent because the malicious traffic is coming from external sources. There are ways that you can somehow avoid these kinds of attacks on your website. You can invest in softwares or service providers that are effective to combat these attacks such as:
2. Data privacy and protection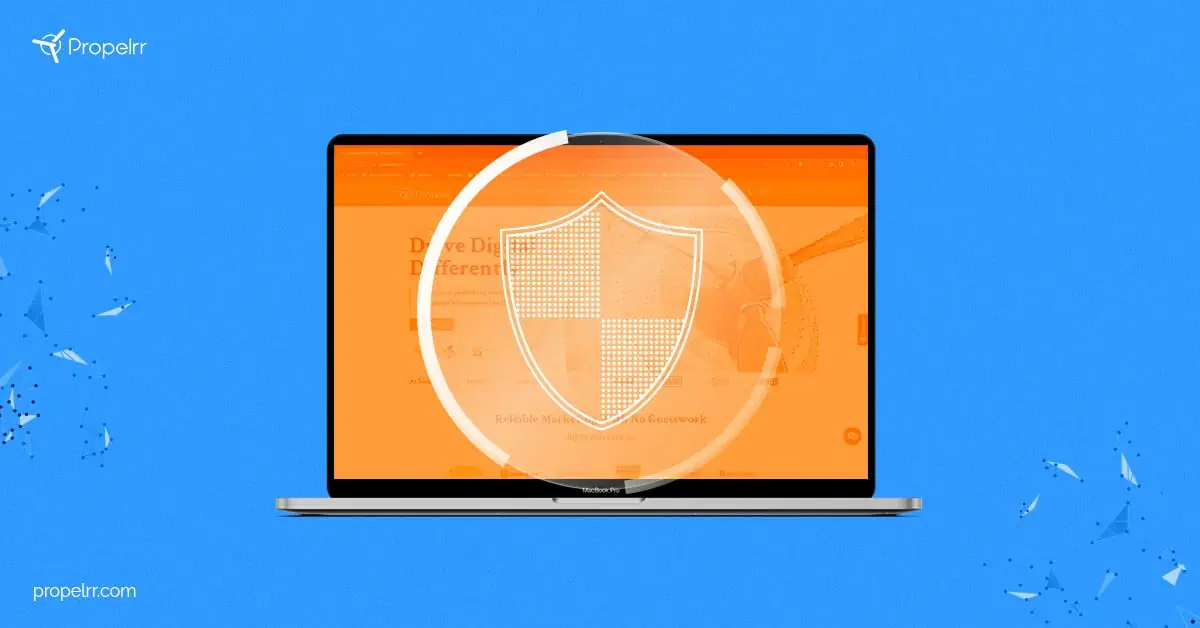 Data and protecting privacy is very important when you are building an ecommerce website. You must show your clients that whatever information you receive from them is kept confidential. This is also one way to build trust and confidence with your clients.
Balance personalization with privacy – You must balance the personalization of your target audience and develop systems to customize the content. Use only data that is absolutely essential to creating content that is useful to your audience.
Gathering information – Must come with the promise of protection and that you are only requiring the necessary details. It's too risky if you have gather and store excessive information because this can expose your customers in the instances of data breaches. It is better for you to delete the data once it serves its purpose and no longer needed.
User authentication – Before giving access to some sensitive information from your website you can always use some wise authentication process. This process includes Short Message Services (SMS) authentication, phone call authentication or email authentication where you can send the authentication codes.
READ ALSO: How to Protect Customer Data Privacy in Digital Marketing
3. Online identity verification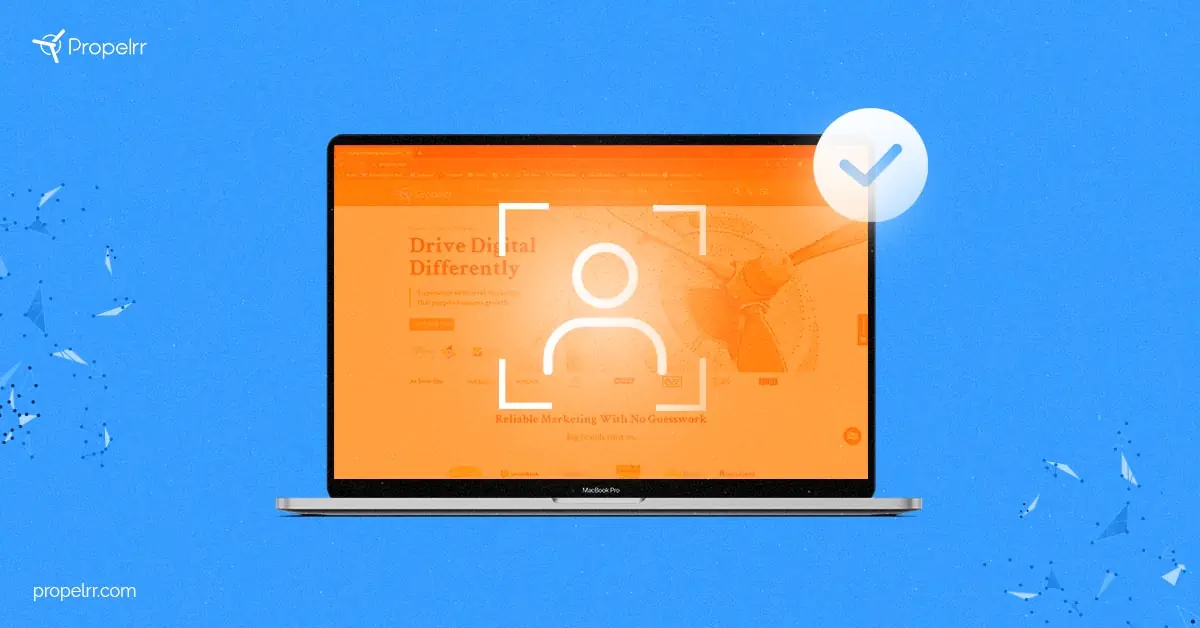 Online identity verification is important whenever you transact with your target audience online. This will keep you safe from scam and fraud especially that you are transacting online and you do not know who you are transacting with. Here are some ways on how to practice identity verification.
Managing Fraud – You can manage fraud by requiring your website visitors to undergo online verification. You can always use identity verification softwares for your ecommerce website to help you manage fraud or fake identities.
Accuracy of Identification – To make your identification process accurate, the best way to do it is by conducting the Know Your Customer (KYC) procedure. You must also update your back-end support regularly to maintain a secure platform.
Securing data – Accessing and storing your clients data is one way to ease the identity verification system of your client especially when they do a repeat purchase on your ecommerce website. You need to be completely organized when it comes to data storing so that you can easily and accurately verify the identities of your repeat customers.
Effect of strict compliance – Strict compliance for identity verifications can sometimes be a hassle on the part of legitimate customers this can lead them in abandoning their conversion on your website. You can solve this ecommerce problem by balancing the identity verification compliance and the user experience of your client. Look for ways on how your clients can have a smooth engagement on your website while they comply with the verification process.
Evolving schemes and fraud – Scammers are finding unique ways on how to bypass the identity verification process. For you to be one step ahead, you must keep yourself updated on the latest schemes and frauds and how to detect them.
4. Web hosting and server issues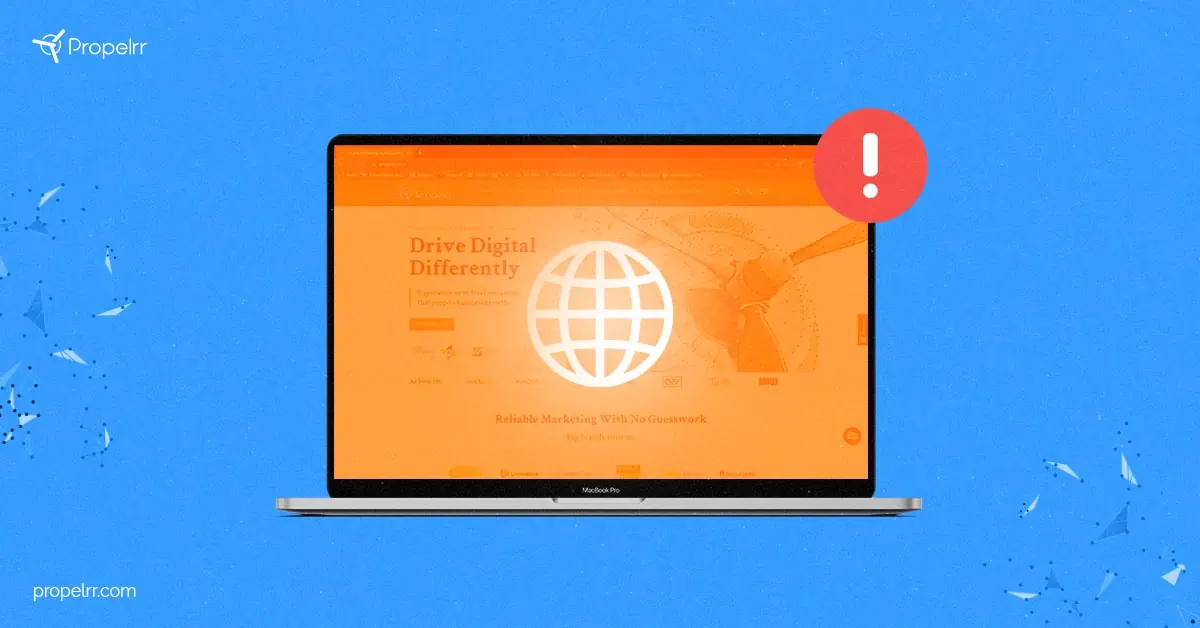 Web hosting is one of the most used by brand owners or businesses when it comes to establishing their own ecommerce websites. Here are some common issues on web hosting and server issues and how to troubleshoot them.
Web development languages – Programming languages directly communicate with the CPUto perform basic to complex commands. If your programming language is not functioning then your website will not function smoothly. You can fix these issues by selecting the best programming language for your website.
Slow performance – Website performance is important when building your website. Because if your ecommerce website is slow in loading and navigation speed the visitors will be impatient and will not push through in engaging with your website. You can report the issue to your web host provider support team for immediate action.
RELATED READING: How to Optimize Page Speed From 18 to 2 Secs
Traffic – Heavy traffic on your website is a good sign that there is interaction from your visitors. However, this can affect performance of your website if not addressed immediately. To handle heavy traffic you must invest in a host provider that provides a heavy bandwidth.
Storage – Videos, images, and unnecessary files take a lot of your storage data. To help you free space from your storage, you can optimize the images in your website, avoid hosting videos or audios in your website, and delete unnecessary files that are not essential with your website operations.
5. UI/UX optimization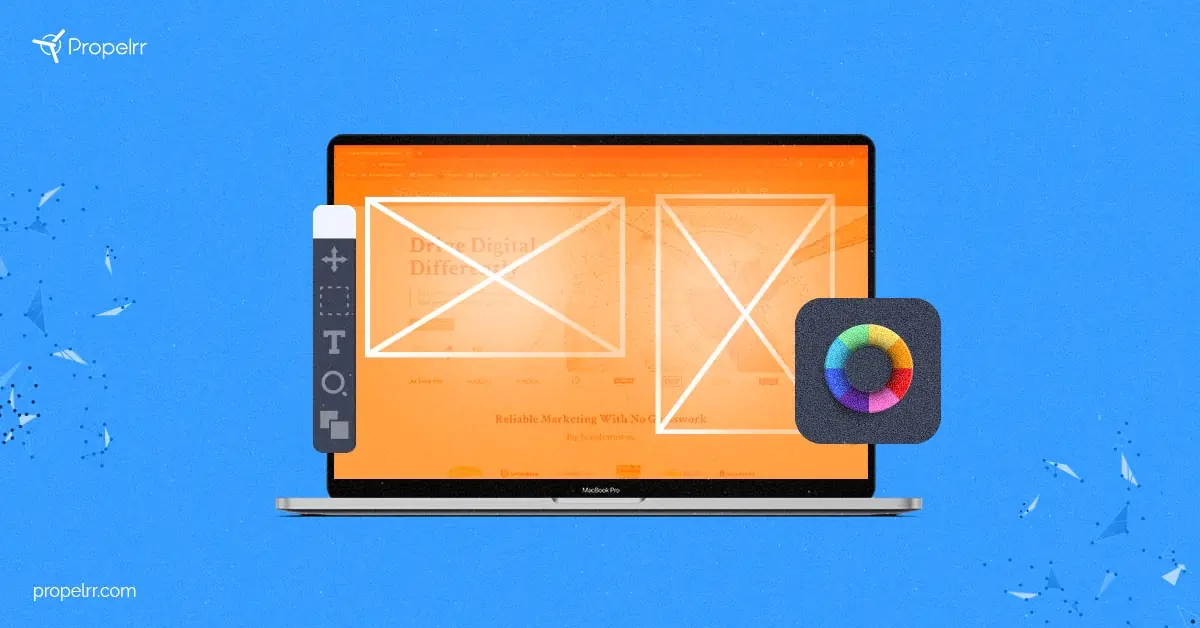 UX/UI optimization will help make the engagement of your client on your website more easy to follow and navigate. Here are some issues on UX/UI optimization that you might encounter and how to address them immediately.
Mobile site optimization – You can troubleshoot your mobile optimization using the mobile friendliness test. This ecommerce tool will let you know if your ecommerce website is mobile friendly. The test will include the technical factors like the site speed, Java script use and the different plug-ins.

Ecommerce requirements and KPIs – You must align your ecommerce website requirements with your business KPI. You can do this by using a free template for your ecommerce requirements in your website to understand your ecommerce website's business scope.

Cluttered navigation – When your website is cluttered your website visitors will be overwhelmed and as a result they will just leave your site and your chance for them to convert will be lost. To avoid this situation you must prioritize the most important elements in your website and make it simple so that your web visitors can navigate intuitively and clearly.

UI/UX product design – Your effort will be wasted in creating your UI/UX design visibly attractive on your website if your visitors and target audience have a hard time using it. To prevent these challenges in ecommerce you can always do usability testing which can help you identify the UI/UX product design issues.

This is the most important stage of your ecommerce business. Because your client is in the final stage of conversion on your website. It is the final phase of your transaction with your client. Check out how to troubleshoot some of these common issues when it comes to payment integration and order fulfillment.

Customer support – You can troubleshoot customer support issues by first assessing the issue and understanding the situation. You can do this by asking the right questions to your customer so that you can gather information about the issues. Once the issue is identified you can easily fix the problem.

Cross-border ecommerce – One of the issues in cross-border selling is the language barrier. You must resolve this issue if you want to expand your business to the international market.

To solve this problem, you can create a multilingual website where there are multilingual translation tools that you can use on your ecommerce website. Keep in mind that cross-border selling is the future. This type of ecommerce can give you the opportunity to sell your brand on the international level.

Customer services – You must include a place for customer service on your ecommerce website. This is where your clients go to when there are issues regarding their orders, if the orders are missing, damaged or delayed. This will also help you address the issues of your clients immediately.
Troubleshooting ecommerce is one skill that you must learn when you are planning to build your own ecommerce website. This skill can help you manage your website efficiently making your website visitors satisfied and giving them more reason to interact in your website. If this happens there is a big possibility that your visitors engaging with your website will be converting.
And now that you are equipped with the knowledge about troubleshooting common ecommerce issues. It is now time for you to move up to the next article and discover the innovations and the future of ecommerce.
Chapter 6
Ecommerce website innovations and the future of online retail
Ecommerce websites have come a long way since their inception, and they continue to evolve at a rapid pace. With new technologies and trends emerging every day, the future of online shopping is looking brighter than ever. The question is: How do businesses leverage these technologies at scale and develop the keen sense for anticipating trends to respond with agility? It helps to start with building knowledge on the existing technologies.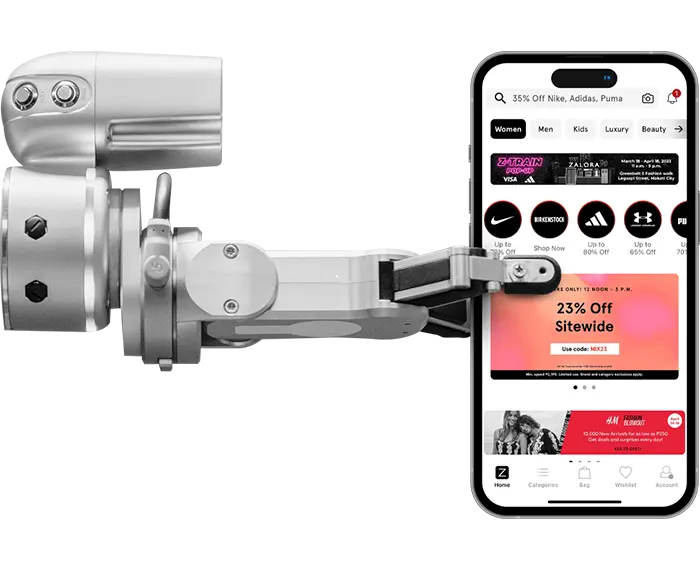 After learning how to troubleshoot common issues, you're now primed to learn about and, possibly, implement new technologies for ecommerce.
Scaling technologies for business is arguably one of the most exciting experiences in witnessing your business grow. As you see more wins on digital, it becomes thrilling to think about how much more you can earn if you optimize processes and work with the help of digital tools.
Imagine the growth automation tools can bring you; or the way augmented reality (AR) integrations can add a sophisticated visual experience of your brands online. With these added features, you'll likely impress a lot of audiences and win them as customers.
But what kinds of technologies are the most relevant to businesses, should you explore them given your capacity? Which ones are helpful in engaging new and existing customers and, subsequently, help to increase conversions?
In the next section, we will explore the newest technology available for ecommerce and how you can leverage them for driving more business growth.
Technological innovations in ecommerce
Ecommerce has witnessed a surge in technological innovation in recent years, with several of these dealing a big hand in reshaping the online shopping experience. Some of the latest technological advancements in the online space that are having a significant impact on ecommerce websites include:
1. Augmented and virtual reality (AR/VR)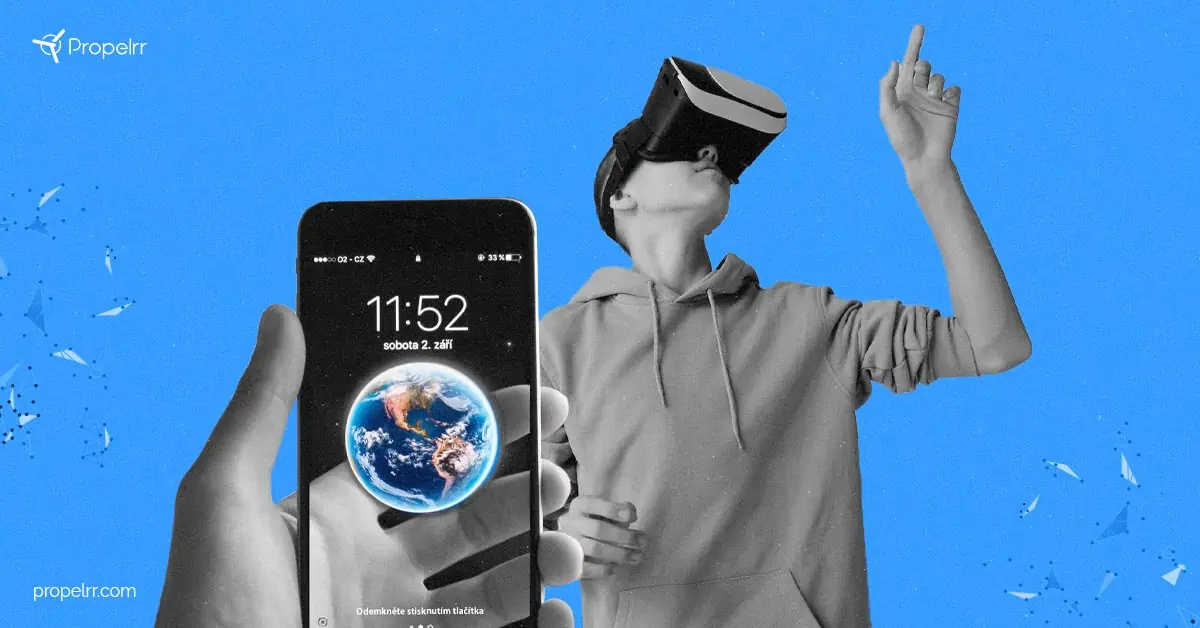 AR and VR offer you a unique opportunity to enhance the customer engagement by providing a visual and imaginative experience of your products.
Brands like MAC Cosmetics and IKEA were some of the earliest adopters of this technology – maximizing it to give customers a more concrete view of how their products impact their lives. Makeup brands use it to help online shoppers with color swatches, while furniture brands depict how a home accessory will look like in your living room.
This helps your customers form a more solid impression of your product and likely to push them towards a purchase. Some other specific benefits of the AR/VR technology for ecommerce businesses are:
Enhanced product visualization. AR and VR technologies allow customers to experience products in a more immersive way, providing a better understanding of size, shape, and texture. For example, IKEA's AR app allows customers to virtually place furniture in their home to see how it looks before making a purchase.
Increased customer engagement and conversion rates. Studies have shown that the use of AR and VR can lead to increased customer engagement and higher conversion rates. According to a report by Grand View ResearchM, the AR market is expected to reach $28.68billion by 2027 due to increased adoption by ecommerce businesses.
Heightened customer satisfaction. AR and VR technologies can improve customer satisfaction by providing a better understanding of products and reducing the need for returns. A study conducted by XR Today, provides that 57% of users are more likely to purchase a product from brands offering AR.
2. Artificial Intelligence (AI)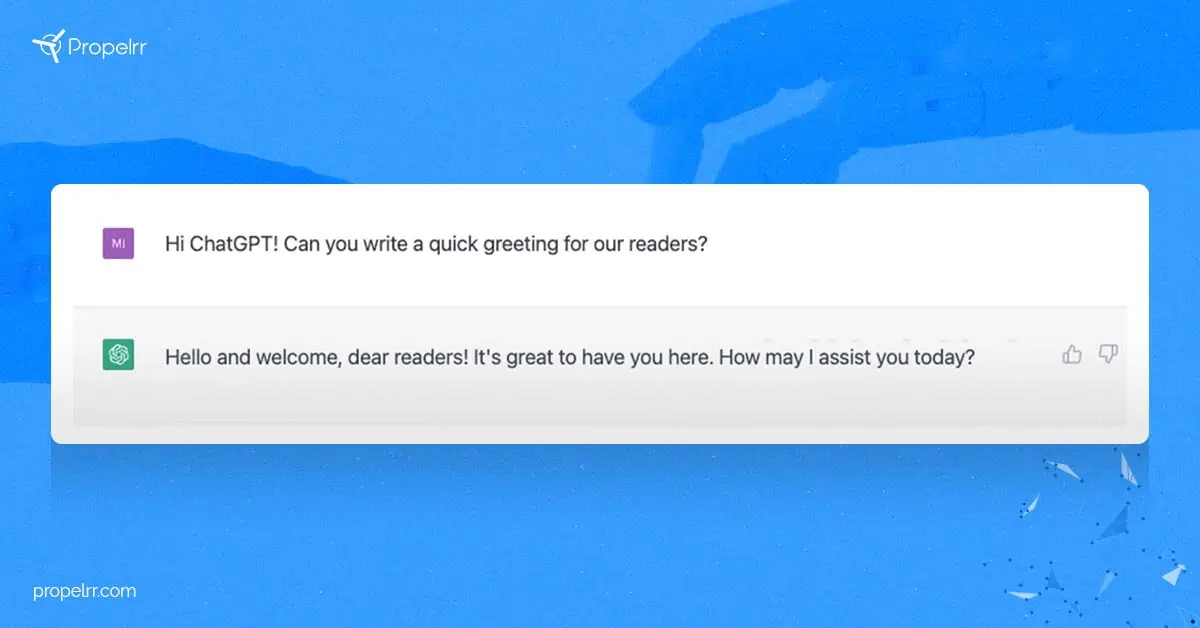 AI is one of the fastest-growing technologies we have today. In fact, it has moved in great strides away from being used as an analysis tool. Today, AI is leveraged for content creation – from visual to written – which you can use to scale your business operations, especially on the promotions and customer engagement front. While the technology itself is facing much hesitation in terms of its creation capabilities, its most popular uses for businesses that you can consider are:
Personalization. AI algorithms can analyze customer data and behavior to provide personalized product recommendations and shopping experiences. For example, Amazon uses AI to recommend products to customers based on their search and purchase history.
Improved search. AI-powered search engines can improve the accuracy and relevance of search results, making it easier for customers to find what they are looking for. For example, eBay uses AI to provide more relevant search results based on customer queries.
Improved customer service. AI-powered chatbots and virtual assistants can provide 24/7 customer service and support, reducing the need for human intervention. For example, H&M uses a chatbot to give personalized styling recommendations.
Fraud detection. AI can be used to detect and prevent fraudulent activity, such as credit card fraud and account takeovers. According to a report by Juniper Research, AI-powered fraud detection systems are expected to save ecommerce businesses $11 billion annually by 2023.
3. Social commerce integrations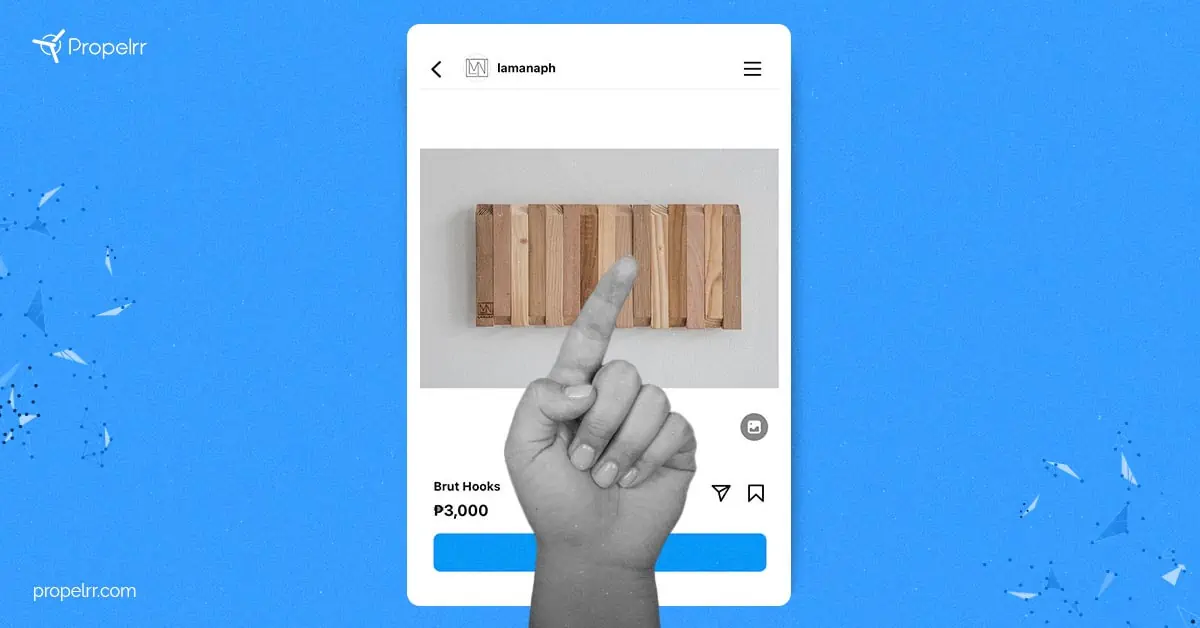 Social commerce integration integrates social media platforms and ecommerce websites, allowing customers to make purchases directly through social media platforms. This integration involves adding ecommerce functionality to social media platforms, such as the ability to browse and purchase products without leaving the social media site. Some of the benefits include:
Increased reach. Social media platforms have large user bases, providing businesses with an opportunity to reach a wider audience and increase their visibility.
Improved customer engagement. Social media platforms offer an opportunity for businesses to engage with customers in a more interactive and personalized way, through social media posts, comments, and direct messaging.
Enhanced shopping experience. Social commerce integration allows customers to complete purchases without leaving the social media platform, making the shopping experience more convenient and seamless.
Social media platforms are increasingly integrating ecommerce functionality, allowing businesses to sell products directly on their platforms. For instance, Instagram's "Shoppable Posts" feature has resulted in a 44% increase in traffic to ecommerce websites.
Social media platforms are also using AI and machine learning algorithms to personalize the shopping experience for users, further enhancing engagement and driving sales.
4. Voice Commerce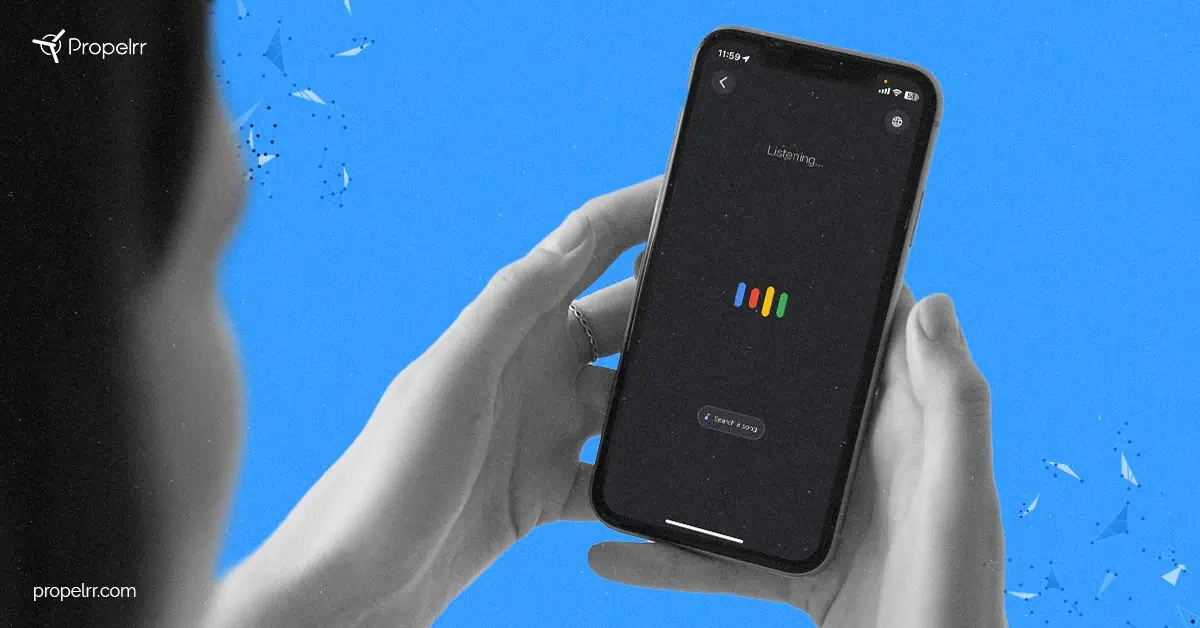 Voice assistants like Amazon's Alexa and Google Assistant are increasingly being used for shopping purposes. According to a survey by OC&C Strategy Consultants, voice commerce is expected to reach $40 billion in the U.S. and the UK by 2022.
Ecommerce websites can integrate with voice assistants to enable customers to make purchases using voice commands, simplifying the checkout process and increasing conversion rates.
5. Web 4.0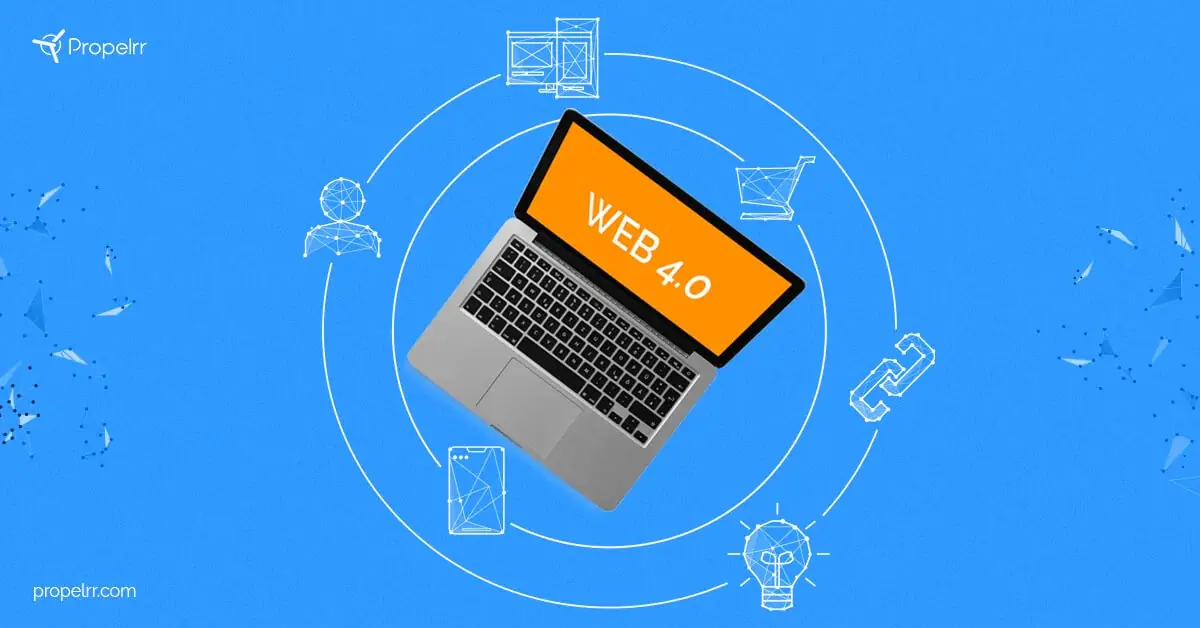 The next generation of the web, also known as the Semantic Web or Web 4.0, is expected to transform ecommerce by enabling more intelligent and automated interactions between businesses and customers. For instance, the use of semantic search technology can improve the accuracy and relevance of search results, enhancing the customer experience and increasing conversions.
Improved search accuracy. By using semantic metadata, ecommerce websites can better describe their products, making it easier for search engines to understand and index the content. This can lead to more accurate and relevant search results, which can improve the customer experience and increase conversions.
Integration of data. The Semantic Web can enable ecommerce websites to integrate data from different sources, such as product reviews, social media, and customer data. This can provide a more complete picture of customer behavior and preferences, which can help ecommerce websites to optimize their marketing strategies and improve their customer experience.
Facilitation of transactions. The Semantic Web can enable ecommerce websites to create more secure and efficient transactions by using semantic data to validate and verify transactions. This can help to reduce the risk of fraud and improve the speed and efficiency of transactions.
6. Mobile optimization
Mobile optimization optimizes your website or application for mobile devices, such as smartphones and tablets. This involves designing the website or application to provide a seamless and user-friendly experience for mobile users, ensuring that it is accessible and easy to navigate on smaller screens with touch-based interfaces. As more consumers shift towards mobile devices for online shopping, ecommerce websites are increasingly focusing on mobile optimization. This so because mobile optimization offers a wide range of benefits to a website, such as:
Improved user experience. By including features such as a responsive design, simplified navigation and faster page load times for mobile devices, you can improve your customer experience. In fact, a case study by Akamai Technologies found that implementing a mobile-optimized site resulted in a 24% increase in page views per session and a 15.4% decrease in bounce rate.
Higher conversions. Features such as simplified checkout processes or mobile-friendly payment options reduces friction in the purchasing process, thereby increasing the likelihood of customers completing purchases. In fact, 53% of mobile users abandon a website that takes more than three seconds to load, indicating the importance of mobile optimization for reducing friction in the purchasing process.
Improved brand reputation. A well-optimized mobile website can improve customer satisfaction, engagement, and loyalty, leading to a positive brand reputation. Mobile optimization is important since 57% of internet users say they won't recommend a business with a poorly designed mobile site, according to a study by BrightEdge. Thus, highlighting the importance of mobile optimization on brand reputation.
Choosing technologies to implement on your ecommerce site
Thinking of the growth that these technologies provided a lot of other ecommerce sites and its potential to benefit your own can be thrilling. However, these technologies often come at a steep cost and, as a business, you will have to make measured decisions in selecting which ones to use in your own processes. When choosing technologies for ecommerce, it's important that you:
Assess the scalability of the tool. Make sure that it can give you the best value for money in terms of how you can use it in the long-term and, to optimize a number of business processes. In regard to scalability, check if a software as a service (SaaS) tool has entry level packages that you can start with and eventually upgrade as your business grows.
Check for multi-functionality. This is one of the best ways you can maximize your investments in any kind of technology. Don't just invest in one software to do one job; try to see if there are other parts of your business process it can help with so that you're not just putting all your eggs in one basket.
Integration capabilities. The main purpose of these technologies is to make conduction of business seamless. In that light, integration capabilities for a tool you're eyeing should be present; it shouldn't exist solely in its own eco-system and have you switching tabs or opening new browser windows for when you have to transition to different tasks.
Assess your customer's needs. So far, we've been talking about how these tools can benefit your business. But ultimately, any investment in your business should translate into a benefit for your customers. Do your customers really need AR to visualize your product? If the answer is a 'no' for them, then it should be a 'no' for you too, even if you feel like you're missing out.
We've tackled a whole lot about ecommerce at this point – from how it's growing in the global and local context to how technology has served to expand an entire industry. However, this knowledge is only great to have only if you are able to translate it into a plan of action. In the sections further down, we'll show you exactly how to do that through a strategy for ecommerce that helps you market your products and services in a streamlined way.
Chapter 7
Developing a conversion funnel marketing strategy for ecommerce
The conversion marketing funnel is a term you'll commonly encounter in ecommerce strategy development. This is because it's a widely used guiding framework that depicts how an audience slowly moves down from the awareness, to consideration, then engagement and, eventually, a conversion.
For developing your ecommerce marketing strategy, we'll run you through the fundamentals of this conversion funnel. We also give you specific digital marketing techniques you can introduce at each level so that your customers continue the journey down to conversions.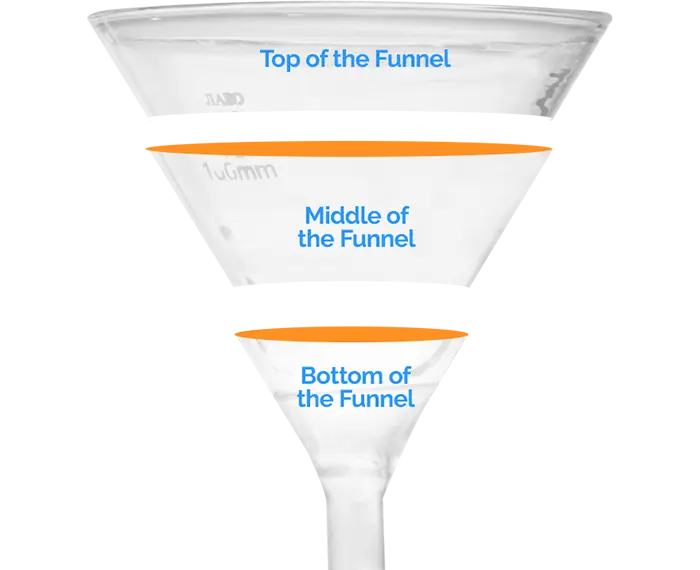 Running an ecommerce business is becoming increasingly simple and complex at the same time.
On the one hand, it's simpler because tools and technologies now exist to help us automate, integrate various platforms and channels, and user experiences are more simplified.
On the other hand, however, rapid technological advancement leave in its wake a mountain of considerations that you must take into account. There are algorithms that determine your brand visibility, the pace in which tech developments emerge, and so much more.
Admittedly, all things considered, it can get easy for knots in your strategy to get entangled. To avoid this, you will need to: 1) rely on data to carve out an ideal path to success, and; 2) structure yourself with frameworks.
On the data front, you have your analytics to rely on. Meanwhile, for structuring your processes and strategies, there are reliable frameworks like the conversion marketing funnel.
In this chapter, we'll discuss how you can organize and structure everything we've discussed in the previous sections into this single conversion-driven framework.
How to develop your ecommerce funnel marketing strategy
Marketing for ecommerce websites always aims to convert browsers into buyers. This entails acquiring new customers, and retaining and upselling existing ones. Ironically, though many businesses often make mistakes in conversion rate optimization – losing rather than earning sales – because they don't understand the conversion funnel framework. To achieve the opposite – that is, to increase conversion for your ecommerce site – let's tackle what the conversion funnel is, as well as marketing and promotional efforts you can do at each level for continued sales growth.
What is the conversion funnel framework about?
More than a marketing strategy, the conversion funnel is an ecommerce strategy. It not only helps you sell ideas and value propositions, but actual ecommerce services and products. It breaks down the steps leading to customer conversion. While the conversion rate is derived by getting the ration of total conversions versus total site visitors, there's more to conversion optimized lead management than meets the eye. Put simply, it's not just a leap from leads turning into paying customers. Because many tend to hyper-fixate on that formula, untrained marketers and business owners neglect the stages prior to an actual conversion. The best approach is always to look at an entire picture when optimizing for ecommerce conversions, then inspecting each level your leads are to develop a promotional approach that addresses their needs at that stage. For example, a lead at the top level of the funnel is still learning as much as they can about your product or service. Is this person really someone you would cut a deal with already by offering discounts? Hardly. For this lead, you'd be better off helping them access resources for better understanding your offerings and earning their trust and consideration. Each level works in a similar way, in that: Your approaches for marketing at the middle and bottom of the funnel will require specific techniques targeted for the needs of the customer at each respective level. Let's dive into the details of that, below.
Conversion funnel levels
As you took from the discussion above, each level of the funnel will need specific marketing techniques to meet the needs of your prospect or a goal. Below is a simple chart of what those needs look like: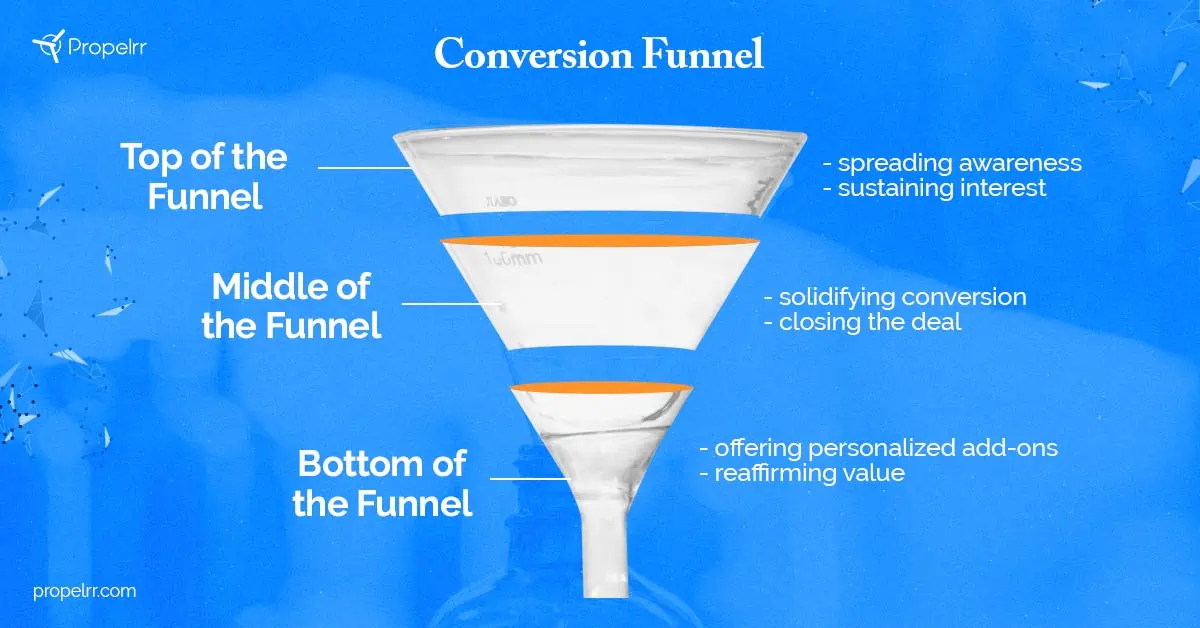 To understand how you can market accordingly for each goal, here's a description of each one:
Top of the funnel goals
Your priority goals for the top of the funnel is to increase awareness of your brand and to sustain that initial interest. At this level, your audiences are thinking: "what is this brand and how exactly can it help me meet my needs?"
Spreading awareness. Is the goal of getting as many people to know about your brand and ecommerce site as possible. Here, you will aim for more brand visibility and recall. Hence, efforts will often entail social media promotions, digital advertising, and/or search engine optimization (improving your websites so they rank higher on results pages).

Don't overlook the principle of catching attention – be it through catchy copies and/or captivating visual assets. You also can't be over-eager to sell as it will only put-off your prospect.

In order to generate as many quality leads as possible, emphasize only the most important information and messaging that resonate with your target audience. Avoid overwhelming them with information; focus on being memorable and interesting enough that they'd give your ecommerce site a visit and move further down the funnel.
ADDITIONAL RESOURCE: How to Do Conversion Copywriting in 3 Easy Steps
Sustain your lead's interest. You don't want your target audience interested in only the ads but also your solution. Hence, at this stage, your aim should be to provide them with targeted and helpful content that explains exactly how your offerings solve their problems.Think of it as a soft-sell: You hint that your brand is the ideal solution in a subtle way. The idea is to meet the intent of learning, rather than purchasing.In that regard, you should ensure that your content – be they on the website or on social media – is:

high-quality;
educative;
entertaining;
emotionally resonant, and/or;
engaging and shareable.
ADDITIONAL READING: 9 Content Marketing Tips to Increase Your Ecommerce Visibility
For most businesses, the common route taken for creating informational content is through a blog and a full-scale content marketing campaign. Through this you can provide information to your audiences and simultaneously boost your visibility on search engines.
Creating search-driven content will prove to be vital to your efforts to make your brand visible given those benefits. You can start out by writing the blogs yourself and, down the line, hire SEO writers who can help you scale up your content production.
Just make sure you give them accurate and specific instructions as to how you want the article to be written. In that regard, you are welcome to download our template for article directions linked below.
FREE TEMPLATE: Develop Accurate and SEO-Driven Articles With This Article Direction
Once produced you can also check for quality and adherence to your article direction with the help of a quality assurance template. For your convenience, we've also linked to that, below.
FREE TEMPLATE: Ensure Top Quality Content With This Article QA Checklist
Meeting your top of the funnel goals rides heavily on how and where you run organic and paid promotions.
In the next section, you can find some strategy tips and examples for how successful brands address their top of the funnel goals through promotions.
Organic social media promotions for ecommerce
Because of the massive reach these platforms have, it's almost a no-brainer to decide on conducting awareness campaigns on them. That's why even though you can technically use it for up until the middle of the funnel, it's most commonly used for the top of the funnel.
Oftentimes, tactics for improving awareness through social media looks like a simple multimedia post that comes with a caption containing a link to your website. You can also seed posts into specific communities or niche groups so that you're reaching a more targeted audience.
This awareness you build over time can turn into leads that you can subsequently convert into customers.
Let's take a look at how lifestyle app Booky does it to boost awareness for lifestyle booking platform.
To get people's attention, it produces informative content that showcases, in some instances, dishes served in restaurants that are present on their app. In the image below, they feature a selection of pancakes from different restaurants.
In the infographic, you can easily find out which restaurants offer the pancakes which are lightest on the budget and those available for a more premium price-point.
Content like this don't aim to hard-sell more than they seek to tell people that, "hey, here are the selections we offer." So while it doesn't achieve a sale directly, it did meet the goal of increasing awareness for the brands that market on Booky's app.
In regard to visual treatment, it's also interesting to note that Booky's illustrated infographics routinely get higher engagements than posts featuring stylized product shots they post for a single brand.
While this doesn't mean that brands can't or shouldn't advertise through Booky's social media, it does tell an interesting story of what works better in engaging audiences. This should tell brands that it might be better to leverage participation in curated content like this rather than a full-on brand spotlight.
Let's look at another piece of content from Booky which is an infographic that features different types of tea.
In a somewhat similar treatment as the previous graphic, the image is also just a curation of different kinds of teas – brand names aren't even mentioned.
While no names are dropped this graphic can potentially pique the interest of audiences, leading them to visit the website to uncover which restaurants and/or brands offer these kinds of tea.
The only pitfall of posts like these that are thrown out onto the feed is that it targets a general audience and you may not be reaching those who are willing or want to transact with you. To best maximize your efforts, you can try hyper-targeting the niche you want to talk to through the following techniques:
Using hashtags on your posts. Hashtags offer a more refined way of searching and engaging with posts. From the user's perspective, they can choose to follow hashtags and visit designated landing pages for these to find posts that are categorized under them.

A hashtag like #newbalance530 on Instagram, for example, will lead you to a landing page that indexes all posts that contain it. So the user finds themselves on a page that shows only photos of the shoe brand and model.

Cross-posting your content in community groups. Community building and engagement is one of today's most popular social media marketing techniques, as more emphasis and importance is put into fostering strong relationships with others. Incidentally, brands have also picked up on the value of this seeing how communities can mobilize each other to take action.

Communities on social media are formed with the notion of a shared interest or goal. Groups like the popular Home Buddies are the prime example of how communities mobilize to help each other find solutions.

If your brand is ever posted in these kinds of communities, you can count on near-instant results, as people tend to trust the recommendations of people they trust.
READ ALSO: 9 Community Management Best Practices for Better Engagement
Paid digital advertising promotions for ecommerce
Layering on top of organic promotions to give your brand a bump in awareness is paid digital advertising. This online promotional technique entails paying for ad placements in various channels such as Search (eg. Google, Yahoo, and Bing) and/or Social (eg. Facebook, Instagram, Twitter). It's most recommended for brands that want to see a big boost in awareness and reach in a short amount of time. But because of the cost and technicality of the job, it's most advisable to rely on this as more of a complementary technique to your organic efforts. Think of it this way: Paid ads get the results fast, but the results from organic are more genuine and durable. With longevity in mind, the latter is still the better option although it can often fill like an uphill battle. The level of awareness paid ads target uniquely include prospects who do not know your brand, your product, and your solution. Sometimes, they may not even realize the problem you're solving. It contrasts email marketing which, by white hat standards, cater to people who have some sort of awareness about your brand, product, or solution as they sign up for your newsletter themselves. ADDITIONAL RESOURCE: Guide to Optimizing Every Paid Digital Advertising Channel Online
Middle of the funnel goals
The middle of the funnel is where things start to get exciting. Here, you still have to exercise the same subtlety as with the top of the funnel, but you can also be more direct.
At this level, your leads are leaning into that initial interest in your brand. They're curious about how you compare against existing alternatives, what are they signing up for when they avail of your offerings, and/or what investment it entails.
Solidifying conversion – why should they buy from you. Though they may not be totally sold on choosing your solution, the seedling of the idea is there. At this stage, they just need a bit more convincing and, in response, you should make it absolute that you are the right choice.

In your content, you can and should highlight how your brand is distinct from others. Tackle topics such as:

Pros and Cons of Choosing My Brand of Shampoo
How My Brand of Shampoo Helps You Be Sustainable and Practical
Why My Brand of Shampoo is the Best Value-for-money Option

Although in the Philippines we do not make direct comparisons with competitors, headlines like the ones above help paint a clear enough picture.

Develop infographics, explainer videos, or other forms of content that you can promote and, similarly, your leads can share with their network.

Closing the deal – Competitors aren't the only roadblocks to successful conversion. Sometimes, it's simply time. Prospects may have a positive opinion of your store, products, and services, but still put off the purchase for various reasons.

To close deals at this stage, behavioral nudges help tremendously and you will need to reengage customers that are at risk of growing cold. You can achieve this by sending reminders through push notifications (if you have a commerce app) or newsletters.

It helps to encourage quick transactions by inserting cues for urgency like limited time offers and such. Another helpful marketing tool here is presenting use cases which can come as either product reviews, testimonials, and other affirmations and commendations about your brand.

Other than these nudges, you can also consider free samples or trials of your brand. This gives customers an initial, non-committal experience of your brand so they can form a more solid opinion of it.
Lead nurturing with email marketing
Email marketing can be a powerful tool for ecommerce when you segment your email sequences and lists based on where prospects are in the customer journey.
This makes it perfect for leads who are in the middle of the funnel for conversion because these specific and targeted messages in newsletters help solidify their opinion of your brand. Through emails marketing, you can also send customized offers that tailor the service and/or product for these audiences.
Email marketing can even sustain up until the bottom of your funnel marketing strategy. But in this case, we put emphasis on it for the middle of the funnel because they are effective in delivering the recapturing and reengagement messages required at this level.
Leveraging email marketing for middle of the funnel prospects can look like:
Publishing recap for the blog. These types of newsletters continue the consumption of helpful learning content. With newsletter drips like these, you can continue molding the perception and knowledge of your brand with your most interested leads.

Eventually, you can follow up with emails to promote gated content which aim to provide more insight into how your products and/or services work.

Promotion announcements. Leads in your mailing list, being one of the most interested audiences in your funnel, are likely on the look-out for deals to your products and/or services. If a lead came from a prompt to subscribe in exchange for a coupon code, for example, that's a sign that they will eventually make a purchase.The next step you can take to follow-up is to send an email drip about new items on your website, and/or limited time offers that can nudge them towards making that purchase.
Let's look at how Canva does their email marketing campaigns as a quick reference.
Rather than sending exclusively promotional emails for its paid version, Canva emails its subscribers design prompts and top 10 lists of inspirational designs.
The inspirations help reinforce the value of Canva's service while the prompts make it easier for Canva users to use their website and experience the service themselves. These keep Canva users' interest aflame.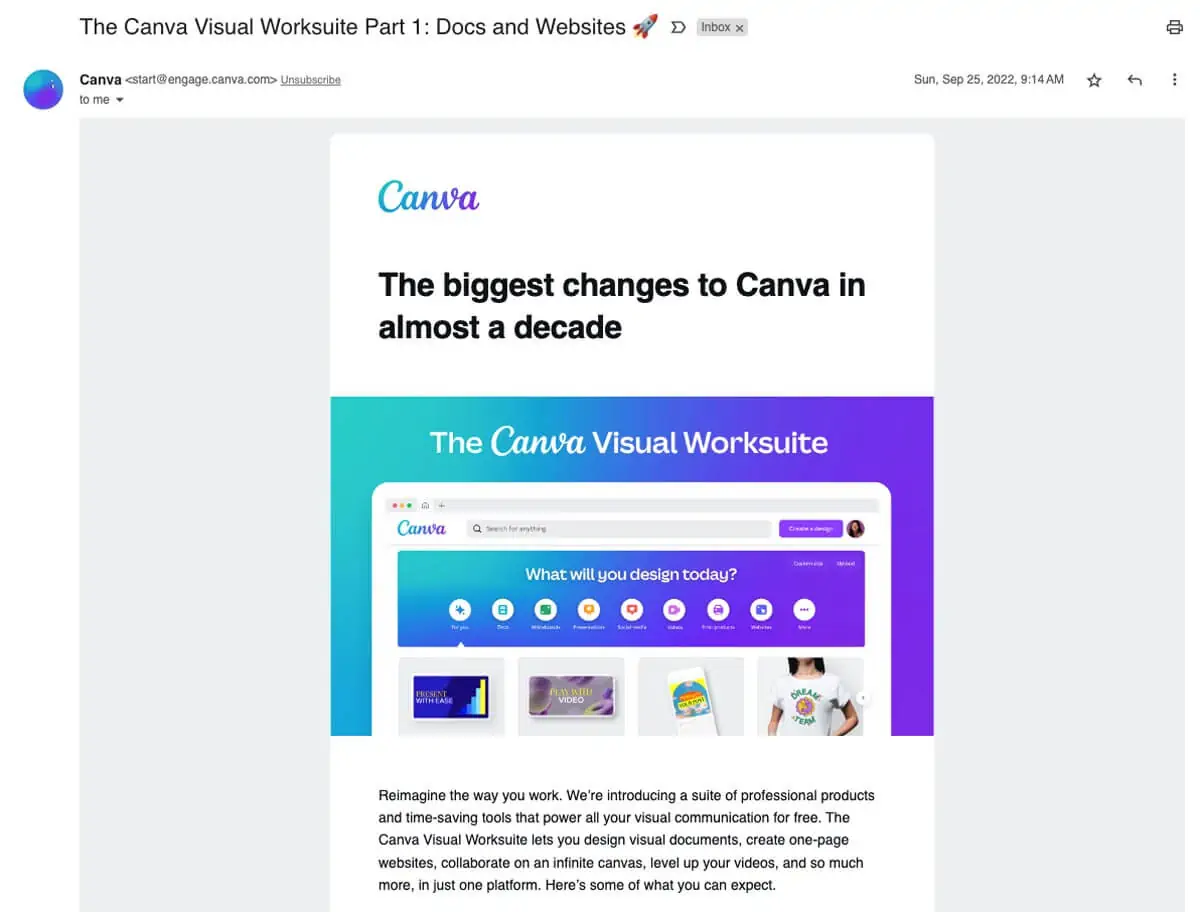 Bottom of the funnel goals
At the bottom of the funnel, your goals will look completely different because on this level, your customers are already an inch away from clicking the "Check-out" button.
The main thought you will want to ensure at this point is that they jump on your offer. Remember to carefully consider the sales aspect for this that come in the form of discounts, free gifts, rebates, rewards, etc.
Offering personalized add-ons. The beauty of ecommerce is that you can determine offers relevant to your buyer based on historical purchases. With this information, you can develop refined and sophisticated offers that take into account the detailed needs of your prospect.

For example, recommending an induction-compatible pan after a purchase of an induction cooker is a smart offer and signals to users that you're paying attention to their needs.

Just make sure the add-on recommendation either does not require as much deliberation as the main purchase, or is pushed to them straight after their transaction. Or else you'll come across as over-eager.

Reaffirming the value of your product and/or service. This can be done on landing pages where the transactions happen. This is important as up to 74% of American adults experience buyer's remorse due to online shopping.

To avoid this feeling from stewing, you must remind the customer of the benefits they get with their purchase. Helpful purchase rebates and accompanying rewards also help them avoid this feeling and feel more eager about the purchase in the first place.

In business-to-business solutions, after-sales care at the bottom of the funnel can look like onboarding and/or tutorial videos that teach the buyer how to best maximize their purchase. For retail, this level of customer service is most practiced through chatbots and/or hotlines that help buyers troubleshoot any issues with their purchases.
Synergy in the levels
If you've noticed, the different stages of the conversion funnel synergize with each other. If there is a problem in one stage, it would be felt in the succeeding stages, but also remain distinct from each other. By being mindful of the conversion funnel framework, you can craft an ecommerce funnel marketing strategy more effectively and systematically. You will no longer think of a conversion as a vague mathematical ratio problem, but a social media copy concern, a content marketing strategy issue, and so on. From there, you will also be able to develop strategies with specificity. Is it a problem with keyword cannibalism, headline writing, channel mismatch, or a glitchy user experience? The answer will depend on which funnel level you zero in on. Ultimately, you'd be able to pin-point what exactly is causing a bottleneck in your funnel and decongest traffic for better cash flow.
Don't overlook the "messy middle"
The middle of the funnel is often overlooked, yet crucial to customer conversion. Google conducted an experiment about this. According to their experiment on purchase behavior, even a fictional brand can overtake its nonfictional competitors. This leverage rested on what Google refers to as the "messy middle" in which prospects research and deliberate on their choices before arriving at a purchasing decision. This priming is so crucial that even though the unwitting participants have never heard of the fictional brand, a concerning percentage of them still chose it over real brands. What this means for your business is that even if prospects have low or even zero awareness of your brand, the middle of the funnel can significantly grow it enough to convert.
A note on testing ecommerce ideas and strategies
The conversion funnel framework, admittedly, is just a high-level overview of how you can optimize for higher ecommerce conversions. Sure you can run your campaigns as is and still achieve results, but the real boosting happens when you are able to test ideas against each other. Through marketing experimentation, you don't just follow one path to success blindly and settle for the results, as is. By testing multiple ideas – whether in the top, middle, or bottom of the funnel – you can uncover the most optimal route to success. If it can lead you to one that elevates results while minimizing cost, then you'll be glad you tested. However, before you start taking a deep-dive into testing, it's important to establish your baseline results. So starting out with a few basic or advanced ecommerce strategies and tactics can serve you well enough at the beginning of your journey. Remember to store all your data, keep abreast with emerging trends and tools to optimize your ecommerce operations, and test ideas that you have. As the digital landscape evolves further, the adaptability lended to you by rapid ideas testing will prove to be a valuable skill that will help you not just go toe-to-toe with the competition, but even surpass them. In the next section, we'll leave you with some more strategy tips that you can take with you to further grow your ecommerce business.
Chapter 8
Wrapping up – tips and important takeaways for ecommerce growth
Given this deeper understanding of how to develop a funnel marketing ecommerce strategy, you can finally leverage your vast knowledge to boost ecommerce website conversions. What do you have to lose with a few more tips to take home, right?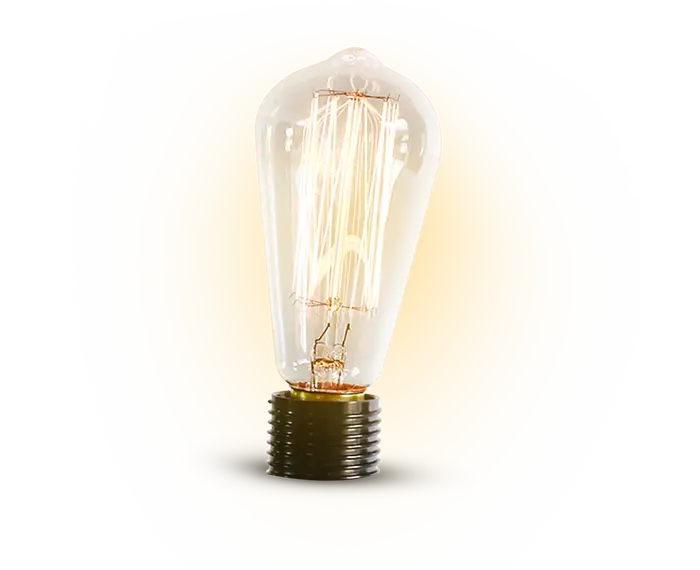 To fully optimize your website and drive conversion wins, you need to do two main things:
utilize the right platform features, and;
enact optimization best practices.
Below are tips on how you can commit to those.
Utilize the right website features for your ecommerce strategy
The first thing that you can do to improve your ecommerce strategy is to utilize the best website features possible for your business today.
The most effective features for your site will ultimately depend on the business KPIs and goals you set in the earlier parts of this conversion optimization guide. While these will definitely be different for every brand and their unique needs, the right features for your website might include the following examples: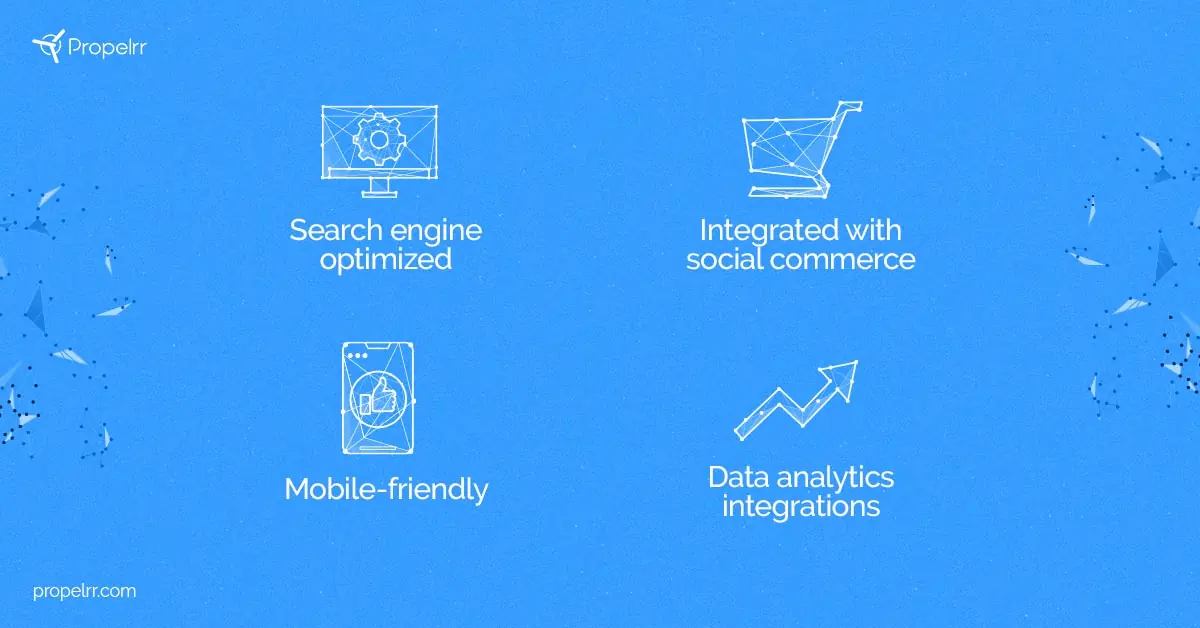 Keyword-optimized web pages. If optimizing keywords on product pages is a consistent feature for your website, you'll gain the benefit of better rankings on search engines, leading to more traffic and a higher chance for conversions too.
Social commerce integration. As mentioned in a previous section, integrating social commerce ensures that you're covering all your bases for user engagement, thus reaching more potential customers across numerous social media platforms and search engines alike.
Mobile-first design. We've already established that mobile is the future of internet access. With a mobile-first design, you're ensuring the accessibility of your platform for more users, keeping them interested in what your brand has to offer while they're on their phones, more often than not.
Reporting tools. Last but not least, by employing ecommerce reporting tools as regular features for your platform, you'll be able to collect and study raw data more quickly, thus leading to better analytics and website strategies.
As implied earlier, you shouldn't be limited to just these four website features. Try exploring additional ecommerce services, like ecommerce personalization, to fully maximize the potential of your online shopping platform. By leveraging every opportunity, you'll be able to drive better conversion wins for your business in the long run.
Enact best practices when marketing for ecommerce
The second thing that you can do to optimize your platform for conversion wins is to enact best marketing for ecommerce practices. By enacting these best practices in your marketing executions, you're ensuring both the maintenance and growth of your online business, all for the sake of long-term success. Some of these SEO best practices for SMEs' ecommerce websites can include the following examples:
Determine your long-term ecommerce website goals. Do you hope to hit a certain number of product sales by the end of the year? Are you aiming to migrate all purchases to your platform or site? Whatever the goal is, determine it early on so that you can plan your strategies around it ASAP.
Track KPIs that matter to your brand. As mentioned in a previous section, these might include metrics and data as fundamental as website traffic, or as complex as customer lifetime value.
Align your website structure with exciting offers. If you wish to highlight certain short-term offers for customers, for example, put those at the banner on the top of your site. Push these offers to ensure maximum conversions for your page.
Optimize your ecommerce website for SERPs. By enacting optimization techniques specifically for search engine results pages (SERPs), you'll be able to boost traffic to your ecommerce site more efficiently and consistently.
Prioritize user experience on your platform. By doing this, you ensure a smoother and more successful customer journey, from platform entry to conversion. To know what your users want, start by collecting data, feedback, and reviews to understand consumer sentiments.
Chapter 9
Key takeaways
You've come to the last leg of this definitive strategy guide for ecommerce business growth. Admittedly, there are and always will be many things to consider especially when innovations in the digital industry are moving faster than ever.
Due to how overwhelming these can be, it's important to have a well-formed and ingrained understanding of the basics of ecommerce optimization. This will help you strengthen and sustain them so that your business flourishes.
With that, we leave you with these small reminders that sum up everything we've discussed above.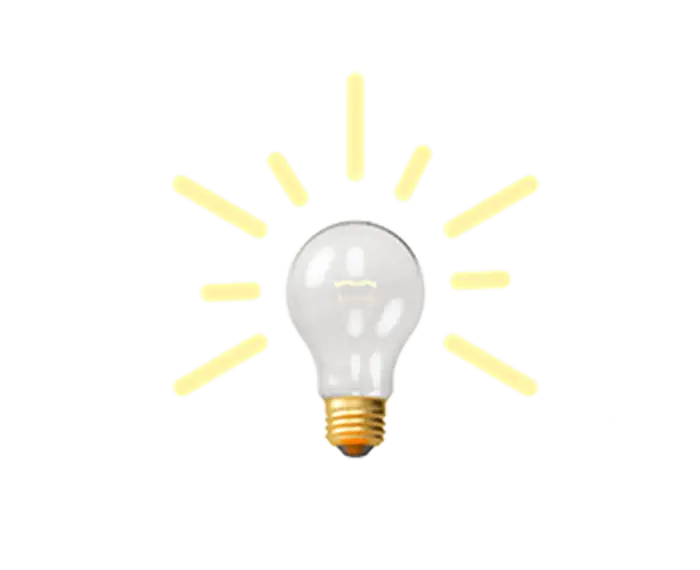 Ecommerce growth is, as you may have guessed by now, easier to say than do. We know this because – to our dismay – we've seen so many businesses start up and fail to meet their hopes for growth because they failed to take into account the many other aspects of running an ecommerce business.
If you're just starting up or already on the path toward expanding your online growth, remember to:
Invest in tools and technologies wisely. As these can easily turn into liabilities, it's best to be scrupulous in reviewing and selecting tools and technologies you want and need to invest in. Remember that not every shiny new tool can benefit you; for better guidance, let your customers clue you into what you can optimize further.
Earning trust will earn you business. Our online world today has become more perilous than ever. Hence, you can't blame online users if they choose to err more on the side of caution when transacting. As a business, your best response is to meet them where they are to make them feel secure and earn their trust before you can earn their business.
There are no such things as universal "best practices". The best practice you should follow are the ones that meet your goals best; techniques, implementations, and strategies that you've tested and proved to be effective for your business. So while we did offer some best practices, we urge you to use them merely as an initial basis rather than hard-set rules.
Tackle any and all challenges when it comes to growing your ecommerce business with this guide and the advice of the Propelrr team. If you found this guide to be valuable in improving your perspective on how to run your ecommerce business, then we'd love to hear from you.
Make sure to drop us a line to let us know what you think or if you wanted to clarify anything with us.