How to Increase Social Media Conversions in 12 Easy Steps
Ways on how to increase social media conversions may sound like a 'unicorn' to some, but not for data-driven digital marketing agencies. When someone tells you that "oh, there's just no way to promise conversions on social media," then call BS.
You see, to digital marketers who use data, social media and the consumption patterns of audiences on them, can be predicted and thus, prepared. With data, your brand won't just be coming out into the social media world hungry for Likes, Shares or inspiring thousands of memes. In fact, you can achieve those and drive conversions.
We're talking about conversions that bring real money in – purchases of products or services.
Social media is a perfect platform for brand awareness with its global reach but you can't just collect interactions. You have to move lower into your marketing funnels towards converting a lead into a prospect.
With our experience in social media marketing, we've gained insights from hundreds of A/B tests, strategies, and other quirky executions to find out exactly how you can concoct a winning formula to increase social media conversions. Here are 12 of our best tips for you.
Expert tips to increase your social media conversions
1. Keep your content consumable.
Digital marketing, including on social media, is all about getting noticed. But how do you do that if your content is competing with countless other content?
The first rule in improving conversions on social media is to make your content consumable in a sense that they're clear, creative and jargon-free. Also, don't forget to maintain your brand voice. No matter what photo, video or article to share, your followers should be able to identify you in them.
2. Create the right content for each level of your marketing funnel.
How do you encourage people who followed your social media page to move to the next marketing funnel? Provide them with the right content that will help them decide to proceed.
You may share videos, infographics, whitepapers, and case studies to assist your prospects in evaluating your offering. Webinars and podcasts can also make a difference.
Once a prospect is in the evaluation stage, send them a direct message or an email to seal the deal. Answer queries on price, shipping and handling, and others that will accommodate the transaction.
Help your customers in each marketing stage!
3. Don't forget to include compelling calls to action.
You wouldn't want to let hard work put into crafting impeccable product messaging go to waste by forgetting the call to action, would you? We thought so.
A call-to-action (CTA) can effectively boost conversions by motivating potential customers to take specific actions such as to request for a price quote, sign up for a newsletter, and add items to cart. Adding compelling and consistent CTAs to your Facebook posts can increase click-through rate by 285%.
An effective CTA includes a clear and actionable text with action words such as "request", "sign up", and "buy now". But keep in mind that it must be a short phrase with no more than 7 words. A CTA must be well-designed to grab attention and placed in a noticeable part of an ad or page.
4. Explore the power of Facebook Live.
How do you drive social media conversions in a pandemic?
Strict physical distancing protocols cancelled product launches, conferences, concerts, and other live events. But some brands didn't let the pandemic rain on their parade. They streamed their events via Facebook Live and made noise online.
Facebook Live, one of the top live streaming platforms, saw a 50% jump in viewership in 2020. People joined concerts of their favorite artists, participated in fitness classes, and bid for products sold through Facebook Live.
5. Maximize your top-performing content.
Your most-liked or most-shared content hits all the right buttons. They have the right message delivered in the perfect format to a well-defined audience. Maximize your top-performing content with Facebook's Boost Post. This tool is similar to Facebook ads but with additional features such as a call-to-action button and a tracker of ad metrics for each post.
Using the same content, you can expand your audience beyond people who already interacted with your page. You may even extend your reach to Instagram.
6. Explore ephemeral content.
Power up your conversions with one of the social media trends of 2021: ephemeral content. This type of content is transient and disappears after 24 hours from posting. An ephemeral content may be a photo, video, texts or a sticker. The most popular ephemeral content platforms are Snapchat's Stories, Instagram's Stories, Facebook's My Day, LinkedIn's Stories, and Twitter's Fleets.
Boost conversions among young customers through promotional ephemeral content. Millennials and Gen Zs are heavy social media users and millions of them use Stories or My Day. It is reported that Snapchat Stories are viewed 10 billion times a day.
Are you introducing a new product or promoting a sales campaign? Make sure to use ephemeral content to publish these.
7. Join the fun in Facebook Marketplace.
The pandemic brought life to the golden age of online selling. With shops and restaurants operating in limited capacity, people are opting for pick-up and delivery services.
Boost social media conversions by joining Facebook Marketplace. Even before the coronavirus, Marketplace was already the go-to platform for online selling and shopping. In a pre-pandemic study, 15% of Facebook users use the app to shop, with 800 million users monthly.
You may advertise retail items, new or refurbished, and let your customers purchase without leaving Facebook.
8. Showcase your products using Facebook photo-only ads.
In a Facebook study, it was found that photo-only ads outperformed other ad formats in driving organic traffic. Three techniques, which consisted of various combinations of static and video content, were performed to determine which had the most impact on unique conversions. The combinations were: static + video, static + static, and video + static.
"The photo-only link ad sequence outperformed the other strategies on driving unique traffic with a 75% higher likelihood than the control," according to Facebook.
But because there's no one-size-fits-all strategy, you may experiment which combination of visual elements will bring the best results. Run ads campaigns and monitor their performance via Facebook Business.
9. Sell directly to your customers through IG Shopping.
Are you selling products? Boost your conversions via Instagram. Businesses, especially retailers, are taking advantage of Instagram's massive user base by advertising and selling through the platform. According to latest figures, more than 1 billion people use IG every month and about 130 million of them tap on shopping posts every month.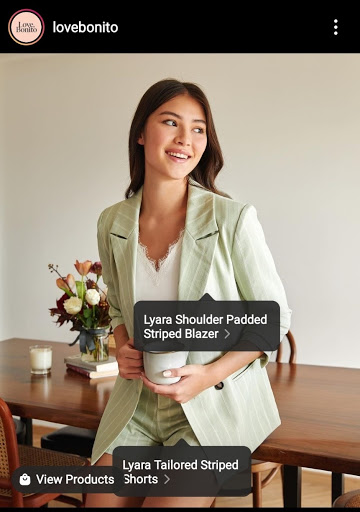 Screenshot is taken from Love Bonito's Instagram page.
With IG's Shopping, you can build an extension of your physical shop and tap the platform's millions of potential customers. This feature allows you to create a customized storefront, highlight products in Stories and in-feed, curate products into themes, and showcase items with all relevant information such as price, product description, and media.
10. Drive traffic to your website using IG Stories.
Did you know that 500 million people use Instagram Stories every day? Out of this number, 50% said that they have visited a website to buy a product after seeing it in Stories. It's no surprise that many brands and businesses consider IG features as an important marketing channel.
A Story is a content that combines photos, videos, text, and other elements. The content disappears after 24 hours unless you save or download it.
You may create a "How-To" tutorial for your products, share a short clip to announce promotions and discounts, or post a visual content with key benefits of your products.
11. Promote customer reviews.
Rarely do people buy a product or sign up for a service immediately after seeing an ad. Most would research online and read several customer reviews before making a decision. Studies show that 90% of people read online reviews before visiting a business and 72% say that positive reviews make them trust a local business more.
Social proof increases the trustworthiness of a brand or business, hence helping boost conversions. While your goal is to receive positive feedback, this doesn't mean that you should delete negative reviews. Remember that a perfect score sheet may suggest that some reviews are fake. Instead, respond promptly to complaints and address issues offline. Admit your mistakes but assure your customers that you're ready to solve their problems right away.
12. Level up community management efforts.
Community management on social media involves engagements with your audience on social networks. This requires tools to monitor, organize, and prioritize all communications and conversations around your brand or business. Community management is "part customer service, part listening to the internet, and part being active in discussions that relate to your brand".
It's advisable that you hire a community manager or a digital marketing agency to handle the various tasks involved in community management. This isn't a one-time project, but is a key part of your social media marketing.
Key takeaways
Putting out your brand for the social media world to see is just a step in your digital marketing strategy. You need to learn how to convert every Like, Share, and Retweet into a sale. This is where conversion techniques come in. Here are the most important tactics:
Create content that is easily consumable. Meaning it has to be clear, creative and jargon-free.
Share the right content for each marketing funnel. If your prospect is in the evaluation stage, share webinars or infographics that provide relevant information on your product or service.
Discover the most popular types of content on your choice of social network. For instance, ephemeral content is widely consumed on Snapchat and Instagram.
Need help with social media marketing? Propelrr can help you achieve your conversion goals. Send us a message on Facebook, X or LinkedIn.