Digital got you dazed?
Type it below, and we'll show you what we've written about it!
9 Content Marketing Tips to Increase Your Ecommerce Visibility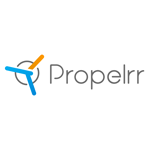 Propelrr

05 May 2021

9

min

read
One of the most significant factors in deciding where to buy and what brand to trust relies on your online presence and reputation—  this is particularly true when it comes to ecommerce.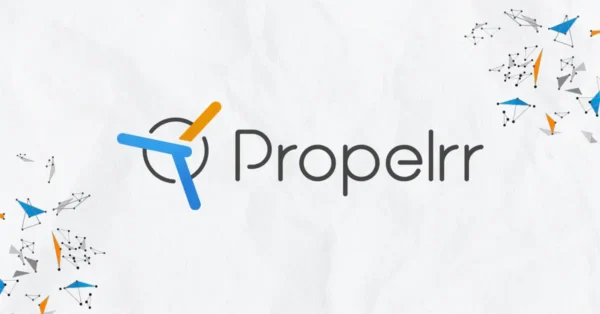 However, the ultimate challenge is being able to stand out and reach customers with thousands of other brands vying for the same audience. To avoid this, why not use and level up your content to target new markets or niches, raise brand awareness especially on Search, and offer useful insight to new and returning customers?
Content is multi-layered. It touches virtually every area of a company, from your website, email marketing, to your social media posts and videos. But what's the best way to improve your ecommerce visibility?
As a trusted content marketing agency, we're offering some of our best content marketing tips.
Content Marketing Tips to Increase Your Ecommerce Visibility
1. Create in-depth information content about your products.
Informational content like product guides and in-depth how-to's can be an excellent way to start off content marketing efforts.
This is something that is exemplified by skincare brand Kiehl's. As you can see in the image below, Kiehl's product pages each have sections and folds that provide more in-depth information about the product's ingredients, along with quick information on which skin problems are best solved by the specific concoction.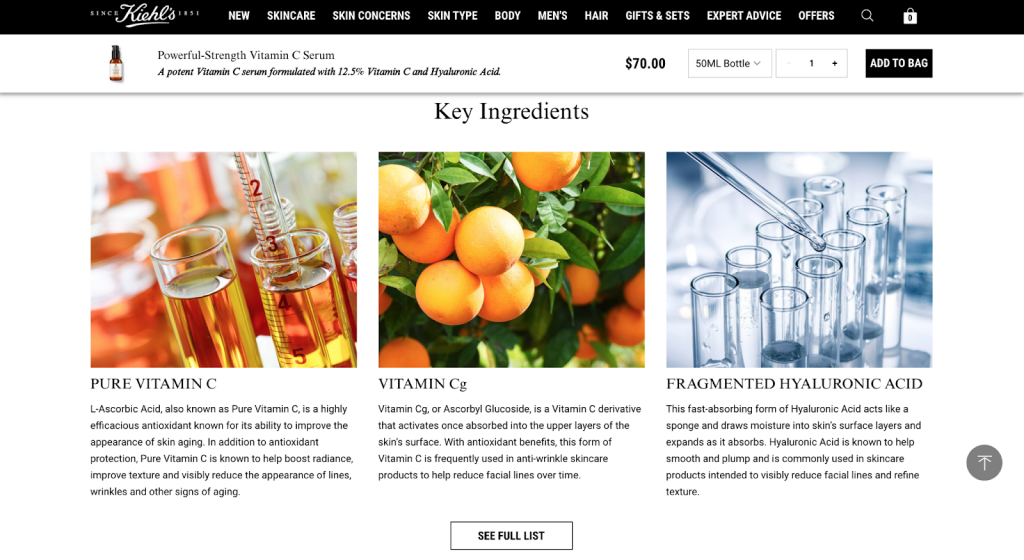 Through these guides, you can implicitly guide your readers to buy from you by showing them how to use your goods, highlight their benefits, and address all of your readers' concerns or questions.
You can establish yourself as an authority in your field by offering these comprehensive guides. Whether it be a blog, a video tutorial, or an infographic— as long as it's informational to your customers then it's good content to have.
2. Leverage user-generated content.
User-generated content is the content rendered by none other than your customers.
If shoppers post content on your website it can influence prospective buyers to make a purchasing decision. According to Agility PR, user-generated content is even more convincing than influencer content.
At-home teeth whitening brand Holo, for example, regularly features user feedback and testimonials on their Reviews page. These reviews are often accompanied by photos and are posted either straight on their website or on social media channels.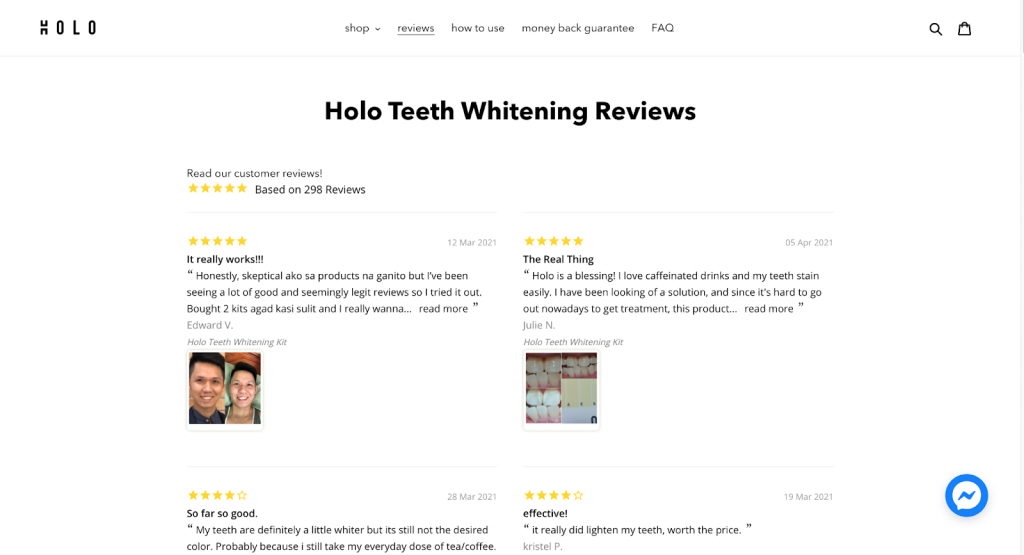 Encourage your clients to express their criticism and experiences through social media, your website's comments section, or other channels your brand is active in to generate UGC.
From there, you can expound on their content with a blog post or video sharing their experiences. If you're selling wholesale products or ingredients, why not share a customer's recipe on your website? Or if a customer discovered a nifty hack using your product, why post it as an expert tip?
There are many types of user-generated content you can use like social media posts, reviews, comments, Facebook or Instagram stories, and more that you can use to raise your brand awareness— you just have to spot the right one.
3. Address FAQ's through blogs or videos.
One of the most critical aspects of your ecommerce is answering FAQs or Frequently Asked Questions.
Whether its your customer's first point of contact or last, you must respond rapidly and easily to any concerns they may have. As a result, confidence is built, and a potential buyer's mind is eased. And, if handled properly, will assist prospective buyers and consumers at some point during their shopping process.
You can create a dedicated FAQ page to include questions, long-tail keywords, and queries that prospective seekers may use. A good example of an FAQs section is seen on REBEL's website. It features common long-tail keywords to form the headers of the questions as, as well as actual questions they get from their expected customers.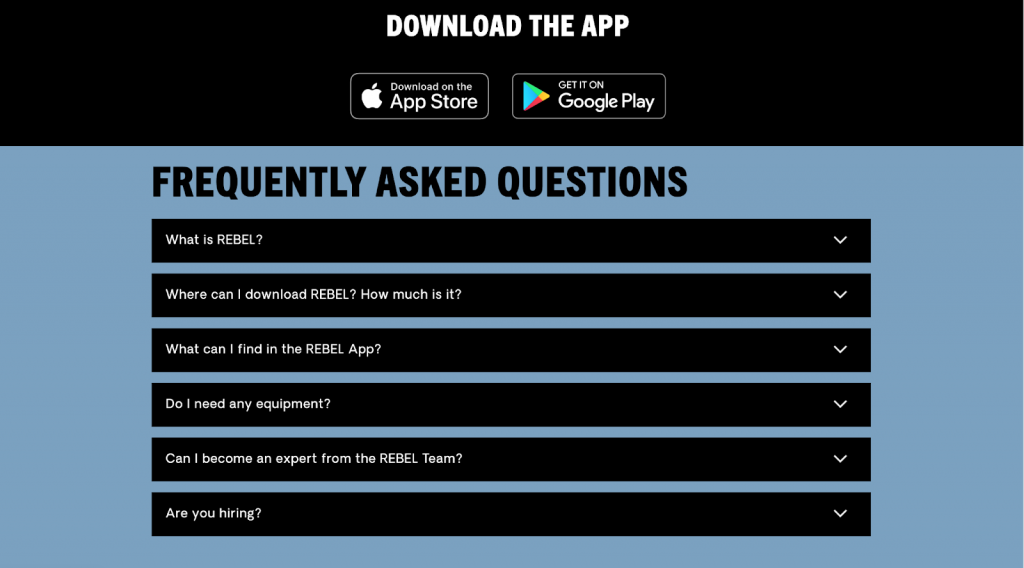 You can create a dedicated FAQ page to include questions, long-tail keywords, and queries that prospective seekers may use.
But for other questions that might require a bit more than 2-3 sentences, then why not create a full article on it? These are content opportunities you can spot to provide valuable and informational content that your clients enjoy or are searching for, and include inbound links.
4. Go niche with your product uses and benefits.
With multiple ecommerce sites offering merchandise online, standing out from the crowd may be difficult. But how about going niche to a specific audience?
Choosing a niche that fits your business is very crucial, but going niche also allows you to do the following:
Focus on a single area of expertise
Attract more loyal customers
Makes your online store more searchable
Reduce marketing cost
Provide direction for your content and product messaging
You can more quickly recognize your potential client and address them with tailored content as you concentrate on a certain niche. At the same time, you develop expert status, which helps your prospects get to know, like, and trust you faster. This is critical for converting leads into paying customers.
5. Create a newsletter strategy to keep them updated.
A newsletter with a good email marketing strategy will help you sell your products or services, build a good relationship with your followers, and ensure potential conversions all within your audience's inbox.
The newsletters provide higher chances of conversion and loyalty potential since users reading the emails are those who are interested in knowing more about you. Plus, you can offer up exclusive deals and offers that only they can know about!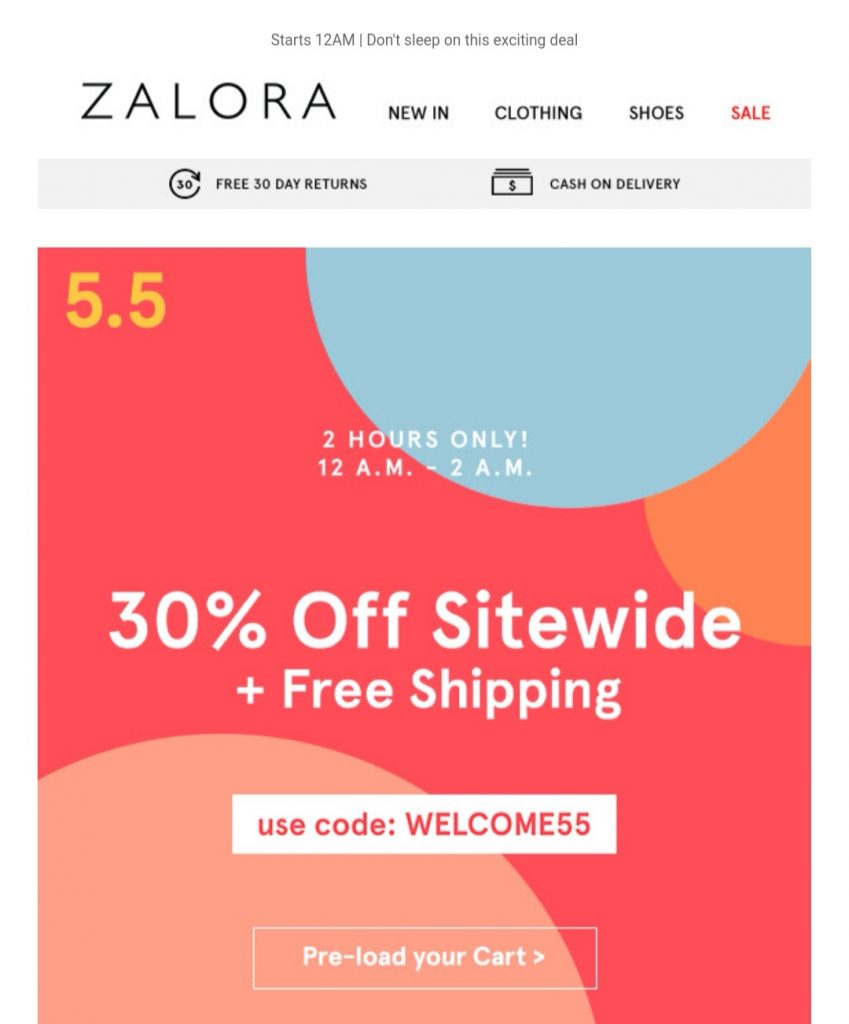 Other than those mentioned, here are a couple more benefits why newsletters are important for your online store:
Makes your brand shine in the market.
Exposes your products in the market.
Maintains relationship with customers and prospects.
Higher chance of conversion and personalized communication.
Increase in web traffic.
The distribution of newsletters is an incentive to raise reputation and product awareness. Prospects may have learned very little about you before because of ads or social media advertising, but now you can send them all the facts, deals, and links to your web pages that you want.
6. Know your audience's concerns and address them through content.
The first and most important step is to determine who the right consumers or potential customers are for your company.
Your product may be the ideal solution to an issue that a certain demographic of customers is experiencing. It's just a matter of figuring out who they are and concentrating the consumer acquisition activities on them.
You're definitely restricting your ability to sell your brand successfully if you don't have a target buyer in mind. You're better off seeking a niche market for yourself because your products fulfill a common need.
In addition to knowing your target audience, you should be aware of your audience's concerns. Look out on different platforms to know what your customers are looking for and what problems are they trying to solve.
7. Try and explore different content formats.
It's not a good idea to rely on only one main content format if you want to attract as many users as possible.
There's more to content than mere blog posts. Though long-form blogs and articles have their place, you can also raise visibility by including other types of content. Here are some of the most common content styles to use in your ecommerce marketing strategy.
Video content
It's no surprise that video content is often regarded as the best and most valuable content for ecommerce. Informative videos on social media sites like YouTube, product pages, and other sections of a website are a great way to advertise, illustrate, and describe the things you're offering.
This example campaign video to market their most popular value-for-money headphones (WH-1000X M4) is a lifestyle video that exemplifies its noise-canceling tech. Accompanied by the tagline 'Only music. Nothing else' the video effectively demonstrates what the product can do for you, without saying too much.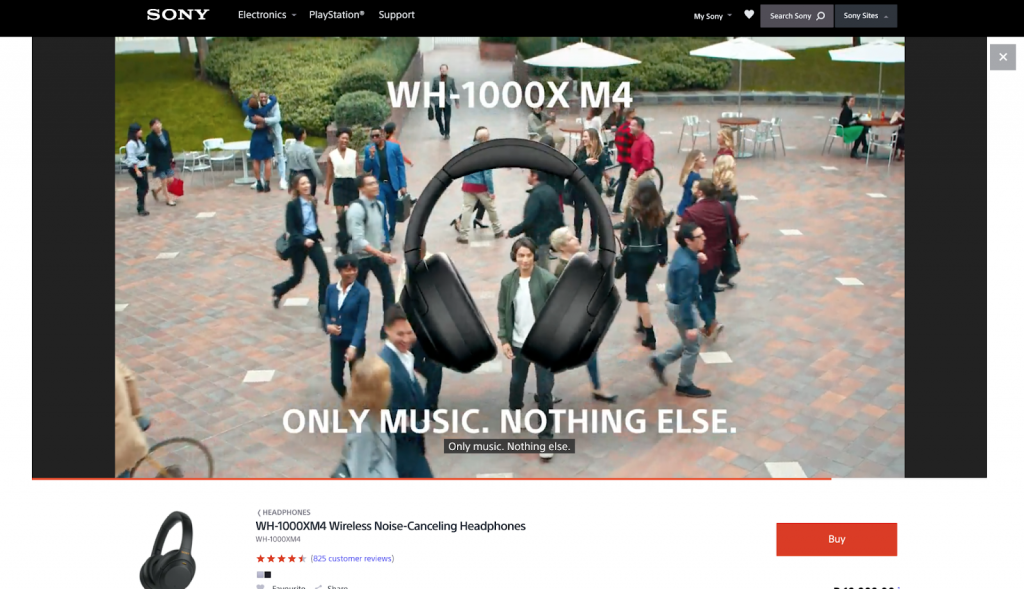 Use descriptive videos over text since they're are easier to digest and interpret than reading long stretches of text. Videos are also an excellent way to highlight items that require some level of technological expertise. If you're going for this, we suggest you check out our video marketing best practices for more tips.
 Blog content
Blogs are one of the most cost-effective ways to promote your business and push traffic to the website.
Having a blog provides updates to customers at any point of the buying process and is an outstanding long-form way to engage with your visitor.
Whether they are just thinking about an issue, exploring product ideas, or ready to buy. It gives you the opportunity to have more detailed product details or engage with the topics that your customer is dealing with.
Ephemeral Content
Ephemeral content or 'Stories' have prominent placement on Facebook and Instagram, where they are the first thing users see when they log in.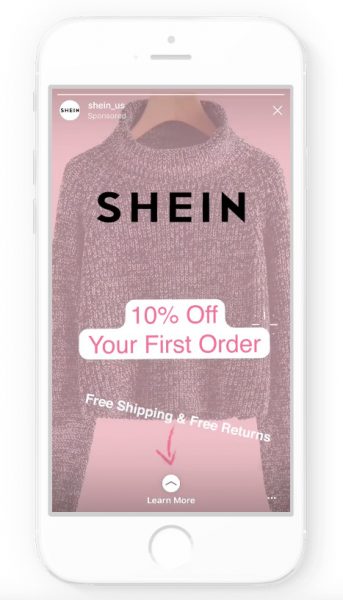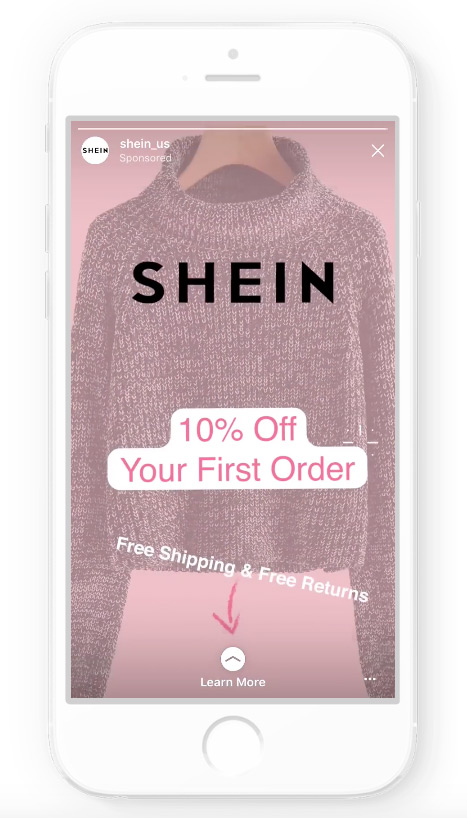 You can use the Stories functionality for a variety of different types of content if you're an eCommerce company. The undeniable influence of Stories can be seen in product tutorials, polling, user-generated content, behind-the-scenes videos, and product updates, to name a few.
Infographics
Infographics are viewed three times more on social media than any other form of content, so they should undoubtedly be a part of your brand-building plan.
The concern is that infographics are now used by B2C marketers rather than any other form of content. In reality, in the last year, the use of infographics has risen by 800 percent. As a result, the demand for infographics is overwhelming.
8. Best to use long-tail focus keywords.
In order to optimize exposure in search engines, perform a comprehensive keyword research to list all long-tail keywords for a product and the vertical market that are important to your business. Less competitive conditions offer more high-ranking opportunities.
Example of long-tail keywords via Answer the Public:

Then why would you want to deliberately target fewer traffic keywords? For any ecommerce business which struggles with general keywords. Plus, using long-tail keywords is a tactical move— less competition, more targeted leads and audience, and hopefully, more conversions from your website traffic.
9. Always create value-driven content for your customers.
Customers are bombarded by various forms of content on a daily basis, so they can become more selective about where they direct their focus.
Brands should consider new ways to provide value to their customers outside the product itself, and content marketing is a great way to do so. You'll have a greater chance of turning into a potential buyer if you can shift their underlying view of your brand to one that is more value-driven, ideally in monetary terms.
Understanding the interests of the consumer and why they might choose to engage with your brand in the first place is essential for creating meaningful content.
Instead of merely demonstrating what your product can do, demonstrate how it can help them overcome their challenges with your content.
Key Takeaways
If you want to make your online presence more visible and stand out from the crowd, you'll need to put in some work and be creative with your content. Here are some key takeaways you should remember:
Put out content that your customer will find useful. Remember, customers will only have your content as a way to learn and trust your product so make sure it highlights your products and benefits your objectives.
Identify untapped audiences and focus on their interests. With multiple shops and businesses popping up, focusing on a specific niche can help you gain more awareness and even become a trusted supplier in that industry.
Authenticity sells. Content is everywhere, especially in your customer reviews. Don't take it just as a vote of confidence, but use it as an opportunity to interact with customers and even encourage new ones to trust your products.
Do you have more ideas to improve your content marketing strategy? We'd love to hear from you! Drop the Propelrr team a line over at our Facebook, X, or LinkedIn accounts.
Subscribe Now
Choose topics you want to get regular updates on: