Digital got you dazed?
Type it below, and we'll show you what we've written about it!
12 Surefire Ways You Can Your Increase Ecommerce Conversions
Propelrr

07 Apr 2022

10

min

read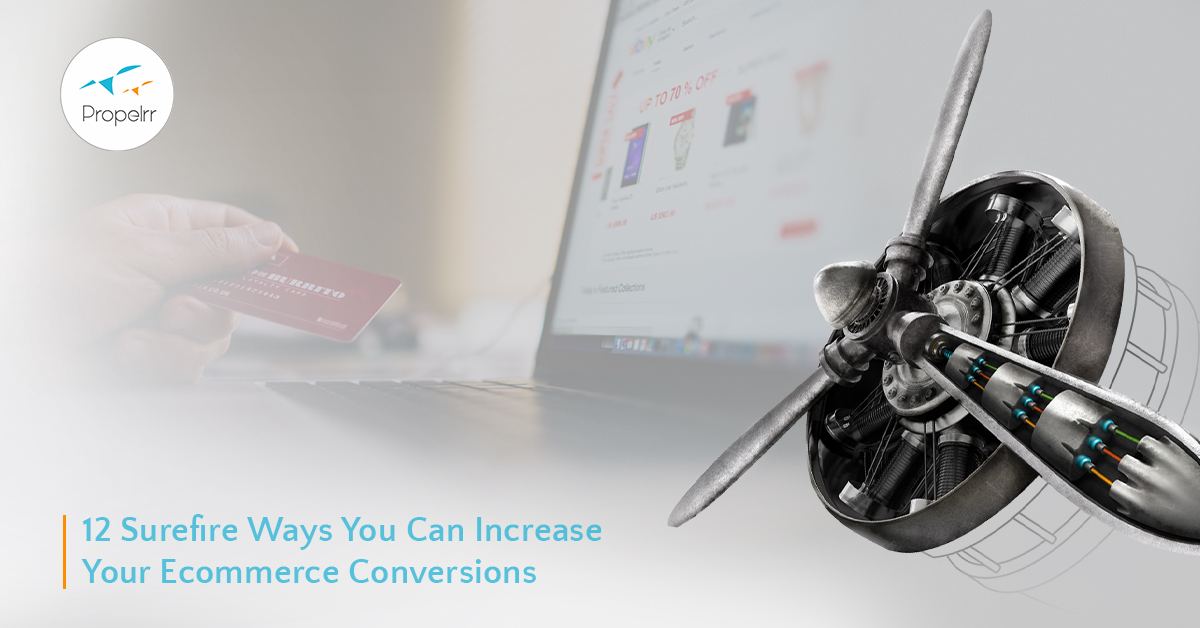 In this advanced technological era that we are in, many are getting into ecommerce, without exactly knowing how to increase ecommerce conversions so that business thrives.
Whether you're marketing to consumers or businesses, this knowledge will be critical not just to winning back your starting capital, but to ultimately sustain and grow your business. And with competition tightening as more and more businesses go online, you'll need to get creative and innovative with your strategies than ever before.
Such strategies are guided by the practice of data-driven digital marketing techniques like conversion rate optimization. With such techniques in your arsenal, you can maximize your resources and get ahead of your competitors at the same time.
Your benchmark for ecommerce conversions
That the average conversion rates for ecommerce websites in the US stand at 2.63% compared to the global average of 4.31% nails down the importance of conversion optimization.
Because that one percent difference in conversions can mean the difference for businesses closing or thriving, as those conversions don't just represent the one-off sales your website makes. They also represent the market you are able to retain; the amount of customers you keep around so your sales numbers stay consistent.
As an experienced digital marketing agency, let us provide you with a number of ways you can surely increase your ecommerce conversions. You can read and study them, below.
Ways you can increase ecommerce conversions
Want the sifting to be done for you? Then take a look at these 12 foolproof tips that you can utilize for your online business below:
Ready to fuel your ecommerce conversion optimization? Then get started by browsing these 12 reliable tips for your online business today.
1. Decide on your brand identity
It is crucial for you to establish your identity in the ecommerce industry. You can do this by building an ecommerce business that clearly presents your brand, products and services.
It is also important for you to know what are the key elements to a brand identity. And these key elements are:
The tone of voice – Your brand voice is how you want to be known which establishes lasting impression on potential customers
Logo – It is one of the primary elements of a brand identity. A logo is a graphical symbol of a brand
Colors – Your brand colors play an important role in your brand. You should carefully choose the colors that represent your brand, colors based on the emotions on how you want to convey your brand
Approach in content/copies/presentation – This approach will capture the interest of your customers on your brand and will get them excited about your product and message
If you have already built or established your own ecommerce business and you have already put up your own website, it is vital for you to review the contents of your website and ask yourself if your website clearly sends your message – pertaining to your brand and offers.
2. Get to know your audiences well
Once you have established your brand, the next thing you must do is to know your audience well. Your ads or content, no matter how well-made, will not bring in leads and conversions if they do not resonate with your target audience.
It is important for you to know all touch points of a persona/audience:
Demographics – The overview of the persona's background. This helps create a clearer and more personal image of your target audience. Demographics should include pertinent data such as age, gender, salary, location, and education.
Psychographics – REfers to data about the persona, their interests, opinions, and lifestyles. This can guide you in developing campaigns and building a fruitful connection with your audience.
Technographics – Reveals the tools your target audience uses, what they use them for, and how long they have used them. This can help towards a more targeted prospecting and improved customer retention.
Challenges/Pain points – Can help you hone your content. These data tell you the factors that prevent your target audience from achieving their goals.
Motivations – Critical in improving your content and campaigns as this provides information on what drives your target audience to interact with brands.
By understanding your target audience on a deeper level, you will be able to address their needs whether through your online content, products or services.
3. Optimize your landing page
The first conversion marketing strategy on this list is to optimize your company's landing page. Your landing page is the first thing potential customers see when they check your brand out. If your landing page is visually or functionally flawed, then your visitors won't just be turned off by the landing page – they'll be turned off by your entire business too.
To get a sound basis to start optimizing your landing page, consider the seven levels of conversion for online users. You need relevance, trust, orientation, stimulance, security, convenience, and confirmation to complete a conversion.
Take the first few levels into consideration as you optimize your landing page. Even if your page is relevant to customers, it may come off as untrustworthy, disorienting, dangerous, or inconvenient to them if it's functionally flawed. To reach the confirmation stage, your page must guide users through the seven levels of conversion first.
4. Make site navigation easy
In line with the previous point, use conversion-focused ecommerce design tips to make site navigation as easy and as smooth as possible on your landing page, and on your company's website as a whole.
You'll notice that this tip carries the same rationale as the previous one. If potential customers have a hard time navigating your website, then they won't just be disappointed by the site. They'll be disappointed by your brand too, and will be less likely to complete conversion for your business.
Better site navigation will ensure a smoother and more successful customer journey. Users will be able to access the information, stimulance, and security they need to make a purchase and return to your business more easily than ever before.
5. Explore digital psychology practices
"Digital psychology" may sound like a big, foreign phrase to you, but digital psychology practices are a tale as old as time.
These practices, also known as neuromarketing, refer to the way marketers measure neural and physiological signals to learn about their users. This informs marketers on choices for online advertising and other marketing disciplines.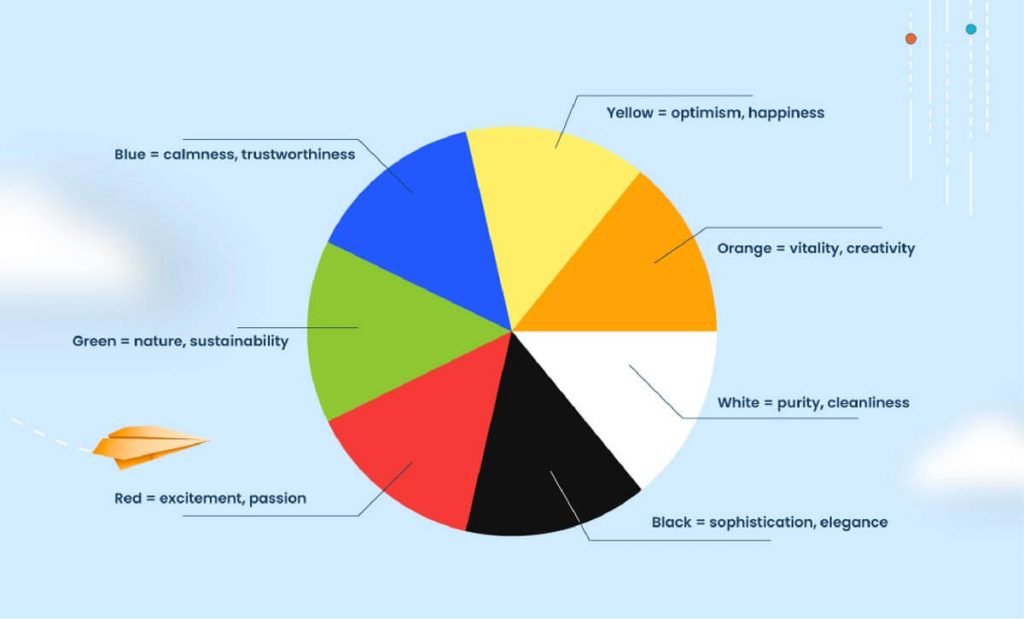 One example of notable old brain stimuli that marketers encounter in digital psychology is contrast. Human brains have been found to be sensitive to clear contrasts, like "before and after" or "dangerous versus safe" patterns. Contrast helps clients make quick decisions – that stimulus helps marketers utilize contrast to attract faster conversions among users.
In a nutshell, these practices help you control user attention to influence them towards more conversions. By knowing how to resonate with audiences, you can easily improve ecommerce conversion rates for your online brand.
6. Encourage reviews to know customer sentiment
Customer sentiments help you examine the emotions, impressions and attitudes of your customers for you to make better sales and marketing decisions. That is why encouraging your customers to review your product or services is an important ecommerce conversion rate optimization technique,
According to a survey conducted by BrightLocal, 85% of consumers trust online reviews and consumers treat it like a personal recommendation.
Here is one way that you might want to try when encouraging reviews to know your customer sentiments: You can always add a review request form on your website specifically on your product pages for your customer to answer, but you must also make sure that the review request form can be easily answered by the consumer. Make sure it is user or mobile friendly.
7. Invest in collecting customer data and feedback
Investing in collecting customer data and feedback is one way to increase your ecommerce conversion funnel. Customer data allows you to understand the journey of your customers on your website – from the moment they click on the landing page to the time they abandon your website or complete a profitable action.
The data you gather will guide you in improving your web pages, contents, and marketing campaigns, and ultimately increase your conversions. You can also be assured that the data or feedback that you have gathered is reliable because they came from legitimate sources.
Here are some examples for you that you might want to try on how to collect your customer data and feedback;
Surveys – This is always the common way of collecting customer feedback. You can create survey forms and you can send it via email to your customers or you can also create a website survey forms or pop-ups.
Phone calls – You can consider this as if you are talking with your customer face to face. You can assess the tone of your user on how they feel about your product or service. However, you must keep in mind that in making phone call surveys, you should pick the right time of the day to avoid disturbing your users.
Transaction emails – You will be receiving these transaction emails after your customers signed up for a new service or upgraded to a new plan. You can insert feedback questions regarding the service or the upgraded versions of your product or service.
Net Promoter Score Survey (NPS) – Net Promoter Score Surveys lets you know how your customers feel about your products or services. It is a loyalty metric used to collect customer feedback data.
Data mining – Data mining is the process where you use software to look for patterns in large batches of data. The patterns can lead to better understanding of the pain points and aspirations of your customers.
8. Message-mine valuable customer insights
Message mining is a research approach and data driven method of scouring the internet or other customer feedback sources for reviews and top concerns about your product or service. Message mining is all about knowing what your customers are saying about you.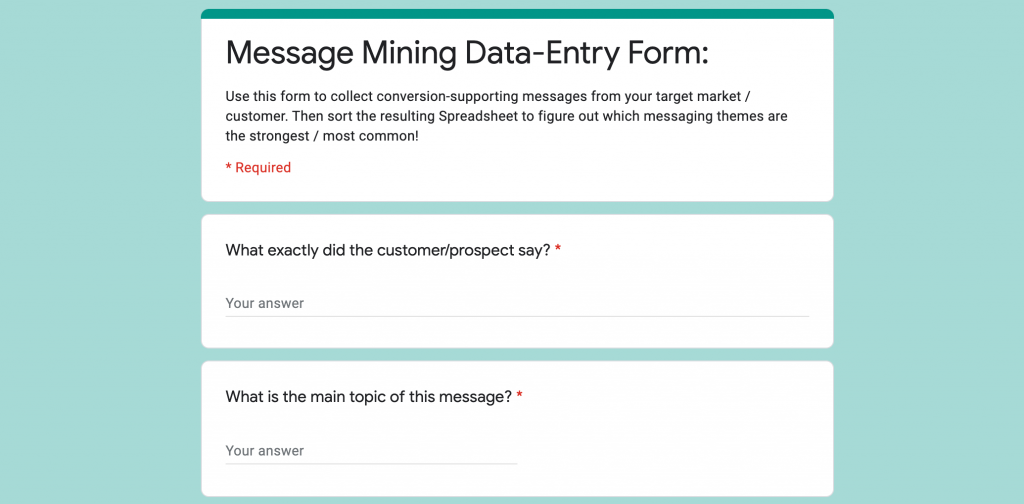 Customer experience and product marketing expert Nneka suggests looking out for these key factors in customer feedback when message mining:
Points of value customers mention,
Specific things about your competitor that they do not like,
Suspicions they may have, and
Interesting analogies or similes they use when talking about your product or service.
After discovering the points of value that the consumers mention from message mining, then you will have a clear picture of what is going on and you can now start creating solutions for them.
9. Implore neuromarketing practices
What is neuromarketing and how can it increase ecommerce conversion?
A report by Ebben Harrell published in the Harvard Business Review introduced the field of neuromarketing, which is sometimes known as "consumer neuroscience." This involves studying the brain to predict and potentially even manipulate consumer behavior and decision making.
Considered as "frontier science," neuromarketing has been bolstered over the past five years by several groundbreaking studies that demonstrate its potential to create value for marketers.
According to an article published by CXL, modern psychology researchers suggest that the human brain has three figurative parts:
The new brain which the person uses to think,
The middle brain which the person uses to feel, and
The old brain which the person uses to decide.
The third part is the most important to neuromarketing because it makes most of the person's decision.
The same CXL article mentioned that one example of controlling the third figurative part of your consumer's brain is the application of the contrast principle. "Contrast" is generally used in the context of design, especially involving call to action buttons which should be in dominant design to stand out.
The contrast principle allows you to persuade your customers to make decisions through design.
10. Write copies that resonate with your audience
In copywriting, you must be creative enough to create content that captures your audience to the extent that will inspire a specific reaction from them. 
In digital marketing, copywriting is considered as the art and science of using words and letters to breathe life into a page or product. This is why you should never underestimate the power of a good copy because it can drive the result that you need.
How can you create a copy that will resonate with your audience and increase your conversion rate? Here are some tips to help you.
Identify your target audience. You must identify your target audience. You must ask the question: who are you writing for? Is it for professionals? Millennials? It is important for you to identify so that you will know what choices of words or jargons that you will be using.
Be creative. It is mentioned earlier that copywriting is considered as an art and science. Tell a story in a way that turns your brand into something relatable to your audience that would grab and hold their attention.
Keep it simple. Creating a story does not mean using fluff words to mae your brand relatable and your copies catchy. You must remember that the average attention span of consumers today fell from 12 seconds to 8 seconds. So you must keep it short, simple, creative and interesting.
Create a call-to-action (CTA). It is advisable for you to always include a call to action on your marketing materials, asking your audience to purchase your product or subscribe to your services.
It is true that not all people have skills in copywriting. However, if you are really eager to sharpen your skills in copywriting, you need to keep practicing until you perfect it! You can also employ the services of skilled copywriters to guide you through in your copywriting.
11. Explore pay-per-click (PPC) advertising
PPC advertising is the process of using paid advertising to promote your company on the internet. Businesses pay for every click a user makes on your ads because it helps to lead the potential customer to your business site directly.
With the right budget allocation and strategy, you can use PPC ads to drive those sales with ease. Just make sure you have the best PPC agency by your side helping you optimize your campaigns.
12. Improve website loading speed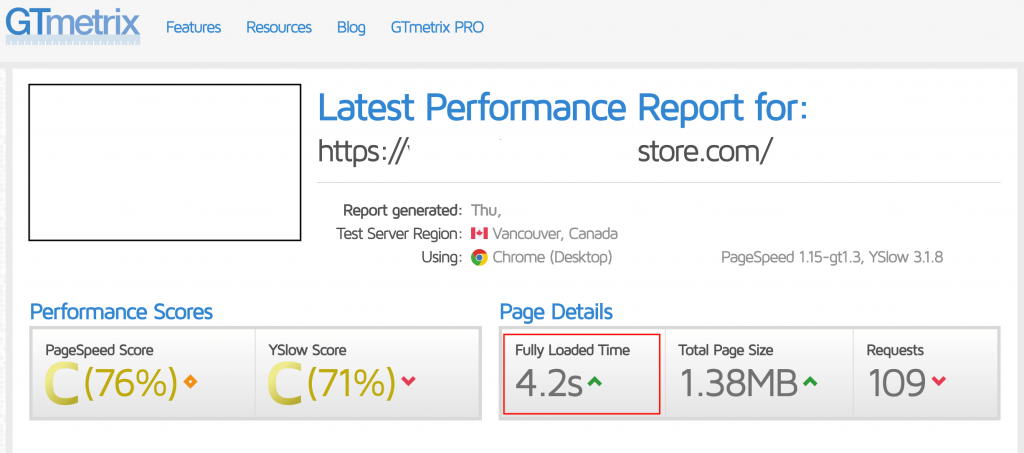 Have you ever been faced with a slow-loading website? It's not fun. As a user, you probably hate it when websites take forever to load. You might even exit the site entirely due to frustration or disappointment.
If you want to keep potential customers interested in your brand, you need to ensure your website is up to snuff. Make it a priority to optimize website speed so that potential customers are converted into buyers for sure on your company's website.
12. Make your ecommerce site mobile-friendly
Here's a leading story for digital marketers this year – mobile is the future of internet usage today. Want to keep up with the times and stand out from the crowd? Then you should make your business site mobile-friendly for all your mobile users right away.
By making your site friendly for mobile users, you can access them wherever they are, and wherever they spend the most time. If your users spend a lot of time on TikTok, for example, you can leverage the app's new Lead Generation feature to increase conversions for your business on this popular app directly.
Mobile is the future of online business success. To reach your conversion-focused goals for your brand, make sure to optimize your ecommerce website for phones and all other mobile devices.
Key takeaways
If you want to increase your ecommerce conversion rate optimization, you must learn techniques that include data mining, copywriting, and those that involve innovations in science and psychology.
Collecting data, feedback and reviews can help you analyze and know the sentiments of your consumer and also the position or the status of your business. You can always use the data that you collected for your future marketing strategies.
Study and apply the neuromarketing technique. They say that the brain is the most powerful part of our body. Then you must take advantage of the neuromarketing technique.
Seek help from experts. If you are new in the game, you can always seek help from digital marketing experts on how to increase conversion rate for an ecommerce website. There is no shame in asking for help because it will surely benefit you and your business.
Do you want to know more about increasing conversions for ecommerce websites? You can leave a comment or reach out to the Propelrr team for more tips on Facebook, Twitter, or LinkedIn.
Want more tips on how you can improve your ecommerce conversion rates? Make sure to subscribe to the Propelrr newsletter and have them delivered straight to your inbox.
Never miss a beat.
Get regular updates in your inbox
on what's new on digital.
Subscribe Now