A Complete Guide to Ensure Security in Ecommerce
Propelrr Contributor
March 28, 2023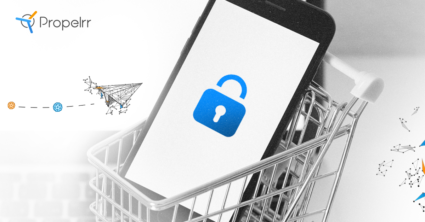 Security in ecommerce is one of the single-most important things you can to strengthen win the confidence of your customers.
As the number of companies going online rise daily, it's become an increasing focus for ecommerce developers to assert the need for stringent security measures – even for businesses just starting out.
In fact, in 2020 alone, there were 2 billion digital buyers in the world, and it's expected to grow further in the coming years.
This growth outlook attracts and compel entrepreneurs to lay down the foundations of their online operations. Meanwhile, there are those looking more at bolstering their infrastructures, because along with the boon comes threats.
These threats exist as cybercriminals that seek to take advantage of customer and business databases. In 2018, effective cyber-assaults were carried out against 32.4% of all online firms, resulting to loudening calls for companies to build rock-solid ecommerce security systems and processes. Such that safeguards customer and business data privacy.
Introduction to security in and its importance
Let's discuss what ecommerce security is, and why businesses should take active measures to implement these in their infrastructures.
What is ecommerce security?
Ecommerce security is a part of online browser security measures that specifically relate to facilitating online transactions between merchants and buyers. It includes rules and guidelines that outline how to ward off those kinds of data breaches.
Through ecommerce security, business owners can safeguard their customer and business' safety and data privacy, and other benefits.
Why is ecommerce security needed?
As mentioned, the expansion of ecommerce has led to businesses, customers, and criminials alike to flock to online spaces.
But among the various types of websites you browse daily, the most vulnerable to threats of cyber security breaches is ecommerce, due to the monetary nature of the transactions. In fact, statistics from G2, report that:
32.4% of assaults target ecommerce;
50% of small ecommerce shop owners complain about assaults, and that;
29% of internet traffic is malicious, according to reports.
Such assaults have caused financial, market, and reputation losses. These incidences continually lead to grim outlooks for small businesses; 60% of small online businesses attacked by cyber criminals don't last six months.
This is because, though there is only so much within the control of a small business, ensuring safety is critical to maintaining customer trust.
Customer trust leads to more conversions
Installing ecommerce security essentials win clients' confidence; thereby increasing the chances of them transacting with you.
Consumers value companies that listen and act towards providing their needs. So it goes without saying that, as a basic need, protecting your customers will lead them to value your business more. By simply improving security measures, you will earn and improve brand trust and, consequently, conversions on your site.
A Walker study carried out recently, reveals that a good and reliable customer experience will overtake product and price as the key brand discriminator by 2020. So companies are trying all possible methods to provide the most secure platforms.
Remember: Optimistic and reliable customer experiences increase sales. In contrast, poor customer experience lead to revenue loss.
Here are some other cyber-security fundamentals to keep in mind:
1. Consumer data privacy
Privacy prohibits the unlawful sharing of client data. No one else should access nor share a customer's personal information for reasons out of the established uses outlined in a confidentiality and usage agreement.
READ MORE: How to Protect Customer Data Privacy in Digital Marketing
2. Encryption and firewalls
As a business, there is a ton of data you need to keep safe. This can be customer data, and even your own sales and market data.
This data is constantly subjected to the threat of hackers looking to steal this data. Thankfully, simple measures such as installing anti-virus softwares, firewalls, and data encryption is needed.
3. Authentication
Verification ensures that both the vendor and the customer making the transactions are genuine. Their identities should be truthful, and the requirements for the transaction are fulfilled.
For authentication, clients need to give proof of identification to confirm their identity to merchants. This will then be evaluated and approved by an expert. Standard solutions like logins and PINs are available if that option is out of reach.
4. Integrity
Ecommerce security is anchored on integrity. This means you have to uphold the protection of user data at all times. This also entails never tampering with the customer information provided to your company.
5. Non-repudiation
Denial is repudiation. Ergo, non-repudiation requires the parties involved in the transaction to acknowledge their role in it and followthrough to completion.
It safeguards businesses and customers by providing evidence that the parties in contact for the transaction are duly acknowledging communications pertaining to this. It does not allow a participant to refute a signature, email, or purchase provided.
Common ecommerce security issues to be aware of
If you're unsure of how you can enact the fundamentals above, there is always the option of collaborating with service providers. Companies that engage in ecommerce activities are subject to a variety of security threats, including the following:
Fake websites. These are sites that were created by hackers and are intended to seem authentic when they aren't. As a result, the impacted company's reputation and values may take a significant hit due to the situation.
Websites with malicious redirects. Some scam artists may modify a website's content to contain redirects. Their main objective is to either drive visitors to a website that belongs to a competitor, or to other malicious websites.
Consumer data theft. This is the most common issue faced by ecommerce sites. This is when thieves hack and steal personal information of customers.
Damages to computer networks. Your website can also be susceptible to attacks from worms or viruses created by hackers. What occurs here is that there is a denial of service that prohibits legitimate users from accessing an online shop. This disrupts transactions and attackers can sneak their way to stealing, altering, or destroying intellectual property.
Round-the-clock ecommerce security services
Getting proper services from any specialized company help you in many ways including protection from security threats. Following are some terms that ecommerce security services consider for the better assistance:
1. Implement security in multiple layers.
To enhance your security, it is essential to apply various protection levels. A Distributed Denial of Service (DDoS) attack may be thwarted by using a Content Delivery Network (CDN) that has a broad presence.
These CDNs use machine learning in their efforts to prevent harmful traffic. But as an additional measure, you can add a layer of protection such as multi-factor authentication – the most common of which is two-factor.
This multi-layered verification process will send a prompt to follow specific steps to confirm the user's identity after sending their log-in credentials.
This blocks fraudsters from accessing accounts of legitimate users. However, even with multi-factor authentication, hacking may still occur.
2. Software to protect against malware.
Your electronic devices, computer systems, and online systems need a programme or software to identify and stop malware, which is short for harmful software. The term "anti-malware software" refers to this kind of protection software. Your website should be completely free of any hidden malware if you are using an efficient anti-malware programme.
The Astra Malware Scanner is an example of this kind of scanner. It performs round-the-clock checks on your website to identify and eliminate any harmful software and is at your disposal. Its "Schedule a Scan" option also gives you the ability to programme your scans in advance. You can schedule the scans once every day, once per week, once per month, or once every two weeks.
3. Acquire certificates for the Secure Server Layer (SSL).
The ability to encrypt sensitive data before it is sent over the internet is one of the key advantages offered by SSL Certificates. It guarantees that the designated recipient will only receive the information. It is a critical stage since the target server will receive all of the supplied data only after many computers have processed it.
4. Fraud, malware, and viruses that occur online.
These problems result in losses in terms of financial resources and market share, and reputations. In addition, the customers may initiate civil or criminal proceedings against the business.
Computers may be infected with malicious software in various methods, including via the use of worms, viruses, Trojan horses, and other types of harmful programmes. Worms and viruses infiltrate the systems, reproduce, and propagate across the network.
There is a risk that malicious hackers would conceal Trojan horses inside bogus software and then begin infecting consumers as soon as the programme is downloaded. These fake programmes may:
Hackers may take over computer systems.
Delete all data
Prohibit data access
Transmit harmful links to customers' computers and those of other machines on the network.
5. Comply with the requirements of the PCI-DSS.
Implementing and maintaining compliance with the Payment Card Industry Data Security Standard (PCI-DSS) should become second nature to ensure that no credit card information is compromised.
The use of many ecommerce security procedures and processes by best ecommerce app development company is recommended to keep potential security risks at bay. In addition to standard authentication methods like usernames and passwords and SSL, multi-factor authentication is a necessary security measure.
Key takeaways
As we continue to witness the rise in the ecommerce industry, we also play audience to how the actions of cybercriminals bear down on businesses. But there are safeguards that can be put in place to protect against these undesirable attacks. In this regard, remember that:
Prioritizing customer safety pays off. Above everything, measures to improve security are meant to protect your customers. This is, at the bare bones of it, your responsibility; uphold it and you're sure to be rewarded by your customers with conversions.
Optimizing experience is optimizing security. As you continue to scale, the more you become prone to attacks. Always make it an active and routine effort to scale your security systems along with the user experience, interface, and what-have-you.
Even simple measures make a difference. There's no need to overthink your security services if you are unable to get the best technologies all at once. Start small and scale up as your leeway for improvements widens.
Want tips on-the-fly for your ecommerce endeavors? Subscribe to the Propelrr newsletter and get them straight to your email.
What measures have you put in place to ensure that your business and customer information are protected? What technologies or principles do you put into practice to ensure this? Tell us in the comments section or share your thoughts on it in a guest post.
About the Author