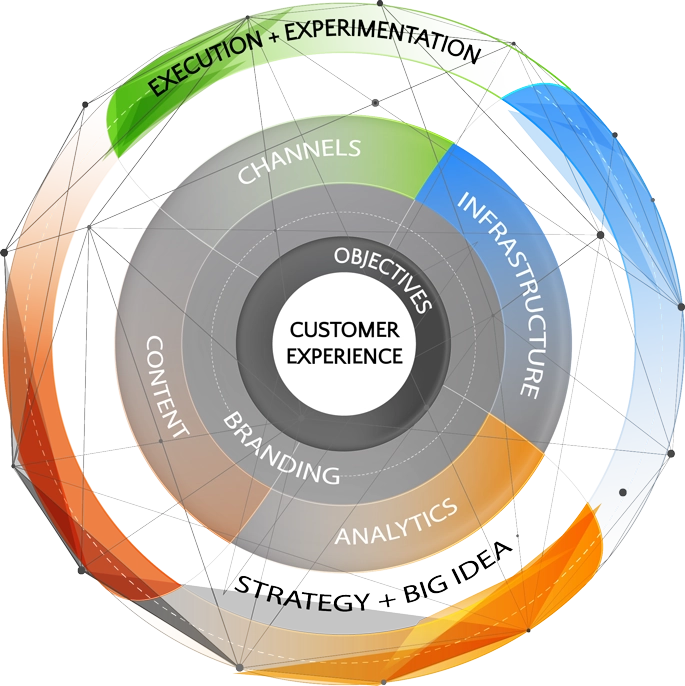 The Propelrr Digital
Marketing Framework
We didn't create this framework on a whim–it's the product of countless experiments over the years to deliver value through an
efficient workflow.
Everything we do is anchored on it.
Check out why ours is a cut above the rest.
Customer Experience

Building desirable outcomes for your customers is at the center of our framework. That's why we encourage you to listen to your audience—they're telling you exactly what they want.

Combine your creativity, logical skills, and data analysis to find out how to meet and exceed their expectations.

Map the customer journey so you can understand how to create a meaningful experience.

Objectives

Start your digital marketing journey on the right foot by setting an objective and breaking that down into smaller goals measured through KPIs(Key Performance Indicator).

When we collaborate with you, we are guided by FAVS: Feasible, Attainable, Valuable, and Straightforward—to fulfill the targets we set.

Your objectives set your strategy up for failure or success.

Branding

How do you want your customers to perceive you?

It's important for us to understand the motivation behind your brand–its genetic makeup. This helps us tell your story in a way you'd want your audience to experience and identify with you.

Your branding is our business.

Infrastructure

Without a solid infrastructure, your digital marketing efforts will fall through.

You need a fast, stable, secure, and scalable structure to ensure smooth customer experiences in all of your networks. That includes your social media page, mobile app, and website.

Build your marketing ideas on solid ground.

Analytics

Data isn't just another digital buzzword—it's your lifeline to make smart and timely business decisions.

But having data isn't enough anymore— its overabundance piles can paralyze your overall strategy. Sift the chaos with analytics to track the right metrics and make better decisions for your business.

Tracking the right data leads to doing the right actions.

Content

What is content that can stand out?

For you to win at digital, you need to produce quality content pieces that resonate with your target market's needs.

Follow the latest trends, explore new ideas, and step out of your strategic comfort zones so you can create valuable and memorable content that leads you to success.

Relevance and resonance are key ingredients to content that converts.

Channels

Can't get a grasp of your audience's needs?

Then you've got to explore the four digital channels: Earned, Paid, Rented, and Owned to meet your target audience. There you'll discover where they are in their customer's journey and hints that you could use to ensure repeat business.

Meet your audience where they are.

Strategy + Big Idea

Your brand's infrastructure is solid, and your content is compelling.

You've heard what your customers want through channels and analytics.

With these invaluable insights on hand, you can now develop the big idea that drives your strategy. This comes with the brand story you'll weave to attract customers.

People are naturally drawn to a compelling story. What's yours?

Execution + Experimentation

Just because your strategy's out doesn't mean the job is done. The truth is, it's just getting started.

With customer demands and the digital landscapes evolving in unpredictable ways, your groundbreaking ideas today could be dusty relics to your audience tomorrow.

Push the limits with the experimentation approach in mind. Without a doubt, continuously testing your existing campaigns and strategies can help you keep up with the changing times and thrive.

Let's get started.
Got a Project in Mind?
Time to get in touch
Let's Talk