12 Link Building SEO Techniques Your Website Should Do
Anna Dominik Banzon
June 25, 2021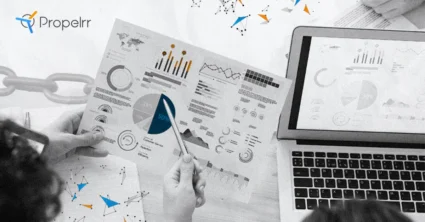 Let's be honest: Link building doesn't have the best reputation in the digital marketing industry.
There's a negative connotation in link building that equates to 'spammy' or 'black hat SEO.' But link building has changed over the years, and there are a variety of safe and effective methods to acquire backlinks.
While we have our tricks as an SEO company, we thought it best to feature different link building techniques from veteran link builders and PR Specialists who have years of experience and cited by top publications for their insights.
SEO link building techniques from expert link builders
1. Create comprehensive and keyword-targeted blog posts.
Before you start promoting your content, you have to make sure it's of high quality; meaning it's professionally written and, of course, checks off all the items on your on-page SEO checklist.
This isn't just our golden rule. A lot of other marketers like Jessica Rose, Chief Executive Officer of Copper H2O agree with it, too!
She shares, "Not only will [comprehensive and keyword-targeted content] help your site rank for more keywords, but it will also result in evergreen content that will earn you plenty of organic links over time."
Jessica even details a process on how to adopt this particular link building technique:
Find the most relevant keywords, with the highest search volumes, related to your subject. You can get this through keyword tools or even your trusty comprehensive keyword research file.
Think of creative ways to use and address those related keywords. How will you naturally and creatively insert those keywords in your content?
When writing the post or content, Include substantive discussions in the post which address the questions underlying each of the related keywords.
Not only will this technique improve your on-page SEO, but it will also help you in your off-page and promotion efforts as well!
2. Master one link building technique before moving on to others.
Are you familiar with the saying 'the jack of all trades, but master of none'? That's exactly what this technique is referring to.
There are many types of ethical link building practices. There's Guest Posting, Broken Link Building, Link Reclamation, Content Syndication, Comment Marketing, Digital PR, and more.
But Karli Jaenike of Get Wild Idea advises building your expertise in one link building technique before moving on to another. She started with infographic link building since it "involves creating an extremely valuable visual that is built from the get-go to map to a receptive audience."
She adds that "once you've chosen your target audience, look around the web and at what's been done before. Create something better, that adds additional value and insight, or really levels up the design. Bonus points if you can create an animated infographic!"
That technique is specific to Karli's experience. You can explore and choose a link building SEO technique that works for you, your website, and your objective. Once you've found 'The One,' continue learning the ins and outs of the technique and optimize your processes to yield better results in the long run.
"Once you've mastered one technique, learn another and diversify your efforts for best results!"
3. Do follow-ups religiously.
This one is a personal link building technique that I find effective – both when I do outreach and when contributors contact me.
Igor Avidon, CEO and Founder of Avidon Marketing Group, shares the same sentiment.
Publications, editors, and webmasters receive hundreds or even thousands of emails daily. Your request really may have just gotten lost in their inbox or redirected to their Spam folder.
So don't be shy to bump up a request or even follow up on a status of a guest post!
4. Work your way up in Domain Authority.
As there is no exact way to gauge the credibility of a website, SEO Domain Authority is the closest KPI we can use to check for the value of a website.
GetVoIP founder, Reuben Yonatan suggests to start building connections with low DA websites first before slowly walking up the ladder to get your name out and build social proof. This technique, according to Yonatan, helps increase your credibility and authority in a niche or topic.
Reuben adds further that this link building technique will help you catch big fish in the future: "Learn how to write an engaging pitch, hire good content creators, and develop your personal or brand voice that will remain consistent across whatever you publish."
When it comes to the 'right time' to up the ante of your target publications, however, Reuben advises that: "You'll know when you're ready to pitch the DA 85+ publications."
5. Replicate your competitor's backlink.
Competing with a website that has higher DA or backlinks?
"[Replicating your competitor's backlink] is a simple and effective strategy used for link building…. If you aim to increase traffic, you can simply look at your competitors and get some ideas [from] traffic-driving websites."
Using this technique will help you build up your backlink profile similar or better than your competitors. By doing a quick competitive backlink analysis you're able to spot opportunities and grow your link building strategy to perform better.
6. Quit thinking like a link builder.
Seems ironic?
Not to James Bedford of HammerHead Roof, who shares his insight on how link builders can break through the preconceived reputation the practice has gained throughout the years.
He reasons that, "most individuals will quit reading your email as soon as you start sounding like a link builder."
So try different approaches; test your SEO email templates, and be casual yet deliberate with your interactions. The people you're talking to through emails or chats aren't robots, but people who create content for the benefit of their audience or customers.
You wouldn't want to place links on a sketchy or irrelevant website, right? That thought is mutual for them too! Put yourself in the same frame of thought as the person you're reaching out to: what do they hope to benefit from link building? How will it help both you and your prospect achieve your content and overall objectives?
Answer and communicate that clearly in your emails and you'll find yourself connecting with prospects better, rather than sounding like you're only reaching out for the links.
7. The key to link building is relationship building.
Jumping off from the previous technique, Diana Sparacio, a Digital Marketing Specialist at Wheels Up Collective, says:
"The key to link building is relationship building with journalists and responding to press request alerts."
When asked why she includes this key tip in her arsenal of link building techniques, she explained that, "active engagement with journalists and continually delivering valuable content can develop a trusting relationship."
Keep in mind that a quick response and providing specific answers or content to their press release is the best way to ensure your contribution is featured and reaches a wider audience.
8. Don't neglect your social media presence.
While link building helps boost your search presence, it doesn't mean you should ignore other important channels— especially social media's impact on SEO.
As Miranda Yan, co-founder of Vinpit puts it:
"Social media is an excellent boom for marketing.  If you don't have social media presence, it is difficult for you to build your brand value."
Share content through your social media, post your thoughts or insights regarding a recent meeting or discussion you had, or even re-post from a publication you've been following are good examples of how to strengthen your social media presence.
Be active, and show how engaged you are in the community or industry. This will definitely help when editors or journalists do a quick background check to see if you're a credible and authoritative source of information.
9. Always make sure to repurpose your content.
Your content is revived every time you repurpose it in different formats and share it on different platforms.
Maven and Moguls, Founder & CEO, Paige Arnof-Fenn shares her coveted link building technique below:
To balance quality and quantity, there are a lot of ways to repurpose SEO-friendly content. But the ones my clients and I have had the best success with include:
Turning a series of articles, blog postings, or newsletters into a book or e-book
Turning each chapter of an e-book into a series of articles, blog postings, or newsletters.
Turning every piece of content into a tweet or thread.
Share links to the content on all your social media platforms.
Finding like-minded groups with a newsletter or website to do a swap and share content with each other's audiences.
Turning articles into infographics and I've shared my recorded talks or discussions on and on my site.
"Once you have a piece you are happy with it makes a lot of sense to get as much mileage out of it as possible."
10. Do broken link building.
There's a bit of an online debate going on if broken link building is effective or not.
But for Israel Gaudette, Founder of Link Tracker Pro, broken link building is his all-time favorite technique.
He explains that this specific link building technique allows him to add value to other people's websites, instead of requesting or begging for links through other means.
"And the best part is you don't need to manually find those broken links yourself as there are lots of link building tools now in the market that'll do it for you."
For Israel, it's an easy process with guaranteed results!
11. Publish quotes from people.
An SEO content writing tip: to grab a publication's attention, cite their content.
More often than not, publishers have tools set up that notify them whenever you mention their brand, cite their writer, or even share their content on different platforms or social media.
As Kevin Carney from Organic Growth says, "People often link to content that mentions them."
"A simple and effective technique is to publish content to your website that is about what other people are doing, and/or quotes other people. Then share that you spoke about them with them." Definitely, a win-win link building situation!
12. Make use of HARO wisely.
Just like us!
One useful tool for SEO we use is HARO (Help A Reporter Out). It's a website that connects journalists directly to experts or sources, if you will.
With over 75,000 journalists and over 1 million sources, HARO ticks off our off-page SEO checklist with all the criteria we're looking for in a backlink.
Key takeaways
We know that link building is hard. Hopefully, these expert SEO best practices help your authority building efforts or improve your existing process. While we've already given 12, here a few more takeaways to remember:
Find a link building technique that works and keep at it. As mentioned, there are different methods to acquire backlinks. Experiment and find one that works for you and your website and continually optimize your process for better results.
Don't be afraid to reach out to publications or subject-matter experts. While you may get cold feet, don't let that get the best of you. If you're confident in your content and idea then go for it! No harm in trying, right?
Be consistent with your own content. Yes, promotion is important but good content creation is the foundation of link building. Make sure your content is always of quality!
If you have additional link building techniques, let us know! You can comment down below or engage with us via X, Facebook, or LinkedIn. Looking forward to what you have to share!