Digital got you dazed?
Type it below, and we'll show you what we've written about it!
Basic On-Page SEO Checklist to Maximize Relevant Search Real Estate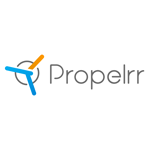 Anna Dominik Banzon

07 Mar 2022

15

min

read
Today's customer journey is so non-linear that you can't even pinpoint where it actually started. But one thing is for sure, one way or another, the user will end up on Google searching for something to find the answer they're looking for.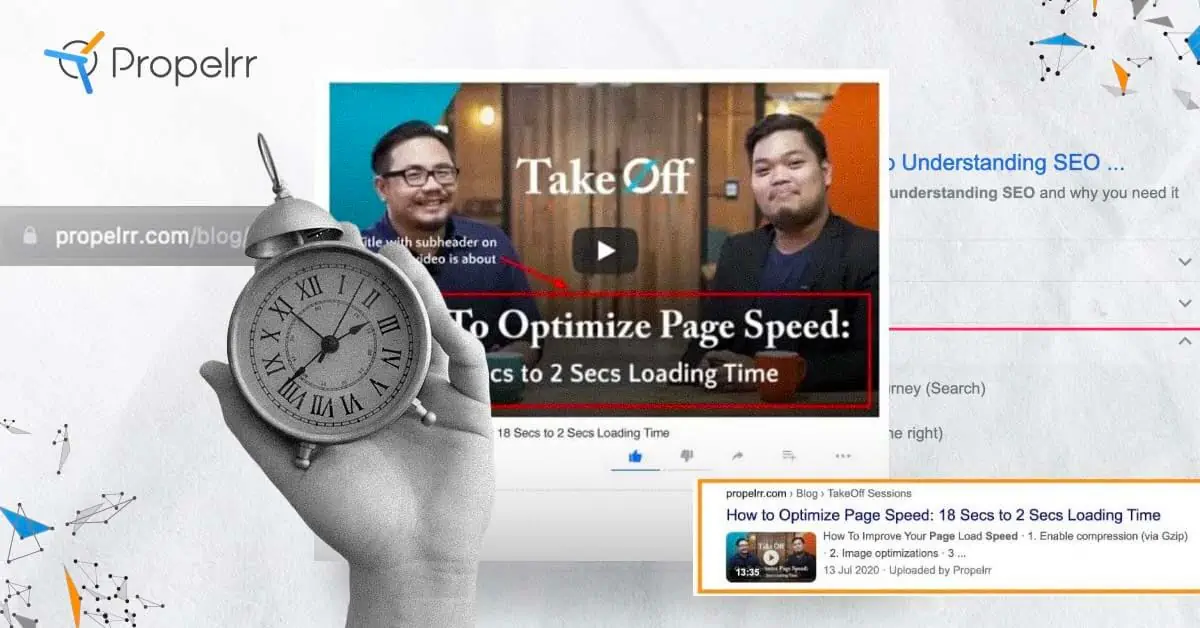 From a simple Q&A platform, Search is now a primary channel that can significantly impact your customer journey on all stages and funnels. In fact, year on year, several marketing statistics and studies show ranking organically on search engines helps drive increase performance and drive success to businesses everywhere.
As a trusted SEO services company, we know how ranking isn't that easy.
What is On-page SEO?
On-Page SEO is the practice of optimizing your own website and content to rank higher in search engines to earn more relevant traffic to your page. From the name itself, on-page SEO involves website elements like text, images, and even the overall user experience of your site.
If all of these terms sound alien to you, better read up on our guide to understanding SEO to catch up and get familiar before we start off.
Why is On-page SEO important?
On-page SEO is crucial to your SEO strategy as these factors are what search engine crawlers use to assess and determine what content should appear at the top of the search results page (SERP) when users place keywords on the search bar.
Google says in How Search Works that "The most basic signal that information is relevant is when a webpage contains the same keywords as your search query." Having relevant keywords on essential on-page factors like metadata, headings, body, and even images helps assess if the content is relevant to the user's queries.
More than that, optimizing these on-page factors helps the searchers find the most valuable content that will best answer their queries or concern.
Is on-page SEO still important in 2022?
Trust us when we say that yes, on-page SEO is still important.
Same as with the other SEO pillars, on-page SEO can't fully optimize a website and it won't guarantee ranking and traffic when done alone. So it's important to keep your Content, Technical and Off-page SEO in check to ensure better search performance.

The Complete On-Page SEO Checklist for 2022
Interested in on-page SEO? Read more about the crucial on-page SEO factors you should look out for.
1. Use concise page titles & H1 Tags.
The title is one of the most significant on-page SEO factors. Your title tags are one of the things that web crawlers check through in your site to determine the intent of your page vis-a-vis search query.
Make your titles unique and eye-catching. It should also be descriptive, concise, and should encapsulate what your page is all about. Take note, title tags should include the primary keyword you've set for the page.
Do not forget to wrap your title in an H1 title tag — a piece of HTML code that tells search engines that the copy you wrapped is the page's title copy and an important element in your content.
2. Use descriptive and SEO-friendly URLs.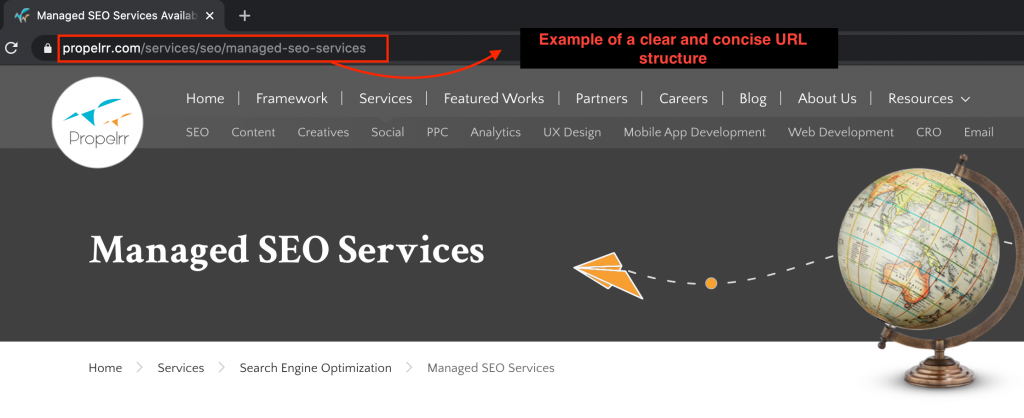 Every page of your website has a unique and memorable URL. Think of it is as your online address.
Avoid using special characters in your URL and keep it short, around a maximum of 5 words. Your URL should also use your focus keyword to ensure consistency when users read or browse through your content.
It may have a small effect on your SERP ranking, but it's worth the effort as doing so will make it easy for both users and search engines to read and remember your URL.
3. Have a compelling meta description.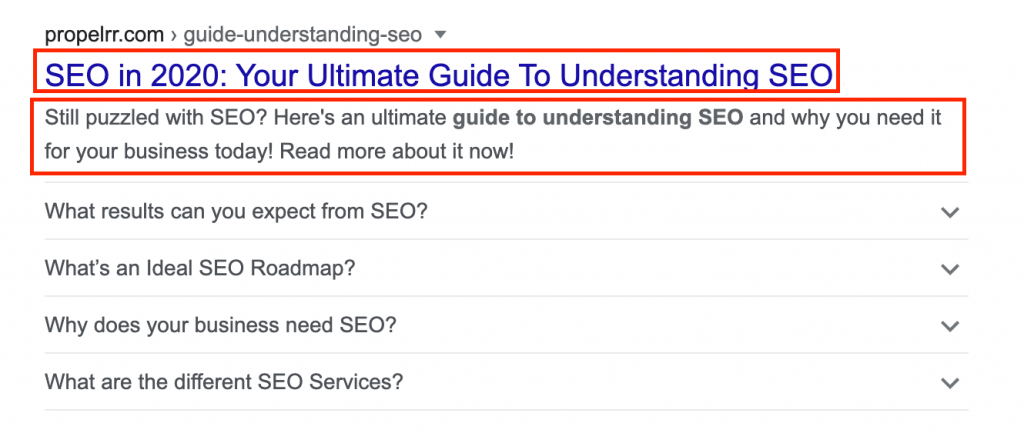 Meta descriptions are the small snippet of text that best describes your page's content on the SERP. It helps your result stand out, and reading it should give an idea of what to expect from the article.
For writing your meta descriptions, make sure to be descriptive but keeping in mind the 928-pixel width limit.
It is ideal to mention your primary keyword in the first part of your copy, as well as a strong and compelling call to action to encourage readers to click, read, or learn more about your content.
4. Highlight the value of your page in the metadata.
Other than being keyword-focused and ensuring that you encapsulate the content in limited characters and pixels, ALWAYS remember to highlight the benefit and value of your page or content.
Will reading the content help them make improve their performance? Or if they do click on their page they'll be enlightened about a specific topic or subject. No matter what the goal of your content is, highlight it as it can help users realize the value of your content just on SERP.
Set expectations, and don't forget to deliver what you promised.
5. Use proper subheadings and Header Tags.
For a better user experience, it is ideal that you include subheadings in your content. Doing so will give you the opportunity to include your keywords in your content.
Moreover, it will make your content easier to scan. Since people nowadays don't have the patience to read through your article, subheadings serve as roadmaps that will help your readers get an overview of your content and find the information they need easily.
Remember to divide your content into logical and scannable chunks that can be easily digested by your readers.
Also, similar to what you will do to your page title, do not forget to wrap your subheadings in the H2, H3, and so on tags of your HTML code. This will inform search engines that the copies you wrote are important and related to the topic of your page.
6. Be cautious of keyword placements.
It is best practice to place your keywords on your page's title, URL, meta descriptions, subheadings (if possible), and in the first 100 words of your content.
Placing your keywords on those critical on-page factors will help Google easily understand what your page is all about. It is best to use your keywords 2 to 3 times per hundred words. But don't fuss about it, placing keywords naturally and as seamlessly as possible is the goal.
However, beware of the dangers of keyword stuffing — bombarding your content with your primary keywords to manipulate your site's ranking in SERPs. Place your keywords as natural and seamless as possible in your content.
7. Provide a good user experience (UX).
You want users to have a seamless experience while visiting your site. A lot of factors contribute to a good user experience. To give you an idea, these factors include:
Making your content easy to understand;
Ensuring that all your links are working;
Improving your site's loading speed; and
Having a responsive design.
If a user is using mobile for browsing, it will be pleasing if the font type, size, and color are readable. Make sure that the buttons on your site are not too big or too small. If your site is difficult to navigate, your bounce rate will increase yielding bad results for your website's performance.
8. Place Internal Links in Your Content.
Internal links are links in your content that are connected to other pages or articles within your website. Using internal links is like making a trail for users to explore your page, therefore creating higher traffic on your site.
Moreover, adding a number of internal links on your page will increase dwell time on your website. Crawlers also use links to transfer from one page to another and to discover new web pages. That is why it is ideal to include internal links on your pages.
When adding internal links to your page, make sure that you use clear, relevant, and descriptive anchor texts. This will help the reader get a clear grasp of what that link is all about and how it relates to your page.
9. Provide External or Outbound Links.
External links are links in your content whose pages are not found on your website or domain. It also helps crawlers further understand your content. If you practice linking to websites that are related to your topic that have high domain authority (DA), you increase the credibility of your page, which is important for SEO.
To check a site's domain authority, you may use MozBar.
Here is the list of rel attribute values:
rel="sponsored"

– links that are advertisements or paid placements

rel="ugc"

– user-generated content (UGC) links, such as comments and forum posts

rel="nofollow"

– when you don't want Google to associate your site with, or crawl the linked page from your site
Quick reminder: When a user clicks on your outbound links, make sure that it will open in a new window or tab so that your website remains open even though they're visiting your outbound links.
10. Ensure all links are working properly.
Ever experienced a broken link, or clicked on a page that led to a bad gateway? That is a big no-no when it comes to on-page SEO.
Always check if your internal and external links are working properly and if it leads to the intended pages. Don't forget to update them, especially if they are timebound like a limited offer or a holiday-only link.
Remember, good user experience is important and links are part of that criteria.
11. Spread secondary/LSI keywords in Your Content.
LSI or latent semantic indexing keywords are related keywords or phrases that are synonymous or semantically related to your primary keyword.
Years ago, Google launched its Hummingbird algorithm, an update that allows Google to understand a page's theme by not only looking through the keywords.
By using LSI keywords, you add more context to your content, making it relevant to broad topics. Google then will see that your content is of high quality and should be ranked higher on SERPs.
Place LSI keywords throughout your article so google bots can understand your content more easily, thus resulting in higher page ranking.
12. Do the necessary image optimizations.
Using images in your content will make the information you present easier to understand and makes your page interesting. It also contributes to your page's overall ranking in SERPs. It is ideal to add the keyword in your image file name, title, and alt text.
Use Alt tags. These are the words that appear when an image fails to upload properly on your page. It is used to describe the image and how it is connected to your content. Crawlers also use this to index your image accurately.
Use high-quality images and do not forget to compress them before uploading it on your site. Properly resize your image to its intended display for faster page load time.
13. Always do video optimization.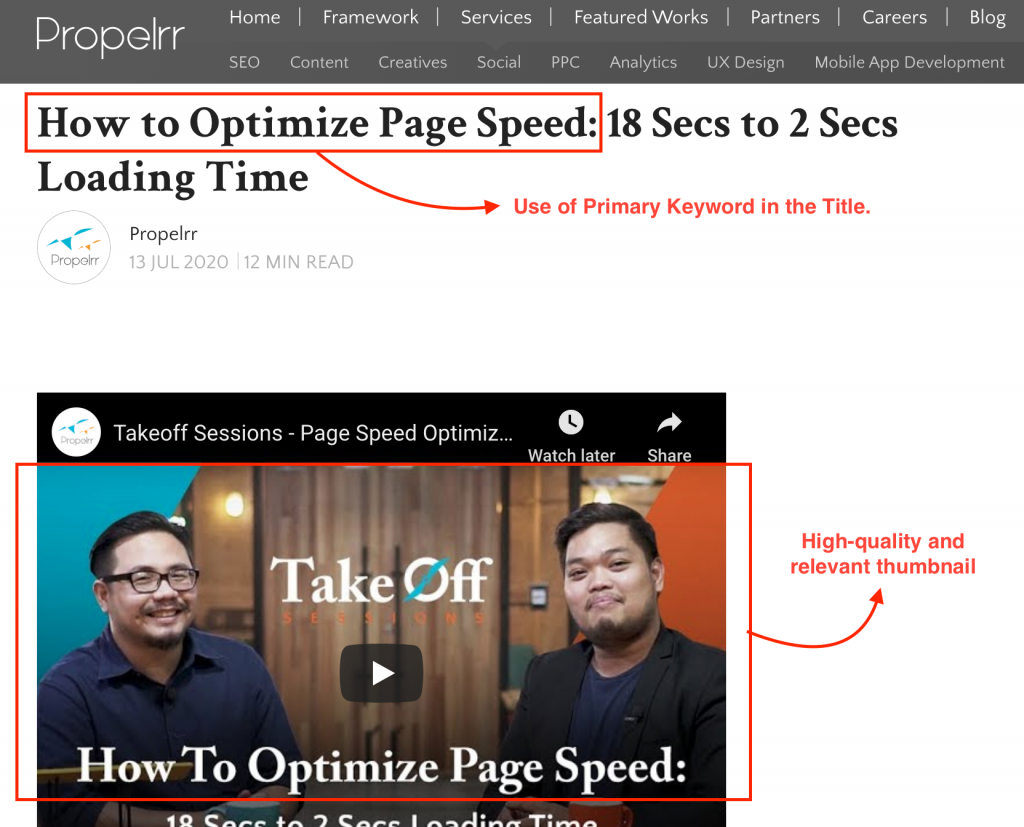 Aside from images, you can also add videos to your page. Video is one of the preferred mediums or content to consume information online as it combines auditory and visual senses. Adding videos to your content will engage your visitors and increase their dwell time on your page.
When optimizing your video content, note some basic reminders:
The title of your video should be concise, engaging, and must include your primary keyword.

Add a full description of your video which describes the topic being tackled or what your viewers can expect to see. Do not forget to include your keywords and LSI keywords in the description.

Choose high-quality and relevant thumbnails.

You can add subtitles, if possible, for it to be more user-friendly.

Make sure that your video is relevant to the rest of your content.
Putting a video on your website engages viewers more, and helps them understand your content better.
14. Have a strong call to action.
After site visitors consume your page's content, they should know what to do next. You can help them by having a clear call to action.
Your call-to-action should be related to the intent of your content. For example, if your page's intent is informational, then your CTA may be "Sign up now."
15. Implement proper schema markup.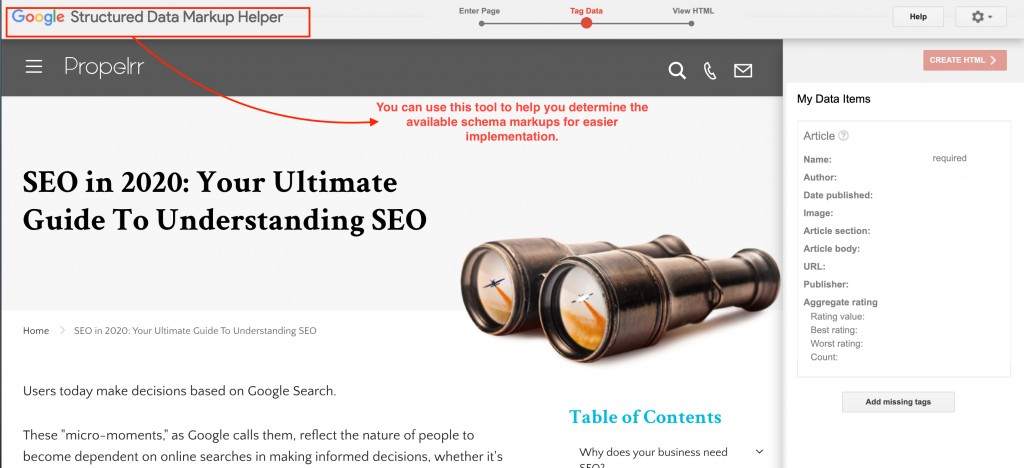 Schema helps in organizing the structure of your data to help search engines read your page and rank it in the SERPs.
Schema.org is the result of a collaboration between Google, Bing, Yandex, and Yahoo! To help companies provide necessary information for their search engines to easily understand. This provides a shared vocabulary for webmasters and developers to use a schema and get the maximum benefit for their efforts.
According to Moz, "Adding Schema markup to your HTML improves the way your page displays in SERPs by enhancing the rich snippets that are displayed beneath the page title."
An example of Schema markup is the star ratings you find in search results when you Google for a nearby hotel or restaurant. Another example is when you find an image attached to the result of your query on SERPs. Adding Schema markup will help increase your page's CTR.
There are three formats of schema markups that are commonly used in top search engines:
JSON-LD

–

nested data items are easier to express because the markup is not interleaved with the user-visible text.

Microdata

–

An open-community HTML specification used to nest structured data within HTML content.

RDFa –

An HTML5 extension that supports linked data by introducing HTML tag attributes that correspond to the user-visible content that you want to describe for search engines
16. Make sure your website is crawlable and indexable.
Search engines scour, evaluate, and determine billions of content online to know which has the highest probability of answering a human's query. They do this by crawling and indexing.
Crawling is the process of scouring through existing, new, and updated content on the internet. Search engines send out crawlers or spiders to do this. These crawlers explore a number of web pages and follow the links in these pages to discover new URLs. Through this, they find new content that they can index.
Of course, you have the option of blocking crawlers to crawl and index your page. You may do that by using Robots.txt. You can also use Google Search Console and/or Screaming Frog to know if you have pages that have a "no index" tag and have it indexed.
17. Track and target the right keywords.
One of the integral factors for ranking in SERPs is knowing what keywords users use when searching for content they need. This is where conducting comprehensive keyword research and mapping takes place.
Take into consideration your target audience. What are they searching for? What keywords are they using when searching for that query? To research keywords, you can use the following tools: Google Keyword Planner, Keyword Tool, SEMrush, and Long Tail Pro.
An ideal keyword (this can be a phrase as well) is relevant to the main topic of your content and is used by your target audience when searching. This is a crucial step in knowing how users search and look for their answers to their queries.
18. Avoid keyword cannibalization.
Keyword cannibalization happens when two or more web pages from your website target the same primary keyword or phrase. When this happens, you confuse search engines in pointing which page is more important. Therefore, neither page from your website will be ranked. Remember, one primary keyword for one page.
Using a keyword map can help assign relevant keywords to your content. This will allow search engines to read your website's relevancy on a user's search.
19. Satisfy search intent.
There are four primary categories of search intent:
Informational – how-tos, tutorials, and guides.
Transactional – making a purchase, or already decided buyer.
Comparison – comparing different products and still weighing in options.
Navigational – finding a particular website, or still looking for a specific service.
Make sure that your content satisfies the search intent of your website visitor. If your user's intent is searching for the similarities and differences of two products, your content should not be geared towards making a sale. To make sure you got it right, check our guide on understanding search intent.
20. Optimize for voice searches.
Voice search is the option of speaking to a device to search instead of typing your queries.
According to Forbes, "Voice search drastically improves user experience — and because of that, by the year 2022, half of all online searches will be made through voice search. Due to its prolific use, search engines such as Google are placing a higher emphasis on voice search optimization."
You can optimize voice search by doing the following:
Use structured data

– E

nable search enhancements and get a visually appealing result on the search engine results page (SERP).

Use Google my business listing

– Share your business information in your website's footer in simple text format.

Be mobile-friendly – Most voice searches happen on mobile devices, so it's best for your website to prioritize mobile usability and friendliness.
21. Use modifiers in your titles and keywords.
Adding modifiers are helpful in forming long-tail keywords. Meaning, aside from your primary keyword, you can be ranked for other variations, thus increasing organic traffic on your website. Modifiers also appear in voice searches.
22. Write a good introduction.
If you lose the readers in your intro, you've lost them for good.
Writing an intro that will pique the reader's interest is crucial to ensure user engagement.
To avoid readers from "pogo-sticking" from page to page, hook them with a compelling intro that will make them stick around for the whole article. Remember that no matter how good your content is, the audience will not be able to see it if they're already gone in the opening.
23. Optimize for Featured Snippets.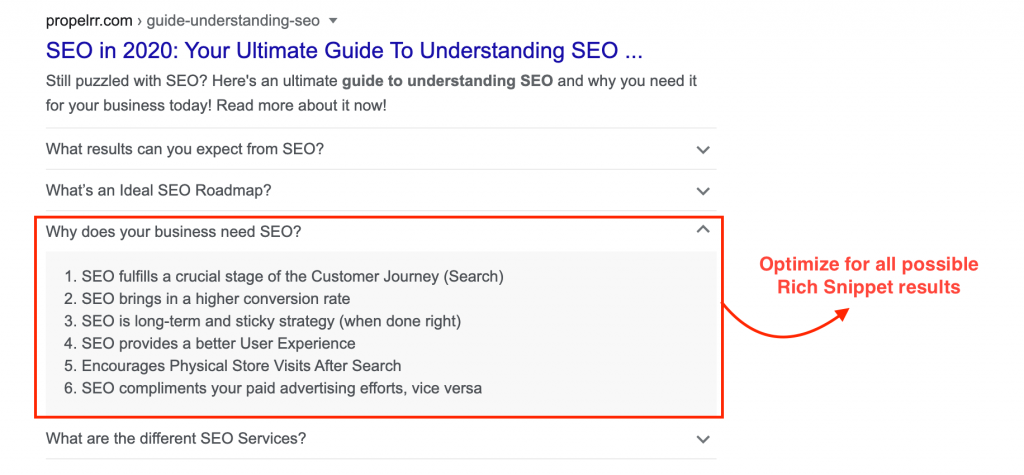 Featured snippets are organic answer boxes on top of SERPs that search engines pulled from websites for specific queries. It helps increase organic traffic on your site.
Sites where these featured snippets are pulled from belonging to websites that rank in the top 5 SERPs positions. To rank and optimize for featured snippets, it's important to take note of the following:
Answer each question accurately and concisely.

Use facts and data when providing an answer to your question.

Make sure the article answers as many related questions as possible.

Organize and phrase your questions properly.

Use images, videos, or infographics to strengthen your claim.
Make sure to provide clear and concise answers to commonly-raised questions, link out to high authority page sources, have your content optimized for mobile, have HTTPS installed, and use a number of headers for your snippet to be featured.
24. Write relevant, quality, long-form content.
In a study conducted by SEMrush, long-form content that has more than 3000 words has more traffic, more social shares, and more backlinks.
Ideally, longer posts are better (1,000 to 2,000 words) because it attracts more backlinks and therefore increases your page's authority and ranking in SERPs. Your content should be high-quality, original, and relevant. The information you disseminate should be related to your goal category of search intent.
It is also practical to focus on content that will remain useful and relevant over a long period of time. That way, the information you impart in your content will not be easily outdated.
Quality content should be easily understood. It doesn't have to be filled with jargon and highfalutin words that only industry professionals could understand.
To make information look organized on your page, you may also use bullet points and number lists in your content. It is also ideal to write in short paragraphs to make your content easier to digest.
Of course, content is not limited to text. You are free to include media in your content to make it easier to understand and more entertaining to read.
25. Add Social Sharing Buttons.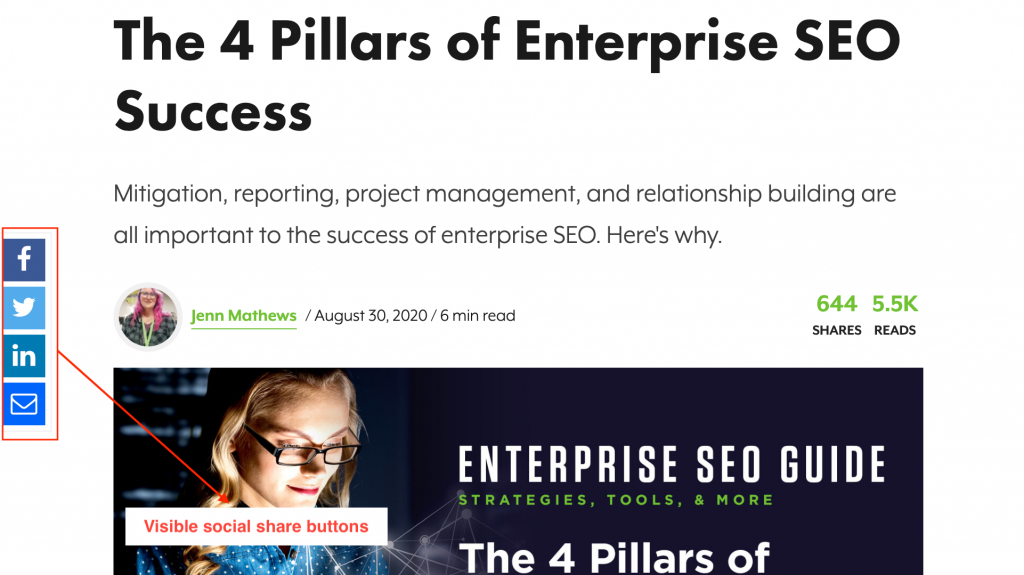 Good content is more likely to (and must) be shared. In this day and age, where social media is widely used by almost everyone everywhere, information is shared instantly.
If you add social media sharing buttons on your page, it becomes easily distributed across multiple platforms, and you can gain more traffic and brand recognition. It will also send signals to search engines that your content is insightful.
Adding social sharing buttons helps improve your customer experience. If your readers want to share your blog post, having this feature will increase the likelihood that they will do so.
26. Improve your page loading speed to 3 Seconds.
Admit it or not, no one likes a slow-loading website.
Make your visitors happy when they are on your site by speeding up your website as much as you can. Google is also using loading speed as a ranking factor, so make sure to optimize your page speed. The faster your page loads, the higher your page ranks.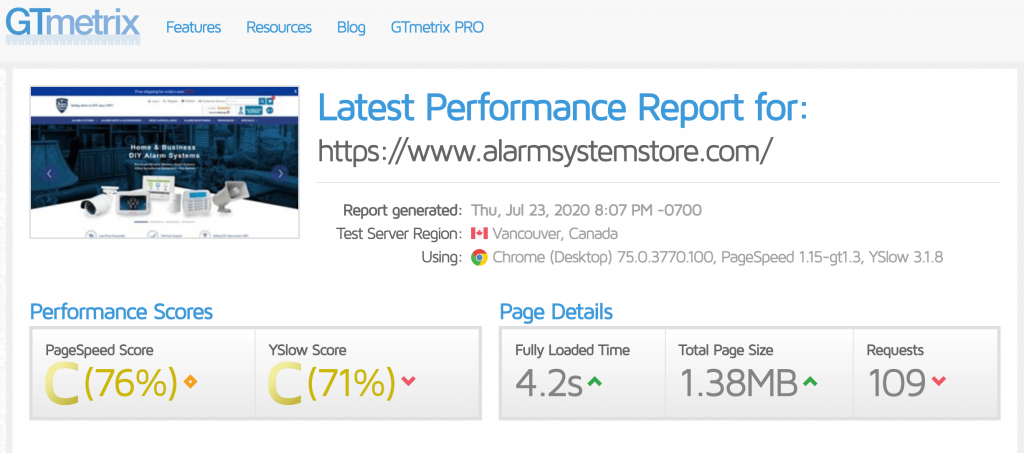 You can use Google PageSpeed Insights or GTmetrix to check your site's loading speed and to look for other factors that affect your website's loading speed.
27. Mobile-first indexing and responsive design.
Mobile-first indexing means that Google will likely use the mobile version of your page for indexing and ranking.
Thus, optimizing your site for mobile is a necessity. Also, a lot of users are on mobile when using search engines, so optimizing your site for smartphones and tablets can and will improve your website's traffic and rank in SERPs.
If your website has a responsive design, it can easily adapt its layout depending on the user's device for browsing.
28. Place a reviews and comment section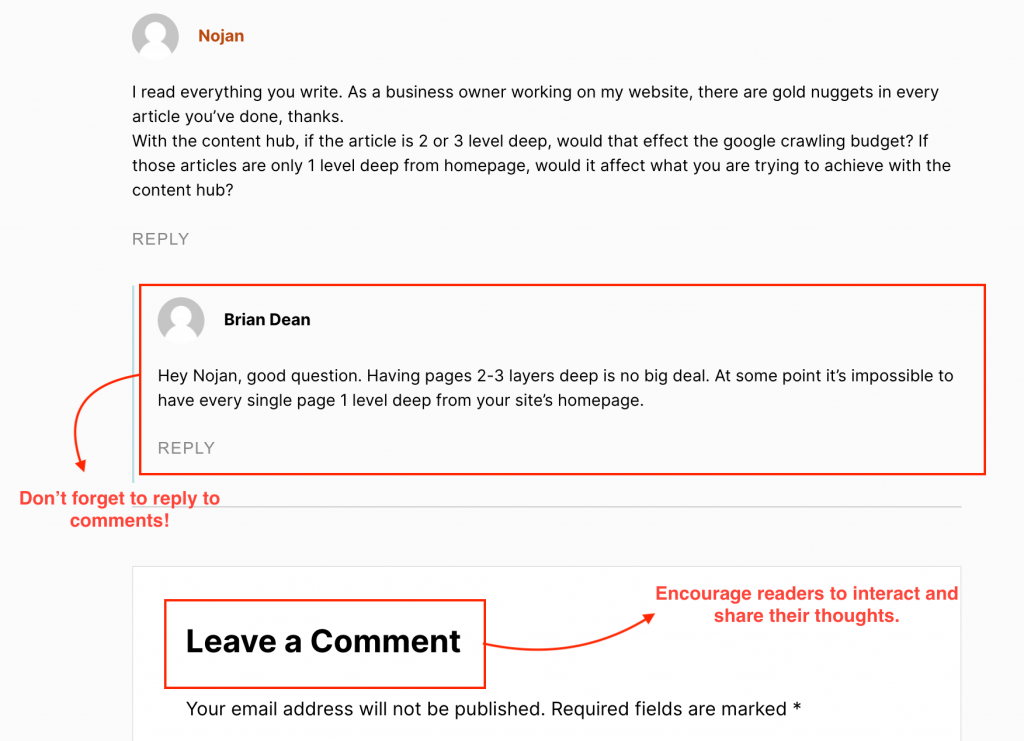 You may also add a comment box on your pages, especially blog pages, to engage with your readers and know if they find your content useful.
It will also increase dwell time on the site as readers will browse through the comments before giving their opinion. Do not forget to reply to your reader's comments!
Key Takeaways
Ticking all the boxes in this SEO on-page optimization checklist will optimize your website for 2022. Here are some key takeaways to keep in mind with on-page SEO:
You can have cost-effective marketing that will help you have a greater return on your investment (ROI).
Having an optimized website will help you create buzz due to the specific and targeted keywords that are related to your business.
With good SEO practices, consumers will be encouraged to visit the site more often if your website has a cleaner, faster page speed.
Optimizing your website for the succeeding year may be overwhelming. If you find yourself lacking time to do so, you can always drop us a message or hit us up in the comments section. Looking forward to hearing from you!
Subscribe Now
Choose topics you want to get regular updates on: