Digital got you dazed?
Type it below, and we'll show you what we've written about it!
Top SEO Link Building Tools for Your Outreach Campaigns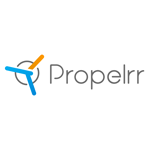 Propelrr

13 May 2021

9

min

read
We can't tell you enough times that, as an SEO agency, the tools you use for link building are an invaluable arsenal for boosting your SERP rankings.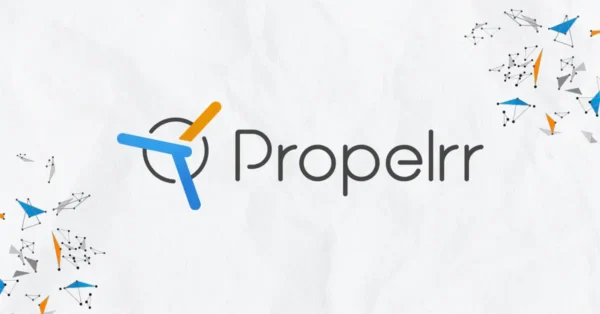 With more and more companies going online these days, it's become more important to step up your digital marketing efforts to effectively stand out. One of the ways you can do this is by perfecting your off-page SEO tactics and increase your domain authority with the help of outreach and SEO link-building tools mentioned in this list, among others.
One of the more important off-page SEO strategies that every digital marketer should focus on is link-building. Good link-building strategies contribute to your websites topping the search engine results pages (SERPs) and make your website more credible. But efforts in this regard need to be carefully planned, to ensure that they are ethical link-building practices as well as efficiently done with the help of SEO link-building tools.
But with numerous link-building tools out there, you may wonder: which tool is the best for my website? As a credible SEO service company that provides ethical link-building solutions, we rounded up 18 of the best link-building tools that will help you optimize your outreach efforts.
Must-have link building tools for effective outreach efforts
1. Ahrefs' Backlink Checker
With a backlink index that is updated every 15 minutes, Ahrefs' Backlink Checker proves to be one of the most powerful link-building tools to try. They have in-depth link analysis features such as having access to dofollow and nofollow links, backlink anchor text, and disavow link spam. These features will help evaluate quality backlinks and get rid of negative SEO practices.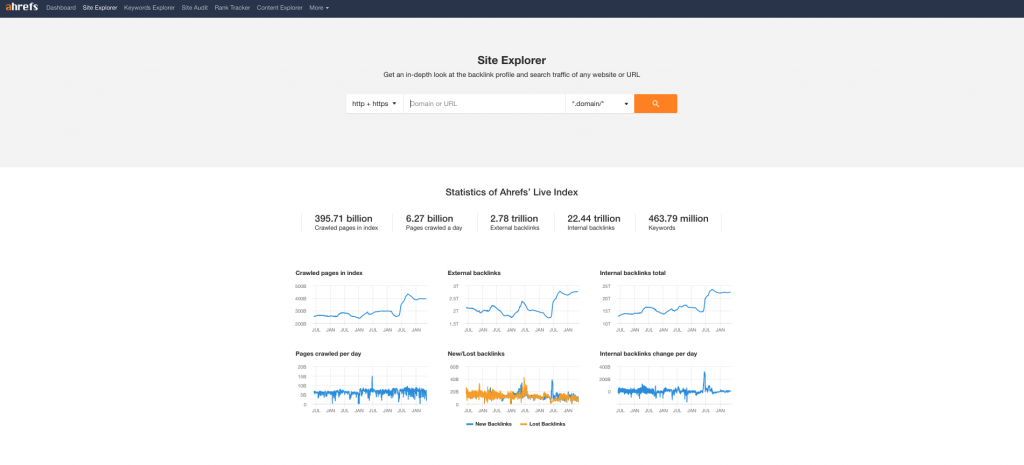 Figure 1.1 The photo above shows how the Ahrefs Site Explorer dashboard looks like. From here, you'll see a detailed report of your backlink profile – from sources down to the exact anchor texts used – when you input the URL of a website you'd like to inspect.
In addition, their services let you access useful SEO metrics such as the number of domains and backlinks, Domain Rating and URL rating, and breakdown of backlink profiles, which are a good basis for evaluating the backlink's popularity.
To try Ahrefs' powerhouse features, you can sign up for their services for full access for $7 on a 7-day trial.
2. SEMRush
When it comes to link-building tools, SEMRush's tools provide competitive and reliable research. Their services provide comprehensive backlink analytics where you can check out the incoming links and linking domains, determine a referring domain's authority and its location, and compare link-building practices with your competitors.
SEMRush's Link Building Tool is also a must-try for your outreach efforts. In three easy steps, you can explore fresh backlink sources and opportunities, tailor-fit your outreach strategy based on your target, and monitor active and inactive backlinks.
You can get started with SEMRush Tools for only $119.95 per month.
3. Majestic SEO
As its name suggests, Majestic SEO is the home of majestic link-building tools. Their tools ensure quality links by providing you with comprehensive analytics for a web-based link investigation. Some of its interesting features are its different Flow scores — like the Trust Flow that lets you determine if a web page has good quality links and Flow Metric Scores which helps you evaluate your content's impact.
Aside from these features, one exclusive and brand new feature that will help boost your outreach efforts is their Link Context feature. With this feature, you can estimate the link's web page position, determine if the link is only part of a directory, or discover the link's content surroundings.
Ready to explore Majestic SEO's link-building services? You can avail their tools for $99.99 per month.
4. Buzzstream
Buzzstream is your go-to tool if you want to make your outreach process simple yet effective. Their services cater to both link building and digital marketing tools so you have lots of options. For their SEO link-building tools, Buzzstream has a fast research prospect process. They have easy-to-navigate prospects lists, quick adding to the contacts list and automatic data gathering of necessary metrics.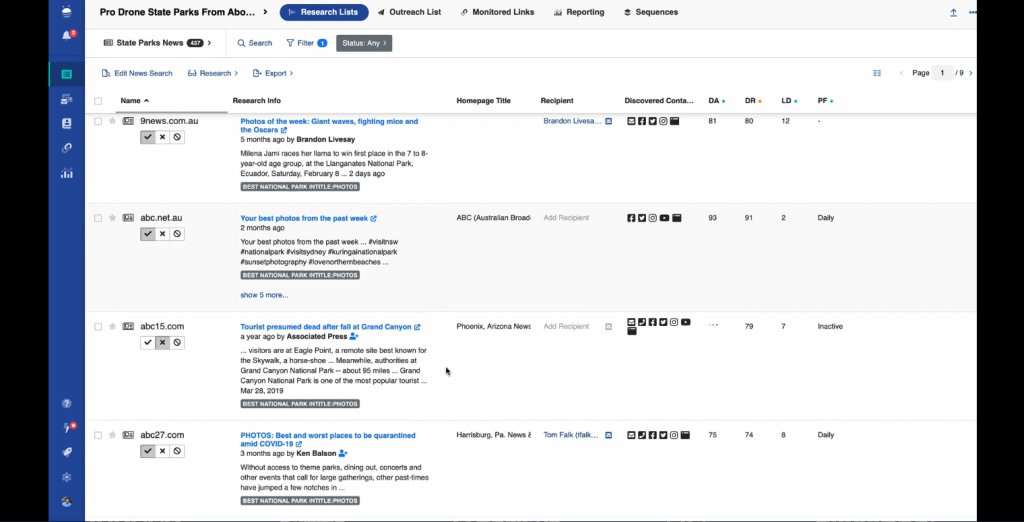 Screenshot is taken from Buzzstream's demo video on the website.
One of the features that stand out the most is their personalized and relationship-based messages. Their tools will let you segment your contacts, pick or even make your own template, craft relevant messages based on conversation and post history, and schedule the time to send off your messages. Plus, you can automate follow-ups and set follow-up reminders for yourself.
If you are ready to boost your outreach campaign, sign up for Buzzstream's complete platform for only $99 monthly.
5. Email Tracker for Gmail or MailTrack 
If Gmail is one of your prospects' most-used platforms, then Mailtrack should be added to your link-building tools. You can easily integrate it to Gmail as a browser extension and get unlimited free email tracking for as long as you want. Should you want to avail the full package of Mailtrack's services though, you will need to upgrade to its Advanced version.
For its Advanced version, you can access their Activity Dashboard where you can keep track of opened and unopened emails, as well as clicked links in the emails that you have sent. In addition to these, you can have scheduled email tracking, campaigns, track emails that have attachments, and include salesforce/CRM integration.
To avail of the Advanced version, you must pay $2.99 on a monthly basis.
6. TweetDeck
TweetDeck is another example of those SEO link-building tools that are platform-specific. This tool is only for X, but it is basically free for use and you only have to sign up on the Tweetdeck website to avail of its useful X features for your outreach campaigns.
For one, you can easily schedule multiple tweets in multiple accounts via TweetDeck. This tool can also let you organize your tweets according to different categories such as conversations, topics, interests, and more. And of course, one of its powerful features is its Search filters. It can autocomplete relevant search keywords, discover topic emotions or sentiments by adding emoticons, or even search tweets based on location, users, and engagement.
7. MozBar
Who doesn't want to use the best SEO link-building tools? With over 500,000 installments, MozBar has proven its title as the SEO industry's best toolbar. MozBar goes for real-time metrics access while you browse through SERPs.
Some of the coveted outreach features of MozBar include its custom searches based on search engine, country, region, or city and its on-page highlighter which lets you highlight important search keywords and identify different link types such as Followed and No-Followed, or External and Internal. MozBar also provides quick access to ranking your website's authority, such as Page Authority and Domain Authority.
You can start using MozBar with a free 30-day trial. For full access to MozBar's keyword search tools, you will have to pay $149 monthly.
8. LinkClump
Checking multiple links is part of the link-building process. But to avoid getting overwhelmed in opening and bookmarking numerous links, LinkClump should be added to your list of SEO link-building tools.
LinkClump's notable features include its Action option, which lets you set up multiple actions such as opening new tabs or windows, copying links to a clipboard, or bookmarking them. It also has a Smart Select option that allows you to pick only the relevant and important links on a webpage. Lastly, it has the Activation feature that activates the link selection box using a mouse or keyboard combinations.
LinkClump is quick, easy, and free to use for digital marketers.
9. NinjaOutreach
Are you looking for an all-in-one link-building tool? Then NinjaOutreach may be one of the best SEO link-building tools that you can use. With this tool, you can easily boost your rankings through its different link-building strategies such as Competitor Link Building, Broken Link Building, Guest Post Link Building, Infographic Link Building, and more.
NinjaOutreach also boasts  automated white hat link building feature, as well as tracking lead interactions options. It lets you schedule countless outreach email campaigns with two automatic follow-ups, and save data for personalized and relevant messages such as conversation history, tags, and notes.
Improve your outreach campaigns by signing up for NinjaOutreach's Advanced plan for only $289 monthly.
10. Link Prospector
You can reach new heights and outreach opportunities with Link Prospector by your side. This automated prospector will not only let you discover brand new outreach campaigns but also amplify your content to yield links and shares.
Link Prospector's best link building tools comprises its Links Pages feature which lets marketers pinpoint valuable links to add to their site, its Reviews option that finds people who give their reviews on the company products and services, its Directories feature that determines the best directories to sign up for, and its Content Promoters options that let you find stellar bloggers and writers for promotions to your target audience.
Get a hold of quality content for your outreach efforts. Try Link Prospector's best features for $127 per month.
11. Pitchbox
Would you like an influencer outreach and content marketing platform that caters to different groups of people? Whether you are part of a brand or an SEO agency, Pitchbox has all the link-building tools you need for effective outreach.
Pitchbox has numerous features to choose from. The platform has a Prospecting feature, which gives you the advantage of advanced and popular prospecting strategies for links. It also has an SEO Email Client that provides both effective email management and integrates SEO metrics to your inbox. Another insightful option in Pitchbox is its Outreach Campaign Reports and Analytics, to help evaluate campaign performances, team performances, and client reports.
To find out about the packages and pricing for Pitchbox tools, book a private demo through Pitchbox's official website.
12. Hunter.io
Quickness and quality are the core of Hunter.io. With its Email Finder tool, you can quickly find the email addresses of professionals so that you can contact them individually or by bulk. Its Email Verifier is also a good addition to its Email Finder tool, as it will help verify valid and professional email addresses in bulk quickly.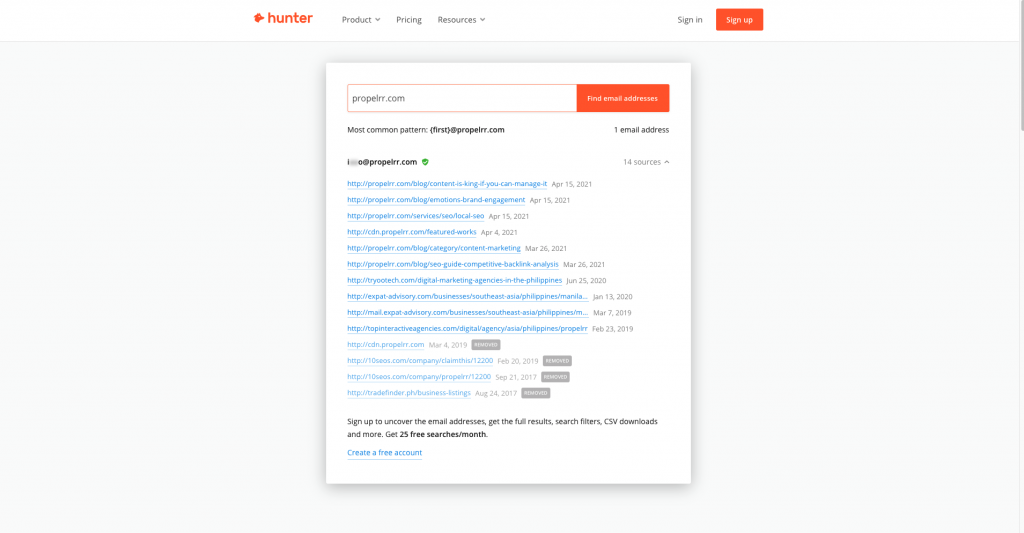 Another fresh and interesting addition to this link-building tool's services is its Author Finder tool. With this tool, author outreach is easier because you can easily find the email addresses of authors using a list of article URLs.
To avail of full search services, purchase Hunter.io's Starter plan for $49 monthly.
13. Monitor Backlinks
Looking for user-friendly SEO link-building tools? Monitor Backlinks may just be the tool for you. It does the tasks you need for link building, plain and simple.
The tool will help you foster relationships with influencers by staying updated with your brand's impact. It will also help you find out the best authority sites to connect with and let you monitor your keyword rankings through time and how your backlink choices will impact these rankings. Also, Monitor Backlinks has a disavow tool that will keep your site free from spammy backlinks.
Sign up for Monitor Backlinks' comprehensive tools using their Professional Plan for only $89.91 per month.
14. Linkody
It can be difficult to track several link-building campaigns. But lessening them is not the solution, especially if it is part of your business goals. So to help you manage your efforts, it is better to try Linkody, which is one of the best link-building tools for easy management.
Linkody's features are simple yet helpful for your SEO efforts. Its features will inform you if you lose or gain links, harvest insight regarding your competitors' strategies, determine and disavow bad links, and analyze link profiles with reasonable metrics.
Give Linkody a try. You can get it for only $49.90 per month.
15. Broken Link Builder by Citation Labs
How long does it take you to find broken links? It will surely take a short time if you only have a few links to check, but it will take forever if you have hundreds of links to browse on. Here is where the Broken Link Builder by Citation Labs comes to your rescue.
By using the Broken Link Builder, you add fresh and valuable links to your site. It works on three easy steps. First, the tool helps you pinpoint non-functioning links based on your topic. Next, the tool lets you recreate the page with original content. Then, you can finally suggest your content to the link owners who may be linking to the broken or dead links.
Save time from browsing dead and broken links by checking out Broken Link Builder for $277 monthly.
16. Link-Assistant
Link-Assistant is another powerhouse SEO link-building tool. For its full package, you can access its SEO Powerhouse Suite edition that has top-tier features for your SEO strategies.
Some of its valuable features are its In-Depth Competition Analysis, which gives insights on a competitor's content strategies, backlinks, or rankings, and its Backlink Research and Audit that enables real-time link checking and measurements of link quality. Link-Assistant's Quality Link Building and Management is also an important feature, as it could help find brand new links and conduct outreach efforts using a built-in email client.
Curious to try Link-Assistant's SEO Powerhouse Suite edition? You can purchase the Professional plan for $299 per year.
17. SEO SpyGlass
Accurate link analysis is the specialty of SEO Spyglass. It has viable features that can yield quick and effective backlink research for your SEO practices.
For one, it lets you have unlimited access to a wide array of fresh and live backlinks. In addition, SEO SpyGlass has over 50 SEO factors ready for a detailed backlink analysis to help you make effective link-building decisions. Also, this link-building tool has a Task Scheduler that helps you run automatic link checks on different times and dates.
Get your Professional license for SEO SpyGlass's link-building tools for only $99.
Key takeaways
All link-building tools provide useful features to help elevate your outreach efforts. Still, aside from their features, there are some things that you have to consider in picking your tools.
Read about the features of any link-building tool. It helps to understand what they can do for your business.
Determine the features that would best meet your brand targets. It could be a waste of resources to avail of a link-building tool that will not do much for your goals.
If you have the time, check out the available free trial version of your chosen link-building tool. It can be a helpful strategy to determine if the tools fit your SEO needs before shelling out money.
Need extra help in deciding the best and effective link-building tools for your business? We'll be happy to give you that extra help. Drop a comment or send us a message on  Facebook, X, and LinkedIn.
Subscribe Now
Choose topics you want to get regular updates on: