Digital got you dazed?
Type it below, and we'll show you what we've written about it!
Ethical Link Building Best Practices To Improve Search Ranking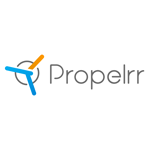 Anna Dominik Banzon

26 Nov 2020

10

min

read
Link-building is a strong way to boost your site's credibility. By having other authoritative sites link to your pages, you can harvest authority and search engine optimization (SEO) value that directly powers up your site's credibility and maybe even ranking on search result pages.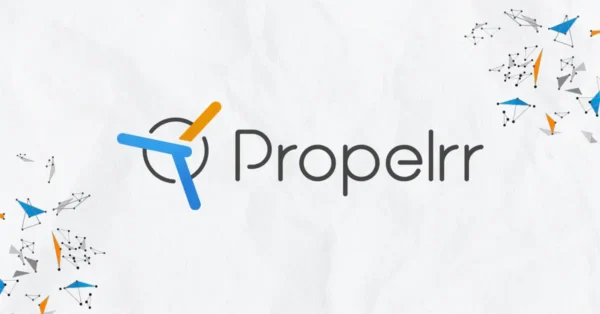 A good link-building strategy can drive quality traffic to your site because a backlink from an authoritative site is like a vote of confidence to your website. Due to its numerous benefits to your business, many try to manipulate their way by using unethical linking practices commonly known as black hat SEO.
Truth be told, black hat SEO techniques can get your site banned from search engines because they violate search engine guidelines At first, these practices can drive easy and heavy traffic to your pages. But for the long term, though, they will actually hurt your chances of being pegged as a credible and authoritative site.
As a veteran SEO company in the Philippines, link building is a skill we've honed and mastered over the years, and so offer for you 20 organic ways you can improve your site's ranking without using any tricks:
Ready to power up your link building efforts? Keep on reading!
Optimize your content.
One great way to earn links is to produce great content. Crawlers examine the page thoroughly to determine if you've got the right keywords and you've carefully understood the search intent, and this adds to your site's ranking. Besides researching keywords on Google that are relevant and valuable to your niche, providing new and quality content can earn you backlinks.
There are proven ways to create content that attracts high-quality backlinks. Although quality content deserves backlinks, it won't get any links if you don't promote it to sites that are likely to use you as a reference. That's where outreach comes in, which will be discussed later in the article.
Meanwhile, below are ways you can stay on top:
1. Stay updated on current events.
There are a lot of sites in your niche that produce similar content to yours. One way you could exceed their rankings is to use trending topics and create timely content. You can do this by staying updated on current trends and innovations in your niche. Base some of your content on these events.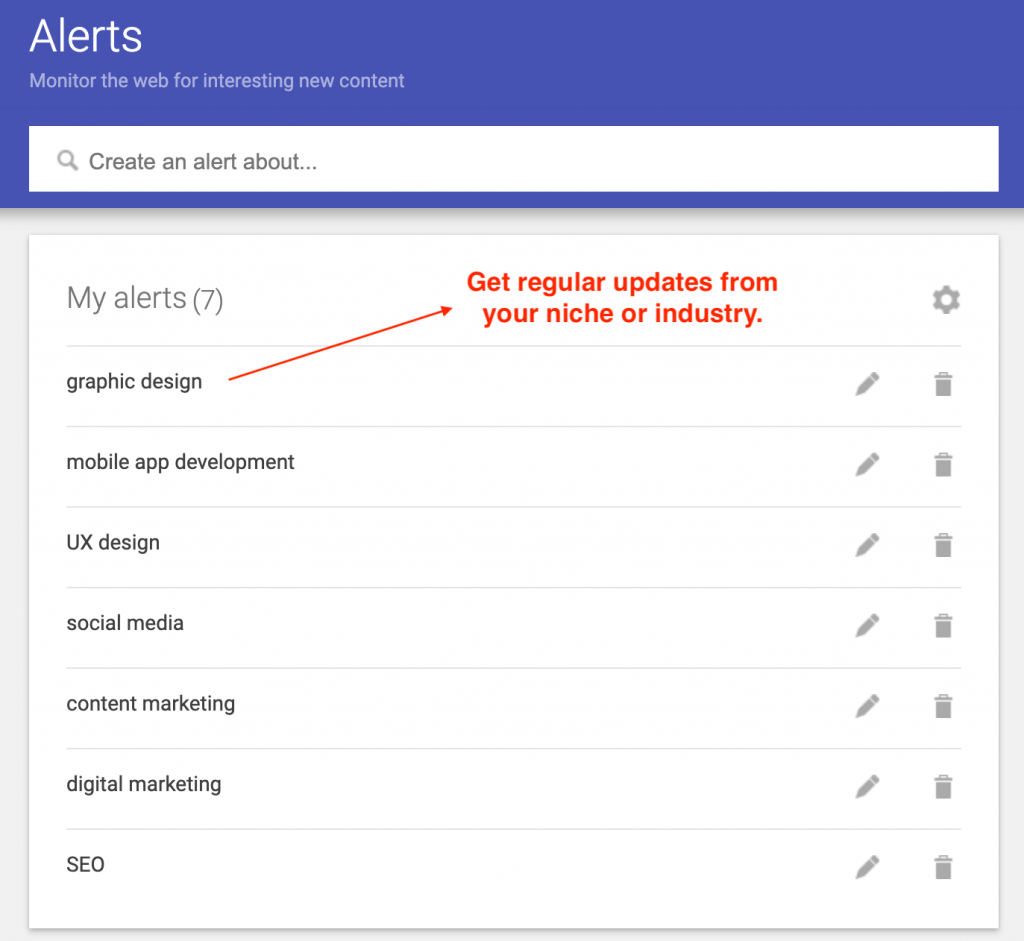 You can also expand to general news and pop culture trends. Try to relate these to your industry to create veritable content. This type of material organically generates backlinks because it offers the latest information that contributes to something new and original to your industry.
2. Conduct in-depth research.
One surefire way to be referenced by sites in your niche is by conducting in-depth and original research about a particular topic that interests your users and fellow business owners in the industry. Conduct surveys or focused group discussions to elevate your study, and have it assessed by experts in the field.
3. Use infographics.
Users like their information concise and quick to digest. One way you can serve this type of data is by making infographics. Other sites will find this useful in the creation of their content. Just make sure that the data you present is accurate and credible.
4. Write guides and how-to articles.
Another way to attract links is to create guides on specific topics.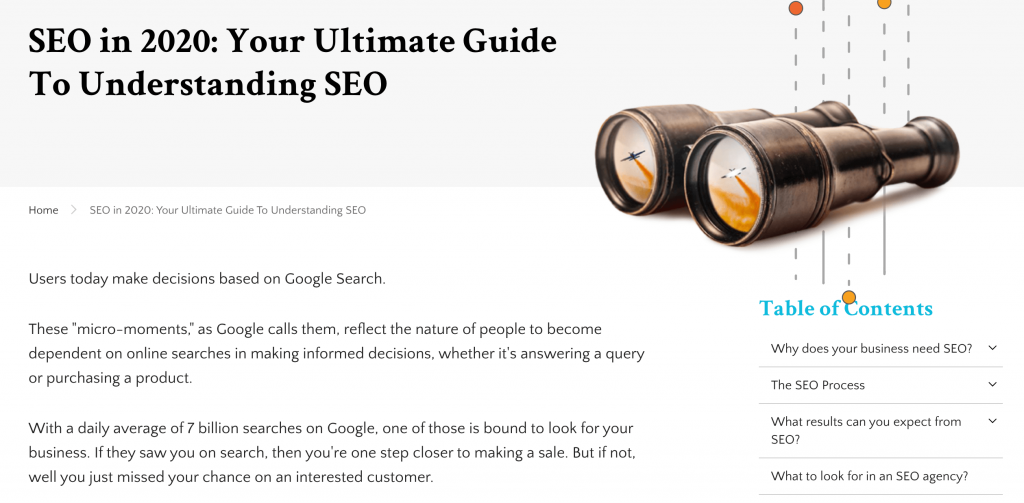 For example, (shameless of us to say) we created an extensive Guide to Understanding SEO— it's helpful content that users search for, which is why sites generally use these types of pages to support topics or positions they are writing about.
Another linkable content is a good How-To article. This is a step-by-step process on how to accomplish something, which is an evergreen method of providing content to your users. You can also maximize the use of listicles or list articles that work well in organizing thoughts comprehensively.
This type of content is a go-to resource for your audience, which means it can attract other sites in your niche to reference it on their pages.
5. Get creative with your material.
Users crave something new when they go online. Unleash your creativity when making your content, and explore other media that speak to your audience. Make use of video tutorials, podcasts, or webinars; create material that has never been seen before in your industry and relates to your users.
Promote your content.
Content creation is just the tip of the iceberg, in terms of good link-building techniques. You now need to find suitable sites or influencers to publish your material.
Do so by means of relationship link-building with like-minded business owners or influencers who are likely to reference your site on their pages. Learn how to pick the sites you should reach out to for the promotion of your business.
6. Choose your publishers with high domain authority.
It's natural to think that it's better if more pages link to you. However, you also need to consider the domain authority of these sites. Domain authority can be considered as the "reputation" of a site as a content maker. It predicts a website's ability to rank on SERPs. Pages with high domain authority have a high amount of relevant external links.

Links from sites with high domain authority make for better backlinks than sites with low domain scores because the former offers publishers more credible and relevant content. This skyscraper technique would do your site well to associate itself with authoritative websites.
7. Make sure your publishers use dofollow links.
Not all links serve the same purpose. For instance, there are two types of links based on the value or authority they add to your site. You'll want publishers who use dofollow links or a kind of link that passes their link equity to your website.
Avoid sites that generally use nofollow links. Nofollow links look similar to dofollow links but are embedded with a code that prevents SEO value from being passed from the linker to your site.
8. Foster relationships in online circles.
Participate in forums, comment threads, or discussions about your topic. Provide insightful information that users will find useful.
Users you interact with can give you practical info about the industry that can help you get in touch with their needs and concerns. In addition, gaining popularity in these platforms can get you backlink references from other business owners or users you interact with.
9. Review products and services.
Another way to ethically build your links is to review products. By giving a testimonial to their brand, you'll earn backlinks from their sites while they harvest consumer trust from a review by a credible source such as your platform.
10. Submit guest posts.
In addition to publishing product reviews on your site, you can actually submit guest posts to publishers and get backlinks. Create well-written content about a specific topic that's relevant to your niche industry and that will be valuable to the publisher's site.
Check out your competitors.
Another way you can build links ethically is to run a backlink analysis and check how your competitors are doing it. Learning what sites link to them can help you expand your options of businesses to reach out to for the promotion of your content.
11. Study your competitors' common backlinks.

Sites that link to your competitors are likely to link to yours, too. Find out what backlinks your competitors have in common by using tools like Ahrefs, Moz, and whatnot. By doing so, you'll determine what sites are likely to link to yours because they link to businesses in your niche.
12. Target your competitor's backlinks.
Another ethical link-building trick is to get indirect backlinks from competitors. Do this by looking for websites your competitors link to. These sites are platforms you can ask to reference your business.
Your competition surely links to reliable and authoritative sites. Requesting that these sites link to your site will pass on their SEO value to yours. In addition, you'll also get an indirect backlink from your competitors.
13. Monitor your competition's new links.
Always be on standby for any new link your competition gains. The sites that link to your competition are likely to link to your business, too, since you belong in the same niche industry.
Once your rivals earn new links from certain businesses, be ready to promote your content to these sites.
Broken link building.
Another ethical link-building tactic you can try is to revive dead links. Nobody wants broken links in their sites; so this opens an opportunity for business owners to maximize. Dead links can be a result of switching domains or page relocations. All you have to do is to leverage broken links; find those links that you know you can replace to earn the SEO value they have foregone.
14. Recover your dead backlinks.
Some sites may inadvertently link to yours with broken links, whether it be caused by your own site (relocation of pages, relaunching of website, etc.) or the sites misspelled your links. This is a cause of concern because you aren't receiving the benefits of the backlinks you've earned.
Find these broken links using the Link Juice Thief tool. There, you'll find out what sites are linking to a 404 error. Once you've pinpointed these instances, you can reach out to these websites and ask for the link to be fixed (if it's simply a case of misspelling) or replaced (if you have replaced the link altogether).
15. Replace your competitors' dead backlinks with your content.
You can also take advantage of your competition's dead backlinks by searching for sites that link to them but unfortunately link to 404 errors. You can use the Wayback Machine tool to find out what kind of content was on that dead page.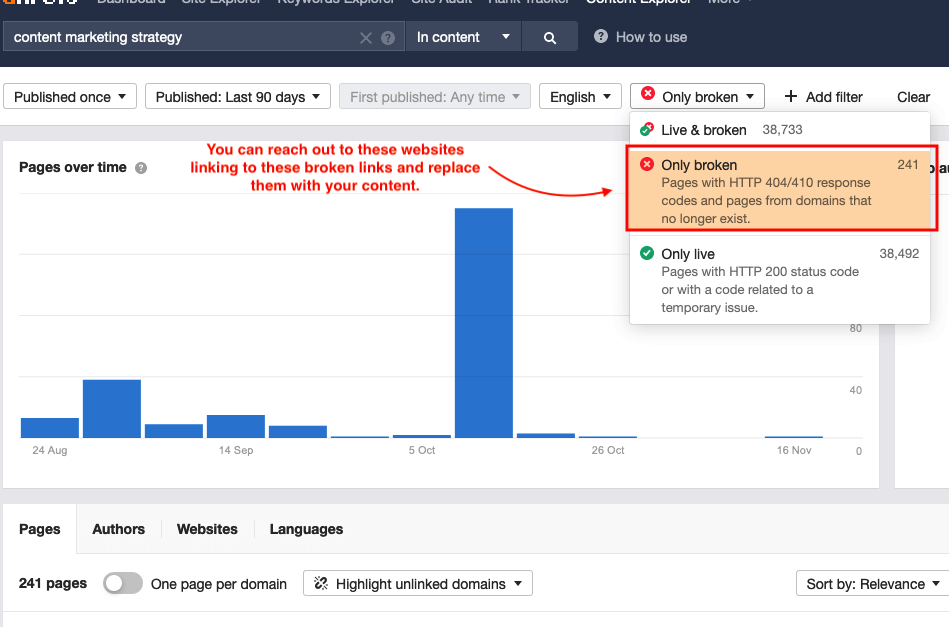 Once you've done this, you can request that you replace that page by creating a newer version of that content and with a working link. If your first attempt to have that link replaced doesn't pan out, you can always look for other sites that use that broken link. There you'll see many other prospects you can pitch your new article to.
16. Revive Wikipedia's dead links.
You can also offer to replace dead links in Wikipedia, a highly authoritative site with thousands of contributors and editors that attest to its accuracy. Look for Wiki pages that need citations or have dead links.
If you're dealing with a dead link, you can use the Wayback Machine tool to see how you can replicate the content. If the page needs a citation, either dig up your recent archives for material Wikipedia can cite or write new content that can help support the topic on Wikipedia's page.
Wikipedia's outbound links, however, are all NoFollow. This means it doesn't pass on SEO juice; but in reality, NoFollow links from authoritative sites, like Wikipedia, are better than DoFollow links from websites with low domain authority. In addition, NoFollow links from sites with high domain scores are a good way to drive quality traffic to your site.
17. Maximize internal link-building.
When discussing link-building techniques, you may tend to focus on external linking practices. Upgrading your internal linking techniques, though, can reap benefits. Because linking to other pages passes down site equity, linking to your less popular pages can help boost their authority and visibility.
18. List your site in authoritative site directories.
Another ethical link-building practice is having your site listed in relevant and trustworthy site directories in your niche industry. Beware of spam directories, however, because some of these are now being used as link farms, a black hat SEO technique.
Make sure to check out the directories you're going to associate your site with; ensure that they are informative and reliable by using spam indicator tools.
19. Track down dead sites.
Just like how you would track dead links to replace them, you can also look for a competition that has gone out of business; and ask sites that are still linking to them to link to yours, instead. The difference between this and the former example is that, as opposed to looking for single pages, you're looking for entire sites that are now unavailable.
20. Replace your mentions with backlinks.
Some businesses mention your site in their content but fail to put in a link. These are avenues that could have driven traffic to your website. Make sure they don't go to waste.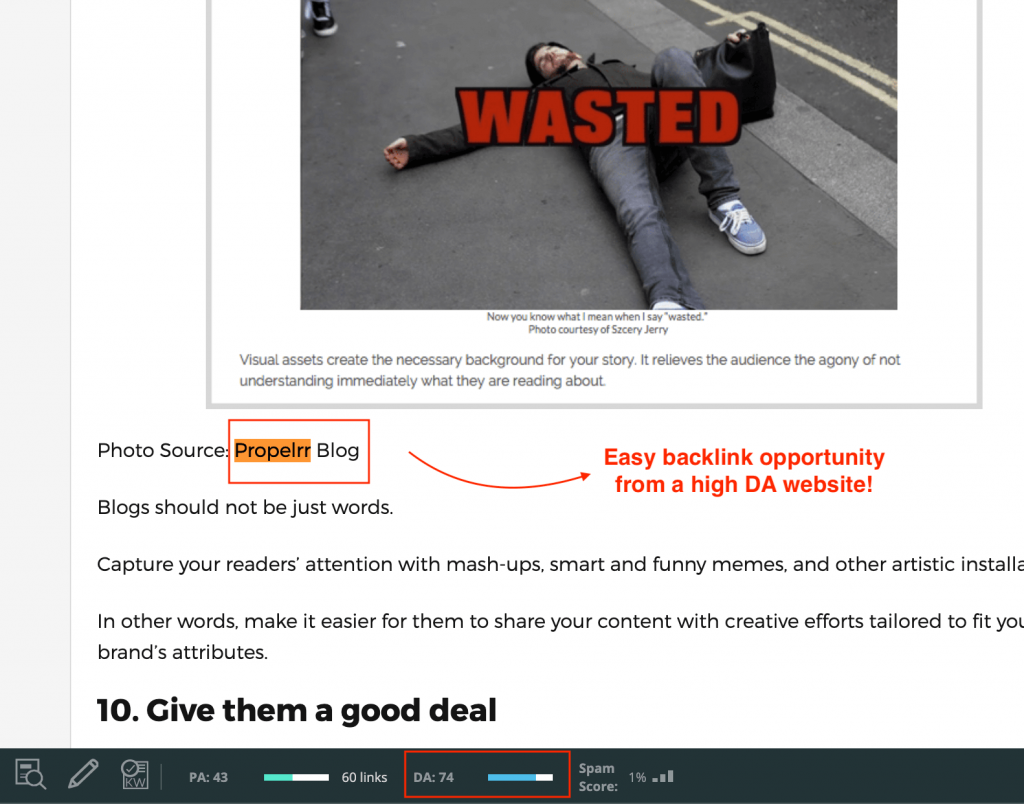 You can scour the Web for those instances like these and kindly ask the site managers to include a link when mentioning your business.
Key Takeaways
Ethical link-building is a practice all business owners should learn if they want to drive organic and credible traffic to their sites. You might be tempted to take the easy road of spamming and black hat SEO practices. In the long term, though, it will not be a sustainable way to run an online business. Learning the right way to build your links can easily help you avoid taking this unethical road.
1. Content is king. One of the best ways to ensure that businesses reference your site is to produce original, relevant, and reliable content. Conduct in-depth research and use concise imagery to present your findings.
2. Promote your material wisely. Make sure you reach out to authoritative sites to get those coveted backlinks. You can also do this by participating in conversations in forums or blogs and making a name for yourself among your niche's online circles. Contribute relevant content to these threads and earn backlinks from users and fellow business owners.
3. Learn from your competition. Sites linking to your competitors are likely to link to your site. Once you've spotted these sites, reach out to them, and showcase quality content; so they'd be encouraged to reference your business.
4. Broken doesn't mean useless. Broken links provide a good avenue for you to improve your brand's visibility. There are many dead links out there on the Internet that you can replace with your content. You just need the right tools to help you find out where they are.
Strive to remain ethical in your quest to drive traffic and conversions to your site. If you're not sure how to do this, leave us a message down in the comments for more help! You can also share more of your thoughts over at Facebook, X, or LinkedIn! 
Subscribe Now
Choose topics you want to get regular updates on: