Digital got you dazed?
Type it below, and we'll show you what we've written about it!
Digital Marketing Social Media Management & Marketing
10 Revenue-boosting Social Commerce Tips on Instagram and Facebook
Propelrr

09 Aug 2021

9

min

read
The worldwide demand for health protocols during the pandemic forced some physical stores to shut down, leaving them substantially unmarketable. While the brick-and-mortar stores ceased to market well, the pandemic became a catalyst for social commerce tips and services. 
Statistics suggest that the numbers of social media users had significantly increased in 2020, welcoming 520 million new social media users in these 12 months alone. This surge showed that more than 70% of the eligible global population are social media users.
In fact, the numbers are still multiplying, reshaping many businesses to shift to Facebook and Instagram to save their dwindling commerce.  You may be one of those businesses that are now considering a shift to social commerce to ride along with the wildly growing trends in social media. 
But if your schemes aren't reaping all the benefits then you may find yourself rethinking your strategy to increase your conversions. But worry not cause we got you all covered. 
Through our years as a digital marketing company in the Philippines, we bring you essential strategies to optimize your social media ecommerce.
What is social commerce?
Social commerce is the process of using social media and networking sites such as Facebook and Instagram as direct channels to directly sell your products or services. It differs from social media ecommerce which aims to lead social media users out of the networking site to promote another ecommerce destination and make a purchase. Transactions in social commerce are much more seamless for your customers.
Social media and commerce are like two peas in a pod. Through social media, anyone could generate tweets, post, like, and share — a proactive interaction that is a perfect match for your business. The flow of information among users is handy in finding prospective customers, generating targeted web clicks, and building your audience rapport.
Instagram and Facebook are the two most visited social media sites worldwide. Facebook reportedly has 2.9 billion monthly active users while Instagram handles just roughly 1 billion active users. 
So what do these figures mean to your social commerce? It helps you decide which digital platform works best for your business. 
How will your brand profit from social commerce?
Social media isn't just about the degree of likes, comments, and follows, it optimizes your strategies to create a smoother customer experience. Here's why social commerce is important for your business.
Social commerce allows an interactive social experience. As social media creates interactive content, it delivers greater engagement rates among its users. Rather than using the usual static photos and product descriptions, it allows you to promote your product in a lot more creative and interactive ways.
Social media markets remove friction on the consumer shopping journey. The marketplace is already within the reach of users, where users can shop with just a few clicks from product discovery to the purchase process. It minimizes the possibility of abandonment caused by lengthy transactions on typical ecommerce sites.
Social media sites have algorithms to hyper-target your buyer persona. Based on users' recent activities, social media can target users who have ultimately higher impulses on transacting with you. 
Social commerce offers seamless transactions so optimizing its tools will lead to more sales. This means that in social commerce, your Facebook and Instagram page is your shop as well! 
Facebook social commerce is a customized digital storefront that allows you to display your product so users who visit your page can browse your products, shop, and check out seamlessly. 
Facebook Marketplace policy also allows you to connect to your Instagram social commerce account for faster updates and audience reach.
And just like Facebook Shop, Instagram Shop lets profile visitors browse your products, explore collections, and make purchases — a smooth in-app shopping experience. Hence, it's crucial for you to learn about some  Facebook algorithms to harvest the maximum benefit and Instagram social commerce hacks.
Social commerce tips for Facebook and Instagram
As social media continues to expand, so is the need to create integrated content that lures prospective customers to your page. 
Check out these social media commerce tactics you can bring about on Facebook and Instagram. Integrate these tips into your social media marketing tools and strategies and, you'll be sure to gain more conversions.
Facebook commerce tips:
Instagram commerce tips:
Facebook commerce tips
1. Use audience insight tool to target a clientele
If you want to sell your product or service, you should know who wants it and needs it. Identifying your target audience first before making more social commerce strategy moves is crucial since you won't want to waste your efforts on reaching the wrong audience. Plus, high numbers aren't your goal in Facebook commerce, you would want to connect deeply with fewer people than roughly with many.
As long as you have a Facebook business page, this one's an easy step for you. The sophisticated audience insights tool lets you explore deeper into your prospective customers — their age, location, gender, job titles, and even their hobbies are all available in one tool! You can even narrow these buyer personas down to education, language, relationship status, and market segments as needed.
Developing your Facebook audience insights to customize your audience may be a bit of work, but implementing this will get you all set to run an ad, track your business performance, and get more conversions rather than just more followers.
2. Post engaging visual content
Visual content works on your audience's visceral psyche —proposing to them that they should discover more of your brand. Using image-based content doesn't only make text-centric content more absorbable for your viewers, it can also be used to create engrossing messages.
There are a number of ideas you can try to draw the audience's attention through Facebook posts, and the usual images and infographics are just a handful of them. Whatever format you may choose , you should not forget to generate quality content that resonates with your audience.
3. Come up with interactive schemes
You are not limited to posting the usual infographics and product photos with dull descriptions on Facebook. Save up your creative skills since you'll be integrating them a lot on your Facebook programs.
Remember that social media is also for socializing so get involved with your audience and shake up your interactive content. A good practice to boost engagements is by asking open-ended questions. This allows your brand to host a contest and and other games  using your products, and create engaging infographics that fall in with your program.
Let's see how Sanicare, a hygiene product brand in the Philippines, encourages participation from their customers.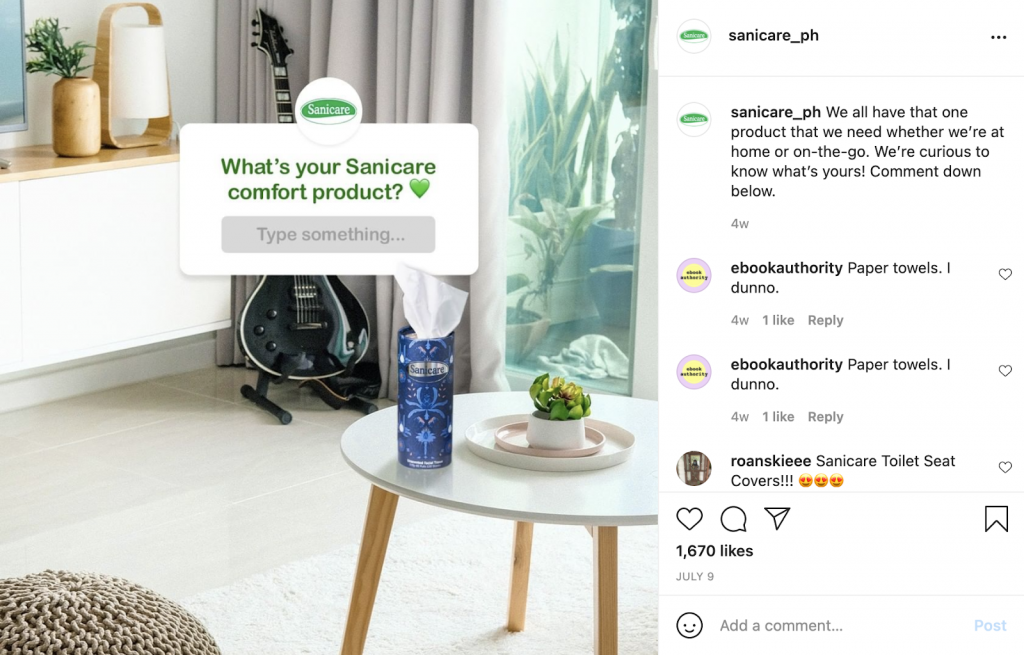 4. Schedule your content
Sometimes, even the most engaging content in social media can be overshadowed by recent posts. Don't worry, there's a single solution to this — know your audience's peak time.
You have to analyze your content and its performance to come up with the best schedule for your posts and generate optimal feedback. Facebook Insights can help you find out the best times for your commerce to update content. Most businesses post on weekends, holidays or typical rest hours but this may depend on your business.
Posting your content during peak hours isn't the final step at all. You still have to squeeze in time for your audience engagement. Make time to reply or react to their comments as this can really help grow a good relationship between you and your customers.
5. Invest in Facebook Ads
You don't always have to depend on ranking well in organic search to generate traffic and sales. Having a sales pitch by running Facebook ads is a surefire way to draw attention to your shop. Just set up a Facebook Ads account, make payments to share your content with your target audience, and achieve your conversion goals!
Your investments may be well worth the cost as Facebook offers various options for your business, including user engagement, brand awareness, and shop visits.
But you don't have to promote all of your posts. Only invest in your best content. Promote and resonate content that generates higher engagement metrics so you won't be wasting any of your investment.
Instagram commerce tips
1. Collect and post user-generated content
Some businesses invest a lot to publish content, but wouldn't it be great if there's a way to post great content without putting in a lot of hard work? 
The good news is, there is! User-generated content helps your business produce great content and save on budget. You may try this by using hashtags or simply asking your customers to tag your Instagram account on their posts.
More than that, having user-submitted content cuts down your audience's purchase anxiety. Most of the time, online buyers feel unsure if the actual product meets their expectations. But posting content from your users shows realistic representations of your product and thus converts doubtful prospects into confident customers.
Observe how money pawning and remittance services company Palawan Pawnshop – Palawan Express Pera Padala utilizes user-generated content by showcasing top customer comments on their social media.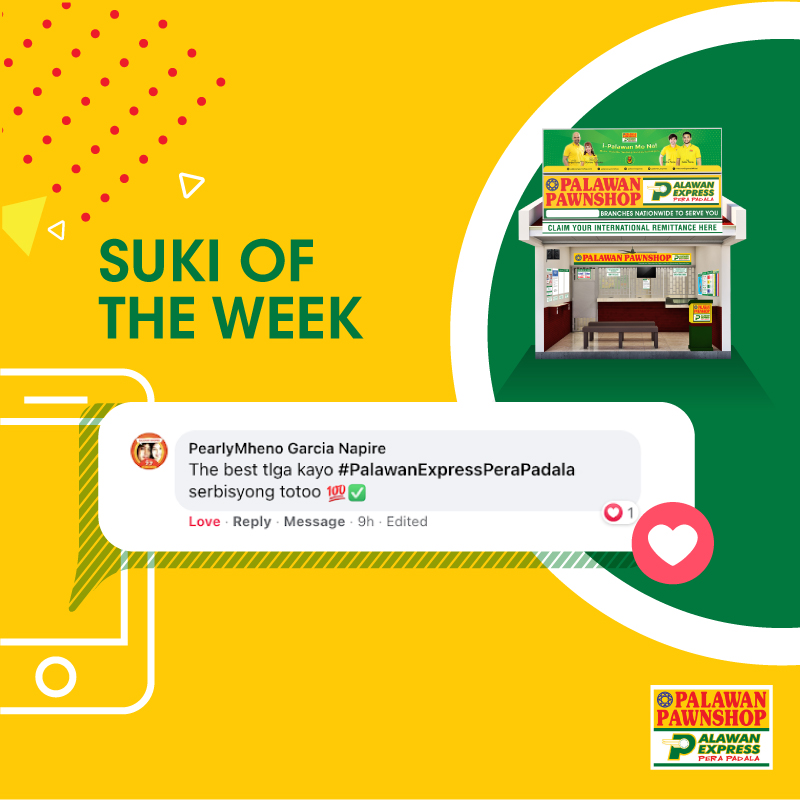 2. Take heed of your hashtags
Using hashtags is the fastest way for instant engagement on Instagram commerce. They help you get more eyeballs by showing up on users' searches. It's generally making your content more discoverable,
You can generate your own creative hashtag that reflects your brand or even use your own brand name just as The Body Shop uses it to get more exposure.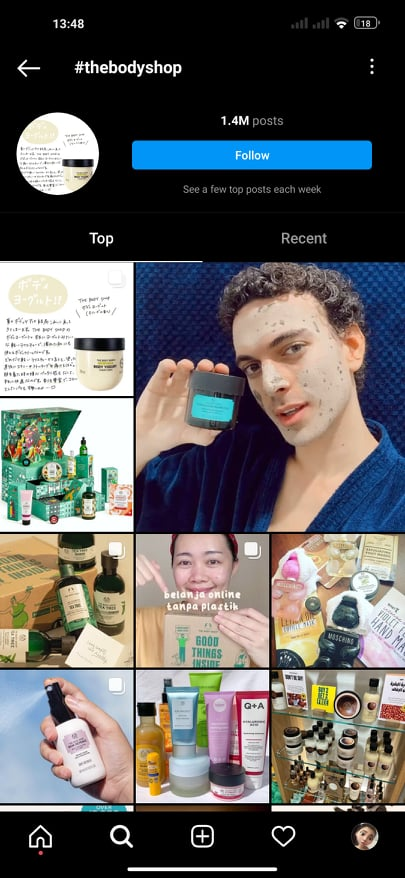 3. Optimize your Instagram Stories
With over 500 million daily users, Instagram Stories allows you to use real-time selling to reach your audience in the right moments — an exceptional way to bring stronger customer relations. You can broadcast live selling videos (which surely notifies all your followers) or create a 24-hour interactive Instagram Story.
Adding IG Stories to your social commerce will show your interest to communicate with your followers in real-time as these stories  showcase your brand's authenticity and transparency. 
Instagram Stories offers tons of engagement-boosting features too! Poll stickers, emoji sliders, question, product, and quiz stickers are just a few of the lot. They are fun and quick ways that stimulate more clicks from your followers. You can use Instagram Stories Highlights to extend the 24-hour lifespan of your stories for a greater audience reach.
4. Collaborate with social media influencers
If you want to gain more followers in your Instagram account, you may consider help from influencers who already have a large audience. As influencers have already gained trust and loyalty to their followers, you can use their force to get yours, too.
Influencers have the power to set trends through their fanciful product reviews and creative posts. As audiences respect and believe the opinions of the influencers, this tactic is effective to drive conversions. 
5. Make full use of Instagram Ads
Just like Facebook Ads, drawing public attention through Instagram Ads is vital if you want to earn more sales. But before investing in Instagram Ads, you need to read up on the best practices in optimizing ads for more cost-effective results. You need to know when, how, and what you should advertise to avoid wasteful investments.
The particular advertised post isn't just the one you'll have to pay attention to when using Instagram Ads. When users get attracted to your sponsored posts, they'll take time to browse your profile so you should get that prepared, too.
All your posts must be visually compelling (remember: people are visual creatures). If they see a dull and plain-looking feed, they might just wander off. Pay attention and be  consistent in all your posts, to optimize your ads investments.
Key takeaways
Integrating social commerce strategies on Instagram and Facebook is one of the finest and easiest ways to lead conversions. Because of the seamless in-app shopping experience that social commerce provides, your customers are likely to continue their purchases rather than abandon them because of long transactions.
It's a challenge to optimize  social commerce benefits, so remember these tips to increase conversions.
Always aim for engagement. Social media is a social network so you need to engage your audience. Creating interactive sweepstakes, posting their submitted images, and interacting  with them is important if you want to maximize your efforts.
Decode and optimize social media algorithms. You need to know how networking sites work before using social media for business. Through this, you can make full use of the tools and services they offer.
Know when to invest in advertisements. Make your investments fruitful by preparing your content and business profile feed first before blasting into sponsored ads.
Want to learn more on how to leverage social media? We got a lot of that content! Treat yourself with our services and reach us in our Facebook, Twitter or LinkedIn accounts.
Never miss a beat.
Get regular updates in your inbox
on what's new on digital.
Subscribe Now