The Power of Social Media Marketing Research in Producing Captivating Content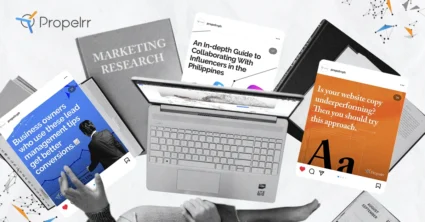 Social media, with around 4.9 million global users around the world, has an unmatched role in today's digital landscape. With that many people in the virtual space, there is a need for brands to explore the power of social media marketing research and how it can impact the way products and services are presented online, as well as how they are perceived by consumers.
In order to maximize online presence and customer engagements, a brand must identify what makes the target audience interested in its offerings. This can be done through in-depth marketing research that helps determine the target market's behavior, preferences, and inclination toward the brand.
Knowing all these key information would not only help you craft effective content based on relevant and credible data but would also boost your overall social media marketing strategy.
This article will present vital points on how you can maximize social media marketing research in producing quality and relevant content for your brand.
Exploring the value of marketing research
Marketing research is conducted to assess the overall marketing process as well as where and how a product or service can be best presented and offered to the target market. This can be done by gathering relevant information on your target audience, engaging with stakeholders, and studying the current trends in your industry. Researching is highly beneficial in securing brand success because it leads the brand toward the right marketing opportunities and practices.
One of the major benefits of doing marketing research is achieving improved strategies in content creation. With the collected data on the target group, competitors, and the industry, brands can produce content that is tailored fit to the preferences and behavior of the intended audience and the present industry trends. This is highly beneficial in ensuring that the materials published will lead to positive results for the brand.
Producing brand content that is data-driven can effectively give your marketing strategies and overall brand marketability a boost. This can also strengthen the trust of your customers knowing that you highly value their interest and make you stand out from your competitors.
If you want to level up your marketing efforts (including the content you put online and how you understand your customers) but are not sure where to start, you might also want to consider seeking assistance from digital marketing experts.
Knowing your customer persona
A major purpose of social media marketing research is getting to know your target audience and pinpointing their attributes and preferences that concern your brand. As you engage with your customers through surveys, interviews, online communities, and forums, you will be able to learn their insights on your brand's offerings and determine areas of improvement.
Once you have identified these details, you will be able to create a customer persona that will represent your actual average consumer and help you in formulating your marketing strategies, including the type of content you put online. It will also help you find the right medium and platforms to promote your brand.
How to effectively use social media platforms
Apart from the specific details that customers look for in a brand, research would also help you identify their preferred social media platforms. Data from January 2023 reveals that Facebook is the top used social media platform, showing that there may be plenty of business opportunities online given the influx of users in the said application.
When you have successfully discovered the platforms where your target audience is, you can have better-targeted advertisements that boost customer engagement. This, together with relevant content, can also increase brand awareness and engagement as the consumers interact with them in the virtual space.
Each platform has its own unique features that allow businesses and content creators to optimize their outputs online. An example of this would be TikTok where short-form content or videos can be posted. On the other hand, streaming platforms like YouTube cater to long-form content. Exploring platform-specific features can bring brands close to consumers.
Creating effective and captivating content through research
In social media marketing, it is vital to remember that identifying the preferences and understanding the backgrounds of your customers is only the beginning of fostering a long-lasting relationship with them. Such information should be used to further strengthen that connection through your brand's content.
One of the popular and effective social media storytelling strategies is emotional appeal which can provoke different emotions like being happy or sentimental among your target audience. This style is often used in creating content that features human-centric stories that feature brands and is an effective way to connect with customers.
Apart from producing content that appeals to customers' feelings, it's also helpful to perform Search Engine Optimization (SEO) wherein keywords are seamlessly integrated into your marketing assets.
Choosing the appropriate keywords to use for your content can help increase your brand's discoverability as users often search for their interests. With the right keywords, you can connect better with your target customers and appear in the top results when they search online or scroll on social media.
Trending keywords and topics can be identified through research, particularly by observing online engagements and social media posts of users. User-generated content, such as feedback and reviews, can also significantly influence other users to also engage with your brand considering the growth of influencer marketing in the present time.
To further engage with your audience, powerful copy, and eye-catching visuals should resonate well with your audience to keep them engaged.
In summary, effective content can be achieved with proper research and seamless execution. When brands release appealing and relatable content, it is likely that the audience will be engaged because they feel connected to your brand.
Audience engagement
Given the importance of audience engagement in marketing your brand, it is valuable to know how it can start and then be maintained and improved. Information on these can be obtained by directly communicating with your customers, which is another way to conduct marketing research.
As you engage with customers online, you will be able to know their personalities and identify the most effective way to communicate with them. Once identified, coming up with your communication strategies and guidelines would be easier and therefore, allow you to respond to them accordingly and promptly through comments, messages, and even feedback.
In addition, it is valuable to encourage your audience to produce their own content featuring or related to your brand (a.k.a. User-generated content or UGC). Acknowledging such posts by reposting or simply commenting on their content can make them feel they belong with the brand's community and are valued by the brand. This also encourages them to further interact with the brand, which in turn establishes loyalty and eventually becomes brand ambassadors.
Maximizing influencer marketing
Indeed, the rise of social media opened up different opportunities in digital marketing, with influencer marketing as an example. A social media survey done in May 2023 showed that 86% of Filipino respondents know or follow at least one influencer, emphasizing the growing industry of influencers.
If one brand wants to increase its exposure, one good way to achieve this is to consider Influencer Marketing. A recent study discovered that 61% of surveyed individuals trust recommendations from influencers, further proving the considerable trust that people have in influencers.
Followers grow interested in products or services advertised by influencers because they believe that their reviews are more authentic and honest than the ones from celebrity endorsers. Because of the influence and platforms these influencers have, brands consider starting partnerships and collaborations with them.
Through research, you will know if influencer marketing is the right strategy for your business. This can also help in identifying which influencers suit your brand best and if they would meet its needs. By carefully evaluating their performance online, their target audience, and their niche, you would be able to leverage influencer marketing to greater success.
In the long run, analyzing available data will become necessary to assess the impact of your influencer marketing process so you can determine if it's still the appropriate strategy to use for your brand's needs.
Analyzing social media performance
Social analytics can help you determine whether your current social media marketing strategies are still effective or if it's time to level up your game. This involves studying customer engagements and interactions that help in assessing the effectiveness of the content produced.
Analytics is also used in reviewing the impact of social media content on the intended audience through the types of reactions, number of shares, and nature of comments. These engagements should be regularly monitored for them to be used in improving marketing practices and performance.
Organizing and interpreting the gathered data can help brands make sound decisions in terms of marketing strategies and the type of content to be developed and released. It can also guide businesses in exploring other marketing opportunities.
Understanding social media content trends and opportunities
Social media marketing research is an effective way to discover the latest trends and predict future marketing opportunities online. Reviewing customers' insights on your products or services will give you an idea of what's in and what else could possibly emerge.
To ensure the relevance of your content, you need to stay updated with the happenings on social media and other future changes in consumer preference. This can be done through predictive analytics which involves utilizing existing data in predicting future trends. Practicing this will help you select relevant topic ideas for your marketing collateral and remain appealing to consumers.
Take time to understand the changing preferences of your target audience. Gaining the latest insights about and from your consumers can help you develop better marketing strategies and integrate other effective practices like research, which can help you have an edge over other competitors.
Incorporating marketing research into marketing strategies
Given the benefits and purposes mentioned earlier, it is advisable to integrate marketing research into your brand's actual set of marketing strategies and the creation of new ones. With the analysis and application of data on the latest consumer trends, updated strategies and practices can be generated.
Research also helps ensure that social media efforts, like content production and collaborations, are all in line with bigger marketing goals. This maintains a balance between the need to stick to brand objectives and insert fresh, contemporary ideas to adapt to evolving trends and preferences.
It is important to maximize research in adapting modern and updated content strategies to maintain your brand's relevance in the industry. With the competition getting fiercer every single day, it is necessary for your brand to stand out by following effective marketing strategies.
How brands did it
An effective integration of research into your social media marketing efforts can improve your strategies, find solutions for your needs, and create impactful campaigns.
Research-based marketing campaign boosts audience engagement through tailored-fit content, the right set of approaches, strategic promotions, and systematic analysis of the campaign's impact and results.
Check out these stories of successful content marketing using data from careful research and analysis.
TISYU's Taboo Talks: Maximizing meaningful storytelling in creating compelling content and boosting online presence
Tisyu's Taboo Talks campaign combined emotional appeal and strategic social media marketing strategies by showcasing a series of videos featuring relatable human-centric stories featuring Tisyu as part of an average person's life.
When starting the campaign, Tisyu encouraged users to post user-generated content to find actual stories to feature. By knowing and understanding the type and background of their audience, identifying and presenting stories that are relatable to them became easier.
To assess audience reception of the stories presented, Facebook Analytics was used, showing that those who viewed the videos by more than 50% were likely to interact with the other videos in the series. These engagements and insights were also assessed while taking into consideration performance indicators like video completion rate and retention rates as a guide.
The strategic execution of the video series resulted in ten million views on different platforms, 11 million reach on Facebook, and 80,000 watch hours on YouTube. These figures helped in determining areas of improvement for the campaign and Tisyu's other marketing efforts.
BARBIE MOVIE: Highlighting solid branding and inclusivity in building audience engagement
The Barbie movie's marketing strategy literally painted towns pink. The materials used and the central idea of inclusivity did not only successfully capture the attention of Barbie fans, but also individuals from different backgrounds.
The said concept was a product of research, beginning with Mattel's information that 90% of girls had Barbie dolls–making teens and women the main target audience of the film. Apart from simply identifying the market, people behind the film's marketing researched women's different backgrounds that they used in creating Barbie's different personas.
The marketing efforts truly followed the reality that girls and women today are becoming more aware and empowered. The idea of inclusivity was achieved through a seamless integration of cultural ideas and societal realities that came from research and strategy building.
The $150 million investment in Barbie movie's marketing gave a significant return with both audience engagements, the number of people who watched the movie, and $1 billion in ticket sales.
These stories of success show how important data-driven content is in ensuring that marketing campaigns and efforts will bring success to the brand.
Key takeaways
Social media marketing research can benefit your brand in many ways, most especially in crafting and publishing content that aligns with your brand goals, appeals to your customers, and influences others to interact with your products and services.
Here are some points to remember as you integrate social media marketing research into your own brand:
Explore the power of social media marketing research. Try incorporating this practice into your marketing strategies and experiment a lot to know more about your target market and produce more tailored-fit and lasting brand content online.
Utilize data to improve social media marketing content. The information about your audience and the climate in your industry should be maximized in the content creation process. Align your outputs with the preferences of your customers so you can make them more relevant and appealing to achieve better conversions.
Use research to identify marketing opportunities and develop better strategies. Data can be used to formulate practices that will help bridge the gap between the brand and the needs of the intended audience, thus creating opportunities for growth.
For any other queries about social media marketing research and digital marketing, you may send us a message on our Facebook, X, or LinkedIn accounts. Let's have a productive conversation!
If you found this article beneficial, consider subscribing to the Propelrr newsletter so you can get easy access to other relevant content on digital marketing and more.