Digital got you dazed?
Type it below, and we'll show you what we've written about it!
Social Media Management & Marketing
Driving Your Brand Into the World of Ephemeral Content
Ming Lagman

18 Mar 2022

14

min

read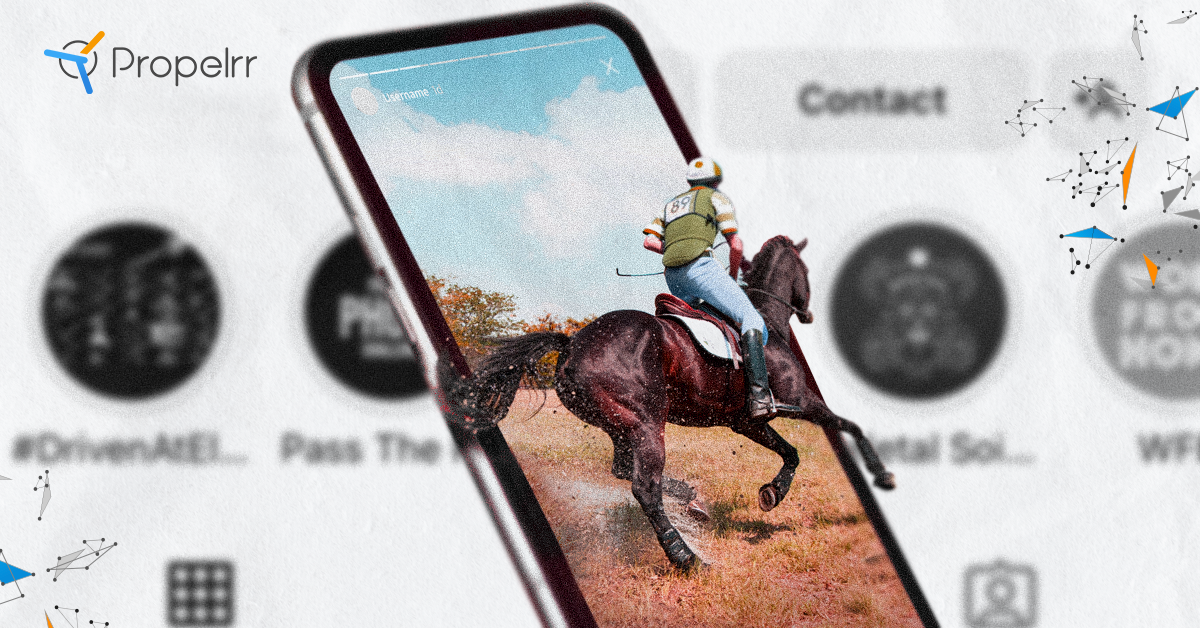 The world of ephemeral content sees a flurry of updates that daze and confuse even the most vigilant social media marketers.
This is especially true since, in the turn of the last decade, you may have witnessed a number of rollouts from various social media platforms of their custom iterations of the content format. In 2020, both X and LinkedIn launched their version of ephemeral content in the form of Fleets and Stories, respectively.
What the rising popularity essentially entails is that it isn't sweeping the online world, anymore; it has swept it. It can't be dismissed as a mere trend now because it's become a staple in social media management and marketing and learning how to wield it is a necessity, rather than an accessory skill.
What is ephemeral content?
Ephemeral content is exactly what it means: transient, non-permanent content that disappears after a 24-hour spotlight at the top of your social media Feeds.
They can be anything from videos to photos to just blocks of texts or typography. But regardless of the material, it disappears like a candle flame to the wind after that window expires. It will never again see the light of day unless you put it on your Instagram and/or Facebook Highlights or repost it.
But what's the reason for the massive acceptance rate? How did this impermanent format successfully and ironically become a permanent fixture in today's online world?
An ephemeral content timeline
More than getting context on its popularity, you can take a look at this timeline to reacquaint yourself with your existing options for social media marketing. This is so that, in turn, you can decide which ones to best fit into your channel mix.
A note on TikTok and YouTube Shorts: We did not make a mention here of YouTube Shorts, which serves as Google's bid to compete with TikTok – the rising short video editing and social platform – because it doesn't technically fall under the category of ephemeral content. Videos posted on these platforms remain on your channel the same way as videos on TikTok stay on the user's Feed, ergo, not ephemeral.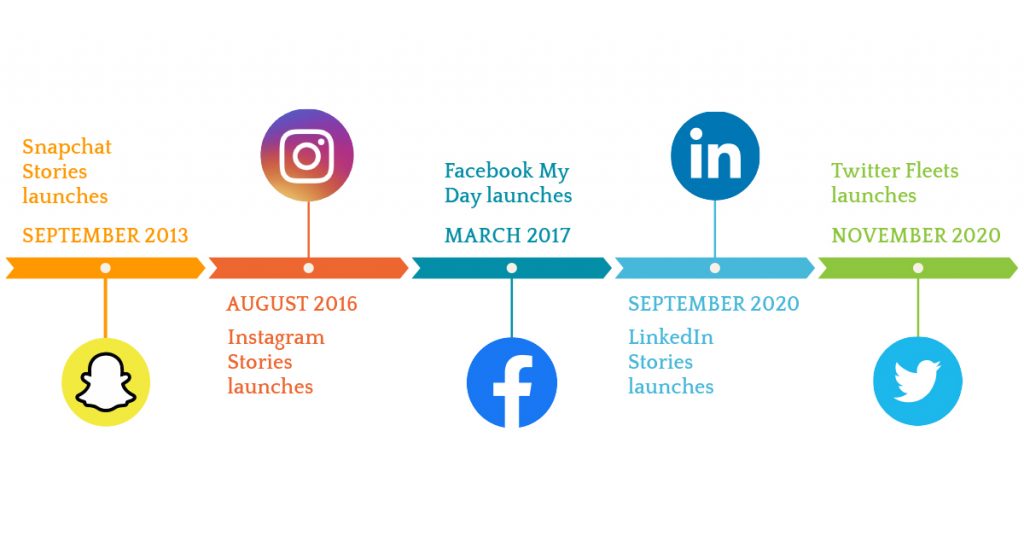 Here's a screenshot of the Propelrr Instagram page where you can see a sample of what your Story Highlights look like.
As you can see, it all really started with Snapchat way back in 2013. Later on, as Snapchat raked in ad revenue, Facebook followed suit, first with acquired platform Instagram, and then with My Day on Messenger shortly after.
Looking at that timeline of ephemeral content, X and LinkedIn's additions seem to come a bit late in the game. And, just recently, we have TikTok chiming in with its own version of Stories.
Every internet native has already become accustomed to these short-form content formats so much that some have even asked, "do we even need another 'Stories'?" or "do we really need 'Stories' in every platform?"
You will find that, reading about what ephemeral content is and its inherent insight that yes, people actually do want Stories everywhere. You know, despite the usual complaints that follow their launches.
some of you hating…

but we see you Fleeting 🧐

— X (@x) November 17, 2020
Why is ephemeral content so popular?
You're right: it's the FOMO or fear of missing out phenomenon, but it's actually that, and more. Such are insights that you should consider when strategizing for your Stories or other ephemeral content.
From the user perspective, ephemeral content serves to address an intent that's commonplace on the internet: avoiding the incidence of online audiences taking posts out of context and worse, use it against them. This is affirmed by one of Snapchat's co-founders Evan Spiegel himself who once wrote in their first blog post back in 2012 that they were driven by the purpose of providing users "a space to be funny, honest or whatever else you might feel like at the moment."
All without worrying if it will bite you back in the bum during a job application background check.
In the latter part of the decade, however, the reasons layered on top of another. Apart from Feed curation, it is a presumably safer shield against "cancel culture." You can read about why brands should pay attention to cancel culture in this op-ed published in Forbes to guide you with it later on.
The point you should really be letting stew right now is: these reasons drive hordes of users into consuming and posting ephemeral content more than ever before. If you haven't been actively making use of it in your social media promotions, then now is a good time to start.
Why create ephemeral content?
Simple: Your online audiences are spending more time viewing and posting Stories than scrolling through their Timelines now and it's your job to meet them where they're at. It's what any guide on creating an effective social media strategy will never forget to mention.
Ephemeral content alone, when used right, can be a powerful social media marketing tool you can reap many rewards with. Specifically, these are:
Increasing brand awareness and reach.
If you don't take our word for it, then take it from the numbers. Below are some figures that paint a clear picture of just how many people are on social media platforms on a daily basis.
We also summarize here a quick breakdown of relevant demographics you should consider in your strategies. You may view full reports of these usage statistics for each platform on Hootsuite.
| | | | | |
| --- | --- | --- | --- | --- |
| Instagram Stories | Facebook Stories or My Day | Snapchat | X* | LinkedIn* |
| Over 1 billion daily active Instagram users | 2.74 billion daily active Facebook users | 238 million daily active users | 353 million advertising audiences | 722 million members |
| 500 million of which are active on Stories | 500 million of which are active on My Day | 5 billion daily snaps posted on average | 28.9% of which are between the ages 25 to 34 | 59.9% of which are between the ages 25 to 34 |
| 51% of users are females | 32% of audiences are between the ages 25 to 34 | Over 75% are between the ages 13 to 34 | 70% of which are male | 57% of which are male |
| 88% of users are outside of the United States | Only 8.9% of Facebook's audience is in the United States | The United States is their biggest market with 101.4 million users from the country | 68.7 million users are based in the United States | 76% of users are outside of the United States |
*Note: Figures for LinkedIn and X are based solely on overall platform usage as their ephemeral formats launched only in the last quarter of 2020, resulting in a lack of usage data.
These usage stats, combined with high-impact executions are also the basic elements of viral campaigns – a result every social media marketer aspires to achieve.
Garnering quick engagement.
There's no questioning that social media campaigns are stellar at garnering awareness. That's why modern marketing shifts its focus from less branding to more engagement.
It's a good thing then, that users who crave authenticity and inclusivity from brands and businesses are so receptive to Stories. From their limited lifespan to their authentic appeal, Stories get audiences to act and do so instantly.
Platform developers have also made it easier than ever to compel these actions by incorporating nifty features like Instagram's Small Business, Polls, and Question Stickers. Even the reply bar at the bottom serves as a convenience that bridges the communication gap between you and your customer.
Tapping into younger paying markets.
Millennials and Gen Z are the market of 2021 and beyond. This is really no wonder as they are the current and incoming workforce.
In various reports, it was found that Millennials and Gen Z's buying powers are valued at USD 1 trillion and USD 140 billion, respectively. As markets who have enmeshed ephemeral content with their daily routine, this is your signal to really get aggressive with your campaigns on such platforms.
Younger audiences are also moving away from the Timeline or Feed and are consuming more content on Stories. Add to that, Gen Z also prefers Instagram when interacting with businesses.
Minimizing costs and for better returns.
Did you know that Mobile-shot Stories ads outperform studio-shot ads 63% of the time?
It may not seem like it, but it's inexpensive to advertise your brand via Stories not only because of its low production costs. As Stories continue to pull in engagements with ease, it makes every penny of your investment well worth it.
One downside you should consider
As awesome as the entire concept of ephemeral content sounds for both audiences and brands, the fact that posts are transient is just as much its weakness as it is its strength.
If your content isn't eye-catching or relevant to your audiences, you can bet that they will skip viewing it or even hide your Stories from their Feeds, and ad money will go down the drain in a flash.
Don't worry, though. This is a problem you can avoid and remedy with the help of the tips we provide further down this article.
Five best examples of ephemeral content
So, how about it? Ready to give ephemeral content a whirl? Or perhaps you'd like to explore how you can make the most of it for your business?
Remember that impact is key, especially because you only have 24 hours to make an impression. Apart from creativity, clear and compelling messages are important to get the results you want. How exactly do you do that? Well, how about taking inspiration from this list of the best ephemeral content campaigns we compiled for you:
1. National Geographic Asks: Planet or Plastic?
The plastics crisis is a problem so massive in scale that understanding its impacts escapes the mental grasp of many people around the globe. The real challenge for any anti-plastics or environmental advocate all over is to recontextualize the scale in a way that helps audiences relate to the message and inspire action.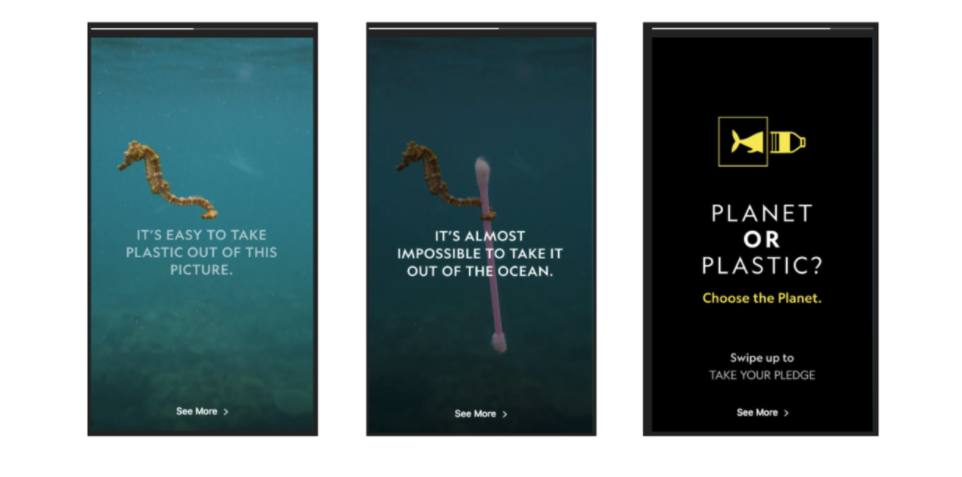 Screenshots courtesy of National Geographic (@natgeo) on Instagram
This is a feat that was stunningly achieved by National Geographic's Planet or Plastic campaign which aimed to: 1) increase awareness on the plastics crisis and; 2) collect pledges to ditch plastics from their audiences.
Reversing the scale from massive to minuscule, they featured in their Stories a simple photo series of a tiny sea creature; the seahorse. In this series, you'll see that, at first, the seahorse floating about in the vast ocean with the caption "It's easy to take plastic out of this picture" compelling you to check the next photo.
In the next shot, you'll find what was removed from the previous one: a lone plastic cotton bud wrapped around its tail, captioned with "It's almost impossible to take it out of the ocean." The last photo featured just one question: "Planet or Plastic?" along with a link to the landing page to take the pledge.
How effective was it? Well, as of writing, their long-running campaign has gotten a total of 342,938,138 pledges. A monumental achievement despite falling short of their goal of 1 billion by 2020.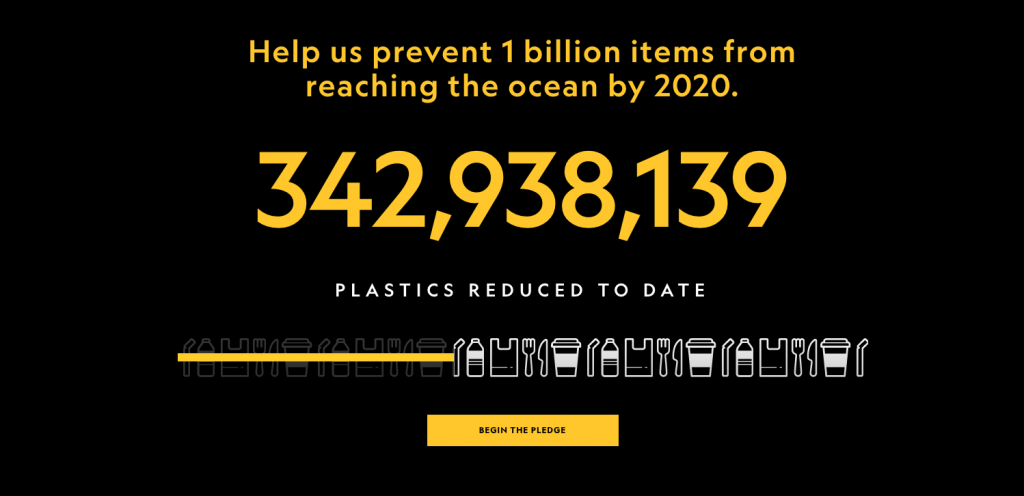 2. Instagram and Facebook Greet Users a Gong Xi Fa Cai!
Ringing in the Chinese New Year (CNY) along with their audiences was Instagram and Facebook who, during the week of the celebration, introduced an engaging update on their Story features.
The update introduced to users special stickers of red cows or oxen; symbolic of the fact that 2021 is the Year of the Metal Ox. But attaching these celebratory stickers didn't just end as a decorative accent to your Stories. They were attributive. So if you found yourselves attaching these cute stickers to your Stories, you'll see it gets featured in the dedicated CNY Story button at the top of your Story Feed.
Screenshots courtesy of Social Media Today
As a holiday celebrated largely by the Chinese community, the initiative plays a big role in representing one of the biggest Asian cultures on the platform. Factoring in the way the COVID-19 has forced isolation on many people, the stickers also serve as an emblematic demonstration of celebrating the occasion together despite the distance.
3. The Ultimate Awareness Ad – Netflix
In an exemplary demonstration of how simple and straightforward can have just as massive an impact as grand executions, Netflix launched a simple brand awareness campaign that left its logo ingrained in your memories.
Lengthy explanations of how it looks will only steal away from the point the campaign hopes to drive. So to understand what we mean here, how about watching the ad for yourself?
Highly relatable as it emulates the behavior of its users, Netflix successfully drilled in the ultimate message that screams convenience: "watch anytime, anywhere."
4. Bumble: women-first digital dating
When it comes to finding the ideal match, I guess you can say Bumble knows exactly what they were doing when they partnered with Cosmopolitan for an awareness campaign. The goal was simple: increase brand awareness for the women-first dating platform and with Cosmopolitan at its side, users couldn't help but swipe right – after installing the app, that is.
Photo courtesy of Mobile Marketing Magazine
The project involved two social videos aimed at engaging their audience of 18- to 35-year-old women looking for a culturally aware and socially responsible way of dating. The first of the two called 'Lockdown Love Stories' were clips that supported written content on tips for dating that can be carried over beyond the lockdown period. The second, on the other hand, featured a Snapchat takeover featuring the Cosmopolitan staff members who presented tips and answered questions on dating.
Each video resonated with their audience of independent and assertive users, not only increasing awareness of their platform but also encouraging them to "Make the First Move," as Bumble likes to promote.
It's true what the Tumblr aesthetic graphics say after all, "When the relationship makes sense, everything falls into place."
5. Taco Bell's record-breaking taco filters
American tex-mex fast-food chain Taco Bell has long been known for its audacious social media marketing campaigns. But just as you were thinking that they can't surprise you any longer, they go ahead and make use of Snapchat's AR technology in a way that turns heads…into taco shells.
While this strange execution for Cinco de Mayo might get some appalled looks from most people, it absolutely made sense for Taco Bell's target audience at the time. As a generation that has quite the colorful humor and a love for interactive features, Gen Z-ers ate up the taco head filter.
You can judge for yourself if this filter is appetizing. But whether or not you find it tasteful, you can't argue with this Cinco de Mayo campaign's 224 million views raked in for Taco Bell.
Basic considerations when crafting your ephemeral content
What makes ephemeral content great often starts with the basics. Without getting the basics down on pat, you won't have a solid foundation for a stellar campaign to be staged on.
These basics, as well as small but impactful tweaks, are outlined in this illustration of the basic anatomy of ephemeral content:
Clickable profile photo – make sure to use one that can be easily associated with your brand name like your logo.
Progression bar – this signals users how much content you have banked for the day. Making it too lengthy can turn-off viewers so focus on keeping your message short and sweet, or engaging enough to make them watch through the entire series.
Call-to-action button – this is where people can easily interact with your brand. You can link this to landing pages relevant to your current campaign.
Other features you can play around with are:
Question sticker – allows your audience to send you a short message or question.
Poll sticker – lets you run a quick 2-variable survey on your stories.
Small Business sticker – signals to audiences that you are a small business and provides them a sneak preview of your featured content.
Reaction Bar sticker – allows you to quickly view how users would rate your current story based on the message implied by the emoji set on the reaction bar, i.e. heart signals love or like, or angry emoji signals hate or dislike.
Here are the best tips to keep in mind when crafting ephemeral content:
1. Start on the right track
Every campaign, especially those involving ephemeral content, should have a solid foundation to build on.
Keep in mind your brand's ethos and ensure that your social media marketing strategies are aligned with them. This is the first and most crucial step with any campaign: making sure it makes sense.
After that, everything else that follows simply needs your commitment to follow sensible steps to achieving your goals.
2. Relevance = success
Yes, it's that easy.
Do keep in mind, however, that relevance entails a high degree of understanding of your audiences. Without it, no matter what focusing or targeting you do, won't work. You can be accurate but targeting the wrong thing, after all.
Determine the right audience you want to talk to. Once that's established, the message and timing of delivery follow.
3. Every second counts
Keep your audience's attention regardless if your Stories are long or short and keep in mind that the first three seconds are crucial in branding.
Match your impeccable brand visuals with clear and creative copies. Remember, ephemeral or any kind of content should be an enriching experience for your audiences. That's one of the basic reasons why visuals work well in content marketing.
4. Fast pacing pays off
Try incorporating multiple scenes in each Story page to maximize the time and space, and get your audiences to really watch through all of it instead of skipping. It helps to imagine a storyboard for your Stories or Snaps like you would with a regular long-format video.
5. Tell your story
Authentic brand messages are your best bet with any kind of content. Audiences crave and resonate better with relatable, humanized stories.
After all, you can't establish meaningful connections with people if you're not willing to go out of your way to be open. Talk to them about your process; involve them in conversations about product or service development; help them understand your motivations.
6. Play more
Keep your creative juices flowing and experiment with your content! Imagination is limitless and so are the possibilities.
Test out as many ideas as you can. You never know what you'll find after taking a little risk.
7. Repurpose your content
Don't dispose of it if you can use or improve it. Convert existing assets by resizing or cropping them and try using them for your Stories. Take highlights or key takeaways from written content and turn them into infographics or typographies.
Your content doesn't have to permanently remain in its original form.
8. Keep it coming
Due to their impermanence, you have to consistently push out ephemeral content to stay relevant with your audiences; how much you cap it to (i.e. 3-4 Stories or Snaps per day) depends on what works well with your audiences.
9. Incorporate auditory experiences
Entertain and connect through music, but don't center your message on the sound. Always tell your story through visual design, using text and graphics to accompany your brand's messaging.
10. Frame your story properly
Your content should always have an outcome for both you and your audience. This is why your context and premise should be framed properly. This is related to what we've established earlier about telling your story.
A good story has a message with a key takeaway to be learned or compels actions that meet your goals. For your brand or business, that could be a newsletter sign-up campaign or a limited time offer that you want your customers to take advantage of. Essentially, your content should have to answer their objections, and you can do that by telling a properly contextualized story.
It would help to answer these questions when framing your story; "what need or want does this fulfill for my brand and my clients?"
Key takeaways
Ephemeral content isn't likely to disappear from the features of social media platforms, especially as droves of younger markets flock to them. Here are some important takeaways you should bear in mind as you seek to use the ephemeral content to your advantage:
Your new buying market, Millennials and Gen Z, absolutely love ephemeral content. Make sure to touch base with them or nurture relationships with them on this platform.
Ephemeral content is a staple in social media marketing in the late 2010s and possibly even beyond that. Master its art so your brand continues to flourish in the digital landscape.
Your audiences mainly judge brands by how authentic they are and how relevant their message is to them. Using ephemeral content helps achieve the first by meeting them where they're at. Apart from that, simply refine your message and make sure it makes sense for them and your brand.
Don't get left behind, take a cruise on the digital road. Propelrr can help you get to the next big thing. Send us a message on Facebook, X, or LinkedIn.
Subscribe Now
Choose topics you want to get regular updates on: