Digital got you dazed?
Type it below, and we'll show you what we've written about it!
Social Media Management & Marketing
Choosing the Right Influencers: 9 Metrics You Should Consider
Propelrr Contributor

25 Nov 2021

5

min

read
Influencer marketing has evolved so rapidly and has permanently shifted how we do social media marketing so much that it is not just a 'nice to have' strategy anymore. That said, this tactic and choosing the right influencer has become a critical aspect of your brand's overall marketing efforts.  
This is thanks mainly to how marketers have built on the concept of trusted referrals to introduce influencer marketing to the world. But in today's digital landscape, the practice of influencer marketing has changed.
In broad terms, influencers aren't just additional promoters for your product. As audiences get increasingly sensitive to "obviously paid sponsorships", brands should look for more than just a high follower count in the influencers they choose.
That said, you shouldn't hop on the first one that appears to be a fit – it won't be effective.
Goal of influencer marketing
It's important to invest your time in influencer mapping before hiring the influencer. Choosing the right influencer for your brand is crucial for brand perception and performance. 
That said, determining an influencer should entail clarifying your goals and objectives, first. Doing this will help you identify more specific metrics and key performance indicators (KPIs) that will help you decide on the best fit for an influencer.
For example, if your goal is to drive sales, you may have to track metrics such as clicks and sales. But if your goal is brand impressions, you will prioritize impressions, views, sentiment, and more. 
There are many other potential goals you can set for your influencer marketing campaigns, but whatever they may be, they have to be aligned with your overall brand goals. 
Now, let's get down to the metrics for choosing the right influencer.
Metrics that matter in choosing an influencer
1. Audience Demographics
It's important to track your influencer's audience demographics to make sure that their audience mirrors the demographics of your target market. It helps you avoid wasting time, effort, and money on targeting consumers who are unlikely to become your consumers. Audience demographics can include information like gender, age, lifestyle, location, education level, value, income level, and interest.
2. Engagement Ratio
Engagement is a form of interaction between the influencer's post and their followers. The interaction is in the form of comments, likes, and video views. Consider the percentage of the audience that interacts with the influencer. This percentage can vary depending on the niche of their content. For example, an engagement percentage of 3% may be considered good for fashion influencers, but the same percentage may not be good enough for fitness influencers. Whether the percentage is good or not also depends on what segment of followers the influencer has. For example, an engagement percentage of 7% is good if the follower segment is 50 – 250K.
3. Frequency of Posting
Another factor to check is how often the influencer you are interested in shares posts per week. If the value is too high, there is a possibility of followers losing interest, and this will decrease the engagement rate. And if the value is too low, this might mean that the influencer is not committed to their work. So if you send a proposal to the influencer, make sure you state the number of posts you want them to share in the campaign.
4. Comments-to-Likes Ratio
This ratio gives you an idea of whether the followers are genuine or fake. Many influencers usually buy bots to like their pictures. But, it's not very typical to buy comments. If you know the average ratio for that segment, it's easy to identify the red flags. If the ratio is higher than the average, it's a suspicious account.
5. Follower Growth
This is an important metric to figure out whether the follower growth is organic or fake (buying followers). If you see that the follower growth is steady over time, it's a sign that the influencer is genuine. If you see sudden spikes in follower growth, check the posts to determine the cause (a contest or free giveaways) of the spikes. If you cannot see a valid reason, the influencer is probably buying followers or doing some suspicious activities. A consistent follower growth rate of 5% (or low to medium rate) is good and normal.
6. Branded Posts
Check whether the influencer has been mentioning the names of your competitors in their posts. They might have mentioned the brands because they like using them. Check the metrics (comments and likes) on the brand mention posts. If the brands they mention are aligned with your brand, the influencer could be a good fit.
7. Cost per Post
Even if the influencer is a good fit, it's important to figure out if you can afford them. Check their estimated cost of promotional posts. This value can go up or down depending on how many followers or engagement they have. The cost also depends on which industry as well as the country they are from. For example, the cost per post for a fashion influencer in France would not be the same as a fashion influencer in the US. The cost could also vary depending on the type of content. The cost of video content would be higher than the cost of uploading a picture.
8. Content Quality
It's important to check out how the influencer promotes a brand. These three signs can help you know whether they are a good fit.
Great production value – The content feels real and is easy to digest
Content is tailored for the audience
Unique content
9. Entertainment Value
Entertainment value is one of the biggest reasons why some influencers make it big. If the influencer shares information while being entertaining, they can easily increase their engagement levels and their followers. This is good for your business.
Key takeaways
Partnering with influencers provide the benefit of not just conversions, but brand discovery as well. So in selecting one, keep in mind these metrics above, and these key points so you can ensure a great brand-influencer collaboration:
Set specific goals and objectives. Your broad marketing and business objectives are not for your influencer campaign to meet. When working with influencers, make sure that your goals are campaign-specific so you're not accidentally under-estimating the effectiveness of your campaigns.
Track your metrics constantly. Influencer marketing, just like any other technique, aims to achieve your brand goals. Setting and keeping track specific metrics help ensure that you run successful influencer marketing campaigns.
Collaborate, not direct. No one knows their audiences better than the influencers themselves. So while you have your hard KPIs, don't fall into the trap of micro-managing your influencers. Let them maintain their creative direction so your campaigns flourish and resonate with their audiences.
Is your brand keen on exploring influencer marketing, or are you already partnering with a few? What are your best practices for choosing them? Let's discuss in the comments, or have a chat about it on Twitter, Facebook, or LinkedIn.
About the Author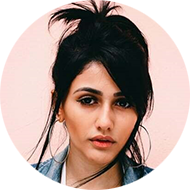 Rachel Smith is a communication executive who works with the content marketing team at Affable, an influencer marketing company that provides AI-driven solutions that allows you to plan and execute your influencer campaigns strategically. She develops content around social media and marketing topics that can help her readers understand how to pick the right influencers, measure their impact, and run effective influencer campaigns. In her free time, she loves meeting new people and attending workshops on communication and psychology.
Never miss a beat.
Get regular updates in your inbox
on what's new on digital.
Subscribe Now