Best Types of Marketing Channels for Audience Growth
Propelrr
January 19, 2022
An effective digital marketing framework would tell you that identifying the best types of digital marketing channels for your business is critical to campaign success.
In today's omnichannel market, it is vital that you reach your target audience in their preferred channels with the best contents. But to provide the best content, you also need to ensure that it is content that best suits the features of your chosen channel. You can easily accomplish this by getting great digital marketing services, but it also helps to familiarize yourself with all the channels that you can utilize for your campaigns.
There are different types of digital marketing channels, so picking the right channels can be a bit tricky. To help you determine which channels are best suited for your audience, read through our quick guide on the most effective types of digital marketing channels.
Reach your target audience with these digital marketing channels
Important Elements to Consider when Choosing a Digital Marketing Channel
Before you pick your digital marketing channels, it is important to note that there are some elements that you need to consider.
These elements will help ensure that your channel fits your marketing campaign, and also fits your brand resources. It should be a win-win situation for both you and your customers! So, take note of the following factors that you should consider:
1. Target Audience
Let's say you have great content prepared. But it wouldn't exactly be great if you are launching these contents in digital marketing channels that your customers are not exactly using or even familiar with.
Also, take note of how the omnichannel market works – which is maintaining consistent brand experience through different channels – so you should not just solely focus all your campaign efforts in one channel alone.
Want to find the ideal audience for your content? Read more on this article: How to Find the Ideal Audience for Your Content in 5 Easy Steps
2. Timeline
You recently made product content in connection to a trending X topic. So, when are you going to release it? How long do you want this campaign to last?
Remember that some digital marketing channels may have different relevant topics for every week or every month. So you should ensure that you chose digital channels that you can actually keep up with.
Struggling to identify the best content that works for your digital channels? Learn more in this article:
A Guide on Creating a Content Marketing Strategy for 2022 (propelrr.com)
3. Budget
You are excited to choose the digital channels for your brand. However, you take a look at your budget and it does not fit your allotted finances. In this case, it would be smart to just stick to digital marketing channels that are within your target amount.
These channels can be just as effective, and wouldn't cost you too much money that you could have allotted in other marketing operations.
Maximize your budget through digital media planning. Here is how:
Performance-based Digital Media Planning and PPC Strategy Guide for 2022
4. Functionality
Aside from digital marketing channels that work for your target audience, these channels should also work for your brand. It should enable you to use the features that can help in improving your campaigns.
For example, if you want to do video promotions, the platform that you chose should be great for uploading and playing videos.
5. Maintenance
Every marketing campaign needs maintenance, and so are the digital marketing channels that you deploy them in. There would be security upgrades, new features, or even instances where marketing channels can just become obsolete, especially when it comes to social media platforms. You need to keep these maintenance instances in mind as well.
The Four Categories of Digital Channels
Now that you have prepared yourself on what factors you should consider for choosing the right channels, explore the four categories of channels:
Main Category
Specific Channels
Paid

Paid search
Social media ads
Display ads
Programming ads

Rented

Social media ads
SEO
Influencer marketing

Owned

Website
Newsletter

Earned

Backlinks/link building
PR Content
Mentions/citations
1. Paid
Paid channels are the digital marketing channels that offer advertising for a fee. Brands can use paid advertising to target loyal and even possible customers in digital channels. There are other subtypes of paid channels.
2. Rented
Rented channels are the third-party digital marketing channels that help you promote your products or services. Rented ads take on more organic content, compared to paid ads, which are usually confused with the rented ones.
3. Owned
Owned digital marketing channels are platforms that your brand has complete control over. It can be your own website or newsletter, or even a unique platform that you intend to invent.
4. Earned
Earned platforms are basically free, and is one of the best digital marketing channels if you have harnessed its opportunities well. They are just additional exposure that are given by customers who love your brand, and also includes some great practices to increase your website's traffic.
How to Determine the Most Effective Digital Channel
You now learned what are the four types of digital marketing channels. What is next? Evaluate specific channels with the right questions in mind.
1. Paid search
Paid search refers to paid advertising through search engines. These ad placements appear on the search engine results page, and usually have the little box "ad" next to the search result title. Some examples of paid search are Google Ads, Bing Ads, and Yahoo Ads.
What is the best thing about this channel?
Paid search is essential if you intend your target audience to find you easily when they search through common search engine pages like Google, Bing, or Yahoo.
Who is usually using this channel?
Most people use search engine pages. But most of the time, potential customers who may be looking for new products or brands may look up brand names on search engine pages.
What are the pros?
Paid search lets you target the right audience immediately. It is also one of the best digital marketing channels if you are just starting to rank on search engines. Plus, it can give you a competitive edge in terms of comprehensive analytics.
What are the cons?
Paid search is not exactly visual, so it may not be suited for potential customers who tend to look for visual content, except if they are familiar or commonly using visual search. Plus, you will have to shell out some budget to create high quality content and also to make sure they rank on the search engines.
2. Social Media Platforms and Ads
Social media platforms
Social media channels are technically just borrowed pages from a social media platform. You may post your ads there or contents, depending on the type of content that the platform allows you to post. Popular examples of social media channels these days that cater to different types of audiences are TikTok, Instagram, LinkedIn, Facebook, and X.
Social media ads
Social media ads, as the name suggests, are paid advertisements through social media pages. These ads, just like in paid search, had an "ad" label next to it and may appear on the news feed of a social media platform, or the Sponsored section. Examples of social media ads can be seen on Facebook, LinkedIn, Instagram, and TikTok
What is the best thing about this channel?
Social media ads and platforms are essential if you want your niche audience to find your page through their preferred contents on social media.
Who is usually using this channel?
Every social media platform has different users. But for visual content like photos and videos, customers would go for Instagram and TikTok. For short and informative content, customers can go for Facebook, X, and LinkedIn.
What are the pros?
Most social media platforms are popular, so you wouldn't have trouble reaching the users in each platform. Social media ads are cost effective because you only have to pay when users click through your ads. With regard to your social media channels, users can easily interact and engage with your content, while potentially reaching others because of the data provided in these platforms.Ready to take on social media marketing? Check out our helpful advice on some of the popular social media platforms right now:
What are the cons?
Because of their popularity, these digital marketing channels mean more competition. Other similar brands may have other marketing tactics up their sleeves, and you may need to monitor these tactics as well to ensure that you also gain visibility.
3. Display Ads
Display ads are digital marketing channels that can be in the form of text, photo, video, or other graphics that appear online. These are sometimes referred to as banner advertising. They usually have interesting call to actions and links to another page. Some examples of display ads are retargeting ads and native ads.
What is the best thing about this channel?
Display ads are great to use if you want to convince your target audience to make a specific action (e.g. purchase a product, view new products).
Who is usually using this channel?
Anyone can use this channel. Banner ads can be seen everywhere, and basically people can interact with brands based on your call to actions.
What are the pros?
Display ads are straight to the point digital marketing channels. They tell your audience exactly what you want them to do, and for them to take action right away. It can increase conversion rates, and also give more insights on the effectiveness of your call to actions.
What are the cons?
People might find display ads annoying, especially if there are too many of them. Some people may find it invasive, or avoid them all together because of the recent occurrences of online frauds.
4. Programmatic Ads
Programmatic ads are paid digital marketing channels that are made through real-time purchase and selling via automated bidding. Since this kind of channel is done through a system, brands are able to get real-time insights like organic traffic. Some examples of programming ads are the auto-play video or audio ads in websites.
What is the best thing about this channel?
Programmatic ads are ideal to use if you intend to seek real-time insights for newly-launched campaigns or online contents.
Who is usually using this channel?
It is anyone based on your target audience. Programmatic ads enable specific targeting, so you know who exactly your audience is.
What are the pros?
Programmatic ads, as their name suggests, are programmed for specific audiences. In this sense, it means more highly-efficient ads, more return on investment (ROI), and useful analytics.
What are the cons?
Since these digital marketing channels are programmed, you don't have control over it. It can also result in wrong or mismatched ads, or even online traffic bots.
5. SEO
SEO or search engine optimization have four foundational components, namely Technical, On-page, Off-page, and Content. Below are the explanations of how each component works: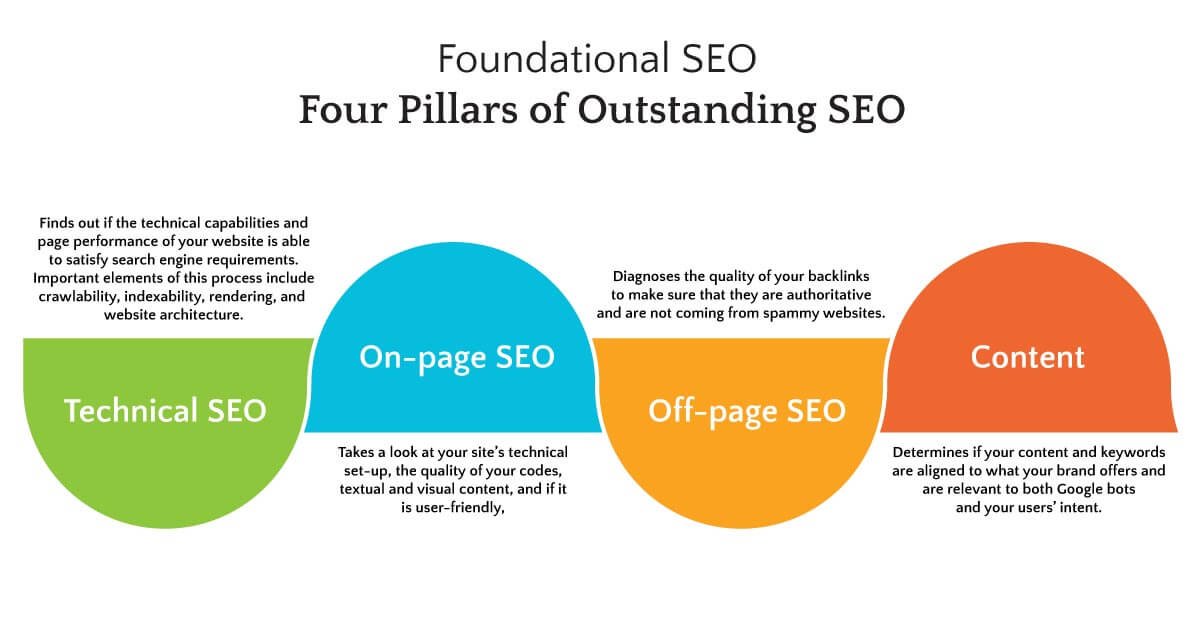 SEO practices help your channels rank higher in search engine results pages or SERPs, which also increases your brand's visibility and engagement. Find out the best techniques to improve your SEO here: How to Improve SEO: 11 Sure-fire Techniques to Boost Performance.
What is the best thing about this channel?
SEO is great to use since with the right efforts, you can gain visibility in search engines.
Who is usually using this channel?
Even other platforms like social media have search features that are integrated with search engines like Google and Bing. So whoever the users are on those other platforms, you may also reach them through SEO.
What are the pros?
The great thing about SEO as one of the best digital marketing channels, is that it makes you an authority on your brand specialties. Also, it increases your online presence, thus resulting in better organic traffic and more conversions for your brand.

Need expert-based SEO advice? Don't worry, we got you covered right here: 20 Fool-Proof SEO Best Practices From The Experts

What are the cons?
SEO is not 100% guaranteed to work. Rankings can change, and there are lots of competitions who also have SEO tactics ready. Results can also take time to materialize, so you'll be needing more time and patience.
6. Influencer Marketing
Influencers, whether some people dislike them or not, are still influential for reasons. For this reason, using influencer marketing is also one of the great digital marketing channels nowadays. But of course, you would have to pick the best influencers that are actually relevant to your products and also likeable to your brand customers.
What is the best thing about this channel?
Influencer marketing can help you garner more followers and engagements, if you are looking to improve your brand's reach.
Who is usually using this channel?
Most millennials and Gen-Z users can be fans of certain influencers. Older generations may be more into celebrities, but these celebrities may also be influencers themselves.
What are the pros?
Influencers, especially those with positive feedback, can build up a huge following for your brand. They can also constantly promote your products, and can ensure customer loyalty since their favorite influencers are using or availing your brand's services.
What are the cons?
If an influencer gets embroiled in an issue, it can be messy for your brand as well. You can always terminate the contract based on your terms and conditions, but it can also cost a lot of money, time, and effort and will put a huge dent on your brand campaign's timetable.

Find out how to choose the right influencers:
Choosing the Right Influencers: 9 Metrics You Should Consider
7. Website
Your website shows exactly every feature that you want, and can be customizable depending on the website builder that you have chosen. A great website experience is a must, or else your audience will easily proceed to a different website.
An updated web design is essential to attract more visitors to your website. Check out this comprehensive website design guide: Ultimate Web Design Checklist For Revamping Your Website
What is the best thing about this channel?
Websites are great digital marketing channels to directly address and communicate with your customers in your own way.
Who is usually using this channel?
New and loyal customers who want a unique brand experience that your customized website features can offer.
What are the pros?
You get to interact with your customers directly, and all transactions would cost less for you because you won't be needing third-party providers. In this way, you can also better plan your campaigns because you know exactly the features of your website like your forms, and which other features to look into for improvements.Forms on your site can be used for customer feedback and for transactions. You have to make sure they are user-friendly, to increase your chances of having them filled in with the right information.

Make the best forms with our guide here:
Form Design Principles for User-friendly Lead Generation Forms

What are the cons?
Using a website can be limiting for some users, who may want other modes of brand engagement. Also, you need to ensure that your website has maintenance all the time so that every feature is in good working condition.
8. Newsletter
Email newsletters are simple yet effective digital marketing channels. They give customers an immediate rundown on the latest news, updates, and promotions of your business. Plus, they cost less and can generate traffic to your platforms.
What is the best thing about this channel?
Newsletters are the go-to for the latest news and updates about your brand. Users can just browse through your newsletter to instantly be on the loop.
Who is usually using this channel?
Customers and potential customers who have visited your website and platforms, and are eager to subscribe to your weekly or monthly newsletter.
What are the pros?
Newsletters are informative, and most people now communicate (especially at work) via emails. These newsletters can help build up excitement for new products and services, and also increase conversion rates through recent announcements of discounts or promotions.
What are the cons?
These digital marketing channels can be less effective if your customers are not exactly a fan of checking their emails. They might sign up to tons of email newsletters as well that yours will just get lost in piles of emails. Or in some cases, after downloading a certain file or feature in your website, they might unsubscribe from their newsletter immediately.

How to build an email marketing campaign that works? Discover surefire tips in this article:
15-Fold Manifesto on Email Marketing
9. Link Building
Backlinks or link building is a good way to rank higher in the SERPs. It is the practice of adding backlinks to your website, and mostly those websites that are also great in terms of website reputation or domain rankings. Doing so will help improve the SEO performance of your own site.
What is the best thing about this channel?
Link building is a great way to increase website traffic, through other reputable digital marketing channels.
Who is usually using this channel?
Potential customers who want to know more about your brand, or even loyal customers who want to try other products and services.
What are the pros?
It increases your ranking on web results pages, and also promotes brand awareness. You also gain more reputation through your backlinks, especially if these links are from reputable brands or websites.
What are the cons?
Link building can be time-consuming, and you'll never know what might happen to these links. Some links may turn out to be dead, or may lower web rankings after quite some time, so you may have to update and monitor these links as well, which is another additional task for you.
10. PR Content
Digital PR is when other reputable websites, platforms, or brands are citing your brand or reviewing them for their own contents. These are online press releases that gain awareness and engagement not just for their brand but also for yours as well.
What is the best thing about this channel?
PR Content is ideal for promoting new products and services, so that you can establish their effectiveness.
Who is usually using this channel?
Other reputable brands or services, and even your competitors, may use this channel.
What are the pros?
The pro about these digital marketing channels is that you get your brand promoted to a lot of potential customers. This will also help you gain more attention from other brands who may also release online press for your products and services.
What are the cons?
Unfortunately, PR content can be out of your control. Other brands may discuss the advantages of your product, but may also have more disadvantages listed for your brand. It may also give your competitors more ideas for which parts to improve on, and they can use that on their next campaigns.
11. Mentions/Citations
Customers may enjoy your product or service so much that they would happily post about it on different platforms. They could write a public review about your products on Google, on your website, and social media channels like Facebook, Instagram, or TikTok.
What is the best thing about this channel?
Mentions/citations are ideal for realistic testimonials or reviews from real customers of your products or services.
Who is usually using this channel?
It can be customers from your social media platforms, in e-commerce sites, or your own website.
What are the pros?
You get immediate brand recognition from actual customers and not just bots. It is good advertising for your brand, without the additional costs. You also gain loyalty from your customers and attract potential customers' attention.
What are the cons?
If your customers give negative feedback or in the disguise of your competitors, then you earn less customers from this channel. Plus, without incentives, some customers may not exactly be encouraged to give their comments about your products and just press any number on the rating scale.
Key Takeaways
Choosing the most effective types of digital marketing channels is an essential marketing task. So, take note of these following reminders to help you do this task well:
Consider using a unified brand experience through your channels. A brand may choose different channels. But they must provide the same unique brand experience consistently in all these channels, so that customers can easily remember and engage with your brand in different ways.
Pick the channels that work best for you and your customers. It is not just your customers that you have to consider, but also your brand resources. Refrain from picking digital marketing channels that may not be reasonable for your budget or other resources.
Always remember the cons, but still pick which best works for you. Digital marketing channels will always have their cons. But you can always choose the channels that work best in delivering your contents to your niche audience.
Still thinking which digital marketing channels to use? Or struggling with content to put up on your channels? Don't worry, we are here to help! Chat with us on Facebook, X, or LinkedIn. Subscribe to our newsletter as well to get valuable insights on everything digital marketing related.