15 Cost-effective Internet and Social Media Business Tips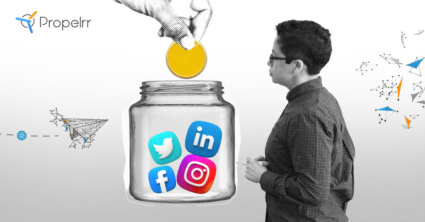 The internet and social media still prove to be a highly cost-effective marketing channel.
The internet and social media are as essential to your business as water is to the world nowadays. Preventing your business from capsizing nowadays and hence, requires social media marketing management as a major part of your overall strategy.
The internet and social media
The internet and social media are intrinsically linked. Through the internet, users access social media platforms daily to share, learn, and interact with each other.
In much the same way, your business can also use social media to share with, learn from and about, and interact with your target audiences. But in addition to how social media audiences use it, you can use it to advertise and build communities that will support your brand.
The best part? Just like a regular internet user, you can do all of these things for free. This means you can very well maximize it for generating gains for your business.
But why specifically social media? What is the value it offers to businesses and users alike that make it a behemoth of a marketing channel?
Why the use of social media matters to your business
Given this relationship between internet users and social media, it would be remiss to for any business not to leverage the latter for promoting products and services.
Not only does it provide you with a vast pool of audiences you can turn into potential customers, but the advantages of using social media for business are endless.
For one thing, it's more efficient to execute campaigns on social media versus traditional media while reaching the same – if not more – people. It also allows you to directly interact with customers, fostering a more personal relationship with them.
This avenue is the most direct channel you can tap to understand customers better and for them to get to know your brand. Through this interactive feedback loop, you can then discover and create better ways to improve your services for them overall.
It's also more cost-effective than most other traditional marketing executions, making it a great option for businesses with limited budgets. If used correctly, social media can be a valuable marketing channel for driving durable, long-term business results.
As a business, social media management can be used to share with, learn about, and interact with your customers – providing you an effective and approachable avenue for marketing. Through the internet and social media, you can push business growth further if you do it correctly.
15 low-cost marketing techniques for your socials
While there's always a certain level of expense associated with digital and social media marketing, there are many simple and low-cost ways for you to run campaigns.
Discover the many creative and resourceful strategies that you can use to market your business online in the list below.
1. Track social media trends.
There is nothing social media users love more than a good trend. If you can tap into what's popular at the moment, you'll be sure to get some attention online. So it's important to track all the trends to make sure your content is in line with what's happening all around the world.
But make sure that the trend is relevant to your brand – you don't want to be accused of jumping on the bandwagon just for the sake of it, after all. Find a way to organically integrate a trending topic into your existing online content. This will keep you in good shape and in the good graces of your online audiences.
2. Implement relevant and proper hashtags.
Hashtags are a way of sorting, labeling, and grouping conversations or content together online, making it easy for individuals to find topics that interest them on the internet. They're a great way to get your content seen by more people – but if you use them incorrectly, they can do more harm than good for your online presence.
Make sure you're using relevant hashtags that will help your content be found by the right people. Things like branded hashtags or trending hashtags should do the trick. And avoid using too many hashtags in each post – that just looks spammy and messy, and you'll want to avoid that on your platforms too.
3. Use clear calls to action.
Asking your followers to do something through a call to action is a great way to increase engagement. Whether you're asking them to share content, comment on a post, or follow your brand on another platform, a call to action can be very effective in engaging with users online.
Just make sure you're not asking for too much. Keep the call to action simple and clear. Your audience members are more likely to respond to you if the task you give is simple and easy to do.
4. Leverage user-generated content.
Another great way to get attention on your brand's platforms is to leverage user-generated content. This can be anything from highlighting customer testimonials and reviews to resharing posts and photos that feature your product or service.
This type of content is extremely powerful because it's coming from a trusted source: your customers. When other online users see that your brand is being talked about positively, these prospective customers will be more likely to check your brand out for themselves.
5. Run contests and challenges.
Online users love social media contests and challenges. They're a great way to get people engaged with your brand and generate some buzz. But you don't need to spend a lot of money to do it in the first place.
There are plenty of low-cost ways to run a successful challenge. You can offer products in a raffle, engage users in a dance challenge, and more. Just make sure the prize is relevant to your target audience and that the rules are easy to understand.
6. Create a content calendar.
Creating content for your online platforms can be time-consuming, given how much you have to produce at all times. But if you have a well-planned social media calendar in place, it can make the overall process a lot easier to execute.
A calendar or content planner is basically a schedule of what you're going to post and when. Having a well-planned content calendar will help you stay organized and make sure that the content you post is timely and relevant. If you don't have the time or resources to create one for your brand, you can utilize content planning tools to help you out instead.
7. Use audience targeting and segmentation.
Social media platforms offer a number of targeting options that allow you to reach specific users with your content. For example, Facebook lets you target people by location, age, and interests. This means that content you create can be shown specifically to users you want to reach, making it more likely that they'll avail your brand's products or services.
8. Post content at the right time.
Timing is everything when it comes to the online world. If you want your content to be seen, you need to post it when your audience is most active so that it's seen by the highest number of users possible.
There's no singular magic time that works for every brand though, so you'll need to experiment a bit to see what works best for you. You'll also have to check your audience's most active times per platform as well. That way, you'll know to post content when the number of people is highest, leading to a higher likelihood of engagement.
This is just one of many cases where collecting and analyzing audience data comes in handy for the success of your digital marketing strategy.
9. Pay attention to your analytics.
As mentioned in the previous entry, collecting and analyzing audience data can be a great boon to the improvement of your marketing efforts. By paying attention to digital data points like engagement rates, reach, and clicks, you can get a better idea of what's working and what's not for your marketing executions.
Data collection and analytics can be a bit overwhelming. The good thing is that there are plenty of useful resources and social media marketing tools out there to help you make sense of it all today.
10. Keep your accounts active.
One of the best ways to ensure the success of your digital marketing is to keep your accounts active. This means that you have to post regularly, respond to comments and messages, and engage with other users regularly.
The more active you are on your profile, the more likely you'll be shown to online users by a platform's algorithm. This increases your chances of audiences interacting with your brand, which leads to a higher likelihood of conversions. This is why it's extremely important to keep your profiles active as much as possible.
11. Take advantage of social networking.
Success on your social media platforms isn't just about posting your own content. It's also about social networking. This means that you have to connect with other relevant users, engage in conversations, and build relationships with them altogether.
When you take the time to network with relevant users, it can pay off in a big way. People are more likely to remember your brand if they have a positive experience interacting with you online than if you didn't connect with them at all.
12. Run social media account takeovers.
A social media takeover is when someone else takes control of your profile or account for a short period of time. This can be a fun and effective way to engage with users, mix things up, and get some extra exposure for your brand.
Just make sure that the person taking over your profile or account is someone who's good at engaging with others and representing your brand in a positive light. This can be as accessible as someone from your marketing team, or as prolific as a successful influencer.
13. Adapt your content to every platform.
All social media platforms have unique algorithms that surface and optimize content in different ways. So if you're thinking of cross-posting a video from TikTok to Facebook, for example, make sure to adapt the post to the target platform first.
Yes, you can repurpose your content. However, you shouldn't just copy-paste your TikTok content to Facebook and expect the same results. For example, you should resize the video content to the optimal size for Facebook and revise the caption to reflect the new platform's pixel limits.
The same consideration should be done for cross-posting content to other platforms as well. Make sure to always adapt your content and optimize it to your target platform so that it achieves similar success across all channels.
14. Try hosting live events.
Live video events are a great and cost-effective way to interact with large audiences in real time. You get all the perks of a major marketing activation for your brand, without all the logistical stress of face-to-face event management too.
For example, you can run a Twitter Spaces session with industry experts to directly answer audience questions about your brand. You can also do a live sale to sell your products to a captive audience right away. All of these live videos reap similar business benefits to that of a face-to-face event, without the extra expense or stress.
15. Optimize your existing campaigns
The last technique on this expert guide is simple: Optimize what you already have. Many businesses often fail to recognize the importance of their existing campaigns, thinking that they have to keep making new things to appease their ever-changing online audience.
But if you already have a campaign with traction behind it, consider optimizing it using the data you collected from it first. That way, you can develop a more data-driven campaign that's more likely to succeed in the long run, than if you started entirely from scratch.
Making an effort amidst the social media evolution
Data-driven social media is a powerful tool for businesses, but you may not be sure how to get started with it today. It might seem daunting at first, but with effort and dedication, you'll likely return real results for your business this year.
Making an effort amidst the ever-shifting tides of social media takes time. There will always be a risk when you try new tips and techniques too. But as long as you focus on creating valuable and data-driven content, your great efforts will be met with greater rewards in the long run.
Key takeaways
As the internet and social media continue to evolve, so should your brand's own marketing techniques. The good thing is that marketing online can be incredibly low-cost and effective, especially with the right guidance and expertise this year.
So take the expertise and guidance from this list with you as you check out these final takeaways for your business today:
Do your research. By researching the best online platforms and strategies for your business, you'll be able to focus your efforts and reach more people in your target market more effectively.
Invest in content. And not just any old type of content – invest in creating high-quality, shareable content that's genuinely useful, interesting, or entertaining, to help you reach a larger audience.
Utilize data analytics. By collecting and analyzing data like engagement rates, reach, and clicks, you can get a better idea of what's working and what's not in your strategy, leading to more adjustments and progress in the long run.
With a little hard work, dedication, and expert digital marketing advice, you'll be able to sail smoothly in today's sink-or-swim digital environment. So get ready for your newest marketing journey and remember to enjoy the ride with us today.
If you have any other questions, send us a message via our Facebook, Twitter, and LinkedIn accounts. Let's chat.
To get direct tips on how to maximize your social media channels for growing your business, hit the subscribe button on our newsletter.