Digital got you dazed?
Type it below, and we'll show you what we've written about it!
Social Media Management & Marketing
10 Influencer Marketing Examples That Will Inspire Your Next Campaign
Propelrr

05 Oct 2022

9

min

read
There's no denying that influencers are instrumental to marketing success.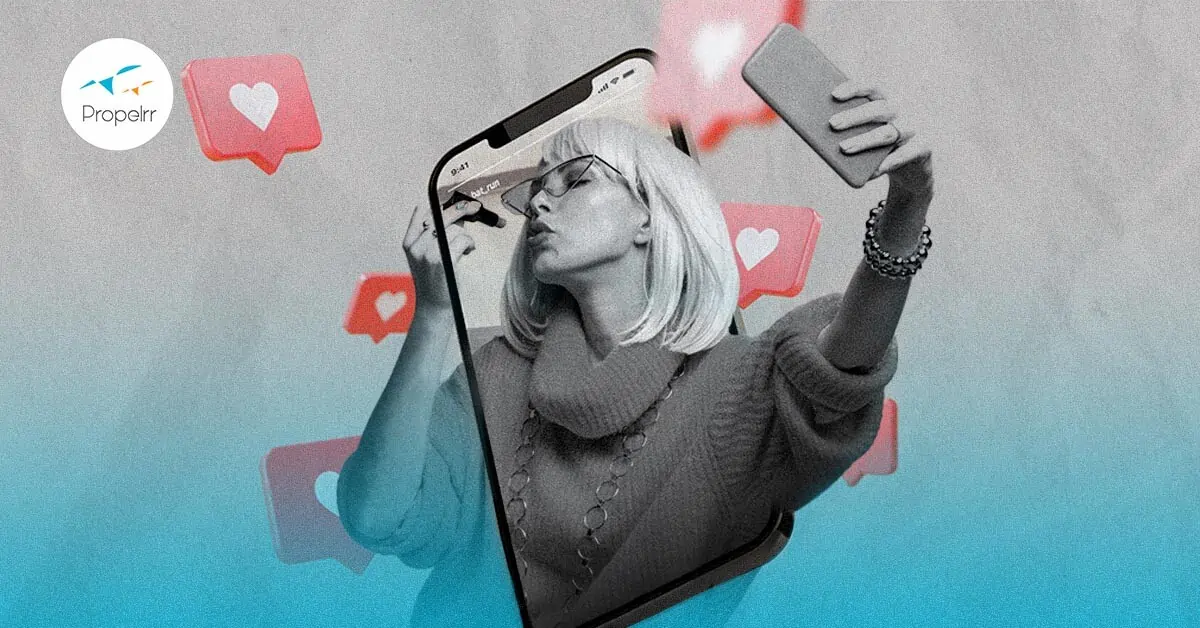 They increase brand awareness and expand reach, beef up the content strategy, and quickly build rapport with the target audience. It's the type of social media marketing that prompts conversions as well. #XMadeMeBuyIt is a popular hashtag in the influencer marketing world – proof that these personalities have the power to influence purchase decisions.
For all its potential to drive success, influencer marketing is worth your time and resources. To make it effective though, you must leverage creativity. Fortunately, there are many influencer marketing examples you can get inspired by.
Here are some of the best campaigns you can take inspiration from:
10 influencer marketing examples to get inspired by
The influencer marketing examples below are from local and international brands. As you might expect, they vary in approach, as they are shaped by different social trends. Take inspiration from these campaigns.
1. Axis Bank: #AxisThoughtFactory
Axis Bank is one of the largest private sector banks in India, offering personal and corporate banking services. In 2016, they launched Thought Factory, an innovation lab facility that would gather startups and help them produce new fintech solutions.
To promote this endeavor, the company invited social media influencers to the launch event, including Amit Misra, a famous personality in the tech scene in India. They covered the event live, tweeting and streaming on Youtube. The hashtag #AxisThoughtFactory emerged as a top trending topic at the time of the launch.
Why it worked
Axis Bank partnered with the right influencers for the promotion of their project. They specifically chose personalities that have the two most important R's in influencer marketing: reach and relevance. This great influencer marketing example is a good template for fintech influencer activations.
According to this report, the partner-influencers had an average of 23,000+ unique page views on blog posts and 3,500+ Twitter followers, an extensive reach for a niche industry. In addition, the influencers have maintained authority and credibility in the tech field, which is aligned with Axis Bank's innovation project.
2. Dior: 67 Shades of Skin
Another excellent example of influencer marketing is Dior's promotion on their new foundation product, Dior Forever, which featured 67 different shades. The brand aimed to showcase the wide range of products available in their new line and did the most astounding move in influencer marketing: partnering with 67 influencers from all over the world who would post the foundation shades on their social media accounts.
The selection of influencers was based on the influencer's engagement history, past performance on campaigns, legitimacy of followers, among other factors. The influencer's location was also considered, making sure that it's within key consumer territories.
The result of the influencer marketing campaign was promising. It reached 2.66 million, attracted 1.85 million impressions, and drove 591,000 engagements. About 290 pieces of content were created.
Why it worked
The influencer marketing campaign hit a success primarily because it promoted diversity and representation. These values are especially important for cosmetic consumers who are on the lookout for personalized products that meet their needs and reflect their unique characteristics. By collaborating with influencers with different skin colors, Dior was able to let its consumers feel that they are included amid the norm of limited shade ranges in the cosmetics industry. With the brand, customers can get a product that suits them well.
3. Subaru: #MeetAnOwner
Capitalizing on their loyal customer base, prominent car brand Subaru launched the website meetanowner.com, which features profiles of Subaru owners and their respective stories. To promote the site, the company partnered with YouTube influencer Devin Graham, who had about five million subscribers at the time of the campaign launch.
Graham shared a video of him and his friends sliding off a 500-feet cliff and driving their Subaru through rugged terrain. As of writing, the video has over 1 million views, 21,000 likes, and almost a thousand comments, an impressive feat for an influencer marketing campaign.
Why it worked
Subaru was able to capitalize on brand popularity and capture the interest of its target audience in tapping Graham for the campaign. The influencer was known for his daredevil videos, which suits the typical adventure-filled lifestyle of current and aspiring Subaru owners. The video content added a compelling narrative to the Meet an Owner website. As a principle, your choice of an influencer must reflect your audience interests and brand values.
4. Zara: #IAmDenim
Top retail clothing brand Zara launched the campaign #IAmDenim to promote its new line of denim jackets and jeans. The project was a collaboration of 10 different girls who work at Zara stores in different locations and brought their own unique experiences to the creative venture.
To amplify the noise on the project, Zara tapped fashion and beauty influencer Teesh Rosa, who was featured on the promotional materials. The Instagram post, introducing the campaign, had over 360,000 views, as of writing. It's among the most successful influencer marketing examples in the fashion industry.

View this post on Instagram
Why it worked
The partnership with a microinfluencer, with less than 20,000 followers, worked to the advantage of the brand. More often, these types of personalities are more credible than their bigger, more popular counterparts since they are more likely to partner with brands that they genuinely love and support. Therefore, it's equally important to consider microinfluencers in your marketing strategy.
5. Bumble: Ambassador Program
Popular dating app Bumble sustains an influencer marketing strategy through their Bumble Honey program. The program, which aims to establish presence in colleges and universities in the United States, invites students to become brand advocates. They will create content and organize events on the campus to promote Bumble in their community.
In 2019, the brand executed an activation in the Atlanta area around prominent schools Georgia Tech, Georgia State, and University of Georgia. As macro and microinfluencers published good content, the campaign generated over two million social impressions and 4,000 app downloads.
Why it works
The Honeybees Program is an excellent influencer marketing example because it harps on the power of proximity. The chosen personalities are the very people the target audience sees in their campus or goes to class with, allowing them to have shared experiences with each other. The mutual understanding makes for better, stronger influence on consumer behavior.
6. Enervon: #IbalikAngHappy
Enervon's #IbalikAngHappy campaign was a response to the reality of adjusting to the new normal. The nutritional supplement brand aimed to bring back the energy and vibrance in Filipinos who were trying to cope with dramatic life changes brought by the pandemic.
The campaign was executed through a song that carried the name of the campaign in its title. Unsurprisingly, Enervon chose pop rock band Ben&Ben as their brand ambassador and had them perform the song.
As part of the promotion, various TikTok content creators were tapped to create buzz around the song launch. They encouraged followers to watch out for the YouTube premiere. Once the song was out, they used it for their own content, giving their own rendition, dancing to the tune, or sharing clips of happy moments with loved ones.
The #IbalikAngHappy hashtag garnered about 99.6 million views on TikTok as of writing. The full performance video on YouTube had 11 million views and 1,600 likes, a testament to how effective this influencer marketing campaign was.
Why it worked
Enervon's brand ambassador choice contributed to the campaign's success. Aside from the loyal follower base, Ben&Ben, with its brilliant song performance, provided content material that people can engage with. This paved the way for an explosion of user-generated content (UGC), which amplified further the message of the campaign.
7. GrabFood: IndieEats
In March 2022, GrabFood launched Indie Eats, a program dedicated to increasing visibility for small, yet promising food businesses. On the food delivery platform, there's a section exclusively for these merchants, separate from the established, mainstream restaurants, allowing users to readily see and discover new eateries and flavors.
To promote the new offering, GrabFood partnered with an unconventional, yet iconic duo: popular food blogger Erwan Heussaff and internet star Sassa Gurl. On Heussaff's YouTube channel FEATR, the social media influencers did a mukbang, trying different specialties from Indie Eats restaurants.
As of writing, the first video had over 800,000 views and 47,000 likes. The second video, which featured another social media personality, Nico Bolzico, attracted over 300,000 views.
Why it worked
The unexpected rapport between Sassa and Heussaff was part of the reason the influencer marketing campaign was a success. How these two totally different personalities would interact piqued the interest of the audiences and made the video content more entertaining.
The unconventional tandem further highlighted the nature of Indie Eats: surprisingly good food from little-known businesses. Of course, Sassa's humor and Heussaff's food expertise added to the success.
8. Amazon Prime: #NaksPrimeVideo
Amazon Prime launched its local service in the country in July this year, choosing actress and television host Anne Curtis as its brand ambassador. To promote their service further, they sent out Amazon Prime goodies to various social media influencers, including Mimiyuuuh, Marjorie Barretto, Janina Vela, and Benedict Cua, who, in turn, shared glimpses of watch parties at their respective homes on their Instagram and TikTok accounts.
During the launch event, top online magazine When in Manila covered the event, posting short clips of their interview with the brand ambassador and the influencers who attended. As of writing, #NaksPrimeVideo has 7 million views on TikTok.
Why it worked
Aside from getting the most popular personalities in the Philippines, what made Amazon Prime's campaign a success is the way the content is positioned to be relatable to the audience.
The social media influencers shared the movies and shows they're excited about and enjoyed the watch party with their loved ones, the very things people would experience when they try the streaming services. In the end, it earned massive views, which hit the goal of brand awareness.
9. Palawan Pawnshop: #iPalawanMoNa
Another good influencer marketing example is Palawan Pawnshop's campaigns. The brand implemented various influencer activations to promote contests and different kinds of financial services. They picked prominent television host Luis Manzano to introduce the #SukiActingChallenge and #PalaParaanDanceChallenge on TikTok.
Jumpstarting the fun on the challenges, TikTok superstars Glester Capuno and Roce Ordoñez posted their own creative spins. As of writing, the former's post has almost 30,000 likes and 460 comments, while the latter generated 34,000 likes and 174 comments.
Meanwhile, Medyo Maldito and DanSoy Vlogs, top lifestyle influencers, talked about Express Pera Padala. The former attracted 4,000 likes, while the latter had almost 600 likes.
Why it worked
TikTok challenges started by influencers are especially effective in increasing engagement because they are highly entertaining and creative. People would want to try their hand on these challenges as well to showcase their talent. If you want to see more user-generated content for your brand, TikTok challenges in partnership with influencers are the way to go.
10. UnionBank: #NoBiggieWithUB
With their easy-to-use fintech solutions, UnionBank is recognized as one of the most innovative banks in the Philippines. Recently, they have been actively promoting the habit of saving money, using the hashtag #NoBiggieWithUB. For this, the brand partnered with some popular social media influencers who have been making huge life changes, including buying a home and traveling for the first time as a family.
These influencers were couples Joyce Pring-Triviño and Juancho Triviño and Sam Gogna and Essa Santos-Gogna. The number of likes on Instagram posts range from 1,000 to 3,000.
Why it worked
Unionbank gave creative freedom to its influencers, which helped in having variation in content topics and formats. This also gave an authentic feel to the posts because the influencers shared their real-life goals and aspirations (home buying and family travels). While it's important to have brand guidelines when working with influencers, it's also a must to let them have their stamp of individuality on content for a more authentic influencer marketing.
Key takeaways
Influencer marketing is a powerful strategy that improves brand equity and online engagement and increases conversions. As you partner with different key personalities in your industry, take note of these things:
Remember reach and relevance. When choosing social media influencers, consider the number of followers and their credibility on the audience you're trying to get to. Otherwise, it will be hard for you to hit target engagement and conversion rates.
Collaborate with influencers. Think of your relationship with influencers as a partnership. As much as you have a say on how content will look like, their opinion should be equally considered.
Draw inspiration from your audience. Sometimes, the choice of an influencer can be as straightforward as looking at the people your target audience is following. In the same way, the decision on what topics and formats to put out can come from the market's aspirations and pain points. Draft a buyer persona to know more about the audience you're trying to reach.
Have you picked influencers for your marketing campaigns yet? We'd love to hear about your plans. Share it with the Propelrr team via Facebook, Twitter, or LinkedIn.
Never miss a beat.
Get regular updates in your inbox
on what's new on digital.
Subscribe Now