4 Essential Conversion Rate Optimization Tools Every CO Needs
Caleb Gasilao
September 8, 2023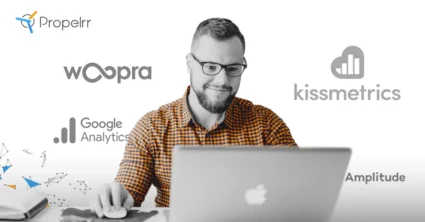 Beginner or not, these tools are in arsenal of every conversion rate optimizer.
You can't deny the fact that the internet today is so saturated with conversion rate optimization tools. It's not really an availability issue anymore because, for all we know, the conversion tool shed is too cramped up already.
Think about it. Are you really going to use 40+ conversion rate optimization tools all at the same time? Of course not.
That's why the real question you should be asking yourself is, "What tool fits the conversions I'm gunning for?"
Obviously, you're not going to use a chainsaw for gardening in the same way that you're not going to use a heat map tool to optimize site speed. That would be ridiculous!
Our work and experience in conversion rate optimization over the years have led us to curate this list based on function so that you don't have to go through another listicle that reads as more of an advert than a guide.
Because you should know that regardless of whether you're a startup or an established enterprise investing in the right conversion, optimization rate tools are still a major decision.
Why do conversion optimization in the first place?
Talking about conversion optimization, in general, can be quite a lengthy conversation to have. If you want to explore that topic more, you can check out our CO primer for online marketers instead.
But going back to the question, believe it or not, if your answer is simply "to get conversions" then you've only hit half of what conversion optimization is really all about.
A good optimizer mindset begins with thinking about growth more than sales. How? With a data-driven approach to your decision making of course! Throw your gut (figuratively) out of the window and focus on the conversion metrics that matter.
Thinking about growth though, it's hard to quantify that thought, much more anchoring it on data. What should you be measuring exactly to scale your conversions?
Well, taking a look at the type of conversion rate optimization tools online is always a good place to start.
But before that, let's take a quick detour first and explore the conversion optimization process to help you navigate what conversion optimization rate tools you'll be using exactly.
What are conversion rate optimization tools?
Simply put, these are the tools that help you measure and understand:
Why your website visitors aren't performing your intended conversions (sales, subscriptions, etc.);
What changes you can do to increase website conversions (page redesign, copies improvement, etc.), and;
How you can run tests to know which optimization gives your website the highest conversion rate.
Of course, consistency and a systematic approach are still essential elements of conversion optimization for your overall digital marketing. Keep this in mind when it comes to selecting the right tool for your website.
What conversion rate optimization tools should you be using?
Now that you're in the conversion toolshed, it's time to know what tools you'll be using. We're filtering these tools per category to help navigate each according to function. Feel free to add them to your conversion optimization checklist for 2022.
Web and Behavior Analytics
You can determine what is going right or wrong on your website based on what your analytics is telling you.
These tools provide you quantitative data about your visitors, giving you insights based on website metrics such as bounce rate, sessions, session duration, site speed, and conversion goal path to name a few.
Understanding your web analytics help you know:
The pages your users usually land on and from what channels;
The path your visitors take when entering your website, and;
Areas in your website that customers are sticking around in and/or bouncing off from.
Here are the following web and behavior analytics tools we recommend you check out.
For Analytics
For Sites Speed Analysis
PageSpeed Insights – If you're aiming to optimize your page speed then there's no better tool to use than Google's PageSpeed Insights. This free conversion rate optimization tool analyzes the website content of your website to generate suggestions on how it can load faster.
Pingdom Website Speed Test – This tool gives you a waterfall report of your website's page speed — basically how long each individual file takes to load. This can be used as a complementary tool when zeroing in on specific page elements affecting your page's loading time.
For Page Scroll and Heatmapping
Microsoft Clarity – This free user behavior tool is perfect when you want to understand customer interactions based on session replays and heatmaps. You can also detect the average scroll and click map of each page that you integrate with the Clarity script.
Lucky Orange – This platform offers an "All-in-One Conversion Optimization Suite," including analytics, recordings, live chat, heat maps, funnel analysis, form analytics, and polls.
Customer Research
Let's now shift gears and focus on qualitative data. Yes, quantitative data gives you the what but it does not necessarily answer the big why. And who better to supply that answer than your customers themselves.
That's where customer research kicks in. You can either do it through:
On-site Surveys – Triggered polls that greet website visitors upon landing on the page. These investigate specific conversion pain points to enhance your page's overall customer experience.
Email Surveys – Intentional emails you send to previous customers to uncover consumer sentiment and opinion. This gives you insights on how to enhance your existing services or products to encourage repeat purchases and improve conversions for new customers.
Here are the following customer research tools we recommend you check out.
For On-site Surveys
Hotjar – This survey tool lets you easily integrate triggered polls across pages in your website so that no stone (or page) is left unturned when gathering responses. It also comes with bundled conversation rate optimization tools such as funnel tracking, session cams, heat maps, and more.
Qualarloo – Another tool you can use when you're on a budget is Qualarloo. It offers pre-made templates as well which you can easily integrate into your website's javascript.
For Email Surveys
Google Forms – Nothing beats a classic survey than a classic survey from Google Forms. It's free and easy to use plus you can conveniently categorize responses to see frequency in answers.
Mailchimp – This all-in-one marketing platform lets you create surveys you can send out in your email campaigns so that you can get valuable feedback from established customers with ease. There are also templates to choose from to encourage engagement with your surveys.
Heuristic Review
A heuristic review is an expert evaluation of a website to ensure that it is user-friendly. It also focuses on improving different conversion-focused brand elements such as the design and content of your website.
You can do the following heuristic reviews for:
To spare you the lengthy discussion you can check out this website evaluation checklist for a more detailed discussion of these conversion optimization tools.
A/B Testing
All your conversion optimization efforts are in vain if you do not let it undergo A/B testing. In a nutshell, A/B testing compares different versions of your website to see which challenger performs better than the existing page.
Through this, you can optimize your conversion rate and discover how to improve your website's marketing performance.
We've actually made a list of the 14 best A/B conversion rate optimization tools already but here are the top three tools we recommend you check out.
PageSense – What better recommendation to start with than the one we use at Propelrr. Zoho's PageSense is one of the best conversion rate optimization tools when it comes to A/B testing your website challengers. Aside from the integrated heatmap data the detailed analysis feature provides a time-based and cumulative conversion rate of your variants in a specific time period.
It also comes with a nifty Chrome PageSense extension you can use without the need to hop on the dashboard itself.
Adobe Target – This enterprise testing tool is great at providing complex automation and personalization to the customer experience. It's not really a budget-friendly option but if you're a big business wanting to make a significant impact, then you might want to try this out for your brand.
Optimizely – This "Digital Experience" platform lets you optimize your customers' experiences online in a consistent and extensible manner. Its impressive clientele like Microsoft, eBay, Yamaha, and even Pizza Hut is enough for you to check out why it's the talk of the town when it comes to A/B testing.
Key takeaways
Investing in conversion rate optimization tools is such an important step to achieve your company's goals with precision. While keeping in mind what these tools do, here are some key takeaways:
Focus on the customer journey more. Tools are only meant to enhance your strategies. Don't just focus on lifting conversions, instead aim for user-centric optimizations to improve the customer experience.
Conversion rate optimization tools aren't a swiss-army knife. Given that not every tool is free to use, find out what you'll need first based on your objectives. You're not going to use every tool in the arsenal at the same time so it's best to stick to what you're comfortable with for starters.
If you need more help with expert tools or want to recommend something, we'd love to hear about them down in the comments section!
Don't be shy to reach out to Propelrr if you need any help with your conversion optimization journey.
For more helpful articles on conversion rate optimization, make sure to subscribe to the Propelrr newsletter to get them straight in your inbox.