Digital got you dazed?
Type it below, and we'll show you what we've written about it!
In-depth Guide to A/B Split Testing Like a Pro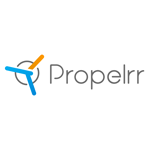 Propelrr

14 Apr 2021

8

min

read
A/B split testing a simple method for experimentation that you can use to rake in more meaningful and cost-efficient results from your campaigns.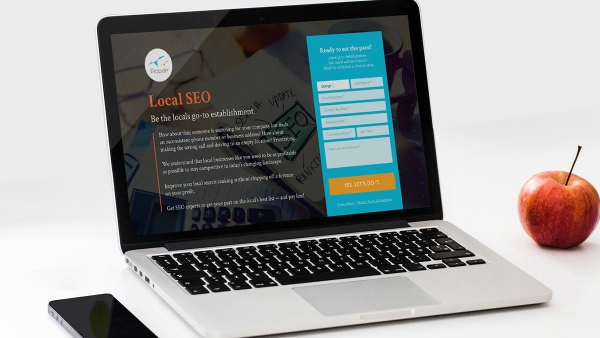 With more users migrating online, the challenge for online advertisers nowadays is to keep up with the growing needs of all their new customers.
As a data-driven digital marketing agency, we strive to provide data-informed strategies for the best campaign results. To do this, we employ various techniques in optimizing and testing. Among these, is the every trust A/B split testing – a testing technique that benefits not just our website optimization projucts, but also campaigns we execute as a PPC management agency.
Unfamiliar with the basics of A/B split testing? Don't you worry. This in-depth guide will get you started on the right track so you can integrate this into your digital marketing strategy frameworks.
What is A/B Testing?
A/B testing, also known as split testing, is a digital marketing strategy that compares versions of an ad, app, email, or website to see which version performs better. Through this strategy, you can optimize your conversion rate and discover ways to drastically improve your marketing performance.
Digital marketers can use split testing to optimize almost any form of online advertising, especially on paid channels. You can use it for sales landing page optimization, different social media formats and styles, ad copies, and more. It will guide you towards discovering the ways in which you can improve your paid marketing efforts.
Benefits of A/B Testing in Digital Marketing
Split testing has a wide range of uses in digital marketing. Here are some of the aspects in which this technique can ensure optimal results based on your key performance indicators (KPI).
1. Improved user engagement. This technique can be used to improve user engagement at every level of marketing. It ensures that you reach your target audiences and engage with them in a way that ensures successful conversion.
2. Improved content, ads, and overall campaigns. This exhaustive process will weed out ineffective content and ensure optimal elements for your copywriters and creatives. You can follow one or two of our killer copywriting tips, change elements of your designs, or use a different messaging or approach to optimize what you already have. 
3. Reduced risks because of validated optimizations. Not only will you get the best possible content out of this method, but you'll also be assured of fewer risks due to the sheer amount of experimentation you do in this process.
4. Increased conversion rates and sales. This form of analysis helps you spot what works and doesn't work for your business. You can increase conversion rates and drive up PPC ecommerce sales with this extensive analytics technique.
5. Ease of analysis. When you have more data, you can conduct more comprehensive analyses. Through this method, you can make data analysis easier and see which versions performed better for all your future campaigns.
Even the smallest of improvements can create the greatest of impacts. With A/B testing, you can conduct exhaustive experiments to gain tons of insightful data that can help you improve your marketing strategies.
Let's get started with these simple steps to executing effective A/B testing.
Step by step guide to A/B testing
This guide will help you execute A/B testing for all your pay-per-click (PPC) campaigns. Take a look at this quick rundown of the essential steps:
Excited to learn more? Check out the rest of these comprehensive steps to this A/B testing data science method.
1. Know your test objectives.
Before starting any analysis, you need to know what your objectives are first. Are you trying to find the creative that works best for acquisition? Are you comparing one email body to another? Without a specific goal, your test will be directionless in the long run.
Determine your objectives and establish your KPIs before jumping into any experiments first. Find out which metrics are needed to measure the success of your PPC campaign, like impressions, clicks, click-through rate, conversion, reach, post engagement, and more.
2. Define your "control" and "challenger."
Your "control" is the "version A" variable, or the marketing element that you currently have running. Your "challenger" variable is the "version B," or the marketing element you want to test against your control. This is where the name "A/B" testing comes from.
Defining your control and challenger is important. In setting up these variant tests, you'll know with certainty which changes pushed you towards your initial goal. This is why you only test one element at a time in this process.
3. Know what variables to test for your PPC campaign.
Picking wildly different variables to test for your PPC campaign will make it difficult for you to monitor your data and find out what works best. It's highly recommended that you select specific variables before you run any split testing experiments.
The following are common platforms with testable and optimizable variables for your PPC campaigns:
A. Google Search Network.
When you search something on Google, you're often shown Google search network ads at the top or bottom of your search results page. By experimenting with your ad elements, you can increase your established conversion rate. Adwords elements can include:
Headlines 1, 2, and 3;

Descriptions 1 and 2;

Display URL (path), and;

Call-to-action (CTA).
B. Google Display Network.
Google also displays visual marketing materials throughout its Google Display Network. Some common testable variables include:
Headline;

Sub-headline;

Copy;

Product value;

Subject;

Background;

Common elements, and;

CTA.
C. Google Shopping Network.
Lastly, Google can show your products on its Google Shopping Network, which works similarly to the previously mentioned ad networks. Google will promote any and all of your products, while you only pay when your customers click.
TIP: You can check out our full Google ad optimization guide for a full understanding of the process you can use.
D. Facebook and Instagram.
These two social media platforms have a thriving marketing network for all your promotional needs. Since they have similar business networks, here's an aggregated list of elements you can experiment with when conducting split tests:
Placement;

Audiences;

Demographics;

Text;

Images;

Headlines;

Copy;

Product value;

Background, and;

CTA.
Though both social media platforms share the same Ad Manager system, do note that Instagram focuses on more visual marketing. Facebook, meanwhile, has other options that can be more text-focused, which you can experiment with later on. Best to check out our Facebook ad optimization guide as well for a full rundown of what you can do.
E. X.
Last but not least is X, a wildly popular social media application that has its own established business marketing network as well. If your business aims to establish a strong presence on this app, then some testable elements on X you can experiment with can include:
Text/Tweets;

Image;

Video;

Pre-roll views;

Moments;

Audiences;

Demographics, and;

CTA.
How do you know which one to test?
This is actually a good and common question we get— so, what comes first?
To know what variables to test first on any of these platforms, you can use the Value vs. Effort prioritization framework to find out if changes to your chosen variables will actually forward your overall metrics and goals.
Take for example our prioritization framework: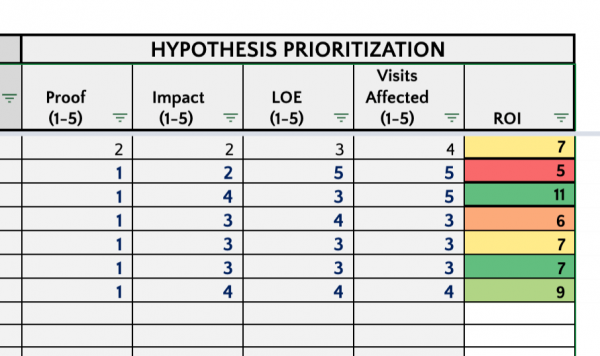 Once we have an optimization we want to try or test out, we take into consideration the sources of our claim, the Analytics support of where we can validate our claim, the estimated impact on our objective, and the overall effort or time a specialist needs to execute and implement.
Remember,  this is just one efficient way to prioritize implementations to help you avoid analysis paralysis. You can try out different prioritizations methods or develop your own based on urgent needs and current capacity.
3. Formulate a hypothesis.
Once you have your objective and specific control or challenger variables, you can now identify a potential hypothesis. This hypothesis should pose a problem or question that needs to be answered by your test.
This isn't chosen randomly. You'll need to refer to your past data from previous multivariate tests. This can include web analytics, user tests, heat maps, customer feedback, and past heuristic evaluations. Review your performance data to understand what has been achieved and what needs to be improved.
You can formulate a hypothesis by asking yourself what needs to be improved through your current process. Check out this example to phrase your own hypothesis:
Changing an element from A to B will increase/decrease a KPI
Of course, this isn't a final solution to achieve your objectives. You still need to check your data, KPIs, and campaign objectives to formulate an effective hypothesis.
4. Calculate sample size and duration.
Now that you have a hypothesis, you can calculate and set your sample size and duration. The minimum data recommendations according to Adalysis for most companies are:
Low traffic: 350 impressions / 300 clicks / 7 conversions;
Mid traffic: 750 impressions / 500 clicks / 13 conversions, and;
High traffic: 1,000 impressions / 1,000 clicks / 7 conversions.
For advanced analysis, you can use a "Paired T-Test," "Independent Sample T-Test," "Wilcoxon- Signed Rank Test," or "Mann- Whitney U Test" to see if there's significance to your A/B testing findings.
If there are significant differences, then you can use the data for comparison. If there are no significant differences, you'll need to set more data points for further analysis.
4. Run a campaign for A/B Testing.
Once you have everything in place, you can run your test campaign for your ad, landing page, copy, and more. Make sure all other variables are untouched to know how your experiments actually affect your final results. If not, you'll render wildly different results, which is not part of your split testing best practices.
6. Analyze the result.
You can now compare results between your control and challenger variables. Use your established KPIs to analyze the results and see if you achieved your objectives. You can further analyze your results and explore other hypotheses in succeeding tests.
7. Connect the results back to your goal.
With this analysis in mind, you can now declare a "winner" between your control and challenger, based on your objectives and KPI. Then you can ask yourself: how does this winner help me optimize my marketing and achieve my goals? Always connect your findings back to your objectives to ensure proper optimization.
8. Optimize your ad and do it over again.
Of course, this isn't the end of your split testing journey. There will always be more ways to optimize your digital marketing, especially after you test just one variable. Optimize your elements and then embark on your analytical journey all over again.
A/B Testing Tips
This marketing framework involves lots of variables and tons of patience. Here are a few final tips to help you jumpstart your split testing journey:
Take it one step at a time.

A common mistake people make is to test two radically different ads, landing pages, or emails all at once. Test one element at a time so that you'll know which change was responsible for your conversion optimization.

Test early, test often.

A/B testing

takes lots of time. If you start early and test often, you'll have the chance to develop more iterations that provide better data for your optimization needs.

Keep an open mind.

Users can be fickle, especially online.

Reach your audiences better

when you keep an open mind to changes in their behavior. That way, you can pivot strategies quickly and serve their needs more effectively.

Never stop improving. Done with one series of tests? Move on to the next element for improvement. Maintain momentum and never stop improving if you want to yield more conversions in your digital marketing.
Key Takeaways
The COVID-19 pandemic will continue to affect digital marketing trends throughout the rest of the year. Hopefully, this article serves as your wake-up call to optimize your online advertising like a pro through split testing. Here are some main points you can take away from this comprehensive guide:
Successful businesses thrive on the pivot.

If you can adjust right away to extreme circumstances, like a global pandemic, then you can certainly weather the storm of this testing technique.

Early is on time, on time is late, and late is unacceptable.

If you want to conduct A/B tests successfully, then you need to start early to accommodate all your various variable tests.

Keep going. There will always be new and improved ways to optimize your content for your customers. Keep learning, optimizing, and improving to stay competitive in this online environment.
A/B testing is a long process of trial and error. Use this guide to help you throughout your journey in searching for the right elements for your ad. It may take some time, but the rewards are immeasurable for those who wait.
Looking to develop more data-informed strategies through expert insights? Visit our Facebook, X, or LinkedIn for more updated split testing insights this 2021.
Subscribe Now
Choose topics you want to get regular updates on: