14 A/B Testing Tools Conversion Optimization Pros Should Use
Propelrr
September 26, 2023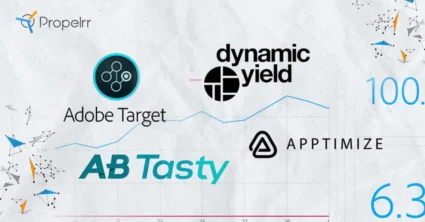 Here's our shopping list of A/B testing tools for every conversion optimizer.
As conversion rate optimization (CRO) continues to be a top goal for digital marketers, you'll need to have a complete and powerful toolkit to get the job done right. And in a data-reliant world like CRO, you absolutely cannot do without the best A/B testing tools.
As a vital step in the process of conversion rate optimization, A/B testing has to be done accurately so that you can achieve your conversion goals; a job you can't do properly without the correct tools. This makes A/B testing tools one of the most essential tools for modern digital marketers.
With the right A/B testing software in your toolkit, you can achieve monumental results that benefit your business in ways other than increased revenue. Some of these benefits include:
develop accurate insights about your site performance;
reduce long-term costs, and;
ultimately, to better understand your ideal customers.
But with the hundreds of choices available online, how do you even pick out the best A/B testing tools that fit your business?
In our years of providing conversion rate optimization services, we've studied and tested a number of them and found a select few that make up our list of top A/B testing tools. And you can read about these below.
Top 14 A/B Testing Tools for CRO Pros
So how about it? Ready to beef up your conversion marketing efforts? Choose your weapon before you head to the battlefield from this curated list.
Further down, you'll get to learn about the pros, cons, and costs of each tool. With this round-up of A/B testing software as your guide, you can find the best solutions for your online business.
1. AB Tasty
First on this list is the cheekily named software, AB Tasty. Trusted by big international brands like Lush and Fenty, this tool provides you all the relevant features to bolster your omnichannel marketing efforts.
These are just some of the services made available to you from AB Tasty:
A/B testing and A/B/n testing
Split and multivariate testing
AI-based segmentation
Dynamic widgets
Documentation and analytics
With these important tools offered at reasonable prices, AB Tasty may already meet your criteria for the best A/B testing tools. With AB Tasty, you can validate and test campaigns in real-time thanks to its user-friendly navigation; perfect for any medium-sized online business.
However, take note that AB Tasty withholds their exact pricing information on their website. They have competitive monthly fees, but if you want more advanced features, you may have to invest in their higher tiers. With AB Tasty's advanced optimization software, however, you'll most likely find the investment to be worth your money and time.
2. Adobe Target
Next up on this list of A/B testing software is Adobe Target. This platform is mainly used by larger business enterprises that are looking for customer solutions to drive conversion goals.
Apart from A/B testing software, Adobe Target also provides complex automation and personalization features for its bigger brands.
Some of their more advanced features include:
Expert targeting and segmentation
Automated personalization
Cross-channel experimentation
Admin, reporting, and recommendations API
Adobe Target is perfect for enterprise level businesses that are looking to create the best possible customer experiences online. While Adobe Target's software isn't the most attractive or straightforward system out there, their self-adjusting algorithm is one of the best in the market for bigger online brands.
3. Apptimize
If you're looking to optimize your mobile apps, then Apptimize can best suit your needs. This mobile app optimization company promises accelerated ROI, better engagement, and boosted revenue through its cross-platform optimization opportunities.
Apptimize offers A/B testing tools at an entirely different level. With this tool, you can optimize the customer experience on mobile, web, and OTT, thanks to its cross-platform A/B testing capabilities.
It's also easy to use and quick to set up. In just a few taps and clicks, it can help you personalize customer journeys in no time.
One downside to Apptimize is the lag that sometimes occurs between your implementation of a change before the change reflects on your mobile app. Apptimize is still working on fixing this delay so that you can reap the benefits of your changes in real time.
4. Convert
Convert is a trusted testing software that offers a wide range of tools for all their clients' needs. With groups like Sony and Unicef under their care, it's no wonder that Convert has the confidence to offer a free 15-day trial to all its curious customers.
You might just become a convert when you see its myriad of services offered, like:
A/B, split, and multivariate testing
Multi-page experiment tools
Advanced segmentation tools
Fast customer service and support
Integrations with Shopify, Google Analytics, WordPress, etc.
This advanced testing platform is great for big agencies and companies who are looking to optimize their customers' journeys and experiences online. Their system might be a little daunting for small to medium-sized businesses, so make sure to check out their pricing plans first before you jump onto their unique 15-day free trial.
5. Dynamic Yield
Dynamic Yield's powerful suite of digital experience solutions prides itself in its agility and speed, activating concepts and accelerating executions faster than other digital platforms.
Some famous clients under Dynamic Yield include IKEA, Sephora, Lacoste, and Zalora. Not only do you gain an increase in revenue as a Dynamic Yield client, but you also gain sustainable and competitive strategies to continually optimize conversions for your brand.
6. Evolv AI
The sixth entry on this list offers its own unique evolution for A/B testing. Evolv AI is the advanced testing tool you need for the new generation of AI-driven conversion rate optimization.
Evolv AI revolutionizes CRO practices by completely integrating its machine learning algorithms into its personalization and optimization. With clients like Viber, Verizon, and AT&T, Evolv AI promises efficient paths to customer conversions that ensure brand loyalty in the long run.
Here are just some of their AI-driven solutions for your optimization needs:
Evolv AI evolutionary algorithms
End-to-end expert services
Multi-page funnels
Reporting
Integrations
Evolv AI assists you in optimizing the entire customer journey, A/B and multivariate testing included. Pricing for their services is available on request, but they do promise rapid deployment and results for all their curious clients.
7. Google Optimize
Here's a household name for any digital marketing professional – Google Optimize. This free testing tool is just one of the many optimization services available under the wide array of offerings by the Google Marketing Platform.
Yep, you read that right: it's free. While the Google Marketing Platform also offers a paid version of this system for larger enterprises and brands, Google Optimize itself lets small to medium-sized businesses start experimenting with conversion optimization for free.
Here are just some of the services that you can try out, free of charge, when you sign up for Google Optimize:
A/B testing and limited multivariate testing
Google Analytics integrations
Basic simultaneous experiment capabilities
Advanced customization and personalization
The paid version of this system obviously offers way more tools for more sophisticated and advanced testing needs. But if you're a small business looking to start experimenting in CRO, you can get so much done with the free version of this tool.
8. Intellimize
If you're a B2B or e-commerce marketer looking to boost conversions on your business website, then Intellimize is the perfect tool for you. This A/B test software helps you automate the grueling test process for your website through machine learning algorithms, for smoother and easier reporting.
Intellimize is a truly focused A/B test software for any online brand. They offer optimization ideas for B2B and e-commerce businesses, finding out the best variations for your brand more quickly than other tools.
It's important to note though that Intellimize doesn't automate its reporting for your experiments. You still need to manually generate reports for your strategies and executions. But Intellimize can help you get started in getting websites to work for you and all your conversion rate needs.
9. Kameleoon
Kameleoon is the three-pronged platform that promises better conversion rates for every online business. With high-end clients like Swarovski, Lexus, and Yves Rocher, this brand of A/B testing tools offers three comprehensive solutions in one platform to ensure successful web and server-side A/B/n testing.
Here's a breakdown of their unique platform's benefits:
A/B/n and multivariate testing
Data reporting in real time
Extensive widget library
AI-driven personalization and segmentation
Integrations with martech solutions
Expert customer support
Aside from their unique, three-pronged platform, what makes Kameleoon stand out from the competition is that they're a user-friendly but enterprise-sized software solution. Kameleoon is intuitive and easy to use, even though it's designed for bigger companies. That makes it better for smaller businesses to utilize Kameleoon for their CRO needs.
Kameleoon doesn't share its pricing on their website, but they do have expert customer support systems that can demo the software to any interested businesses. Depending on your company's needs, you may find that Kameleoon is the perfect solution for you.
10. Omniconvert
If Kameleoon offers one platform for its three CRO services, then Omniconvert takes that idea in the opposite direction. Omniconvert offers four different pieces of software – Explore, Reveal, Adapt, and Survey – to pinpoint and seriously address your conversion optimization needs.
Omniconvert offers everything you'd want, and more, to ensure optimized conversion rates for your business this year. Some of the features of their products include:
A/B testing
Web personalization and overlays
Customer satisfaction surveys
Advanced segmentation
E-commerce analytics
One great thing about this company is that they offer a 30-day free trial for their Conversion and Survey software systems. You can test out their conversion capabilities to see if they really work for your online brand.
Of course, the catch is that you'll need to pay separately for each of the four systems under Omniconvert. But with clients like Samsung, Avon, and the World Wildlife Fund, you can trust that Omniconvert offers great gains for all their software systems.
11. Optimizely
This next entry makes the exciting promise to unlock your business' digital potential. Optimizely is a company that offers several products and services, including a unique Digital Experience Platform, an Optimization-as-a-Service solution, and even free Rollouts for anyone who signs up to their program.
With their Digital Experience Platform, you can optimize your customers' experiences online in a consistent and extensible manner. Meanwhile with their Optimization-as-a-Service solution, you can target, test, and receive recommendations for the best conversion strategies for your clients.
Over 9,000 companies use Optimizely for their digital marketing needs, including big brands like Microsoft, eBay, Yamaha, and even Pizza Hut. Optimizely's wide range of services allows you to achieve the following on their experimentation platform:
A/B, multivariate, and multi-page tests
Integrations
Omnichannel strategies
AI-driven segmentation
AI-driven product and content recommendations
Optimizely's wide range of service offerings can seem daunting at first, especially for a first-time small business owner. But whether you consider buying their tools or not, you can benefit from their free rollouts and testing for any device.
12. PageSense
If the ultimate goal of CRO is to understand your ideal customers well, then Zoho's PageSense is one powerful tool you can use to achieve that.
With its features combined with a user-friendly interface, PageSense is not just one of the best A/B testing tools, but rather possibly one of the most comprehensive ones. In fact, PageSense was lauded by Conversion XL Founder and Principal Peep Laja as a tool that's "on par with the best in the industry."
Promising that you won't ever have to keep switching between different programs, PageSense offers you these features:
A/B Testing
Web analytics
Funnel analysis
Heatmaps
Session recording
Form analytics
Polls
Push notifications
Pop-ups & banners
A/B testing
Split URL testing
Personalization
Another nifty feature of this program is the Zoho PageSense Chrome extension – providing you an instant experience of its features without the need to open the program itself. Impressive, right?
One caveat you should note about PageSense, however, is that these features don't come at the most budget-friendly price. On top of that, access to their A/B testing functionality only comes with their most premium plan.
Priced at $39 a month (billed annually), PageSense may not be the best first option for new players in CRO. But if you're a CRO pro who can make full use of these tools for multiple projects, then this program would be a worth it investment for you.
13. VWO
It may not be the number one on this list, but we won't forget to include the number one A/B testing solution in the market today. And it's number one for good reason.
With over 2,500 clients spanning different industries like media, e-commerce, and enterprises to name a few, VWO is the most trusted A/B testing tool to date. Arguably, it may even be the most powerful, with solutions that aid you in every lever and step of your digital marketing framework.
To list down their entire service offerings alone will fill this page. But one thing that sets VWO apart from its top competitors is that it's truly a full-stack solution, complete with impeccable after-sales support. Promising that they will "never slow you down," VWO combines the benefit of powerful and comprehensive CRO tools with prompt and effective services for onboarding and troubleshooting.
Arguably, the only downside to VWO is that it makes it hard to choose which specific solutions you'll need for your business given its lengthy service list. But that isn't something you can't solve with their custom pricing model.
You'll even be happy to find that VWO offers discounts for startups, SMBs, non-profits or educational institutions. As to how much the exact discount price amounts to, you can best find that out through a request for a custom quote.
14. Qubit
Last but not least in this list of effective A/B test software is Qubit. This high-tech software company offers their unique Qubit CommerceAI tool as their means to drive your growth with advanced personalization. It's one of the strongest segmentation tools on the market right now, helping businesses build effective strategies for every customer.
The Qubit CommerceAI integrates everything you need to succeed with your conversions in one AI-powered tool. Not only will you be able to run A/B and multivariate tests for your business, but you'll also get:
Cross-channel commerce
Omnichannel personalization
Data-collection and real-time analytics
Advanced integrations
Qubit is utilized by giant luxury businesses like Kate Spade, Estée Lauder, L'Occitane en Provence, and Emirates. With their tool, you'll be able to apply very specific personalization techniques to ensure conversions with every customer.
With all these pros about Qubit, it's important to note that one con about this platform is its current velocity of creating new tests. Depending on what you're testing, you may experience some page slowdown on the extensive platform.
Key takeaways
You deserve the best CRO services possible to achieve your company's conversion goals. Hopefully, this list of software examples serves as your starting point for this brand new optimization journey. As you continue on the path of conversion optimization though, don't forget to carry these key takeaways with you:
CRO is more than just conversions. It encompasses the optimization of the entire customer journey, from awareness and conversion to brand loyalty. Use your tools not just to optimize for revenue, but for delivering the best customer experience possible.
Competition for successful conversions is heating up this year. With everyone migrating online, it's crucial for you to get on the CRO game today for you to succeed online tomorrow. Learn or hone your craft in CRO. Or, if you're pressed for time and budget to invest in tools, solicit the help of experts.
A poor craftsman blames his tools. While these tools can help you with A/B testing, you'll still need data-driven expert advice on how to use your test results for the benefit of your business.
Looking to equip yourself with even more expert tools? Or perhaps you already have your set of favorites? We'd love to hear about them down in the comments section!
Should you need any help with your CRO efforts, go ahead and reach out to Propelrr.
In need of helpful tips to start practicing conversion rate optimization? Subscribe to our weekly newsletter and you can expect them delivered straight to your inbox.