Digital got you dazed?
Type it below, and we'll show you what we've written about it!
Traffic or Conversion – Which Do You Prioritize When Optimizing?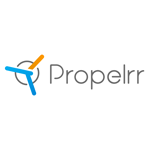 Propelrr

26 Jan 2022

8

min

read
Spoiler alert: You can ramp up conversions if you don't ramp up traffic.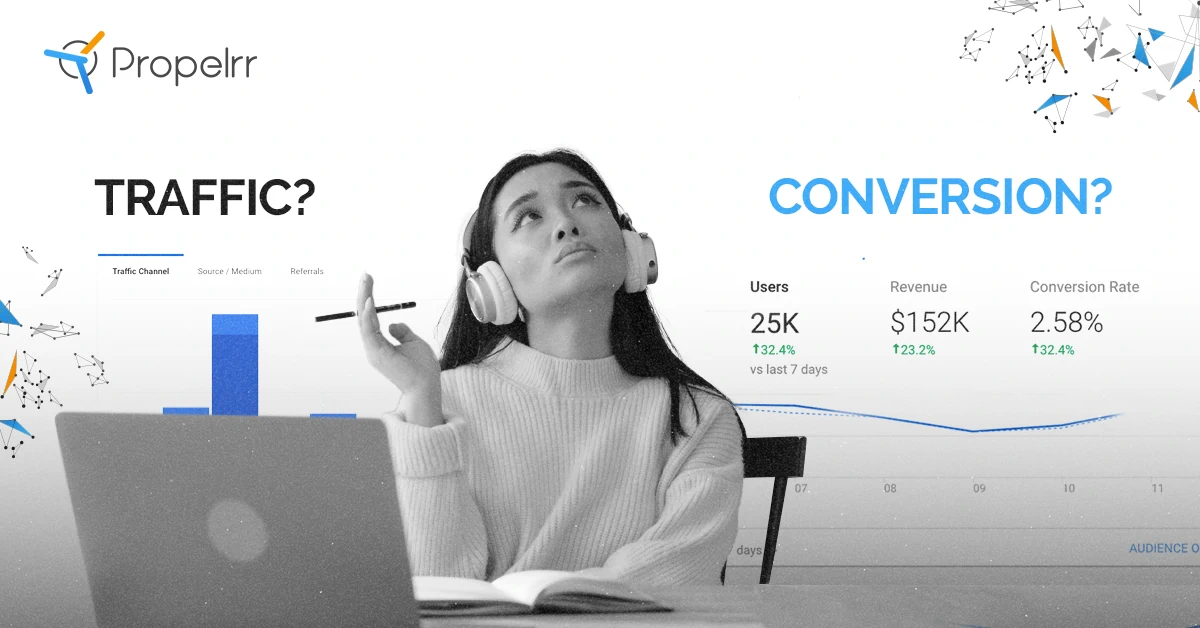 As many as there are methods to optimize your pages, there are twice as many metrics to measure like traffic and, of course, conversions. But when one is a prerequisite for the other, how then do you decide on which to prioritize – traffic or conversion?
As an expert digital marketing agency, we bring you this easy-to-read guide on the key differences between each. With a clearer understanding of both along with some actionable tips, you will be able to avoid this dilemma in the future.
Traffic and conversions – a review
It's important to clarify what each of them mean so that you can properly plan your optimizations.
Traffic. Is a metric measured by the number of Sessions that occur on your website. It's one way to measure your website's effectiveness in attracting audiences – be they your targets, or not. Increasing web traffic, as we said earlier, is a prerequisite for conversions. Because without visitors logging a session, you ultimately have no one to convert. Think of it like an empty store. If no one comes in, there's no one to sell to (or convert).
Conversion. This metric, on the other hand, represents all completed profitable actions taken by visitors on your website. It includes, but is not limited to actions such as inquiries, purchases, or even additions to cart.
Both of these metrics both provide valuable insights for online businesses as it's possible to have high traffic and low conversions and vice versa. High traffic but low conversions could signal that there are hurdles to conversions on your platforms. Meanwhile, low traffic and high conversions can mean that one visitor is converting more than intended.
Each tells a different story, as you can see. Hence, it is important to always be monitoring both.
When should you optimize for traffic or conversion?
So, that said, we can then think about: When do you optimize for traffic? When is it better to optimize for conversions? Is it always better to necessarily "better" to optimize for conversions over traffic if that's the end-game?
One key thing you should note when strategizing for anything is framing things in the proper context. As you may have figured by now, traffic and conversions signal the accomplishment of fundamentally different key results.
Optimizing for higher traffic
No traffic means no conversions, remember? So let's take a deep-dive into optimizing for this metric to start things off.
To increase brand visibility
A huge part of optimizing pages with the use of various optimization techniques is to boost its position on search engine results pages (SERPs). Gaining a top spot on these SERPs significantly increases visibility for your brand website and/or pages.
Through frequent discovery on SERP with the help of thorough SEO implementation, you can successfully improve this metric.
Boosting brand awareness
This is necessary to survive amid cut-throat online competition. Because before customers can consider doing business with you, they first have to be aware of you. With poor brand awareness, proceeding to the next sales stage (introducting your value proposition) would be impossible.
Boosting brand awarenss is a consequential effect of our previous metric – brand visibility. But it can also be the result of strategic social media marketing efforts, and or paid digital advertising. Whichever channel you choose to go with, make sure it's guided by your understanding of your ideal customers.
ALSO READ: Choosing the Best Types of Digital Marketing Channels for Audience Growth
Audience data gathering
Every session (traffic) on your website can give you insights on who your potential customers are. Starting to connect the dots now?
With the help of analytics tools, you can discover a lot of information about your audience that will inform a lot of aspects of your digital marketing strategy. You can use it to map out sensible customer journeys, formulate customer personas, develop content, and so much more.
Make sure to deepen your bank for data so that you can develop a full-bodied understanding of your customers. Because how well you understand them will be vital to your conversion optimization strategies.
Optimizing for more conversions
Now that you know how to prioritize for traffic, it's time to figure out how you can convert that traffic into conversions. In optimizing for conversions, you should mind the following objectives and metrics:
Minimal Intensity
Optimizing your conversion rate is not a one-time job. It involves continuous assessment and adjustment to achieve your conversion goals.
By focusing on conversions, creating the drafts of your web pages will not take much of your resources since these shall be revised accordingly. The key is to know your audience deeply and research well on how to improve user experience on your website. A conversion-focused strategy will only result in minimal intensity investment.
Traffic maximization
Prioritize conversion to make every web visitor more valuable. For instance, if you may create traffic to 100 visitors in a month and focus on conversions, your conversion rate will go from 0 to five% in a month as a result of having 5 conversions in one month.
Reinvestment potential
When you have successfully achieved your conversion – through minimal intensity investment and traffic maximization – then your reinvestment potential will now come into the picture.
Reinvest the profits you earned from your traffic and conversion. You can invest on some of the conversion tools that are available in the market or you can also invest on conversion marketing strategies to earn more customers that can help you boost your sales and increase your profit.
Those are some of the cases that you will encounter when you choose to prioritize one over the other. You might be wondering what if you balance traffic and conversion instead?
Well, that is also possible.
You can try both traffic and conversion for your optimization strategy. All you have to do is to measure the balance of your strategy. You can do it by observing your optimization. If your growth is increasing with the use of traffic and conversion, then you can use both. However, if you observed that there are some areas that do not increase in growth, then you can make some adjustments on what strategy you should be investing slightly in.
Here at Propelrr, we would love to see you succeed in your digital marketing business, that is why we are giving you some tips for your optimization strategy for 2022.
Actionable tips to help you with your optimization strategy for 2022
1. Small modifications can lead to great gain
It is a must for every digital marketer to be always updated on the latest trend when it comes to optimization. You must not be complacent. You might think that you are still on trend but in reality, you are being left out by your competitors who are doing a good job staying in the loop.
Modify your website and update accordingly to help you improve your optimization strategy. Through small modifications, you can make the design of your website appealing to the changing taste and interests of your target audience.
2. Experiment and try new techniques to increase traffic and conversions
You can do experiments on your optimization and see if it works. If it does not work, then you can try experimenting again until you find the right strategy that works for you. You may also ask colleagues in the same profession about their ideas or techniques in increasing traffic and conversions. Try using their ideas and monitor if they are working well for you, if not, then drop the idea and look for another that suits you.
Here are a few ideas you can incorporate on your conversion funnel. Check out these simple steps on how to do it:
You must first visualize and analyze the flow of your customers' journey on your website.
Identify your objectives, your unique selling points, and your customers' objections.
Identify the possible loopholes at every stage of the buying funnel.
Then, use analytics to understand the bounce rates, abandonments, and other metrics to figure out drop-offs.
3. Focus on getting new visitors later
As discussed earlier, to have a good conversion you must have good web traffic. But before getting new visitors, first have your conversion rate set up on your desired settings.
You may get new web visitors via word of mouth. Ensure that your previous customer is satisfied so they could refer you to other people. How? You can always use the customer experience strategy.
A customer experience strategy is a type of strategy that considers and integrates your customers' wants and needs into your process. You should have a deep understanding of your target audience profile and have actionable plans to deliver that great experience to them.
This strategy will have a positive impact on your customers and you will be earning their loyalty and trust. They can also be repeat visitors and even brand ambassadors in their own initiative.
One of the effective ways to get visitors is through advertising and promotion. There are unpaid promotions that are available for you to use or if you have funds available then you can also do search engine advertising.
4. Get returning visitors before conversion
It is normal that first time visitors on your website will not complete your desired action. This should not discourage you. Instead, give them reasons that they should come back and take action on your website – such as sign up to monthly newsletters or buy an item.
Here are some ways you can increase returning visitors and increase your traffic conversion:
Customers typically fail to complete their transactions because of lack of trust on the check out page, high shipping costs, payment options, and the complexity of the check out process. Engage in email marketing which is considered as the second-most effective medium for brand awareness. Email marketing can help you recover those abandoned carts by sending email to your visitors and reminding them about the things that they left behind or you can offer them a discount rate or free shipping. 
Your website must be interesting and user friendly. This will help web visitors easily navigate your website. You must also make sure that the check out process will not be a problem for them to avoid cart abandonments.
Take advantage of the different social media platforms. Ask your visitors to follow you on Facebook, Twitter, Instagram. Update them on the new things that you offer giving them reason to click and revisit your website.
Promote customer participation on your website. You can ask your web visitors for feedback about your brand and you can ask them for ideas on how you can improve your brand or services. This will make your visitors feel that they are part of your business, earning you their loyalty and trust.
Offer different sales packages to your visitors by conducting promos, discounts, and free shipping. You can also offer them membership where they can avail discounts or garner points whenever they purchase an item. Incentivize them for patronizing your website.
5. Track your progress
Whether you are prioritizing traffic or conversion, you must never forget to track your progress. This is important because all your efforts and resources will just be in vain if you fail to track your progress – you will have no idea if your optimization strategy is working.
You may use analytic tools that track web visitors and check if they are experiencing bottlenecks on the conversion flow of your website.
Key takeaways
Now that you are equipped with the knowledge on how to use traffic or conversion for your optimization strategies, here are some things that you should bear in mind when you are enhancing your optimization.
Experimentation is the key to success. Do not hesitate to experiment on what strategy works for your website, a trial or error will not hurt you. In fact this process will help you to achieve your optimization goals.
Focus on your traffic value. This can give you the opportunity to test your website's conversion strategy. But without a significant amount of traffic, it will be difficult for you to test your conversion.
Focus on your conversion value. This will make your visitors more valuable, possibly leading to high quality leads, lower cost and increased revenue.
Do you have other ideas on optimizing traffic and conversion that we missed? Feel free to mention them in the comments, or message us via Facebook, LinkedIn, or X, and let's discuss.
For more insights, guides, and tips about traffic or conversion optimization, you can subscribe to our Propelrr newsletter.
Subscribe Now
Choose topics you want to get regular updates on: