Digital got you dazed?
Type it below, and we'll show you what we've written about it!
Dominate SERP Ranklings With This WordPress SEO Checklist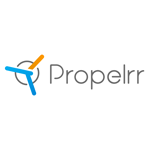 Propelrr

30 Sep 2020

9

min

read
Driving organic traffic to your site and rolling out an SEO strategy is made more accessible by WordPress, a huge Content Management Site (CMS) used by the most prominent brands online. 
WordPress isn't an end-all-be-all solution to your SEO woes—it's just a tool after all. But WordPress makes it simpler for anyone to analyze and implement a complete SEO Process on websites through its accessible and easy to use features. 
As a veteran SEO company in the Philippines that's well-versed in different CMS software, we've provided a complete and easy-to-follow WordPress SEO checklist covering the basics from technical, on-page SEO, and even content to get you started.
But first things first, let's discuss: why WordPress?
Why is WordPress good for SEO?
WordPress has a variety of plug-ins to optimize your site.

WordPress features customizable permalinks.

WordPress provides plug-ins to increase site speed.

WordPress is mobile-friendly.

WordPress is easy to navigate.
WordPress is good for SEO as it's known to be an easy-to-use CMS platform that caters to a wide variety of users who can access, customize, and optimize their website without breaking much code here and there.
Let's dive deeper into why WordPress is good for SEO by discussing its most powerful features.
1. WordPress has a variety of plug-ins to optimize your site.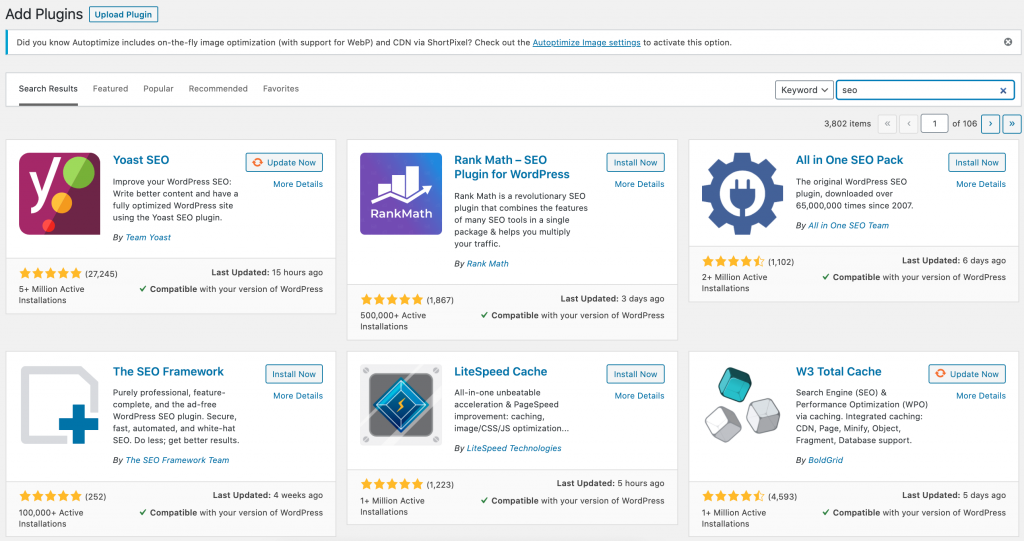 With thousands of SEO-friendly themes and plugins available in WordPress, you'll never run out of ideas on how to improve your site.
Depending on your industry and the audience you want to reach, you can customize your site's appearance and capabilities to suit your brand.
2. WordPress features customizable permalinks.

Think of your permanent link or permalink as your ID to both search engines and your audience. It gives you a unique and proper URL that remains unchanged as long as you want to. 
WordPress gives you the capability to customize your permalinks and convert them into SEO-friendly links. You can optimize your links to include relevant keywords in your slug or shorten the URLs to make them attractive to both crawlers and searchers for optimum visibility and shareability.
3. WordPress provides plug-ins to increase site speed.
Page speed is one of the crucial signals used by Google to rank sites on SERP. A slow-loading website can significantly decrease the number of pages search engines can crawl and can even affect bounce rates and page views. Users don't want to wait around for your website to load when they can visit other sites.
Although you can do your page speed optimizations, WordPress provides reliable plugins to help boost your loading speed in addition to having free fast-loading themes available.
4. WordPress is mobile-friendly.
Being accessible on mobile is an essential factor for SEO. Google recently announced its own mobile-first indexing best practices. They give a list of items that you need to do and optimize to provide mobile users with the best possible experience on Search. 
WordPress also has mobile-friendly themes and plugins that help you optimize your site to be accessible on mobile devices to help you with mobile-related optimizations. 
5. WordPress is easy to navigate.
Of course, it's still helpful to have basic CMS know-how to optimize items from your on-page SEO checklist like titles, meta descriptions, and images. But using WordPress to publish, manage, and optimize content is easy enough for even beginning site-users to use and navigate.
A Complete WordPress SEO Checklist
Despite its many real benefits on SEO, WordPress isn't a marketing messiah that will ensure visibility and traffic. You still need a well-thought SEO plan to achieve your marketing goals.
Here's a WordPress SEO checklist to guide you by maximizing the powerful features of WordPress and ensuring your SEO success.
1. Make sure your analytics are in place.
WordPress has a built-in tracking system that shows the general picture of your site's traffic. But it's best to also implement an analytics tracker like Google Analytics to give you deeper insights about your visitors and if they accomplish the goals, you set for your brand.
After connecting your website to Google Analytics, check to make sure if it's working. Sometimes there's a delay in reports or data from the built-in WordPress tracking system that doesn't match Google Analytics. You can check out the Google Analytics support page to help resolve issues you might encounter. 
2. Have an intuitive website architecture.
Website architecture refers to how your site is structured to ease navigation for both the users and crawlers. An unorganized site structure can make it harder for users and crawlers to find information in your pages, while a structure optimized for SEO will make it easy for search engine crawlers to index and rank your site.
There are many best practices in creating an intuitive site structure for WordPress SEO, and one of the most important is using a sitemap. A sitemap is a helping hand to crawler bots to help point to the specific pages you want crawled and indexed by the search bots.
Another best practice is to do interlinking between pages to keep an organized flow of information from one point to another. Ideally, all pages in your site should be reachable in fewer than five clicks. Consider studying the best ways to link each page to each other to drive conversion and use attractive anchor text.  
3. Ensure ease of crawling and indexing.
Don't assume that once you've got your site up and running, the search engine crawlers will automatically notice. You may unknowingly be blocking crawlers when you forget to give WordPress permission to index your site.
You can turn this feature on by clicking Settings > Reading and unchecking the box next to Discourage search engines to index this site.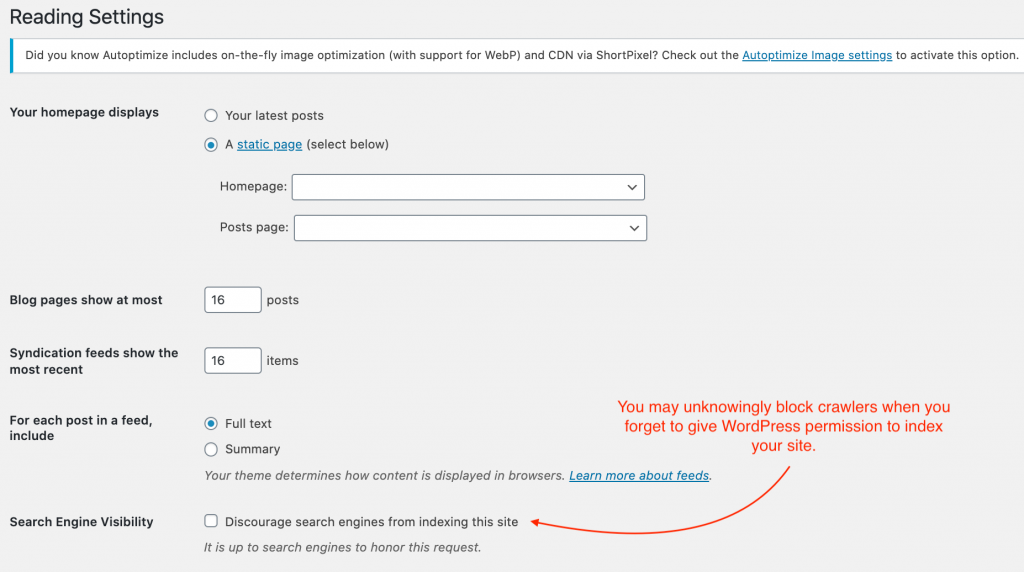 You should also learn about robots.txt, which can be used to customize what you want and don't want crawlers to index off your site. You can even use robots.txt to block specific bots from crawling on particular pages.
4. Boost your site speed.
As mentioned earlier, page speed is a huge factor in attracting traffic and ranking high in  SERPs. The lower the speed, the higher the bounce rate or exits rate, leading to lower ranking and visibility.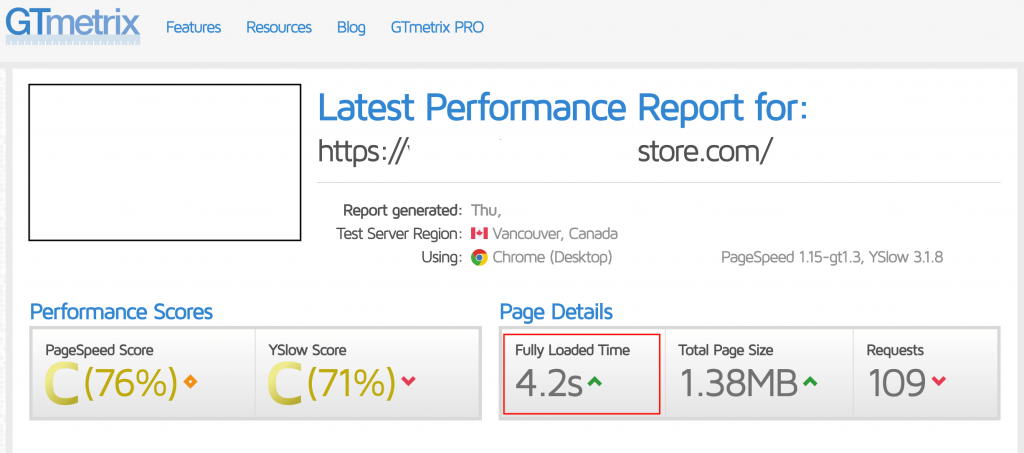 To optimize page speed, you can use tools like Google's PageSpeed Insights or GTMetrix to check out what's slowing your site down. It also gives you suggestions on how to speed it up.
5. Use relevant keywords strategically.
Using relevant keywords is also crucial for SEO because it gives bots an idea of your content and if it's valuable to particular search queries. You should conduct keyword research to determine which keywords are most suited to brand content.
You can use tools like Google Search Console, Google Keyword Planner, Ahrefs, and SEMRush to help you find the most valuable keywords for your business or product that your audience is likely to search for when looking for you.
6. Create easy-to-understand URLs.
URLs are the gateways to your website and content. It's best to use your focus keywords in your URL to attract users and crawlers looking for relevant content. 
As mentioned earlier, WordPress itself gives you the power to customize your permalinks and create unique and SEO-friendly URLs. Keep it short and concise, and don't forget to use hyphens as word separators for bots to understand your URL clearly. This makes it more enticing for users and crawlers to click and explore.
7. Write attention-grabbing metadata.
Don't use bland phrases or click-baits that aren't going to reel in users. 
For your Page Title, make sure you create clear yet unique titles that contain your focus keyword. The title should encapsulate the essence of the article. By reading your title alone, searchers should already know what your content or page is about. 
As for your meta description, make sure to make it compelling that they have to read your content and that they shouldn't miss out on it. Write a description that supports your title, gives a little more information about your content, and encourages searchers to read with a call-to-action.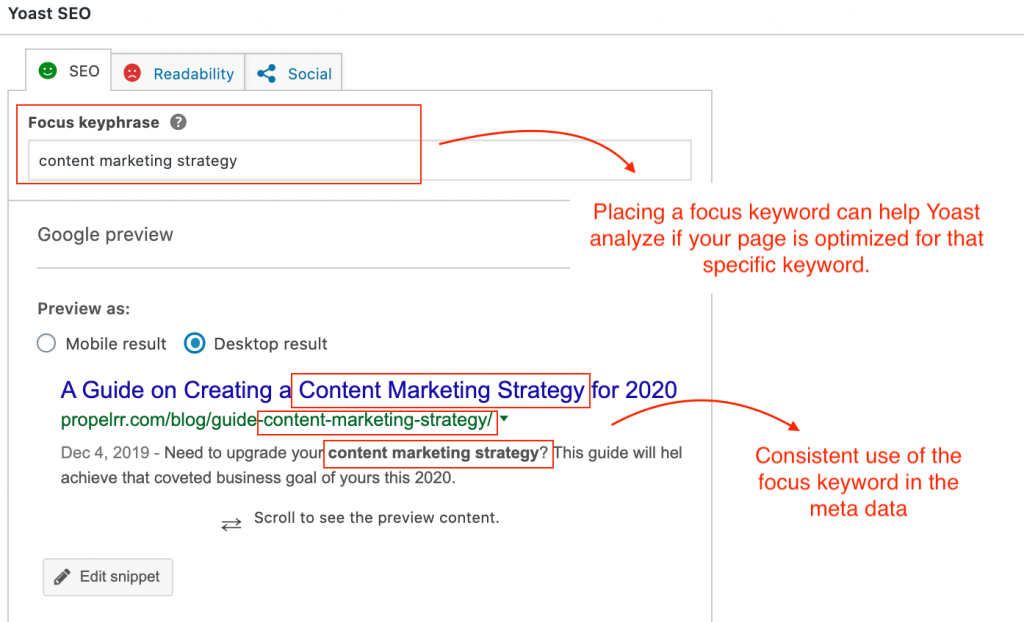 WordPress has plugins like Yoast to optimize your metadata to make sure it contains your focus keyword throughout the on-page factors and content.
8. Write eye-catching headers.
Let's face it; no one reads an entire article. More common than not, users' behavior is to scroll through a page to get the answers they need. This is where headers play a vital role.
Headers are the first thing that greets users when scrolling through your site. Using different header tags can help emphasize sections or points in your content to provide users quick information.
As for crawlers, using relevant keywords in your headers can also showcase to crawlers how relevant your content is to the focus keywords and show how valuable your content is to your audience.
9. Maximize relevant and contextual internal linking.
Internal linking is another essential item on your WordPress SEO checklist. Internal linking provides a structured site flow and helps in distributing domain authority across your site's pages.
Adding organized internal links can increase your users' dwell time because you're guiding them through the process of exploring your site. You can also use these interconnections to guide bots to web pages you want to be crawled.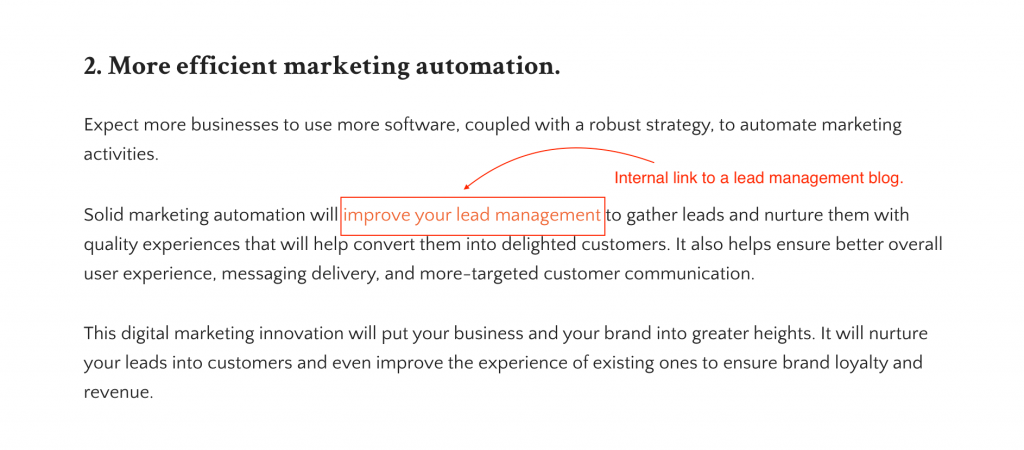 When doing internal linking, make sure to use contextual and descriptive anchor texts to your pages. Best if you use the focus of the linked page to strengthen its authority and relevance in that specific keyword. 
10. Add high-authority outbound links.
Aside from internal links, outbound links or pages can also help boost your ranking. Linking to relevant and trustworthy sites related to your content can increase your domain authority or site credibility, increasing your chances of ranking higher in SERPs.

The same as inbound links, use descriptive and contextual anchor texts that serve as a call-to-action to check out the linked page for additional resources or information.
11. Strategize keyword placements.
How you place your keywords around your article is as crucial as what keywords you're using. Place keywords in your content naturally; don't force a keyword into a paragraph when it doesn't need to be there.
Beware of keyword stuffing or overloading your content with keywords to attract search engine bots to your page. This can also include placing keywords unnaturally and awkwardly in your content. Your site may be penalized if search engines catch you doing this.
12. Be mindful of media placements.
Search engine crawlers also index media, like images and videos when they visit your site. It's only natural that you use media that are relevant to your text. Visual search is also an upward trend in search engines that emphasizes having images on your site for more context.
For image, PNG and JPEG are the top image formats most used on the web, but they have differences that you should consider. PNG images come in larger sizes but generally produce better quality. JPEG photos come in smaller sizes, and you can adjust their quality based on your preferences.
It's also good to place relevant and informative videos to help provide more context to your readers. Just make sure to place the necessary video optimizations to help optimize this media.
TIP: Be mindful of the format and size of the image you want to include. Remember that image size contributes to page size, which in turn affects page speed.
13. Optimize your image alt texts.
Alt text or alt tags are words or phrases that appear as tags on your page when attached photos fail to load. Using relevant alt image text can give crawlers a clue to what you're talking about on that page. 

When adding alt tags, be concise and straightforward; describe your image specifically and don't add unnecessary words or keywords to avoid confusing bots. 
Mastering WordPress SEO is an excellent way to ensure your marketing success. This checklist is just a brief guide on how to navigate WordPress SEO, but along the way, you'll indeed discover new ways to improve your site management skills.
Key Takeaways
Ensuring that all the boxes in this checklist are checked will help augment your whole digital marketing strategy framework. Here are some key takeaways to remember about WordPress SEO:
WordPress is a robust website and content platform, but it's not a substitute for a thorough SEO strategy.

Ensure that your site is easy to navigate and can bolster your chances of ranking higher in SERPs because you're making it simple for both users and bots to crawl and index your site.

Search engine crawlers are looking for content valuable to users. Having well-thought and relevant content is as important as making sure your pages are crawlable.
Have any more tips we might have missed out on? Drop them in the comments section below. Also, feel free to engage with us on our socials via Facebook, X, or LinkedIn.
We are looking forward to what you have to say!
Subscribe Now
Choose topics you want to get regular updates on: