Digital got you dazed?
Type it below, and we'll show you what we've written about it!
15 Video Optimization Tools to Level Up Your Video Performance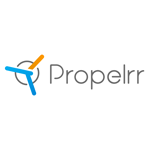 Anna Dominik Banzon

21 Oct 2021

8

min

read
Video is content almost everyone on the Internet consumes.
YouTube's records show that there are a
billion hours of video watched
every single day all over the world.
Whether for entertainment or education purposes, there's a video that your audience will relate to
. 
For digital marketers, video helps explain complex ideas and deliver them in a simpler and more creative way. But more than providing good content and promotion, the key to better-performing videos is in video optimization.
Fortunately
, a lot of the traditional SEO rules apply in video optimization like using the right keywords and having good content to name a few
. But
how can you optimize your video content
more
efficiently
?
If you are ready to break into the world of online videos or need to optimize the videos you've already uploaded, then here are the best video optimization tools to help you get started:
Keep on reading to find out more about each tool and where to best use them.
Video Optimization Tools For Competitor Research
When it comes to analyzing competitors, it's important to be proactive rather than reactive. Here are a couple of video optimization tools that effectively help you keep an eye on your competitors:
1. YouTube Search Filters
As a veteran SEO service company, we've come to understand that sometimes the simplest tools are the best. So what better way to optimize your video than through one of the biggest video platforms' search bar?
If you already have videos or are planning to create one based on a specific topic then using your keyword and plugging it on your YouTube search bar is a good way to spot competitors. 
Analyze and compare how competitors use the keywords, frame their titles, write their descriptions, and what tags they use. More than those on-page SEO checklist factors, watch the video and take note of their executions— the flow or outline of their video, the visuals they used, down to their background music, and even use of subtitles.
Take note of all the details and jot them down to find out why they are highly ranked and watched. It's also a good benchmark to keep in mind during your video conceptualization and production.
2. Rival IQ
Rival IQ is video optimization that provides you details on how your competitor's videos and channels are performing.
Key features to remember with Rival IQ is that the tool provides you a general outline of your competitor's growth, what works, what doesn't, and what tags they are using. These are crucial information that can help you be more informed to create more effective videos and text-based content.
Rival IQ also has a great way to visualize your performance compared to your competitors while providing key insights that determine how you can improve your performance.
3. NoxInfluencer
Alternatively, you can also use NoxInfluencer to view your YouTube channel stats compared to content competitors.
Users can easily view their channels' global and country ranks and even estimate YouTube earnings. The analytics tool gives users a comparative overview of subscriptions and views.
The tool also provides you with the best-performing content for each keyword or category and assists you in strategizing and executing your YouTube video ideas, making it an essential tool in competitor audits or SEO research.
5. Social Insider
If you want to save a lot of time in tracking the video performance on YouTube or other social platforms, then this is the tool you're looking for
More than your multi-platform analytics tracking, Social Insider lets you view the history of ranking and performance of your content versus competitors. That way you can see what videos are inching upwards and note their optimizations or what execution they did differently.
Video Optimization Tools For Keyword Research
As with any content you want to optimize for search, keyword research deepens your awareness of what your audience is searching for online, what problems are most urgent to them, and what solutions and answers they need to solve their dilemma.
Check out the following tools to help you out:
6. Google Trends
Perfect for knowing what topics are hot right now, Google Trends can help provide the top searches, rising queries, historical interest, and geographical locations, depending on interest.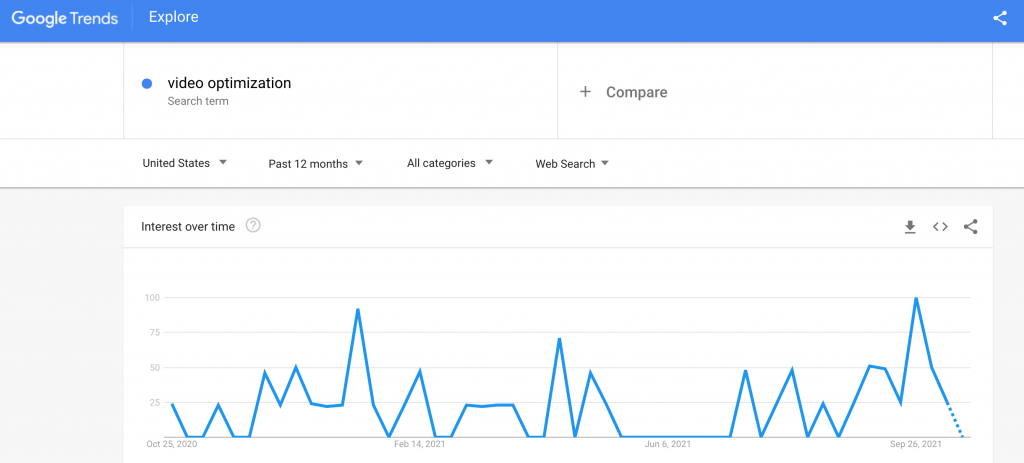 What's best is that it's free and that it lets users enter keywords for their selected topics and returns related and relevant information on the queries. Plus, it can compare keywords and topics to see which has the most audience interest.
6. AlsoAsked
For more long-tail keywords, ​​AlsoAsked helps you find frequently asked user questions about a specific topic.
Just plug in a keyword and the tool will provide you with common questions plugged in by users on search engines.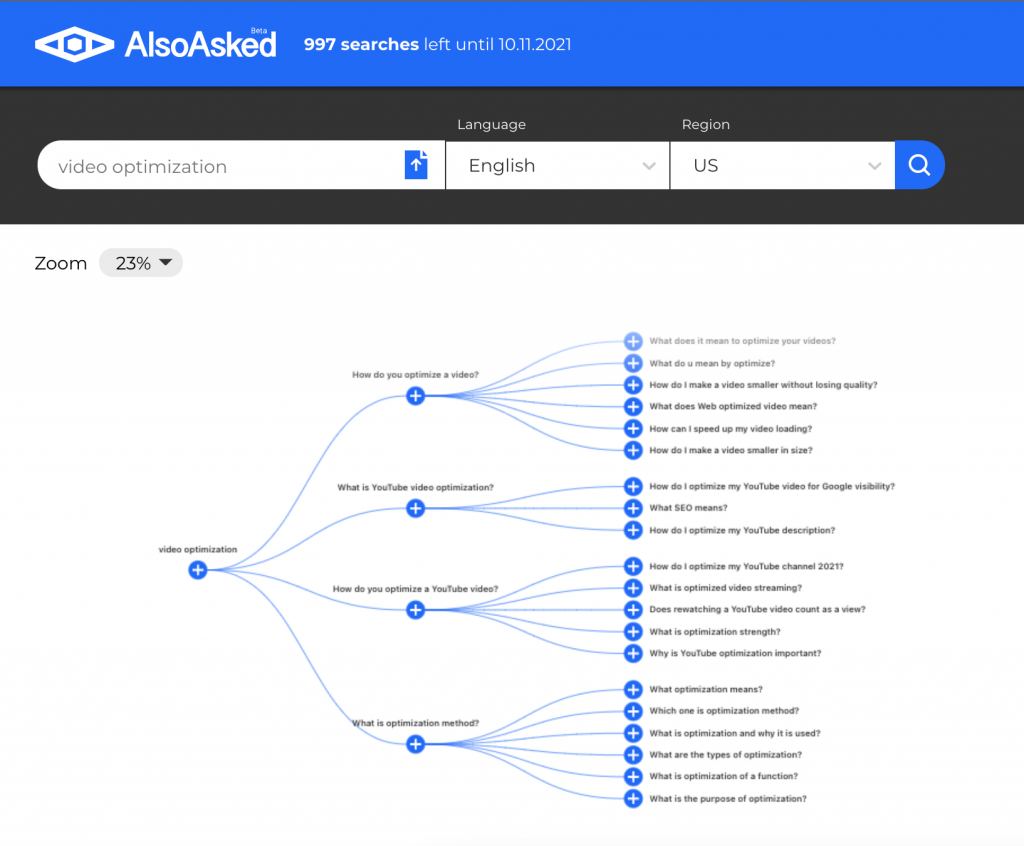 This is a highly-recommended keyword research tip as you can use the results in your video title and description box. You can also use the questions to improve your outline and make sure you provide information your audience needs and wants to know.
7. YouTube Search Auto-Suggest
Similar to how SEOs use the Google Search Auto-Suggest, you can use YouTube Search Auto-suggest to collect keywords surrounding your topic or keyword or are frequently searched by users in YouTube.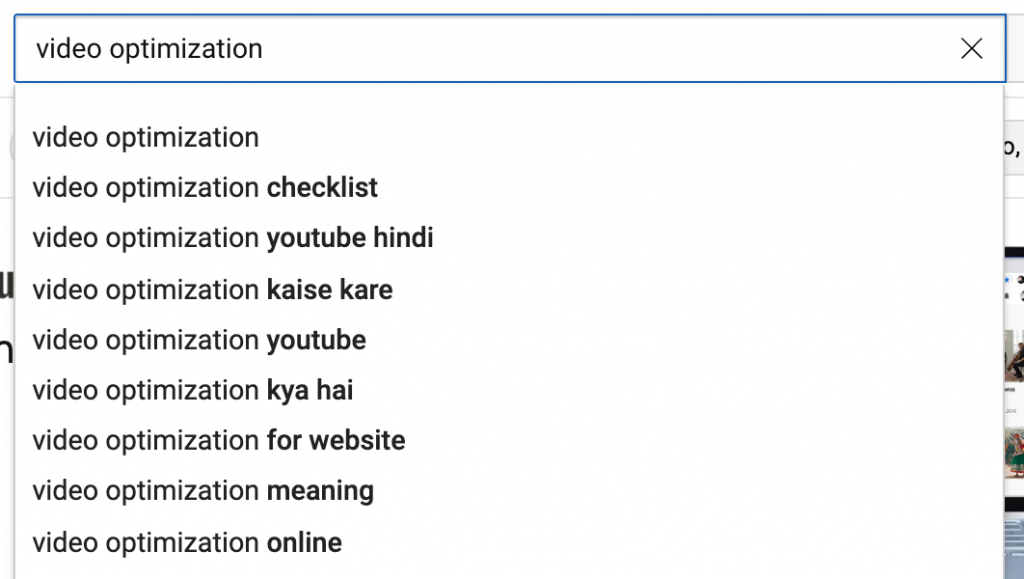 By using this tool and doing this process you can learn how YouTube users search related to your content or niche. Unfortunately, you can't get important data like search volume, expected clicks, competition, and rank difficulty— you'd have to use a separate tool to validate those metrics.
8. Ahrefs
Ahrefs is a goldmine for keywords— even for videos!
This paid tool' Keyword Explores lets you see what keywords bring in rankings and views. It also provides the essential keyword metrics you need like Keyword Difficulty, Search Volume, Clicks, and even available Cost Per Click!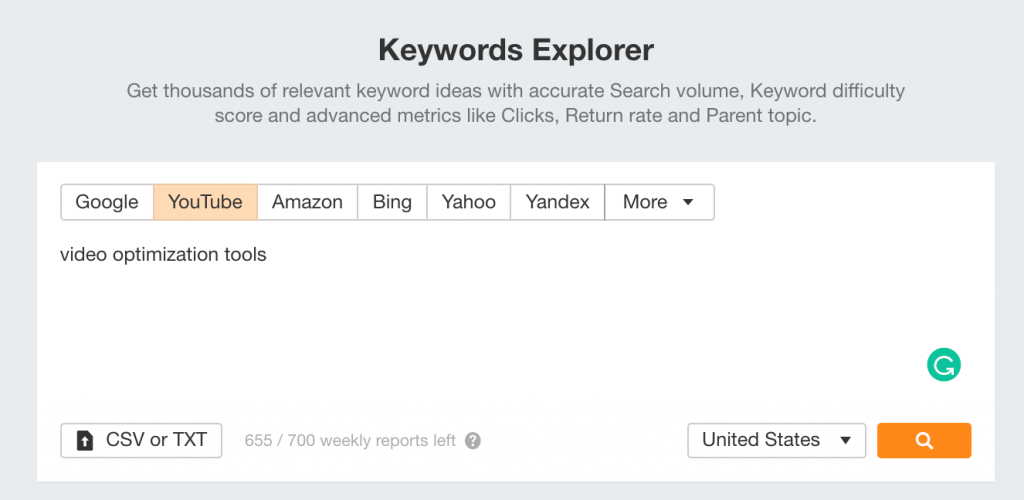 All you have to do is choose the YouTube option in Ahrefs Keyword Explorer and you can access a myriad of keywords to optimize your video content on.
Video Optimization Tools for Video Creation and Uploading
There are multiple ways to optimize your videos after you hit upload. You can actually continuously optimize your Title, Description, Tags, and Thumbnail to ensure you maintain your competitive advantage and achieve the best results. 
Check out a few video optimization tools for video creation that are worth a mention:
9. Tags for YouTube
Adding YouTube tags is an important element for discovery yet somehow is a commonly missed out on video SEO best practice. 
Tags for YouTube is a browser extension that shows the tags for each opened YouTube video. It provides a nice overview of any video ranking for your topic. This video optimization tool is useful to boost your video's visibility on YouTube and other search engines.
Although YouTube has made tags invisible to audiences, you as a video uploader or content creator can still assign tags for better video performance.
10. RapidTags
You can never have just one YouTube Tag Tool, the more tools you have access to the better!
RapidTags automatically generates multiple tags related to your topic or keyword. All you have to do is plug in the URL or topic of your video and it fills up the 500-character max that YouTube allows for tags. You can also filter out any of the tags generated, then simply and copy and paste the list into your YouTube editor.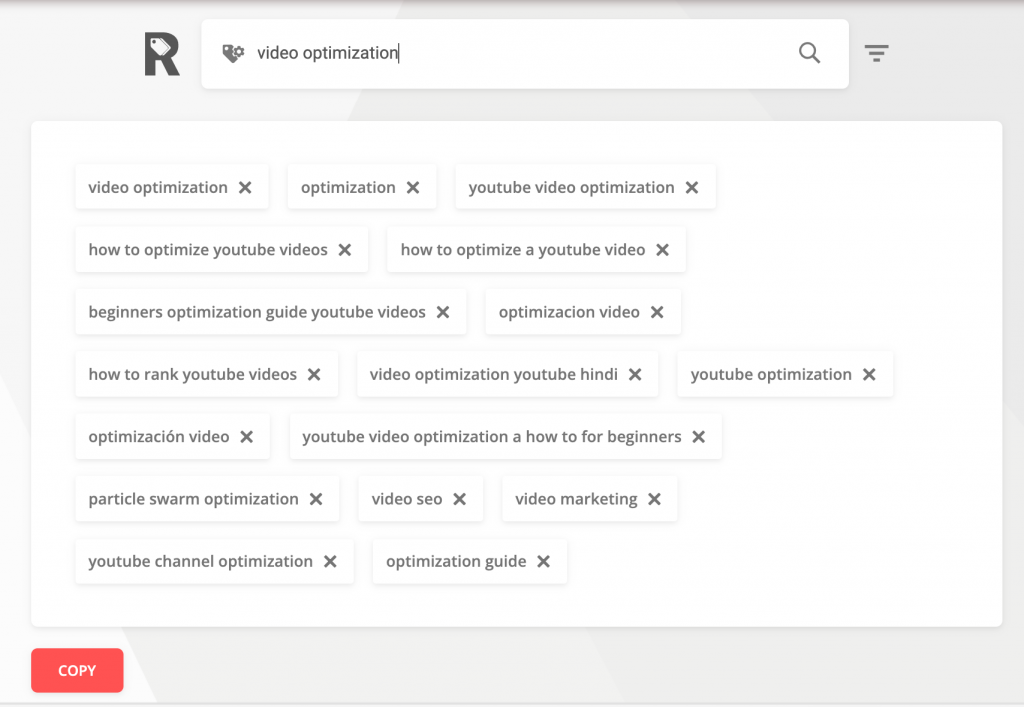 This video optimization tool can also identify where you're ranking on specific tags or keywords, generate short links, and help you identify the best days and times to post based on your video topics.
11. Canva
Though we don't judge a video by its thumbnail, we can't deny that thumbnails are the first thing viewers see when scrolling through Youtube.
Canva is an easy-to-use graphic design tool that you can use to create professional-quality thumbnails. With a variety of features on both free and paid versions, you can create an attractive thumbnail that attracts viewers and encourages them to click and watch the video.
Video Optimization Tools for Monitoring and Tracking Performance
Monitoring performance is crucial to know how effective your video is in achieving your objective. With so many channels and analytics platforms available, where do you start? Here are our recommended tools:
12. YouTube Analytics
With any content you publish online, keeping track of its performance is the best way to determine what you need to optimize.
Once you know what videos and best practices work best or are most effective, you can create more of the videos that your audience will engage and resonate with. 
YouTube Analytics provides performance metrics like audience retention, what keyword they find your video with the most, and even identifying the weak and strong areas of your videos. It also analyses all the videos in your channel and lists which ones draw the most view and subscribers.
This is a great video and content tool, plus it's free so no reason to say not to use it to improve video performance.
13. TubeBuddy
TubeBuddy allows you to manage your YouTube channel using a free browser extension.
Once you've installed the extension, you can filter the comments on your YouTube videos – those that need to be responded to, those that need follow-up replies, questions, positive sentiment, negative sentiment, and so on.
More than its use as a chrome extension, it is one of the most feature-rich video optimization tools that analyze your channel's stats and perform competition research. You can also edit your video data like thumbnails, annotations, and descriptions.
​​This can help you increase audience engagement and in turn, boost your ranking and views.
14. YTRank
Based on the name alone, this video optimization tool tracks the ranking of your video content on YouTube.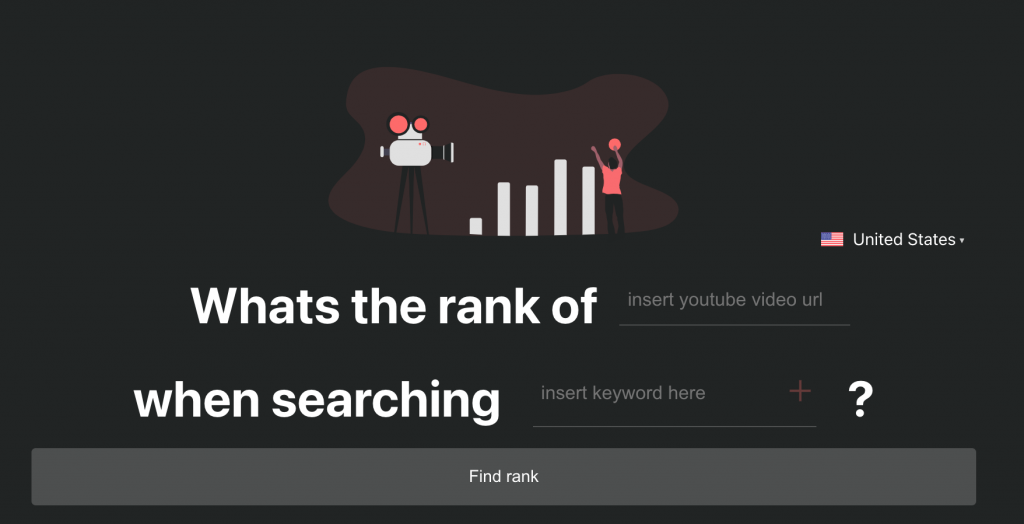 Straightforward and easy-to-use, YTRank is an awesome video optimization tool that keeps a close eye on how well your videos are ranking, and even gives valuable information on how to improve your performance by providing related keywords and topics you can bank on.
15. vidIQ
vidIQ is a multi-purpose analytics tool that helps you collect data you need to track, monitor, and improve your video performance.
This video optimization tool can ​ provide you with crucial viewer insights so you can create tailor-made for your target audience. It's a monitoring tool that allows you to see how you fare against your competitors. The browser extension version for Google Chrome lets you see your competitors' views, top keywords, tags, and other search metrics.
It can also find out your engagement on Facebook and X as well as track your brand mentions.
Key takeaways
Video is a great gateway for you to reach a new audience and market your product or service in a simpler and more creative format. But don't forget, monitoring performance and video optimization is an essential part of yielding the best results for the content you've produced.
Monitoring performance is key to success.

Doing this enables you and your content are achieving your goals and assuring that you're performing to the highest standard possible.

Always aim to create professional-quality videos based on relevant topics and keywords.

Optimization can only do so much, always keep in mind that you still need good content to reach the right audience.

Engage with your audience on all platforms.

Whether you receive good reviews or negative ones, engage with people in the comments section and different platforms to promote healthy discussions and build community with your viewers.

Consistently cross-promote your content across other social media platforms.

While search is a huge channel you should invest in, don't forget other social media platforms that can widen your reach.
Need help with your video optimization, you are always welcome to ask our experts directly via Facebook, X, and LinkedIn. 
Subscribe Now
Choose topics you want to get regular updates on: