YouTube Video Optimization Checklist to Increase Visibility
Propelrr
October 14, 2021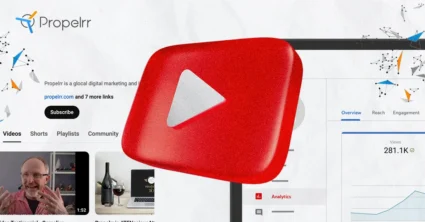 These top-to-bottom checklist will help your YouTube videos rank better on the video search. Check 'em out.
A good video marketer knows he or she must utilize eye-catching and relevant video ideas to boost brand awareness among their audience. But here's the catch: every creator wants to be good; so expect the competition to be tough. The only way you can dominate the YouTube rankings is to use powerful video optimization strategies.
If you're a stranger to what kind of technique that is, then you need not worry. Because we're handing you a complete YouTube video optimization checklist to help your well-produced videos rank better.
With our experience and breadth as an SEO company, we've come up with this comprehensive video optimization guide for you. Check out all the necessary tips and tools that we covered to ensure that your videos land in the top spots of Youtube's rankings.
The video optimization checklist
To rank higher in YouTube's search pages, take a cue from your own video SEO best practices. Google has since indexed YouTube videos in its own search engine results pages, so you have to combine both your SEO and video creation tactics.
These video search engine optimization factors will not only rank your videos but will also boost engagement and conversion rates for your YouTube content. 
1. Establish metrics to track
Setting the metrics that you want to meet is the first step in optimizing YouTube videos, or any optimization efforts for that matter.
Metrics can tell you a lot about the progress of your efforts and direct your strategies. But, on the other hand, these can also confuse you if you don't know exactly where to look. Especially when there are dozens of metrics you can track on analytics tools.
To avoid this, you'll have to zero in on the most important metrics. Important in the sense that they are the most relevant to your goals. Below are some specific YouTube SEO metrics that you need to keep a careful eye on:
Views. Tells you the total number of times your video was viewed.
Watch Time. The amount of time your viewers spend watching your content. The longer the session watch time, the more it's awarded higher spots on results pages.
Search Ranking. Your placement on the search results list for relevant keywords. The higher the ranking, the better your content is optimized to meet the needs of the searcher.
Engagement. These represent any and all interactions with your content, including Likes, Dislikes, Comments, and Shares.
Knowing these metrics and establishing your targets for them early on is critical in your Youtube video optimization and digital marketing efforts.
Doing so ensures that you not only see the results you want but, more importantly, achieve consistent results.
2. File name of your video
Not optimizing your video's file name is one common area that video content creators often neglect to do. That's why that's the second thing on your video optimization checklist.
Small of an effort it may be, but it'll prove helpful in your efforts to rank your videos, as this is still data that search engines can read online. In writing the file name, keep in mind that it should be descriptive of your video's topic and contain your target keyword.
Let's say you plan on uploading a tutorial video for writing better headlines, and your main keyword is 'headline writing'. If that's the case, you can export your videos with the file name "YouTube video on headline writing."
Keeping the file names clean – doesn't contain dashes, periods, or non-alphanumeric characters – also helps crawlers to better understand and index your content.
3. Video title
Just like using an on-page SEO checklist where you optimize the title, video content will also need an optimized title.
In practice, it's very similar to our previous point on inserting the keyword in the file name. But since this is a feature that is directly seen and observed by viewers, you will need to do more than just seasoning it with high-volume keywords.
Since the aim of your headline is to win a click or a view, you will want to optimize your video title to make it attention-grabbing. Additionally, they should be relevant to both your topic and the search intent of your target audiences.
Fundamentally, an effective headline should meet the following criteria:
Contains the focus keyword
Captures the main topic of the content
Unique and creative
Conveys a compelling and relevant message
It also helps to assess the video titles of competitor content when thinking of one for your own. This practice of comparing will help you identify a message that isn't conveyed by your competitors, or even a new angle to explore for your content itself.
Take this information and use it to inspire better and unique content. Ultimately, the content that provides new and informative insight is what the search engines will prioritize.
4. Video description
Apart from the title, the description boxes are also great areas to implement optimizations. As a dedicated area for explaining what your video is about, you can use the description box to insert a number of other keywords.
Aim to use this description box to insert keywords that you just can't squeeze into the title. Not only that, but it's also a place to put in links to your other content and pages that can't exist in video format. All-in-all, applying optimizations by adding relevant keywords and links in this area can help your overall content marketing efforts in two key ways:
Helps you cover and rank for a breadth of topics. In SEO, inserting these related keywords help you cover a breadth of topics. Doing so gives you a better chance at ranking for other keywords, especially when the competition is tight for your focus keyword.
Allows you to direct your audiences to your other channels. In an effective digital marketing strategy framework, every piece of content you publish should exist to benefit your other channels. This is optimized for your videos by linking to your relevant channels in the description box. Don't forget to link to your other related pages and content – video, or other.
Let's make an example of the description box for this video tutorial on how to hot-swap switches on a mechanical keyboard:
In the first orange box, you'll see that Switch and Click ticked off this item on the video optimization checklist perfectly.
The pre-text describing the link contains relevant keywords to their main topic. Then, the link provided directs to content on their website that provides information on a topic relevant to the audience, which is 'recommended hot-swappable keyboards'.
Further down in the second orange box, she also features other content from tangential topics on mechanical keyboards. She features a general tool used in the community to to test switches, and a link to one she personally recommends.
For your content, you should aim to provide the same full-bodied and relevant context in the description box. Because above all, the more helpful it is to your audiences, the more YouTube will prioritize your video for ranking.
5. Video tags
Video hashtags are, of course, not to be left out. Hashtags help people find videos easily, so make sure that you use relevant and targeted keywords for your video tags.
Where you put your video hashtags is also important. Never put them in your video title, because having them there won't get them hyperlinked to the corresponding landing pages. It would be much better, in this case, to place them in the description box.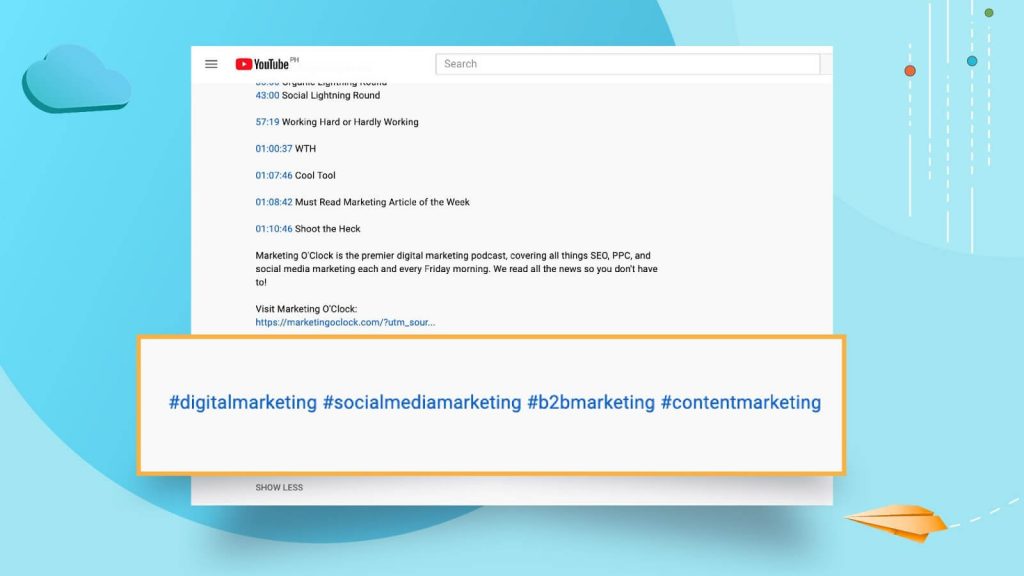 Making use of hashtags helps your content be indexed for the YouTube hashtag landing pages for specific topics. In our example above, inserted hashtags for topics we want to signal relevance to which are of course #digitalmarketing, #socialmediamarketing, #b2bmarketing, and #contentmarketing.
Clicking on each hashtag will lead you to a page where all other videos containing the same hashtags are indexed and featured.
6. Video category
Categories are a feature that provides tremendous benefit for searchers and viewers who have yet to find a reliable source for their content needs.
In your case, as the creator, you're going to want to vie for that spot as their top-of-mind source, apart from aiming to rank. Making sure that your videos are categorized helps achieve both in this sense. 
When uploading content, make sure that you check off the relevant categories for your content. Avoid choosing categories that are unrelated, even if they have a tempting view count and popularity. This just leads to friction for viewers and might garner you negative interactions that will get you ranking down, instead of up.
7. Video thumbnail
Thumbnails can help grab your customer's attention. These thumbnails let them decide whether the video is worth watching or not. Make sure that your customized thumbnail gives an interesting preview of your video. 
Let's take a look at some examples below. Do you find a thumbnail that looks appealing to you? Which one will most likely get you to click? And what are its elements that really compelled you to click?
Your answers to those questions should give you an insight into how to come up with video thumbnails. For this aspect of video optimization, you should consider that carefully, along with best practices for designing visual content.
8. Subtitles and closed captions
YouTube is a global platform that allows you to reach audiences from all around the world. That brings to light needs in content that take into consideration the diversity of audiences.
Providing closed captions is a step we made sure to include in the video optimization checklist, not just for the benefit of search engines but ultimately, for the viewers. And it's to-that-end, plus winning heavy points in ranking is why you should make sure to add closed captions and subtitles.
Taking it plainly as a way to optimize for search engines, closed captions and subtitles uploaded as SRT files are also readable by indexing robots. Much like your description box, you can use this file to provide more context and add relevant keywords you'd like to rank for. 
9. Cards and End Screens
On YouTube or any channel for that matter, it's natural that you would want to increase engagements for your other content. In video search platforms specifically, this is achieved by adding Cards and End Screens.
Inserting these features into your videos helps to increase awareness and engagements for your other content uploaded on the channel. Insert Cards and End Screens that usher your viewers to videos tackling related topics, or perhaps in-depth explainers on other topics of interest to them.
It's with this video optimization technique that you can keep your viewers' eyes glued to your channel. You can see a perfect example of this done in the Tonight Show Starring Jimmy Fallon's channel.
The three floating cards are what you see after a specific video ends are what you call the End Screens. And, as you can see, they link to other videos recently uploaded on the page, or videos that are related to the one you just finished watching.
Looking at this example puts into better perspective not just the use of End Screens, but also the importance of designing creative and engaging Thumbnails for your videos. 
So make it a good and consistent practice to think about how you package your videos from start to finish.
Helpful video optimization tools
Video optimization tools are necessary for your top-to-bottom efforts to rank your content. As we like to say; great content is optimized as early as ideation and planning. And if you're lacking the tools to get things done, then here are a few of our recomended video optimization tools you can start with.
For topic ideation
Ahrefs. We'd be lying if we said this isn't one of our favorite tools, because we use it for everything, including video optimization. This versatile keyword research tool just has it all – from conducting site audits down to helping you uncover relevant keywords you can use. Plus, if you're not sure how to use the tool or how SEO works, they also have helpful tutorials on the Ahrefs YouTube channel.
AnswerThePublic. You'd be surprised to find out the many ways you can spin even boring topics just by looking at what people asked about it. So if you're running out of creative ways to create engaging content around your niche, then AnswerThePublic can help you out. Make sure to maximize this tool for figuring out what piques the curiosities of audiences on specific topics.
All-in-one tools for video content creators
VidIQ. This tool equips you with all the tools you need to implement search optimizations for your videos. With it, you can conduct keyword research, content brainstorming, and even generate thumbnails and get trend alerts. It also allows you to conduct channel audits, so you can keep your tabs on videos that you need to update, or further optimize.
TubeBuddy. This is another essential tool to have in your arsenal if you seek to grow your channel and create data-backed content. On top of those, you can also keep track of actions you can take to further optimize with features like Playlist actions and scheduled video updates, bulk processing, video SEO, promotional options, and data and research. 
For designing your assets
Canva. A free tool graphics design and layout tool that provides users with design tools that are easy to use. While there are some features and design tools and elements only available to premium subscribers, you can do just as much great work with a free plan. Here, you'll have a vast range of options for designing your YouTube Thumbnails, End Screens, and other Cards.
Adobe Photoshop. Another tool you can use for video optimization is Adobe Photoshop. A tool that provides a range of editing and correction capabilities that are very easy to use as well. Unlike Canva, you'll need to pay for it to get access. But once you do get to use it, you'll get to customize your designs in ways Canva just can't accommodate right now.
Video optimization tips and best practices
And finally, we'd like to leave you with some best practices to take note of when conducting your video optimizations. Though video optimization strategies will vary from creator to creator, best practices are the usual common denominators you can apply for some quick wins on the platform. Heed and apply them as you see fit for your strategies:
Create fresh, engaging, and informative content. People will pay attention to quality content. There are no definitive guidelines on what counts as quality content on Youtube, but the unwritten rule is that it should be relevant to your target customers. Always provide them with videos that are new, relatable, and informative, and you'll be sure to retain and attract more viewers. 
Post and share your videos at the right time. Timing your posts ensures that viewers see your video at the time they are most likely to watch them. To find out when is the best time to post your content, it is smart to build brand personas first. Once you build them, you will have an idea of your customer's behavior in watching your videos. 
Use the Playlist feature. Did you know that playlist videos tend to rank higher than standalone videos? This is because regular viewers would want to watch related topics without having the need to search and click on them one-by-one. So make sure to group your new and old videos to playlists, to gain more viewership and exposure to your brand's content. 
Go for mobile-friendly content. Let's face it: not everyone uses a laptop or computer to watch Youtube videos. And in a world where most people own mobile devices, they would choose to watch your content on Youtube's mobile app. Make it part of your Youtube video optimization checklist to consider the correct player size to make your videos viewable on different mobile devices. 
Decide when to use long and short videos. Most people believe that we now have short attention spans. But if you think about it, how come a lot of people can binge-watch a Netflix series in just one or two days? This idea suggests that as a video content marketer, you should ponder on when is the best time to present content in a long or short video. For example, a one-minute video may not be enough to explain different lines of makeup products. 
Key takeaways
Before we let you go and set out to apply this checklist in your video optimizations, make sure to keep these key takeaways at the top of your mind:
Be thorough. There are much more elements in a YouTube video you can optimize than most people would think. But that thinking limits the opportunities to get better rankings on the platform. Maximize your opportunities while they are available to you and optimize where you can, and whenever you can.
Invest in tools. On digital, efficiency is critical so you can spot and address any pitfalls immediately. Tools help in this aspect. Though some of these tools will come at a cost, making the investment now can lead to greater payoffs in the long run.
Optimize for quality. This applies both in the SEO sense, and the customer-centric mindset, as they work hand-in-hand. Optimizing for customers or viewers will inevitably lead to more SEO success, since pleasing the user's needs is your common goal. Learn to keep quality as the core driver of your video optimizations, and you'll surely see wins faster than you initially thought.
Video optimizations should never be done haphazardly; but with its extensiveness, along with the care and attention, it requires there's a lot of room for error. This checklist helps lessen those errors as much as possible.
But if you find yourself still skipping over a few steps unintentionally, then maybe that's the time you can have a chat with us. Share your deepest pains in video optimization and let us help you figure it out by messaging us over on Facebook, X, or LinkedIn accounts.
For more tips and tricks on how to optimize your videos, subscribe to the Propelrr newsletter and have them delivered straight to your inbox.