Improve Your SEO for Fintech With These 8 Link Building Tactics
Propelrr
February 16, 2022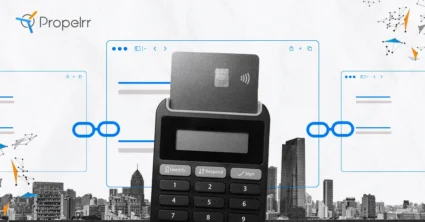 Why do FinTech companies need to take their link building strategies seriously?
Fintech owners or marketers need an SEO guide to deeply understand the four key areas of Search Engine Optimization (SEO): technical SEO, content, on-site SEO and off-site SEO, to help ensure their digital marketing success.
Technical SEO is a set of techniques that help ensure your content can be crawled and indexed. Content or content marketing involves the creation of unique, relevant and useful material for your target audience. On-page SEO mainly relates to content optimization while off-page involves SEO link building techniques that creates a good backlink profile to boost your ranking on Google and other search engines.
Similar to building a house, you need to establish all SEO pillars to build a strong digital marketing structure. An SEO service company could help you in building this structure – from the initial groundwork to the post-execution assessment.
Whether you decide to work with an agency or do the job on your own, it's recommended that you understand the basics of SEO. This article will focus on one of the pillars, off-site SEO or link building, and how Fintech companies could leverage it.
What is link building?
Propelrr defines link building as "the process of acquiring inbound links from other relevant and reputable websites to your own." These inbound links or backlinks are considered as the "currency of the internet" as they serve as a reputation score for search engines.
Google, the world's largest and most powerful search engine, uses the concept of E-A-T which stands for Expert, Authoritative and Trustworthy. It makes sense for Google to prioritize websites that have high credibility among users
Create a fintech website that meets these 3 standards and see your search engine rankings rise!
Why is link building important to fintech companies?
Establishing authority is important for any business, but more so for finance-related businesses such as Fintech companies. Fintech companies have fiduciary responsibility in which they are expected to prudently take care of money or other assets for others.
The level of trustworthiness in fintech companies is similar with those in traditional financial businesses such as banks, insurance companies and stock brokerage. And since fintech companies operate with tech innovations such as machine learning, algorithm and data science exposed to vulnerabilities, more effort is required to ensure the public that their money is safe.
One way of increasing your credibility and trustworthiness, or in technical terms: improving your SEO domain authority, is to earn Google's vouch of confidence through backlinking.
The impact of vouching was discussed at the FTT Virtual Open Finance 2020, with the theme, "Avoiding Trust Gaps in FinTech".  "There's no quicker way to gain trust than to have a known entity vouch for you. We do this all the time in our personal lives. One expression like, 'he's with me' or 'she's cool' establishes credibility way faster than any list of credentials," noted Ed Adamson and Jawad Bhatti, of Fintech company, Star.
Does your fintech need backlinking even if your users don't check for usual trust signals?
Yes. Your FinTech still needs to seriously consider backlinking even if your customers don't actively check trust signals such as Domain Authority (DA) or Page Authority (PA).
As mentioned earlier, link building or off-site SEO is one of the pillars on how to boost SEO. Without it, you won't be able to ensure the stability and effectiveness of your digital marketing structure.
Here are other compelling reasons why you should have a good backlink profile:
You may increase your referral traffic. – By building links from websites with high traffic, you can boost referral traffic to your site. Hence, you should be able to choose the right referring site.
You can get higher ranking on your focus keyword, especially when used as an anchor text. – Build high-quality backlinks to increase your website authority, which could result in ranking for your focus keywords. If you rank for multiple keywords, you have greater chances of increasing traffic to your website.
Ranking high because of backlinking means getting a better search impression or brand awareness. – Effective link building could result in ranking high on search engines and improve your website's search impression or the percentage users have "seen" a link to your website. This can promote better brand awareness for your Fintech company.
Link building is key to earning higher awareness, which in turn increases your website's chances of being clicked on Search. – The logic is pretty simple: Build a good backlink profile > get more people aware of your brand and services get more potential customers to visit your website.
Link building strategies for fintech companies
Check out these backlinking tactics that you can implement for your fintech:
1. Check out high-quality websites and create the type of content they will likely link back to
You should make a list of these top websites that relate to your industry, your client base and target audience. Forbes, CNBC, TechCrunch, FinTech Times, and FinTech Review are few of the most popular websites and blogs on fintech.
You may check out the top sites in your region or country as well or run a competitor backlink analysis to get the list of websites that are delivering traffic and impressions from your competitors and outperform them in their own game.
Analyze the topics and type of content these sites publish as well those that generate the most interactions. Check out Tom Groenfeldt's blog on Forbes for ideas on useful topics to cover for your content or Chris Skinner's blog, The Finanser, is another recommended website you may visit for FinTech content inspiration.
2. Reach out to industry influencers and personalities
Outreach is one way of executing a link building campaign. From the word itself, outreach is reaching out to important people your target audience listens to, or considered as "influencers" in your industry, and encouraging them to share the content you created, write about your brand or services, or link to your website.
The ultimate goal is to have influencers link back to your website. Daisy Sawyer, a campaign executive, said that "a successful outreach happens when you create something creative, unique and newsworthy and get it out to the right people. Sounds simple – but you've got to get it right!"
You may check out the social media accounts and blogs of these sought-after global fintech influencers:
Theodora Lau (Washington DC, USA) – Theo is the founding member of Unconventional Ventures, a consulting agency helping out start-ups in the fintech industry. She is a published author and a popular podcaster.
Andreas Staub is an executive at Raiffeisen Group in Switzerland. He is a notable influencer in the areas of FinTech, behavioral economics, Big Data and AI.
3. Promote your in-house celebrities
How to get high-quality websites to link back to yours? Promote your talented people who reflect your brand's core values.
Here are tips on how to create a celebrity out of your own people:
Set up interviews for them in finance-related vlogs, podcasts or traditional media;
Ask them to write in a column on your website, or if they are busy, you may assign a ghostwriter for them;
Create and optimize their social media profiles; and
Help them reach out to reputable publications, online or printed, where they can participate in guest blogging.
For ideas on how to promote your own people, check the digital presence of Linas Beliūnas, an executive at FinTech company Flutterwave. He is also a regarded authority in blockchain technology and cryptocurrency.
4. Improve on your local SEO
Does your business cater to local customers? You should exert efforts in optimizing your website to be highly visible in local SEO factors.
Collate all links from review websites and local listings and claim these for your business. While these may not necessarily pass authority directly to your website, your customers are relying on the information these listings provide.
5. Nurture meaningful relationships with communities
Building partnerships with communities is not only applicable to traditional financial companies such as banks. This can improve brand awareness of any type of business.
Go back to your core values. Who/what does your fintech ultimately want to help? For instance, if you provide banking services to rural communities, you may create informative videos on basic financial management, bookkeeping or other related topics within your expertise. Then, share these content with local government offices, non-governmental organizations or business groups. You may also collaborate with these groups in your target communities in organizing events such as seminars or fundraising events.
6. Publish your own research
Research papers, case studies and infographics are the type of content that can help boost your backlinking profile and website authority.
Findings backed by studies fascinate people, especially those that involve statistics. Original research can attract a lot of attention and backlinks from people and publishers.
Conducting and publishing original research can also help boost the credibility of your fintech company as an expert in your field. You may commission research work to a third-party, which may have all the resources such as access to information, or conduct it in-house.
Another benefit of having original research is that you can repurpose it for future postings. You may present the findings in a blog post, discuss the study and methodology in a podcast or vlog, and summarize the conclusions in an infographics.
7. Participate in discussions in online groups, fora
How to increase quality backlinks to your FinTech website? You may answer questions in Q&A platforms like Quora or online groups in social media, and link back to relevant pages in your website.
Offer advice to people who have finance-related questions on Quora, Facebook, X or any other platform your target audience frequent. You may use your company account in participating in these platforms or ask your in-house experts/influencers to answer a certain number of questions in a week.
This is a way of expressing your expertise in your field directly to consumers. If your answer/advice resonates with people, they might share it in their own social media accounts, possibly earning you referral traffic.
8. Get listed in online directories that your target audience actually use
Link building in directories is a time-tested method of increasing website traffic. However, people have become more perceptive in using these listings as sources of information. It has become quite easy to detect whether a directory was created simply for SEO purposes.
Research on online listings that your target audience actually use, and get listed. By choosing the right listings, you can ensure that the traffic coming to your website is high-intent, hence have high chances of converting.
You may check out Fintech News for fintech listings in the Asian region.
Key takeaways
There is no secret in achieving digital marketing success for your business. It only requires a well-thought plan of establishing the 4 pillars of SEO namely, technical SEO, content, on-site SEO and link building or off-site SEO. For effective and ethical link building strategies, take note of the following learnings:
Design your backlinking game plan based on the nature of your business, industry and target audience. A fintech company will need strategies that might be different from those for a consumer retail business;
In creating content, alway keep in mind Google's concept of Expert – Authoritative – Trustworthy. Follow these guidelines and you will never go wrong.
If building a good backlink profile is too overwhelming for you, you can seek assistance from a digital marketing agency that can help you from establishing the groundwork to performing post-assessment.
Do you need help on SEO for Fintech, or have any optimization tips you wish to share? Let us know! You can comment down below or engage with us via X, Facebook, or LinkedIn. Looking forward to hearing from you!
Subscribe to the Propelrr newsletter for more insider SEO tips for your industry.