10 Ecommerce Advantages for Businesses and Customers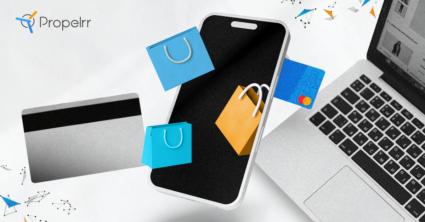 Ecommerce advantages don't just exist to benefit businesses but customers, too.
Small and big-scale enterprises alike are scrambling to invest and optimize their ecommerce platforms thanks to the many advantages they offer.
For one, ecommerce offers a more intelligent way of conducting business as it maximizes tools like data analytics for gaining insights into customer behavior. This data and information, in turn, is used in ideas-testing that helps businesses further innovate.
But what is perhaps the most valuable advantage of ecommerce is found in how it makes it easy and enjoyable for your customers to transact with you. Data and sales aside, ecommerce platforms are a welcomed addition to your brand services that solidifies brand loyalty. Eventually – and often unwittingly – businesses that take the opportunity to invest in them foster some of the most loyal customers and sustainable business results.
We know this to be true as a veteran web design and development company, far too well. But if you're one who's still have a point or two to argue against the evidence in favor of the case of ecommerce, then these proven advantages might sway you towards the other direction.
The rise of ecommerce
During the 2020 quarantine, global ecommerce sales hit a 77% increase over the previous year. More than that, the year 2021 records that 27.6% of people around the globe are online shoppers – a figure that translates to one out of four people being users of online shopping solutions.
As it is, the numbers are staggering, but you should note that these numbers are even expected to grow exponentially in the coming years. And that's undoubtedly because of the many advantages of ecommerce that brands will continue to leverage for business growth.
And to help ecommerce businesses grow, digital marketing enters the picture. It has become so important to gain customers' attention and this is where digital marketing offers its aid. With its support, ecommerce gains large revenue as it assists in customer acquisition and brand value. It's vital that you get the hang of ecommerce before even starting your own online platform.
Whether you're a mom and pop store or a huge brand, get to know what it means so you can effectively leverage them for your brand.
What is ecommerce?
First, let's define what ecommerce is.
Electronic commerce or ecommerce, is the process of selling and purchasing products or services over the internet. This also involves online data and money transactions to complete the sales. Without any brick-and-mortar store, these online transactions can easily be done by anyone in every corner of the world.
You may be familiar with online marketplaces like Lazada, Shopee, Amazon, eBay, Carousell, or Metrodeal where small to huge businesses sell their products through this online public platform. Some businesses choose to develop their own ecommerce sites through expert ecommerce development.
Marketplaces and owned ecommerce have their own distinctive advantages to satisfy particular features and demands of your business, and getting them established on is critical so you don't have to make drastic changes that could cost you a lot of money. Whether you're working with a templated marketplace, or partnering with website developers to create your own unique ecommerce site, having a ecommerce frontend template to refer to.
Additionally, you will also need to inform yourself of the pros and cons of deciding between a marketplace vs your own ecommerce before you decide on the platform to develop for your brand.
Types of ecommerce
There are many different transactions ecommerce can offer your business. Below is a list of some common types of ecommerce models to help you understand which one best fits your business needs.
Business to Consumer (B2C). Is the most common type of the lot. On this platform, consumers avail of products or services from your business like buying a shirt if you're in fashion retail, or booking a meal reservation, if you're a dining establishment.
Business to Business (B2B). This is where transactions between businesses can be done. It usually involves the trading of raw materials or products that will be manufactured or services that have a particularly long sales cycle.
Consumer to Consumer (C2C). C2C platforms allow consumers to use online selling platforms to market products to another consumer and buy products from another platform user. Online C2C platforms include Etsy, eBay, and Craigslist.
Understanding the nature of your business will help you decide which type of ecommerce platform is best for your business.
Ecommerce advantages for business
If you haven't quite made up your mind about ecommerce platforms and adapting them for your businesses, the following advantages below might just give you that push you need.
Or if you already have one in place, these same points can be used as a guide on how you can further maximize the platform for generating results for your business.
1. Allows faster and automated transactions
Waiting in queues in check-out lanes and scanning hundreds of items on shelves can be so time consuming for your customers. Plus, not all items are available in a single shop – a true hassle.
All of these lead to slower transactions which mean slower sales or stock movement if you do not have enough check-out lanes to cater to the large inflow of customers.
Now, with just the assistance of the internet and ecommerce, customers can view a wide range of products, easily search for an item, study the product descriptions, and place an order in no time.
Aside from the decreased processing hours, ecommerce reduces the chances of error. Providing information, ordering, and even payment transactions can all be automated which abstains from the probability of having human errors from manual work. You can also automate a lot more repetitive tasks in your business, not only in placing orders such as customer feedback, inventory management, invoicing, and customer support.
All that is left for you to do is check the orders and ship the products. And take note: faster transactions equals more sales!
2. Minimizes operational costs.
Physical stores are tied to certain locations that demand laying out a storefront, storage area, and furniture. These alone could be very costly but you still have to consider rental fees, staff, upfront investment, and utility bills.
This is one of the biggest reasons why lots of start-ups and small businesses choose to set up their business online instead of putting up a physical store.
Rather than renting a commercial space, it would be best for you to rent storehouses to keep your items, especially if you're accommodating large quantities of goods.
Upgrading your business in an online selling platform needs substantial costs. It requires you to add more to your inventory, widen your storage space, and invest in digital marketing. These investments may be quite hefty, but co"Doors: mpared to many other costs entailed by physical shops these are far more affordable.
3. "Doors" are open 24/7.
Without being restricted by just a few geographical locations, your business is awake and running 24/7. Ecommerce sites never shut down for it is designed to cater customers from any corner of the world, operating in different time zones.
So even if you are not physically available or don't have 24-hour customer support, your sales aren't restricted. You can automate your site to enable your customers to avail your products and services any time of the day.
Ecommerce is also devised to have automated customer support to assist your customers anytime through artificial intelligence (AI) processes such as chatbots, live chats, and virtual assistants.
4. Reaches more audiences.
With an ecommerce website, your customers aren't just from your locality or country, you can reach audiences from any geographical location in the world. They can avail your products and services anywhere they may be.
Withdrawing the inconveniences of travel for your customers to avail your products from a physical store will surely increase your sales since all they have to do is wait for their products to be delivered to their address. No more travel hassles.
5. Allows you to detail your products and services.
Online platforms offer ways to sell the product, and not just tell details about it. Product descriptions have the ability to grow casual shoppers into revenue-generating buyers.
Let's look at this detailed product description of a shoe from apparel and shoe store Everlane.
Ecommerce business provides more information about your products and services to your customers. You can also feature customer reviews, usage videos, product guides, and social validation. These details can logically reason out the product's price and create the impression of authenticity.
6. Tons of marketing strategies.
If you assume that your ecommerce is limited to paid advertising to promote your product to the market, you are mistaken. One benefit of ecommerce is the various creative marketing strategies available.
There are a lot of marketing strategies you can learn as you go through launching your business that will surely increase your ecommerce visibility. You may consider content marketing, social media marketing, pay-per-click advertising, and simply a lot more. They are designed to increase ecommerce visibility and lead conversions.
If you wish to learn more about them as early as now, you can explore ecommerce marketing tips to make sure your investment is cost-effective.
7. Synchronously manage multiple purchases.
One of the most important advantages of ecommerce is that you are prepared for a large influx of customers. You know how holidays can be a burden to shoppers and businesses because of the long waiting time in check-out lanes to complete their purchases.
With ecommerce, there isn't a need for such delays since placing and processing an order, and money transactions are as easy as a single click. So even if you encounter multitudes of customers, you'll know that you can cater to them straight away.
8. Easily gather customer feedback.
You won't need surveys and observations to get customer feedback since, with only the finished transactions, you can collect such information. You can use your customers' contact details and their transactions to assess your business processes.
You may use analytics platforms such as Google Analytics and MS Clarity to learn about the customer behavior and demographics data of your customers. With this data, you can optimize your marketing strategies, promote a new product, and keep in touch with your customers. Note that you have to ensure confidentiality of the gathered data by using it only for official purposes and data should be gathered with the customer's consent.
9. Offers payment flexibility.
Ecommerce's varied payment options feature is a great benefit which allows your customers to pay in different ways like cash on delivery, debit or credit card payment, electronic bank transfers, mobile or prepaid card payments, and e-wallets. These varied payment methods do not only ensure safe and quick processing check-outs but also increases your clientele and turnover.
Let's see these available payment options in Soko Glam, an online beauty store as an example.
Proposing varied payment options translate into more transactions and a bigger turnover. Catering to your customers' preferences raises the probability that they will have more transactions. Aside from that, it also caters to customers who prefer to pay in a different currency without having a long manual process of currency conversion.
10. Ecommerce is convenient and safe.
Convenience is just one of the many advantages of ecommerce.
Studies have shown that convenience is one of the most important decision factors for consumers. With just a few clicks from the comfort of your clientele's home or office, your products are on their way. The bottom line is that your clients demand convenience so if your business is not convenient enough in meeting their needs, they'll probably go off looking for better shops.
READ ALSO: A Complete Guide on Ecommerce Security and Protection
So even before the pandemic (and surely when we all return to the "old normal"), ecommerce is always in operation. The digital world will constantly offer a place for ecommerce to proliferate.
Best practices to maximize these advantages
Now that you know the roles of ecommerce in your business, it's a great challenge to maximize them in launching your online selling platform. But worry not, here is a quick sketch to make full use of and derive maximum benefit from ecommerce.
Use automation and content marketing to engage and attract your customers that aim to convert them from leads into customers.
Connect with your customers through social media. This grows awareness about your brand and generally improves your leads and sales.
Address your audience's feedback for continued business growth.
Analyze consumer demands and market competition to ensure that your investment is cost-effective to yield greater returns.
Key takeaways
It's one thing to understand the importance of ecommerce. It helps your business and derives maximum benefit from your investments. Here's a quick review of the advantages ecommerce can offer:
Ecommerce offers convenience at a minimized cost. The payment options, location, and check-outs are all convenient for you and your customers, and you won't need large investments for it.
It opens doors to new markets. You'll always see new marketing trends and strategies to improve your business, and you'll never be out of ideas for its continued growth.
It can boost your brand image online. Having an ecommerce business leaves the impression of legitimacy and gains trust and loyalty from your customers.
Need help with launching your ecommerce business or just want to converse with us? Leave a comment down below or reach out to us in our Facebook, X, or LinkedIn accounts.
For more tips for setting up and growing your ecommerce sites, make sure to subscribe to the Propelrr newsletter and receive them straight in your inbox.