How Predictive Analytics Drives Digital Marketing Success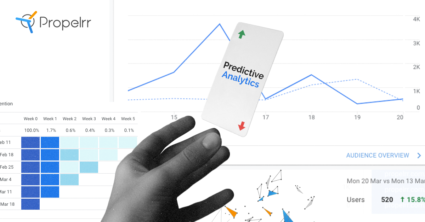 Predictive analytics and big data sound – what's the weight these buzzwords hold?
Big Data was a term I first encountered in 2013 at the 12th Philippines National Convention on Statistics. Most of the topics had "Big Data" in their titles and outlines. It was such a buzzword that piqued my interest and at the same time confused me.
For two days, I had to make difficult decisions on which sessions to attend. The only sure thing then was that I would surely pick up something applicable to digital marketing, specifically on conversion rate optimization.
As I attended the session on "Big Data: Telling the Story of Our Customers," it was clear to me that Statistics and Digital Marketing is developing a clear path to Advanced Analytics. The session was a primer for Predictive Analytics in Marketing. And that was enough to keep me on track as a Pay-per-Click Specialist.
The rise of predictive analytics in digital marketing
Between 2013 and 2019, there were several changes in the digital landscape. With the booming of mobile apps and mobile-first strategies, changes in the search algorithms, accelerated mobile pages, the introduction of app install campaigns, shopping campaigns, and many more. Along with these changes was the rise of Predictive Analytics in marketing initiatives. The application of predictive analytics came about the practice of statistical usage, machine learning, and analytical data processing to predict the marketing success of a digital marketing strategy. One can say that predictive analytics is a more scientific and methodological approach to guesstimating.
Like Big Data, Predictive Analytics became a very hot topic among digital marketing practitioners worldwide. Every industry practitioner knew that predictive analytics was a vital component to calibrate their digital marketing strategies—and that includes Propelrr as well. As we are a digital marketing agency that values solid data and success-based performance, we jumped right into predictive analytics by using statistical analysis and building data models to amp up our optimization strategies.
With the massive marketing data that digital campaigns are bringing in, along with statistical and mathematical techniques to interpret data, it's easy to get lost in predictive analytics. With the costs piling up and KPIs left unachieved, it can certainly lead one to ignore or put off the use of Predictive Analytics. But with all the non-performance happening in the digital campaign, the more we need to analyze further the historical data.
Here are some things you might miss out on if you to ignore the marketing success predictive analysis and models holds for your online marketing:
Better lead scoring and segmentation
Better engagement and customer service
Measurable customer lifetime value
Easy identification of optimal channels
A quick assessment of customer's readiness for upsell
Let's dive deep into each missed opportunity should we continue to put off integrating Predictive Analytics into our digital marketing frameworks and strategies.