Digital got you dazed?
Type it below, and we'll show you what we've written about it!
6-Step Guide on Content Auditing for Data-backed Topics
Ming Lagman

21 Apr 2021

7

min

read
Content audits may be your least favorite step in the entire content marketing process, but that's not a reason to skip it, especially if you want to inch up your organic traffic and other KPIs.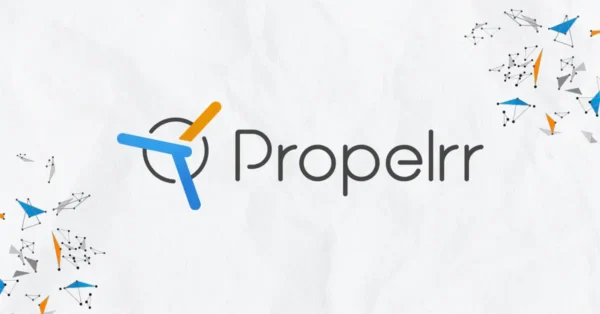 No matter where you look or who you ask, content marketing services — data-driven ones,  most of all — begin production cycles with a content audit and other assessments. This is because by doing so, you can generate insights that not only allow you to develop a solid bedrock of content, but you can also build on or revitalize old content.
In this article, we'll be zeroing in on the most straightforward benefit of content audits, which is coming up with topic ideas from your audit insights.
Reasons why you must conduct regular content audits
While we'll be tackling topic ideation specifically, here are a few other reasons you should take note of. It may not look like it, but most of these reasons are inherent to topic ideation.
Identifying unoptimized content for improvement. It allows you to check back on any features of your content like truncated meta descriptions or perhaps outdated headlines.
Spot any high-performing content you can repurpose. No article on content marketing tips will ever forget to mention this, because you can always count on quick wins from repurposing old, but hardworking content.
Uncover a trend in hardworking content. In relation to our previous point, your hardworking content will also have patterns you can base future content on. Trends in your content will make your ideation process not just seamless but more resonant with your audience.
All in all, you can boost organic performance. When you work hard to identify ways on how to improve your content and subsequently improve it, SERPs and audiences reward you with a lot of positives in terms of traffic and conversions, respectively.
In truth, these benefits are only a brief look into the many benefits that content audits can reap for your websites and other delivery platforms. As you get a few of your audits done and implement the actionable items, you'll get to see the results right before your eyes when the time comes to evaluate your content performance.
That said, here's how you can conduct audits for insightful content ideas.
Conducting Audits To Ideations of Content
Six steps aren't so bad, right? You'll get through that and this discussion in no time. Now let's dive into the details.
1. Define your priority objectives for the audit.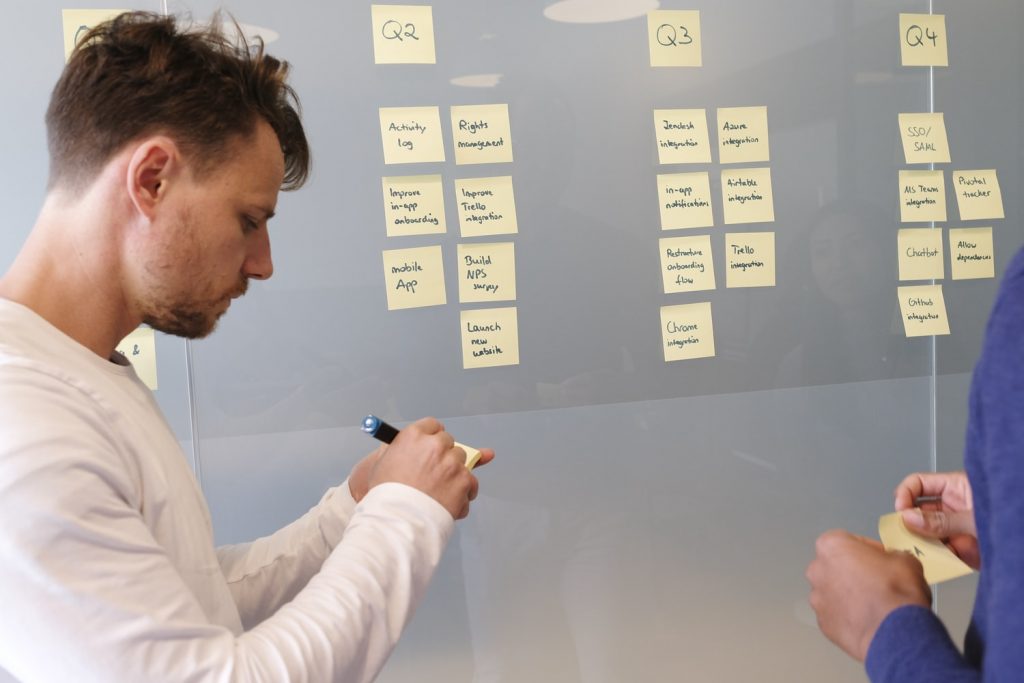 As with anything in your business, everything you do is guided by goals and specific objectives. With content audits, defining your priorities allows you to work in an organized manner so you work efficiently.
In terms of auditing content for your ideation process, it helps to ask yourself the following questions:
Which pieces of content are still working and can work better if repurposed?
Which metrics and KPIs are we aiming to boost with our new content topics?
Are we focusing on a specific product or service in our next batch of content?
Make these objectives as specific as you can and keep this at the top of your mind before you go through the succeeding steps.
2. Crawl your entire website.
Using tools, of course. It will take forever to crawl your entire website manually, especially if you've been in the business of content creation for a while.
These crawls are aimed at providing you with a summary of the features of your content like page titles, meta descriptions, along with their corresponding character and pixel width counts.
One of our essential digital marketing tools for doing our crawls is Screaming Frog, which pulls the above-mentioned data, plus indexability status and others. You'll find what it looks like in the photo below.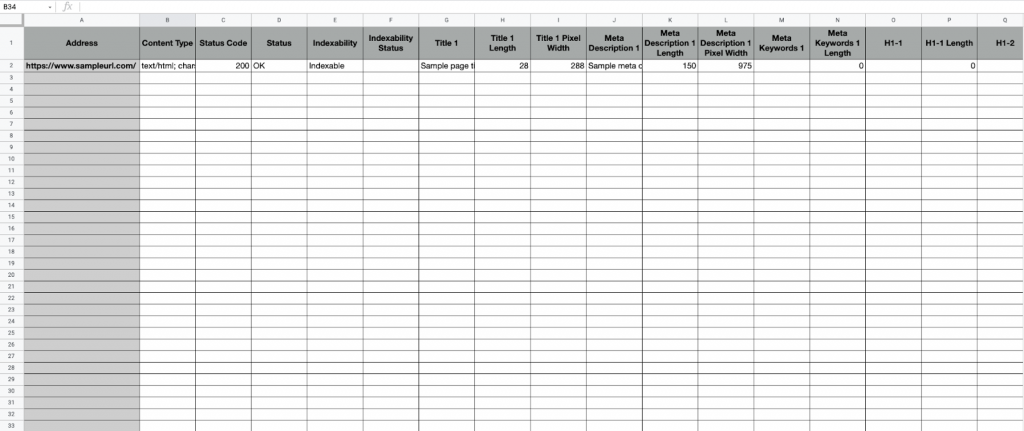 3. Assess the performance of your content.
After your crawl is done, you'll have a complete database of your site pages and features.
From here, some quick optimization checks you can do is inspecting the pixel widths of the title and meta description, if that falls within your priority objectives. Do they contain the Focus Keyword of the page? Do they fall within the recommended widths so they don't get truncated?
As a reminder, here are the recommended pixel widths for each:
| | |
| --- | --- |
| Feature | Recommended pixel width |
| Page Title | 600 |
| Meta description | 920 |
Lifehack for you: Use conditional formatting on a column to automatically highlight pixel counts that exceed the limit.
For us, we don't just stop at looking at these features because let's face it: inspecting these features isn't enough to create topics. So the next thing you need to do is pull your data from Google Search Console (GSC) and Google Analytics (GA). Specifically, we look into at least three months' worth of data to determine a trend from the respective metrics:
From GSC – Average Position, Clicks, Impressions, and Click-Through-Rate (CTR)
From GA – New Users, Sessions, Average Session Duration, and Average Page Views per Session
From this data, we can already see which topics are working to get Clicks. If Clicks are declining at an alarming rate, we check the SERP features mentioned above to see if they need any edits to make them more interesting and clickable.
Again, how you interpret the data should be anchored to your priority objectives. But from here, you should be able to get a trend that will help you with the next step.
4. Pick out 'stand-out' content.
You can stand out for the wrong reasons. So for the purpose of ideation, you must identify "stand-out" content, meaning those that are performing great, and badly based on your prioritization.
If high-performance content tells you to keep at it, what does the bad tell you? A lot of things, actually. Bad content can be dropped, or it can also be repurposed if you think that it can shine if it were repackaged for audiences. Don't rush into things and take time to check every detail of the content you're looking at.
Does it need a topic refreshing? Or maybe you just need to implement some things you missed on your on-page SEO checklist? If it's content that matters to your business, consider all other factors before you completely trash it.
Once you've thoroughly reviewed your content picks, it's time to refine your insights. This is where keyword research comes in.
5. Verify your findings with keyword research.
After you've identified your list of stand-out content and inspected its features, you would have spotted some keywords you can already run through your preferred tools.
In our case, this would be Ahrefs, but you can definitely do this with your existing keyword research tools. From here, it's pretty straightforward.
Run the preferred keywords through the tool and assess search volume and difficulty. The former determines the search demand for topics on the keyword, while the latter tells you how tough the competition is in terms of ranking for the keyword.
A general rule of thumb you can follow based on various guides for keyword research is to aim for long-tail keywords that have high relevance to your business, and relatively low competition.
Compile your list of identified keywords and proceed to the fun part: brainstorming.
6. Gather your team and brainstorm!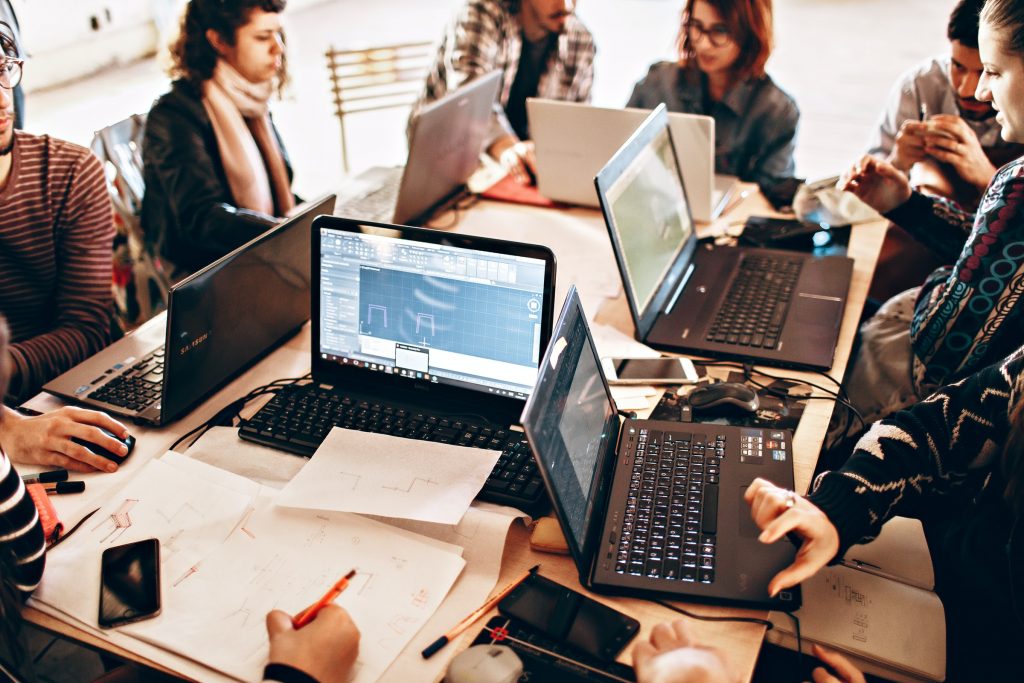 Get your team and get creative. You've been looking at numbers and random words all day, it's time to get your team and mold your data into actual topics.
The more heads you get in the room, the better. Though you may encounter hurdles given the near-exclusive digital operations amid the pandemic, ensure that you're working efficiently and cultivating a creative environment where thoughts and ideas thrive.
It helps to work with a system and, once again, remind yourselves of your objectives. So make sure to moderate the brainstorming session accordingly, but encourage a free flow of ideas.
Present your final list of keywords and throw around headlines spun from your list of keywords. If you would like to use tools, there are also a number of content ideation tools you can use while in session. This helps not only refresh your ideas but also provides you with data on what works or what your content audiences are looking for.
Once you have your headlines or focus topics identified, you should also aim to flesh out your executions so you can immediately start on production once the session adjourns.
Key Takeaways
Putting out "interesting" topics based on your personal opinions alone won't just cut in an era of hyper-information. There is no topic of interest that can't be uncovered these days, and so the approach to creating content shouldn't be based on instinct. Your content audits are done so that you can avoid this bias of relying on your gut feeling. Some other takeaways to keep in mind while doing your audits would be to:
Draw it back to objectives that matter to your business and, more importantly, your audiences. Conduct your audits and ideations with the intent that is drawn from your purpose as a business trying to meet a gap that your consumers need solutions for.
Stay focused on the goal and work efficiently towards it. Content marketing is a long process. If you can optimize and streamline anything along the way, do so. Staying focused on your goals helps you determine which parts of the process to drop or continue.
Your ideas are only as good as your data insights. Again, in a hyper-informed world, getting your content to stand out doesn't just depend on how you're talking about the next big thing or hot topic. It's about insights derived from data on what your audiences want and need.
How do you go about your content audits? Do you have frameworks that have proven to be effective for you? We'd love to discuss them in the comments section, or let's chat on Facebook, X, or LinkedIn.
Subscribe Now
Choose topics you want to get regular updates on: