Digital got you dazed?
Type it below, and we'll show you what we've written about it!
15 Content Marketing Tips Straight from the Experts Themselves
Ming Lagman

16 Oct 2020

9

min

read
Here are some of the best content marketing tips you'll get on the internet.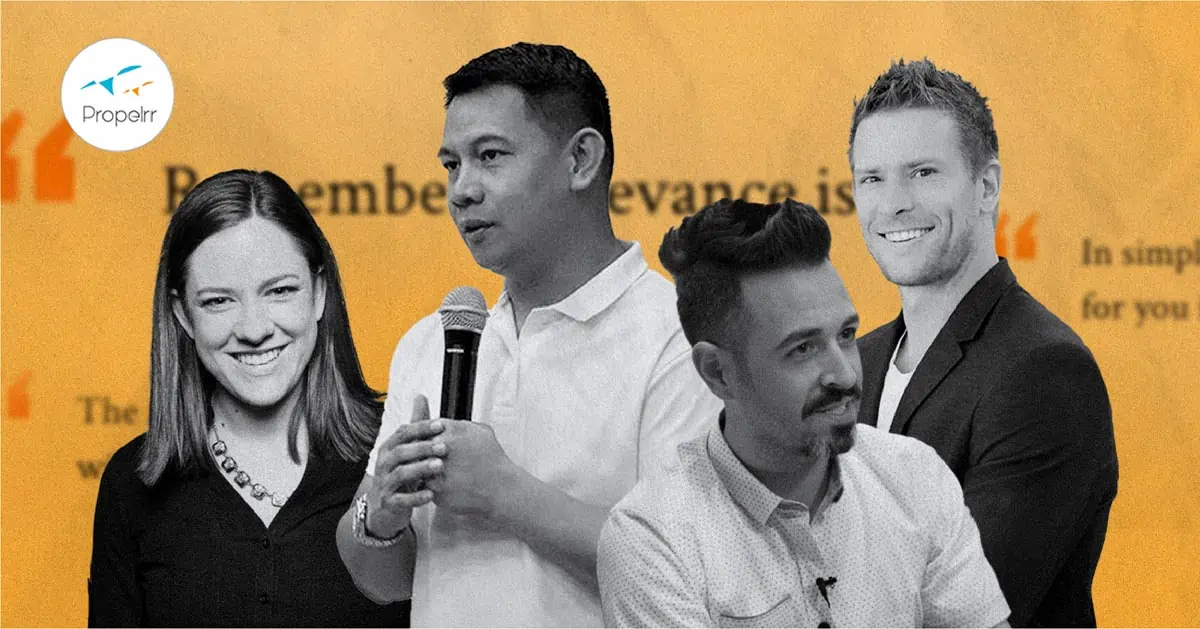 With nearly all business operations and processes having been taken to the digital landscape and with the internet rife with information-hungry audiences, content marketing has become an indispensable technique in any digital marketing strategy.
In fact, because of the impacts of content marketing on businesses, many marketers are planning to increase their investment in it, if they haven't done so already.
Today, it'll be hard to encounter businesses that have a digital marketing framework that's missing content marketing in the mix.
Is Content Marketing really all that?
You may have heard just enough about content marketing to wonder if it's real or just pure hype. Multiple articles online will tell you the endless benefits of content marketing—increases your leads and, conversely, your sales; that it helps build awareness and trust; and ultimately boosts a number of digital performance metrics for your business.
As a veteran content marketing agency, we can definitely tell you that the results are as real as it can get.
If you're just starting out in content marketing, it can become quite overwhelming and difficult to ascertain success. However wealthy the internet is with resources, nothing beats the advice of experienced content marketers. 
If you're a greenhorn who's afraid to stumble, follow the path of those who've demonstrated success in their content marketing and value in what they teach. Below are content marketing tips from six expert marketing professionals to help you develop your own successful content marketing strategy.
Expert Content Marketing Tips for 2021 

Proudly data-driven and committed to excellence Propelrr President and CEO Gary Viray shares his practical insights on content marketing derived from years of research and practice. 
Read the useful content marketing tips from this digital marketer who's achieved both local and global success in the field:
1. Build a niche library of content resources instead of collecting just some random articles.
Why? Because search-wise, you'll have a better chance of getting thumbs up from search engines by providing a tight set of content focused on a specific topic or a niche. 
Remember: Relevance is key.
Audience-wise, your content library will stand out from the usual run-of-the-mill articles or blogs out there. You can become the go-to resource for the said niche or topic you've chosen to focus on—a source of sustainable traffic for you.
2. Play with AI-driven content because AI usage will rise.
The anticipated GPT-3 language generating tech from openAI will push the boundaries of content marketing, including content engineering. It will challenge the status quo in content production where quality is often difficult to scale.
3. Use various types of content that resonate with your audience.
Serve the audience with different types of content, depending on how they want to consume it. However, keep in mind that your content should also be your voice that speaks out what you and your audience root for.
Given our new normal, content formats such as podcasts – which have been consistent in growth for the past years – webinars, and virtual workshops will continue to grow in  2021.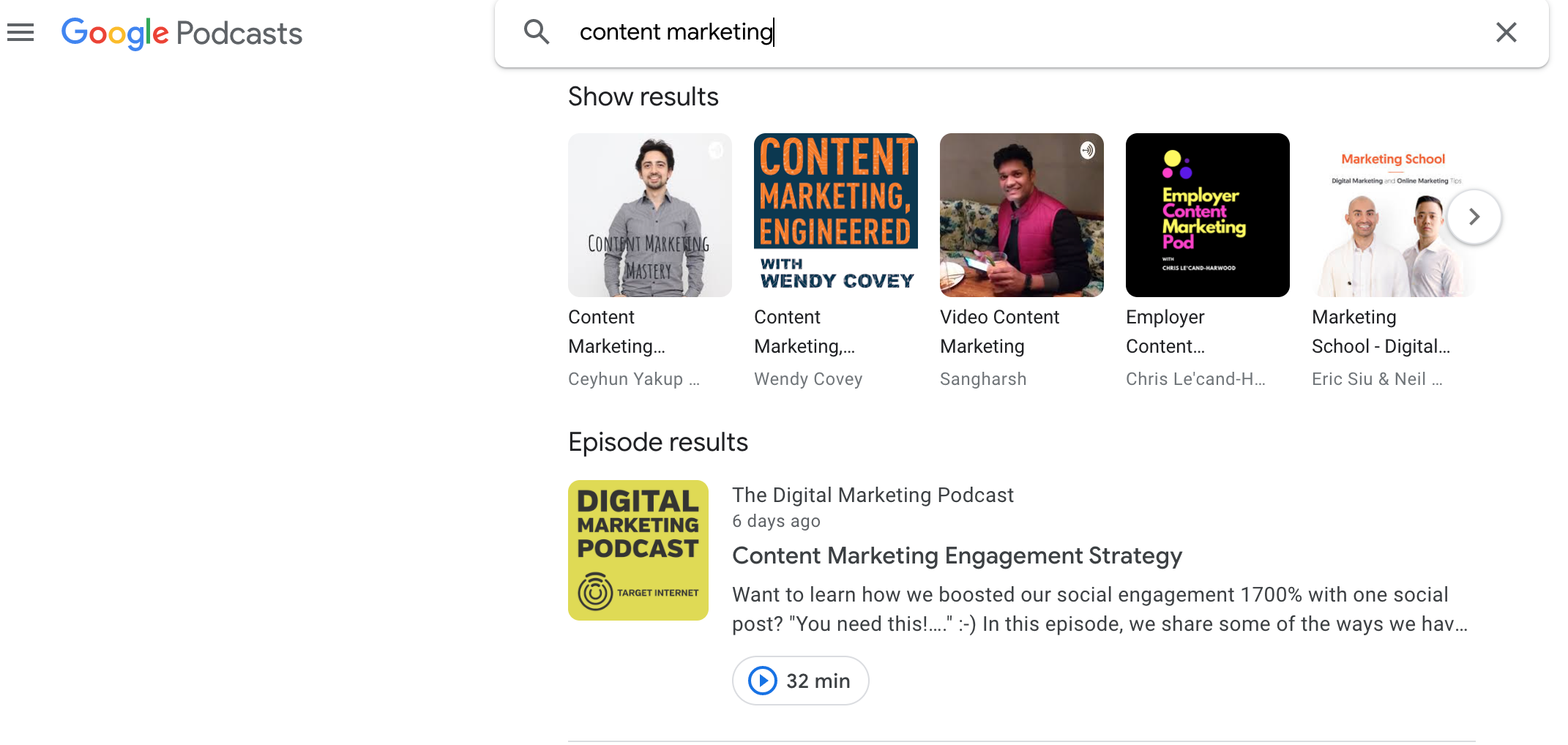 The new normal is accelerating webinars and virtual events as venues to push brand stories and messages to the will-be acquainted audiences that are more targeted.
4. Focus your content marketing efforts on delivering more relatable messaging, to generate a better return on investment (ROI).
Every resource used for content marketing should be vetted on the basis of a more data-driven approach, wherein you create a content marketing strategy that aligns with your overall business objectives and not just with your marketing goals. 
However, the messaging approach should be more humanized. Fatigue from corporate-speak will become more evident, in time. This requires a more empathic approach to content and copywriting, to better cut through the noise and get more attention than ever.
5. Mind the content gap, and be good at it.
The deluge of content published every minute has resulted in information overload and has generated a lot of me-too content. What will work in 2021 are content that narrow down the knowledge gaps and address the audience's needs. 
The art of finding content gaps and then rightfully addressing them will have more weight in 2021.
Do your homework, and do it right by conducting research, and analyze your competitors thoroughly. Doing so will help you determine loopholes that you can plug with relevant content.
Another more important approach to determining the gaps in your content is from the perspective of your users. Identify what kind of content or questions they're asking about a specific topic. Then provide them the answers.
If you want a more in-depth discussion or you just want to brain-pick Gary, you can also reach him over on X @garyshack. 

For those of you who are looking to employ content marketing in their business-to-business (B2B) organizations, we asked SparkToro's co-founder Rand Fishkin some helpful tips:
6. Target the right stages of the marketing funnel.
The marketing approach between B2B and business-to-consumer (B2C) organizations will vary greatly, even though the marketing funnel is similar. In Rand's tips for B2B organizations, he emphasizes this point and explains that a common mistake made in content marketing is that the former ends up targeting the wrong part of the funnel. And, naturally, what follows wrong targeting is a completely ineffective strategy.
To counter this, he recommends that you really look into your funnel and determine which parts need a boost versus those that are doing fine. A more appropriate approach would also avoid targeting content for more than two stages of the funnel.
7. Design your content for parts of the funnel that need it.
In this part of the process, Fishkin advises that you choose the specific parts of the funnel you wish to target when you're creating your content. He adds that when designing the strategy for content production, decide what it's going to help with, and direct it to the area of the funnel in most need of assistance.
Basically, it all boils down to how accurate you are targeting your content. Target the right section of the funnel and then come up with a piece of content that's going to move the needle in the right place.
8. Consider the Cost of Customer Acquisition.
When doing content marketing for B2B, it is important to not just look at the lifetime value (LTV) but also the current cost of customer acquisition (CAC). Look into the ratio of your CAC to LTV. This will tell you how much it will cost you to acquire a new customer versus how much value that customer provides.
In this case, Fishkin notes the ratios and determines if he has wiggle room in his budget to spend on boosting content that is proven to be pulling in leads. 
In simpler terms, don't be afraid to invest in content that's working for you if you have the space to do so.
This is something that very few B2B marketers are doing that some very successful ones are doing.
9. Make sure that your efforts are building a flywheel that scales with decreasing friction.
In an email where we reached out to Rand for his latest tips for content marketers, he says that the goal with the flywheel now is "very different than 'creating good content' or 'the best content''."
He explains further that in a now content-saturated digital space, content marketing isn't just about quality anymore but about 'attracting, maintaining, and growing an audience.' He stresses the importance of a marketing flywheel that 'scales with decreasing friction'.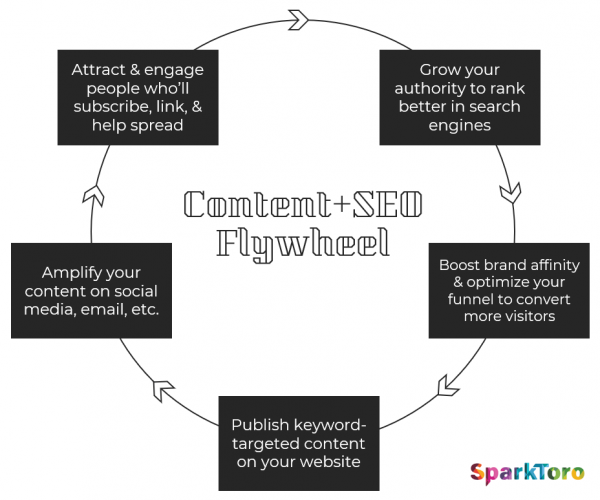 In this regard, he advises content marketers that pushing out 'episodic kind of content series' for various content formats is ideal to 'make people who consume them want to come back again and again'.
"If your content isn't consistently earning more email subscribers and social followers via the channels you use to amplify, that's a sign you're not making progress and haven't yet hit…a formula that makes an audience want to come back, again and again," explains Fishkin.
Penny for your thoughts? Rand's always an email or even a tweet away! Reach him over on X @randfish.

We couldn't just stop seeking expert advice. We turned to Caroline Forsey's round-up of content marketing tips, published in HubSpot. 
10. Make sure your content has a clear, measurable business goal.
To manage the overwhelming amount of content you have to publish, Forsey recommends that you always draw it back to your business and brand's purpose and goals. To break it down specifically, she emphasizes that:
You have to first identify your target audience, then decide how your content can best serve that audience. In this respect, she also recommends that you use analytics tools to ensure that your content reaches the right people with the right search intent.
Once these are identified, ask yourself again: "How does this tie back to the business?" Good, quality content is important to grow audiences, but alignment with your business makes sure it attracts the right audiences.
11. Understand your buyer's journey.
Forsey also underscores that a content marketer should understand the importance of engaging and delighting readers throughout their customer journey.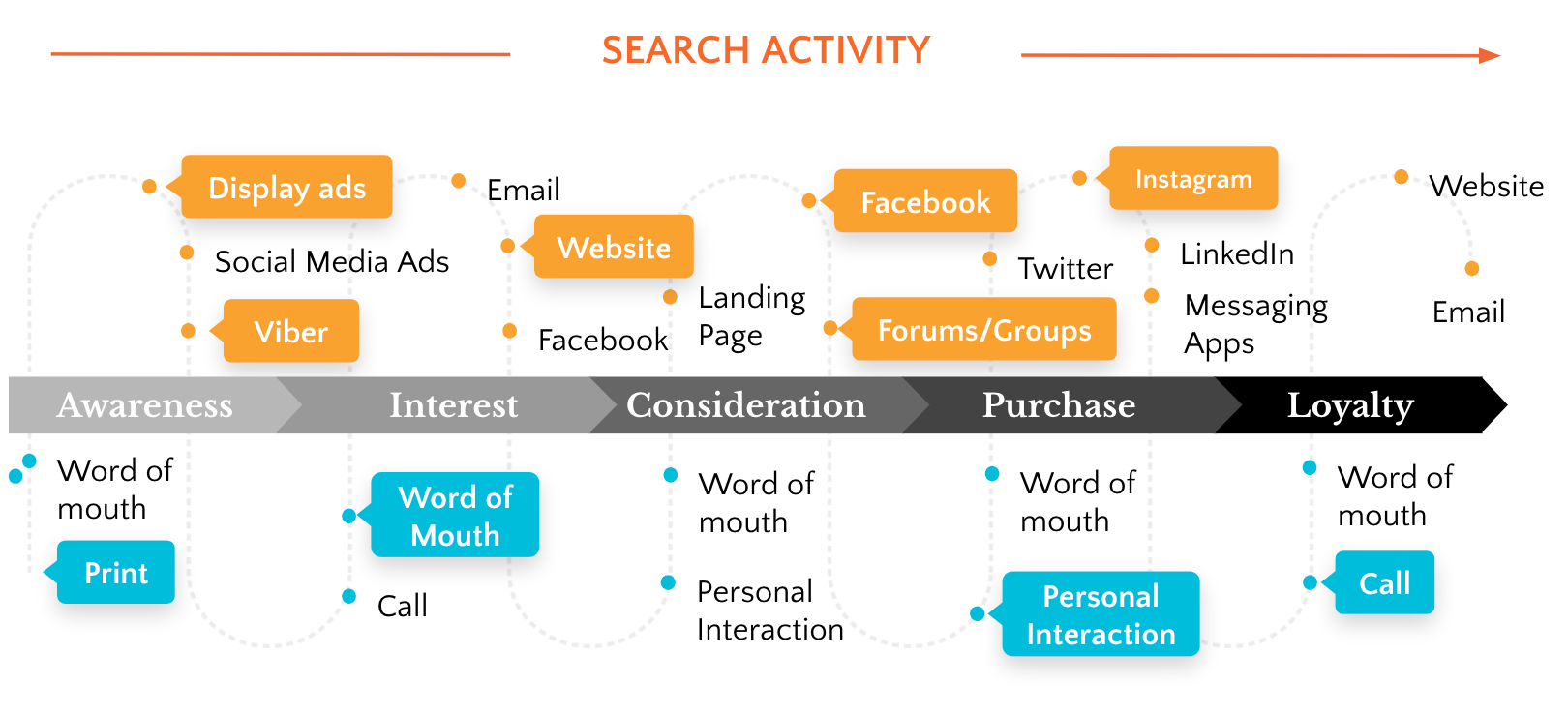 She also adds that your content—while it's initially used to attract new visitors—should also turn prospects into purchasers and foster long-term brand loyalty.
12. Rely on analytics to track your performance.
As data-savvy individuals ourselves, we just had to include this one.
Forsey emphasizes the importance of carefully and constantly keeping watch over your analytics. Make sure that you're always monitoring and analyzing what's working or not and what could be improved. 
Right on! Always remember that optimization, whether in content or anything, is continuous and almost never-ending. 
Don't settle for the best, strive for the next best.
Aside from writing her content marketing insights on HubSpot, Caroline also shares quick tips on her X and LinkedIn accounts.

Having worked with huge brands such as Nike and Disney, Jacob Cass of JUST Creative has invaluable insights to share about keeping content marketing creative and spicy. Get a rundown of his content marketing tips below:
13. Develop your own writing style.
Not everyone is a Shakespeare, and that's okay.
 If you're an average content marketer, observe some guidelines while writing. Allow your content to have a brand personality and voice. This can serve as the personification of your own writing style.
14. Be open to guest posting.
A content exchange will help you expand your audience range and freshen up your existing blog. Don't hesitate to promote your guest posts on social media and ask people to share it for additional exposure. Doing some good o'l link building or guest posting is also a good way to improve your SEO rankings.
15. Accept feedback willingly.
Don't just rely on metrics to understand the engagement level of your readers. Make sure to seek feedback on what they liked or disliked. Periodically conduct surveys to gauge your audience's reception to your content and help you make crucial changes.
If you need a bit of help jumpstarting your content marketing, you can ask him directly or just follow him on X.
Key Takeaways
Content marketing can be simplified and done systematically, as long as you always ground yourself on the basics: knowing your objectives, your audience, and the purpose of your brand.

Content marketing strategies, be they for B2B or B2C organizations, need to be centered on the customer – from their interests, all the way to their search intents and buying journey.

A content marketing strategy is a living document that evolves with your customer or audience's journey with your brand and business. Be adaptable and flexible.
These content marketing tips are but a few of hundreds that can be found on the Internet. As you're starting out, keep these in mind, but don't hesitate to experiment and to test strategies and tips until you find which ones work best for your brand.
Found this list of tips helpful or want to learn more from us? Hit us up on Facebook, X, or LinkedIn.
Subscribe Now
Choose topics you want to get regular updates on: