What is Search Engine Marketing?
The online marketplace is getting more and more competitive. Millions of businesses are pulling out all the stops to convince the same audience as you. It's never been more important to advertise online and there is no better way to do that than SEM.
Search engine marketing refers to the methods by which a business uses search engines like Google to advertise to increase their visibility. The most well known type of search engine marketing is called pay-per-click advertising and this is something we've mastered over the years.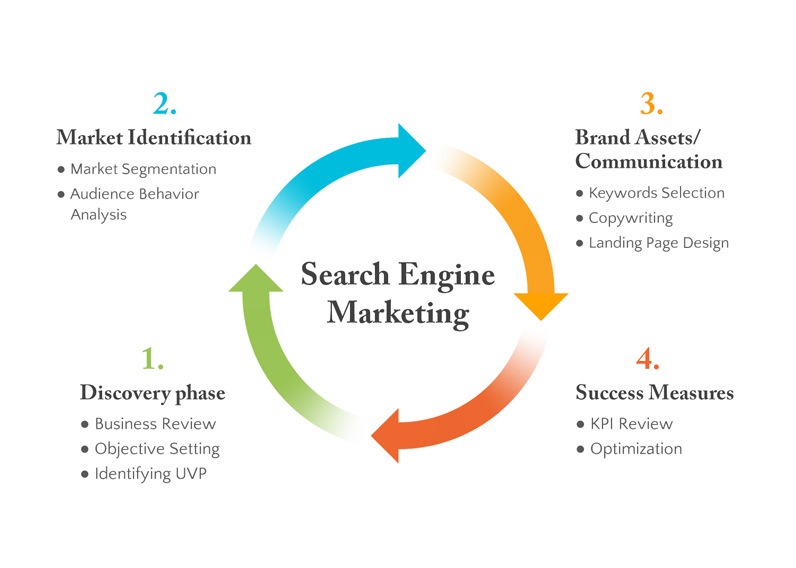 Why go with Search Engine Marketing?
Google has over two billion users that are active daily. It is common knowledge that people surf the web to look for products to buy and services to avail. This means there is a highly-engaged audience that actively seeks offers like yours — be it product or service.
Search engine marketing is a vital component of any business marketing plan because it is cost-efficient and it reaches audiences the exact time they need a product or service. The search engine infrastructure is already there and its users are already looking to make a purchase. All that needs to be done is to maximize its utility for your business and this can be done through paid media.
That's the tricky part. But with Propelrr's Search Engine Marketing service, it doesn't have to be.
We will make use of search engines and turn it into the perfect platform to achieve your brand's objectives. Specifically, your brand will be getting the following:
Set-up of paid media for your SEM campaigns

Increase search visibility and business opportunities through paid media

Daily monitoring to ensure tour SEM efforts are running on time and aligned to your business objectives

Maximization of budget allotted for SEM efforts

Regular campaign updates to further improve SEM efforts and drive better results

Quick and efficient issue resolution for potential mishaps such as ads and keywords disapprovals, ads that suddenly stop showing, and landing page issues.

Tracking and monitoring process that ensures maximized ROI and generation of valuable insights to further optimize your search engine marketing efforts
How do we do it?
Search engine marketing requires expertise in various disciplines, namely: pay-per-click, and content. This combination is key in any effective search engine marketing campaign.
Here's how we craft and manage your search engine marketing campaigns, keeping in mind the needed areas of expertise:
Making the most out of search engine marketing requires an alignment of your business objectives and what Propelrr can offer. The first step we always take is collaborating with you to understand your business's strengths, unique selling points, and pain points. This serves as the foundation of the strategy we will be employing. The goal is to make sure that the search engine marketing campaign delivers on results that meet the demands of your business.
Phase 2 - Campaign Creation and/or Restructure
Revamp the account structure or create the structure (keywords, targeting methods, bidding, ad creatives, landing pages)
What ads will you run or are you running? Where?

Are they aligned to the agreed objectives?

Who are your target audience? How to reach them?

Are your messages and copies aligned to your brand message?
Conversion tracking implementation
What type of conversions do you need to track?

What tracking tools will you use?

How will the tracking codes be implemented?
Cross-channel/ department collaboration
Any other content or messaging that you need?

What type of creatives or digital assets do you need?
This is the implementation stage of the strategy. This is where we craft the tools you need to achieve your business objectives; pay-per-click efforts coupled with creative content and effective campaign management. More than the implementation, this is where we will know if the strategy really drives conversions for your business. We track these conversions and constantly improve on the numbers we are getting so that we can assure you that each of your ad spend is maximized.
Phase 3 - Identify and Test New Opportunities

New campaign set-up, launch, optimization as needed
What are the pain points of the campaign?

How do we improve the campaign's performance?

Do you need to restructure your campaign?

What campaign elements need to be optimized or tested?
Cross-channel/ department collaboration
Do you need new content?

New creatives or digital assets?

Any additional analytics setup required?
All marketing efforts should constantly be reevaluated and recalibrated to keep up with the ever-changing landscape of digital marketing. We never stop optimizing keywords, bidding and targeting strategies, improving your landing pages, and researching on what your audiences are looking for. Propelrr makes sure that the search engine marketing campaigns we run for you constantly evolve with the audience and the market so that your business evolves too.
Phase 4 - Analysis
Analytics review
What are the metrics to measure your success KPIs?

Are the KPIs that were set during the strategy phase being met?
Deep analysis and micro-optimizations
What insights do we draw from the data collected?

Did the optimization efforts produce the results we were aiming for?

What are the next steps and actionable items to further improve your campaign performances?
Propelrr has always married data with all the business strategies we employ for our clients. We use data in a way that benefits your campaign's and business' sustainability. For any strategy to be long term, we need to determine what their results are, their relevance to your business, and what each effort contributed to the outcomes. Propelrr lays the results all backed by data so that you know where your money goes. We only have room for honest business dealings here.
Let the power of search intent drive your business growth. Contact us now!