Digital got you dazed?
Type it below, and we'll show you what we've written about it!
Improve Your Business' Local SEO With Google Business Profile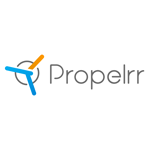 Propelrr

08 Aug 2023

7

min

read
Local search engine optimization (SEO) helps businesses reach customers around a certain geographic area. It's why SEO services have seen an increased importance even for small businesses.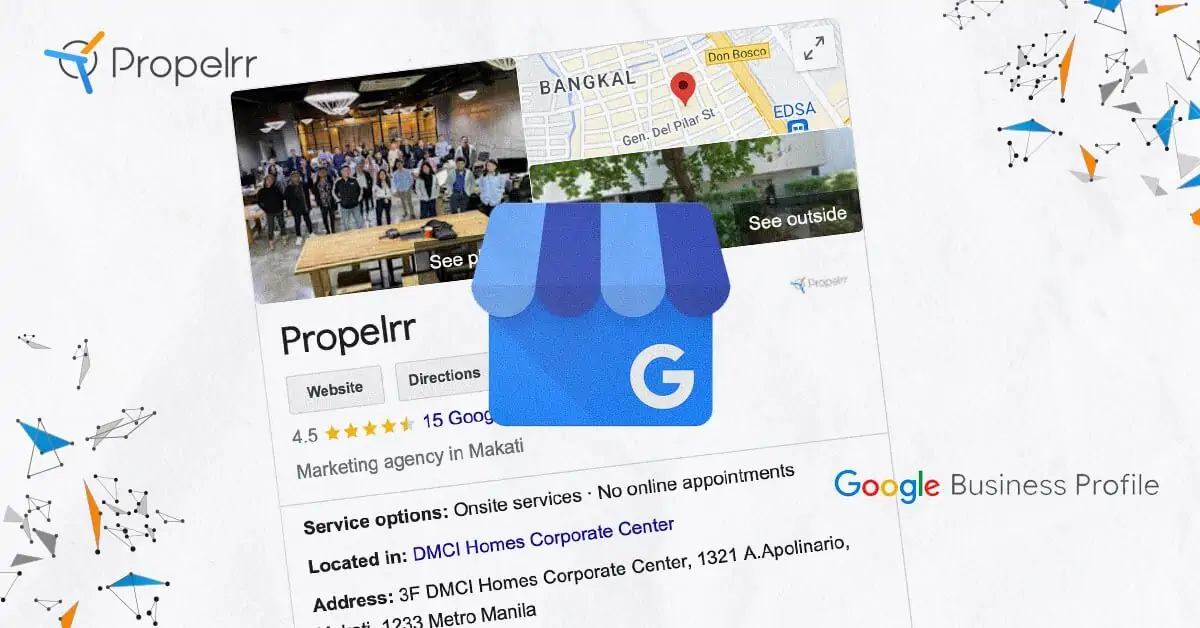 Common local SEO tools, like Google Business Profile (GBP), have features that help improve your local search visibility through these Featured Snippets on Google's search engine results page (SERP).
Fortunately, this guide is here to help you improve your business' local SEO ranking and get more customers on-site. Learn more from a leading digital marketing company to help your business on Google Business Profile.
Steps to optimize your Google Business Profile listing for local SEO ranking
Among the benefits of an improved local SEO ranking include increased visibility online, as well as better engagement with customers. The reason why local SEO is relevant is because people tend to use search engines or social media to look for reviews on businesses and their products or services.
Sometimes, all it takes is a simple Google search of "restaurants near my location" to bring a customer to your business. That's what local SEO is for.
What is a Google Business Profile?
Google's GBP toolkit gives businesses the ability to add content, including photos and videos, to their profile. Customers can interact with a business through its profile – leaving reviews, getting directions or even messaging directly with the business. What's more, GBP provides analytics tools that allow you to track customer engagemenr and see how customers are discovering and interacting with your business.
How to get started on Google Business Profile?
Though it may seem simple, it's not as easy as claiming your business through Google. To improve your local SEO ranking, you can always set up a listing via Google Business Profile with a few steps:
Sign up to Google Business Profile
Verify your Google Business Profile
Customize your Google Business Profile
Add photos and location/s of your business
Enable customer ratings and reviews
Engage and respond to your customers
1. Sign up to Google Business Profile.
If your business has been around for a long time, it might already have a GBP (or previously, Google My Business) and you just need to update or do the necessary upkeep.
If you don't have one yet, then all you need to do is to sign up for GBP and claim your business page. If you find that someone else has claimed your business, follow these steps to claim ownership of a Business Profile.
2. Verify your Google Business Profile.
After signing up, most out of the Google Business experience by verifying your Business Profile. Simply enter your valid business details for your preferred verification methods such as:
Phone or text
Email
Video recording
Live video call
Once verified, you can add additional details about your business.
3. Customize your Google Business Profile.
Verified Google Business Profiles can add and customize their profile to include key content such as a link to your website, services, and products what else have you. Make sure to complete every section of your profile. The most important ones are the following:
Business name
Address
Phone number
Website
Operating Hours
Make sure you keep your business' details consistent throughout the Internet. That includes your own website, social media networks, and other platforms where you've placed your business.
4. Add photos of your business.
Uploading photos to your GBP does more than letting your customers visualize what your storefront looks like. In fact, BrightLocal research shows that businesses with more photos on their profiles have drastically more engagement with their customers like:
Businesses with more than 100 images get 520% more calls than the average business, while those with just one image get 71% fewer.
Businesses with more than 100 images get 2,717% more direction requests than the average business, while those with just one get 75% fewer.
Businesses with more than 100 images get 1,065% more website clicks than the average business, while those with just one get 65% fewer.
What's more, businesses with more than 100 images were 713% more likely to be discovered by a wide Google search (e.g., "restaurants near me") than the average business. Consider uploading better quality photos to your profile or, better yet, allow customers to do so for you.
5. Enable customer ratings and reviews.
Let your customers know what they feel about your business! According to Forbes, letting customers leave Google reviews drastically improves your SEO ranking since that signals to Google that your business is relevant and that you offer customers a good feedback.
However, be prepared for customers who may also leave unfavorable reviews. If so, resolve the customer's concern as quickly as possible and ask them to remove or edit their review. You can also report unfair or inaccurate reviews to Google, but they will only delete reviews that go against any of Google's policies.
For more tips and tricks to respond to Google reviews, Google's themselves have a list of reviews response and recommendations on how to do it.
6. Interact with your customers.
Aside from attempting to resolve unfavorable reviews, you can even post announcements or updates regarding your business via Google Business. This lets you inform customers of potential sales or changes in business hours, while simultaneously sending positive ranking signals to Google's search algorithm.
Answering questions about your business is also crucial to informing customers what type of service you have to offer. Set up alerts so you get on top of questions and reviews related to your business.
Finally, you can even allow customers to message your business via Google. Just go to the "Messaging" tab on your GBP dashboard and enable this feature.
These tips are just the tip of the iceberg when it comes to using Google Business Profile to its fullest. The next section will discuss the importance of keeping your profile active up to date in order to improve your local SEO ranking.
7. Promote your Google Business Profile.
Once you create and customize your Google My Business profile, make sure to promote it on all available channels. Utilize the space where customers can leave their reviews and respond to them promptly. You should also encourage customers to review your business on different platforms. Also remember to keep up with all the trends in the industry and provide
How does Google Business Profile help your local SEO?
Developing a strong showing on Google's SERPs helps improve a business' visibility. The latest local search data reveals that 46% of Google searches are for local businesses, with the top three results garnering 44% of actual clicks on the results page. Moreover, 88% of mobile searches led to a visit, phone call, or purchase within a week.
Without a doubt, optimizing your GBP page grants you several benefits. The following will be discussed further here:
Help your audience find your brand's official channels to reach you.
Get user-generated content on what your customers think about your brand.
Gain further insight into the users that search for your business online.
1. Help your audience find your brand's official channels to reach you.
Publicizing your business' phone numbers and email addresses lets customers know how best to reach you. While messaging via Google and other social media platforms are still really good options, you're perhaps more likely to respond quicker on two of the more traditional channels.
Not only that, but linking your business' website or social platforms to your GBP also lets customers know more about the experience your business has to offer. That includes content, branding, and customer engagement, all of which help build customer loyalty.
2. Get user-generated content on what your customers think about your brand.
User reviews or user-generated content might be a pain to deal with from a business standpoint, but consumers are more welcoming of reading reviews by previous customers.
Recent online review statistics show that 91% of 18-34 year olds trust online reviews as if they were feedback from friends or family.
Google also allows customers to upload pictures along with their reviews, so positive reviews might also come with really flattering shots of your products and services. On the other hand, bad reviews can also damage your reputation to potential customers.
That only means you have to deliver the best experience possible to ensure that you receive mostly positive reviews.
3. Gain further insight into the users that search for your business online.
Google Business Profile also comes equipped with analytics options that let you delve deeper into the type of consumers searching for your business. While you may have had an initial "target market" in mind, you can get a better idea of who is actually searching for you and coming to your store.
This lets you create more engaging content for them, be it via the announcement tab or elsewhere, to guide them towards dropping by your store and making a purchase. Propelrr can even help you develop a content marketing strategy based on your analytics data to drive those sales up.
Local SEO is definitely a good idea for local businesses. Tapping into the "near me" market lets users from nearby discover you easier. To make the most of this experience, partner up with local SEO services or check out this local SEO checklist to guide you through the process.
Key takeaways
Managing a business now takes more than just operating on-site. The online world is simply too convenient of an option for most consumers to pass on, with search engines in the palm of their hands. It helps that devices like mobile phones help keep their attention online, too. Here are three key takeaways for you to take advantage of local SEO:
Claim and optimize your Google Business Profile as soon as possible. While the effects of SEO aren't instantaneous, you can reap the benefits earlier by managing your business profile as early as possible.
Create engaging content. This goes for all of your platforms. Plus, it grabs the attention of your customers and keeps them interested in your business.
Work your SEO ranking ethically. Understand that SEO takes time for the results to reflect. Don't create artificial results for your business, as Google can blacklist you from its services altogether. Be patient, and be consistent.
If you have any other questions, send us a message via our Facebook, X, or LinkedIn accounts.
Want to get insider tips on how to diversify your marketing strategies? Subscribe to our newsletter and we'll deliver it straight to your inbox.
Subscribe Now
Choose topics you want to get regular updates on: