Content Writing Tips to Make Your Blogs More Engaging
Ming Lagman
June 22, 2022
Following these tips will help you improve your content writing and get more engagements on your blog.
Content writing for websites or other online platforms is meant to compel a response from your audience. You know your content is effective when it garners engagements.
Sounds easy enough, doesn't it? Especially if you're a seasoned content marketing professional. But these days, with all the noise coming from everywhere – your competitors, users, and whoever else – that's not as easy to pull off as before.
To help your content get the engagements it needs, you may explore a combination of various marketing techniques. This can involve anything from search engine optimization (SEO) to email marketing campaigns; each equally effective in its own right for boosting engagements.
ALSO READ: 14 SEO-friendly Content Writing Tips to Outrank Competitors
But before all that can be done, your content must foremostly be engaging in and of itself.
Good writing can hook, grip, and command the attention of users. And the stronger you write, the more engagements you'll see with your content.
Content writing tips to become a more engaging content creator
Improving as a writer – more so if composing for distracted audiences – requires a ton of practice. Here are a few things you can begin practicing as well to become a stronger online writer.
Writing tips for headlines
Your headline is the first thing audiences see when scrolling through feeds. Therefore, it's your first shot at getting engagements. This makes writing them tricky because you can either say too much or too little. Either way, you end up losing engagements if you don't master headline crafting.
Great headlines are punchy. They deliver the point of an article immediately while instilling into audiences an itch to read the rest of the article. Let's take a look at a few headlines that you can study the structure of.
Remember that, while reading them, take note of what piqued your interest. Was it a specific fact or figure? Is it an emotion, or a thought that the article claims to inspire? Or does it present an intriguing or little-known fact?
1. BuzzFeed and its usage of strong emotions
Our first example on the list is this headline written by BuzzFeed for an article about articles that, according to them, shouldn't have premiered. As you can see, the headline cites an emotion which is disbelief – they can't believe these movies were made.
Doing this pulls in engagements like clicks or shares because emotions create an instant connection with the reader. Have you ever seen an article and "felt seen" because it talks about a thought or feeling you've experienced before?
Headlines like this try to achieve exactly that. Or, at the very least, try to get you to validate the points made in the article.
If you're writing curated lists or, perhaps, striking developments in your industry, try to use emotive words or phrases in your headlines. This creates emotional resonance, which is always an effective magnet for brand engagements.
ALSO READ: 5 Ways to Inject Emotional Resonance in Your Online Content
2. Forbes, and knowing that numbers talk
Not just in business but in many other aspects of life, too. In writing headlines with numbers, Forbes and non-business publications insert numbers to pique readers' interest.
Numbers in headlines do this because their presence can create urgency, alarm, curiosity, or shock, depending on the context. They are also effective signals of magnitude, size, frequency, length, or other concrete measurements – making story headlines clear and captivating.
This is why you see lists that often follow formats such as:
'23 Best SEO Tools to Use in 2023';
'10 Books That Will Change the Way You Think', or;
'Inflation Soars to 7.7% – The Highest in Philippine History'.
If you're publishing a unique study your company conducted, try citing a striking figure from the findings. This will make them curious about how the numbers add up.
You can also use numbers in listicles so that readers know how many items are written down. Depending on their preferences, you can go for extensive or concise with a list of 100 or five items.
3. Vice Asia and their not-so-usual takes
When content around the world feels redundant, your best course of action with captivating audiences is tackling things from a different perspective.
This is something that Vice Asia's been achieving consistently in their recent articles. Take a look at this headline tackling mental health and how, contrary to mainstream notions, it's not always manageable with meditation.
View this post on Instagram
Intriguing, isn't it? Especially when every other article said meditation at five am helps improve your mood.
But that's not to say the article is refuting the effectiveness of mindfulness. Rather, it challenges the direction mindfulness is taking as becoming a substitute for medication and appointments with your therapists. Which, I think, the headline captured perfectly.
In writing your headlines, try to phrase your article premise in different ways. How is everybody else is everybody talking about sprucing up your condominium? Or is there a different way to communicate the benefits of your financial technology app?
4. Other ways you can improve your headlines
As you've learned, headlines can and should make a powerful first impression. Apart from the listed examples above, some other ways you can write captivating titles are:
Mention familiar personalities or organizations in your headline.
Write your keyphrase at the front or middle of your title.
Use precise and concise language.
Be specific with your topic.
5. SEO considerations when writing headlines
Optimizing your content for search engines is also part of your responsibility as a content marketer. In writing headlines, remember that there are standards to follow that help them rank better on search engine results pages (SERPs). These are:
Keep your page titles within the recommended pixel width of 600 pixels.
The focus keyword or phrase should be present at the front of the headline.
Intent should match the article's content.
Writing tips for the article content
Once you've written a captivating headline that hooks your reader, it's time to keep them reading. In the body of your article, there are many places you can and should insert additional hooks to keep people interested.
Moreover, people skim through articles; they don't read lengthy texts. That's why it's important to make an online article easy to read. The easier it is to read, the more engaging your online article is.
Let's tackle formatting an article for readability below.
1. Use subheadings to break up long paragraphs.
This is one of the most common content writing tips online since it has a number of benefits for usability and search engine optimization. Specifically, these are:
Subheadings provide an SEO opportunity. Inserting your keywords or phrases in subheadings is a general best practice that helps earn you ranking points.
ADDITIONAL READING: Basic On-Page SEO Checklist to Maximize Relevant Search Real Estate
Reading experience is easier and more engaging. Take a look at the screenshots of the articles below and think about which one immediately feels easier to read.

It gets non-readers to finish your article. Subheadings are perfect for delivering the lesson of your article, even if your reader only skims through it.
When writing articles, plan your outline first and decide how to section them. This sectioning is the general direction for your subheadings.
For individual paragraphs, on the other hand, try to keep them at three or four sentences, at maximum. More than five will already feel like a job to read.
2. Write in short and clear sentences.
You get it.
But in case you needed a short explanation, this tip also aims to make your articles easy to read. Plus, shorter sentences are more engaging as they deliver the point quickly.
One tip I can recommend to shorten sentences is to avoid using adverbs as much as possible. This lessens word usage. It also challenges you to find accurate words for specific points. For example, reading "like" is easier than reading "such as."
3. Use simple and easy-to-understand words.
In connection with the last point, sentences that use difficult words are hard to read and not engaging.
If you feel like the word you use might confuse your reader, it most likely will. Always aim for simpler words so that you deliver your message effectively.
For example, you can say "replace" instead of "substitute" or "use" instead of "utilize".
As a general rule of thumb, it's always best to use words you normally would when speaking with a friend.
4. Convert long comma series into bulleted lists.
Using commas in online writing is mainly for creating pauses in sentences. But there is such a thing as overdoing it, especially if you have to name more than three examples, thoughts, etc.
Try reading this string of text in a paragraph, versus reading it as a bulleted list in the image below. Which one was easier and more engaging to read?
rel="sponsored" arelinks that are advertisements or paid placements, while rel="ugc" are links to user-generated content such as comments and forum posts, and rel="nofollow" is a command for when you don't want Google to associate your site with, or crawl the linked page from your site.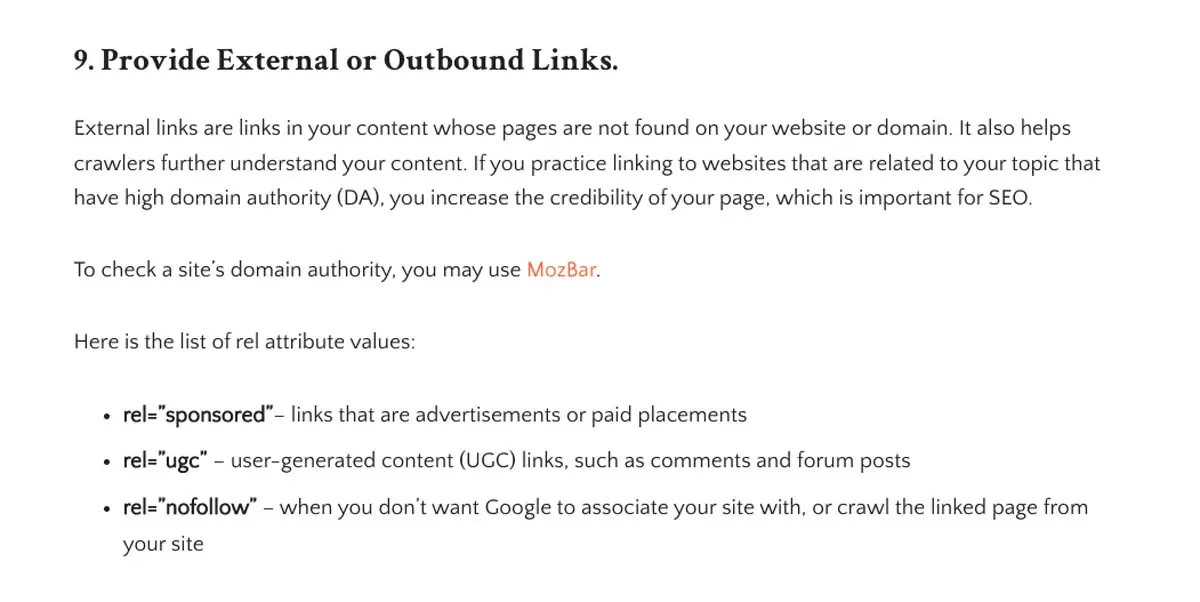 5. Write in active voice.
No matter your writing style, using the active voice in online articles will make it more engaging. This is because you're directly addressing the present moment, and speaking with your audience. Much like how I'm speaking to you with this article.
This makes the content feel more personal – as if you are just conversing with a dear friend.
Third-person or passive voice, on the other hand, sounds disengaged and one-sided, as if you are the receiver of a lecture.
Embellish your content with images and videos.
Lastly – and you may have noticed this in the article – is the use of images, videos, and other multimedia.
Doing this adds another dimension or flavor to your article and makes it instantly more interesting. You can insert photos, or embed posts as you saw above. You can also embed videos, Spotify playlists, or songs.
No matter what kind of media it is, make sure that:
It's relevant to your article;
provides additional context to your story, and/or;
depicts complex thoughts and processes in a clear way.
Adding media to your article also gives more ways for your content to be consumed. Think about how certain podcast episodes often have an accompanying story page or written transcript. In a similar way, the same page will also have the podcast episode embedded.
As an example, we look at The Atlantic's 'How to Build a Happy Life' podcast show.
Below is an image of the series's landing page. On it, you'll find a link to both the written transcript and the audio episode. Clicking on the 'Read the Transcript' button will take you to the exact page you can read the transcript while you also listen to the podcast.
Key takeaways
Thanks to how our online landscape has changed, content writers are continuously challenged to compose in an engaging way. But it's also given you opportunities to create reading experiences unlike ever before. More than any fancy techniques, remember that, when you write, you must:
Think of your reader. Who are you writing for and what do they hope to learn? Write for them, and how you structure your words, sentences, and articles will follow.
Do your research. Engaging content can still mislead. Hence, it's your responsibility to not contribute to disinformation by doing proper research when you write.
Follow a style guide. Many of the style guides for online writing are already tailored for easy reading. Try to find one that matches your style and your reader's preferences to make lessen to better structure your writing.
Apply these tips today and let us know on Facebook, X, or LinkedIn. We'd love to hear if it helped you improve your writing.
For more content writing tips so you can create better online articles, subscribe to our newsletter so we can shoot it straight into your email.