Digital got you dazed?
Type it below, and we'll show you what we've written about it!
Facebook App Install Ads Best Practices for More Downloads This 2022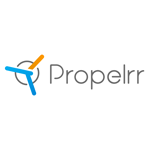 Propelrr

28 Mar 2022

8

min

read
Not impressed by the download numbers of your recently launched app? Try exploring Facebook app install ads to flip the game in your favor.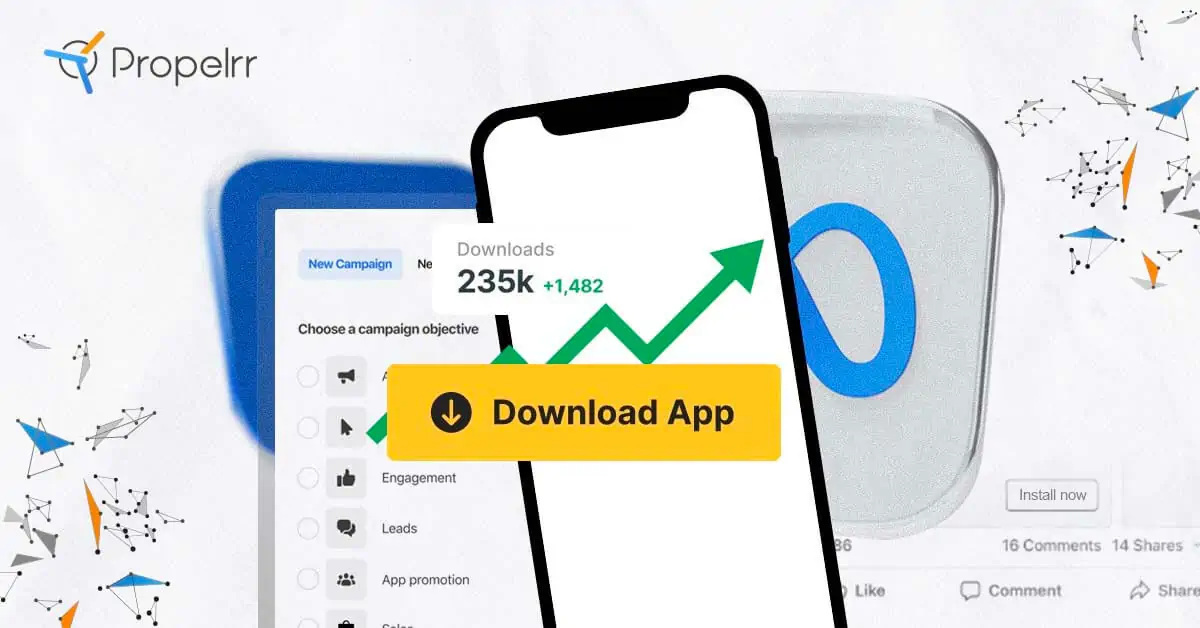 Mobile app install ads and PPC management have never been more relevant, than now. As numbers for downloads in app stores soar, mobile app marketers and developers alike now face tightening competition accompanying their marketing opportunities.
To get the biggest chunk of the pie, now requires more creative efforts to market to your users. And a solution favored by majority of mobile app marketers? Facebook app install ads.
First time you've heard of it? Well don't worry, because this guide on Facebook app install ads contains everything you need to know about it.
As a performance-based digital advertising agency, we'll let you in on the best practices you can do for a successful mobile app promotion on Facebook.
What are app install ads?
App install ads are advertisements that pop up in channels outside of application marketplaces, liket the usual PPC ad networks. Depending on your own business-specific digital media plans, these ads are delivered in a variety of digital media formats and concurrently among these channels.
Some of the best of these ad networks are:
Google Ads Network
Microsoft Ads
Facebook and Instagram Ads
LinkedIn Ads
X Ads
TikTok Ads
READ ALSO: Comprehensive Guide to Every Paid Digital Advertising Channel
Mind that even though these are most recommended, you won't always be deploying campaigns on all of them. And no, not even if you have a huge budget to work with.
Why use Facebook app install ads to promote your product?
So why tackle Facebook app install ads, specifically? Because according to the latest social media usage statistics, Facebook still boasts the most active audience, and one of the most competitive bidding costs. That's marketing to more people for less the cost it would take to advertise on, say YouTube.
In the case of Shopee, they experienced a 77% increase in incremental application installs after making use of Facebook app install ads. They also noted a 42% lower cost per install for that same campaign.
Advantages of Facebook app install ads
If you need a bit more convincing, then let's talk about its advantages over other ad networks. Some other reasons that can compel you to consider Facebook app install ads in your channel mix for 2022 are:
Streamlined downloads. Through Facebook app install ads, users skip slow landing pages, and download the app straight from the ad.
Learning tools. Facebook provides tons of educational courses so you can learn how to optimize ads for various purposes. Through their courses, you can better understand technical information on installs, traffic objectives, and playable advertisements.
Data gathering and analysis. As an advertiser, you have access to Facebook analytics tools that help you spot issues and optimize your ads accordingly.
Convinced already? Now, let's talk about how to actually run Facebook app install ads that work.
How to run Facebook App Install Ads
Before you dive into running and, moreover, optimizing your Facebook app install ads, here are some technical requirements you'll need to: register your mobile application, and implement an updated software development kit (SDK). The latter will be critical to overcome the hurdles brought by Apple's iOS 14 security update. READ ALSO: What to Expect From the iOS 14 Security Update Ad Limitations
Ready to get started? Read on to learn more about the app install best practices for 2022!
1. Implement proper tracking of Facebook App Install Ads
In preparation for your campaign, you need to know how to track your advertisements first. With Facebook, you can track a staggering number of user events when they interact with your ad and application.
These include, but are not limited to: when the application is searched, viewed, launched, added to cart, added to a wishlist, purchased, or rated.
Without these indicators, you won't be able to gather data for gauging success. Explore your app ad options and enable proper tracking so Facebook can guide your optimizations accurately.
2. Maximize your audience targeting
The next step on your Facebook ads checklist is to figure out your target audience. For any PPC management strategy, you need to know your target market to make the most out of your campaign budget. Luckily, this company allows you to target audiences with ease.
Basic audience customization includes users' age, location, and gender. However, you can specify your targeting with the following customizations, too:
Core Audience
Do you want to target audiences based on their interests, religion, or occupation? Core Audience is an option that can help you do this by selecting audiences based on four main targeting types: location, demographics, interests, and behaviors.
Facebook allows you to target core audiences by pulling data from the information users share on their profile including the behavior they exhibit online and offline. This data is then collated into categories that you can easily customize on your dashboard.
Custom Audience
Are you looking to re-engage users who interacted with your brand but didn't follow through with a purchase? With the Custom Audience option on the Facebook marketing app, you can target users by more than just their demographics.
You can use Custom Audience to reach new users who never interacted with your brand before. You can also use this option to reach users who previously engaged with your brand, but didn't follow through with a conversion.
Upload the details of your clients through the "website traffic" option so you can reach them with your advertisements. You can also use the "app activity" option to convert free trial users into paying customers by showing them more discount-focused advertising
Lookalike Audience
This option works best when you already have an established user database to "copy." Using the Lookalike Audience option, Facebook studies your current users' interests and activities and shows your advertisements to new users who are similar to your current audience.
If, for example, you ran an ad campaign that your current Custom Audience liked, you can create a new Lookalike Audience to show your PPC strategy to more similar users.
3. Stand out with your creatives
When creating a campaign, you need the right visuals and creatives to attract the right audiences. For Facebook mobile app install ads, the company has since removed its text overlay tool for its client advertisers. However, there are still a few other ways you can maximize your visuals like a pro:
Pick the right type of visual.

You can advertise with a single image, a single video, a "carousel" of photos or videos (where users can swipe between content on their own), and a slideshow of photos or videos. Whichever visual type you choose, just make sure they follow the

best practices for visual content

to make the most out of your campaign.

Make use of A/B testing when you can.

A/B testing allows you to test two versions of an ad to see which one performs better. Facebook has its own tools that allow you to conduct this type of testing, and it also lets you create up to six single image advertisements using the same image, at the cost of one ad. This will help you perform A/B testing on these smaller campaigns for your future reference.

Grab attention with a compelling headline. Headlines should grab a user's attention right off the bat. Short and concise, your headline should at least convince users to keep looking at your app install ad for more information.
Write a good caption.

A good caption tells your audiences what the benefits of your brand are, and why you're the best brand in the business, too. Captions should encapsulate your application's most meaningful features in the fewest words possible.

Your image copy is everything.

Like what was mentioned before, the text overlay tool was removed just this year. However, you still need to create a concise copy for your ad. Your headline should only have 25 characters, while the body should only have 90 characters. You also have access to 11 different call-to-action buttons you can use depending on your brand's needs.
In lieu of these points, bear in mind that Facebook uses certain metrics to measure ad relevance score. This is very helpful if you're looking for ways to improve the quality and performance of your ads on the platform.
4. Choose your ad placements wisely.
Back in 2020, Facebook rolled out new ad placements for all your performance-focused PPC advertising needs. Your ad can now appear in various places on its affiliated applications and its audience network for the widest reach possible.
If you pick the Automatic Placement option for your ad, then the company will choose where to show your ad. But you can still choose where to show your ad using the "edit placement" option. Here are the places your ad can show up from Facebook's affiliated applications:
Facebook.

Your advertisement will be placed on users' news feeds and stories, for them to check out when they scroll through.

Messenger.

Your advertisement can turn up as either a banner ad on the Messenger home page or as an in-context ad when they're messaging your business.

Instagram.

Similar to Facebook, your advertisement can turn up on targeted users' Instagram feeds and stories.

Audience Network. Your ad can even appear on non-social media platforms too since mobile app install ads can be shown on third-party applications, websites, searches, and socials affiliated with the Facebook group of companies.
5. Allocate and optimize your budget.
For mobile app install ads, you can pay per link click, per install, per engagement, or per 10-second video view. Facebook lets you choose how much you want to pay per click, install, engagement, or video view, depending on user behavior. You have two bid options for your mobile app install ad:
Lowest Cost.

Brands with lower budgets should go for this choice. In this bid option, you have the opportunity to set a "bid cap," or the maximum amount you can pay per click, install, engagement or view. This way, your advertisement will only be shown to users who are within the bid cap.

Target Cost. With this option, your ad is automatically assigned to an average bidding value. Though usually more expensive, this option allows your ad to get displayed to a more ideal audience that's more likely to complete a conversion, i.e. download and pay for your product.
6. Analyze your data and results.
You tracked your advertisements, targeted the best audiences, developed the best creatives, placing your ads on the best platforms, and budgeted everything wisely. The last thing you need to check off your ad optimization checklist is to analyze all your data.
What worked and what didn't? How can you improve those that flopped? These are the basic questions you need to ask yourself as a digital marketer to succeed in the highly competitive world of pay-per-click advertising.
The great thing about Facebook is that it tracks all your data, from when you launch your campaign to when it ends, to help you in this analysis stage. When you install the Facebook app for your advertising needs, you give your brand's mobile application the best chance at online success.
Key takeaways
With digital citizenship ballooning, your brand has a lot of potential for online success. To work towards that success and beat out the competition, you'll need to actively follow these best practices and these final words of advice:
Track your Facebook app install ads properly. Doing so allows you to practice true data-driven digital marketing, and improve your campaigns to generate durable results.
Follow the audience trail. Facebook may be a preferred platform, but it makes no sense spending on it if your audiences are not active on it

. So make specific assessments into your audience and

have your resources redirected to wherever they may be.
Diversify but keep your focus. If you try to market everywhere, you'll run your budget dry in the blink of an eye. Add to that, it might also end up overwhelming your audiences. Don't be the annoying brand online that scares away their audiences – market only where relevant for your brand and target audiences.
Got any personal best practices you've discovered in marketing your mobile apps online? Share them in the comments and help a fellow mobile app marketer out. And if you need more in-depth advice on how to boost your mobile app downloads, then we're just a message away over on Facebook, X, or LinkedIn.
Subscribe Now
Choose topics you want to get regular updates on: