What are microsites and Facebook applications?
Microsites are individual web page or pages that reside outside an existing site's homepage or branded URL. Microsites are under a different URL but is still connected to the parent URL. These microsites are created by brands to achieve several things. They are built to focus on specific goals, campaigns or events.
Some use cases for creating microsites are:
Power lead generation campaigns
Promote an event or a product
Announce a new product/solution launch
Release study results
Inform about a time-specific event or initiative
Develop a niche client community
Provide details about a specific service offering
Like microsites, Facebook applications are made to focus on specific goals, campaigns or events. Generally, they are also used for the cases outlined above. The difference of Facebook applications with microsites is that they don't have a different URL since they are hosted directly by Facebook. It's also important to remember that in Facebook's Promotion Guidelines, it does not allow you to run promotions on Facebook without a Facebook application.
Why go with Microsites/Facebook applications?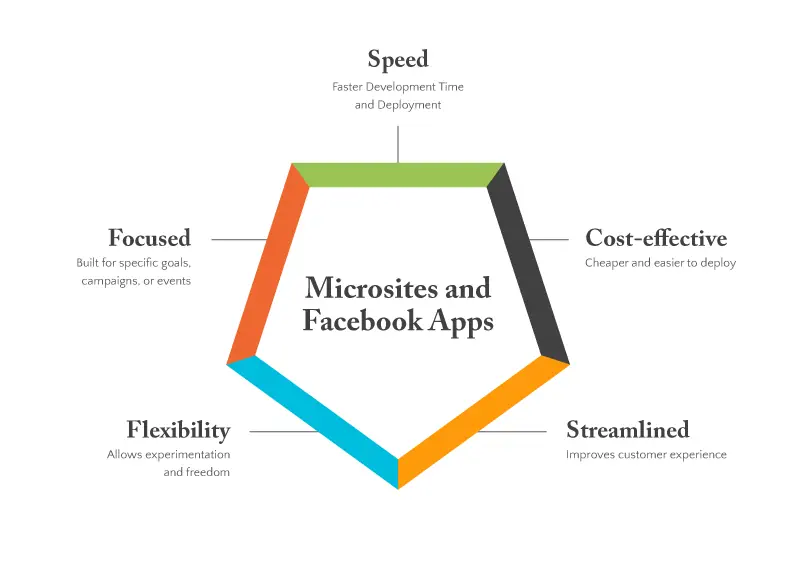 As the name suggests, microsites are smaller versions of websites that are capable of delivering some of the same benefits that are expected of websites, such as generating leads or providing important information. The same applies to Facebook applications in terms of being able to generate leads and announcing important events or promos.
Beyond this, here are some of the things you can expect your business to enjoy with our
microsites and Facebook application service:
Cost-efficient marketing initiatives, because microsites and Facebook applications are cheaper and easier to deploy

Improved customer experiences, since microsites are streamlined contain only a few features that are necessary

Flexible and malleable marketing initiatives that allow experimentation and freedom since microsites are quick and easy to deploy
How we do it
As a full-digital marketing agency in the Philippines, we simply can't ignore the benefits that social media marketing does to a brand's presence. That is why we've devised a robust process to aid us in creating microsites and Facebook apps that fit the platform and your standards.
Identification of the specific goal in launching a microsite
What are your business objectives? What is their success KPIs?

Who is your target audience? How should they react?

What are the features of the microsite?
Objective setting and alignment ensure that the campaign is geared towards the direction you want. To get a clearer and more strategic picture of what your goal in building the microsite is, we discuss your business objectives in relation to what our web development service can bring to the table. 
After we've identified your objective, we use this as a guide to set the pace of the microsite or Facebook application development process. We want to make sure that what you want comes through.
Creation of a quick mockup of the microsite
What design, visuals, and theme should the microsite have?

Are these aligned with the client's request?
After the initial questions and ideas have been answered, we create a quick mockup of the microsite to serve as proof of concept — the visualization of the specifications of the microsite you have given us. This is crucial because this allows us to drill down your requests with precision and certainty. This also enables us to further fine-tune the proposed microsite so that it is ready for the development process.
Develop, Test, and Deploy
Is the microsite usable in terms of its features and functionality?

Is the hosting server capable of supporting the influx of users? Can it maintain 99.99% uptime?
This is the part where we build the microsite based on what was discussed. Here we use the latest tools and practices in web development. After development, we conduct an internal quality assurance test where we check the product's functionality, performance, and security. This is an integral part of our service to make sure we deliver beyond your expectations. The final stage of our enterprise web application development is the deployment stage where we hook up your application to a robust hosting server.
Tracking using the appropriate analytics
What metrics should be used to measure your success KPIs?

How are these KPIs aligned to your objectives?
With our data analytics services, you can get a clearer picture of your campaign—understanding pain points and areas of opportunities. Collecting and analyzing data depending on your success KPIs gives us valuable and actionable insights that you can use to further improve and fine-tune your microsite or Facebook application.
Are you game to achieve greater digital heights? Leave us a message.