Digital got you dazed?
Type it below, and we'll show you what we've written about it!
Social Media Management & Marketing
How Storytelling and Experimentation Boosted Tisyu's Video Engagement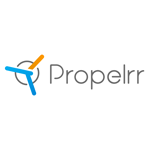 Propelrr

02 Dec 2022

10

min

read
Through storytelling and experimentation, a social media campaign can earn millions in engagement for brands.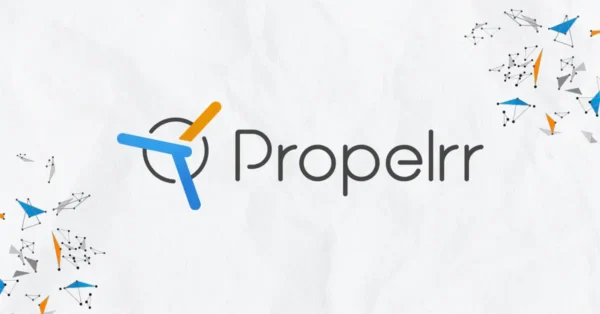 Honest narratives have always served humanity as fodder for engaging conversations. This, local tissue brand Tisyu, proved excellently when it harnessed it in its recently concluded 'Taboo Talks' campaign.
Playing on cringe humor and using candid narratives, the results from the 'Taboo Talks' campaign amounted to millions in honest laughs and engagements. To be exact, it garnered over three million views on YouTube.
But, to be frank, storytelling wasn't the only ingredient in the impressive campaign.
To continually assert the importance of having a Tisyu roll handy to too-often disengaged online audiences, it would take a combination of various online marketing techniques and tools.
Tisyu knew this and so, in partnership with its social media management and marketing agency Propelrr, it endeavored to run an insightful video campaign that channeled the power of paid advertising and marketing experimentation.
Forging connections and committing to memory
Storytelling has been an act of human communication since mankind's earliest days. As we look at these stories in hindsight, we can't doubt how it's effective in sharing values, ideas, and culture in a meaningful and memorable way.
It reveals truths about your products and connects with your audience. With audiences growing more desensitized to the swarm of information shared online, your best approach does not lie in what the story contains, but in how you tell it. You not only increase awareness of your product, but it also creates an emotional connection through content with your potential customers.
Moreover, it allows you to communicate your brand values in a way that resonates with them on an emotional level. An emotional bond which, in turn, builds and fosters trust with potential customers.
Relating your customers' lived experiences to your brand is how these stories create a connection. Because the fact is: people will remember you for the stories you share rather than facts and figures.
It's in that knowledge we drew inspiration for an intriguing and striking campaign for a commonplace object: tissue rolls. In Tisyu: Taboo Talks, Propelrr uses storytelling in social media to keep audiences paying attention and remembering that Tisyu is a hero in a tough pinch.
An opportunity with empathy
Going into 2022, Story Chief Insights notes that humans are built to connect with stories they can relate to. This includes empathizing with characters and reacting to a narrative.
Tisyu was able to achieve this by producing an eight-part video campaign featuring personal experiences often talked about and laughed about privately.
Sharing funny and relatable stories about needing tissue in times of need were normalized by Tisyu. This served as light reminders to people of what they might experience if they miss out on having Tisyu products whether on the go or at home.
Relate much? Maximizing storytelling through confessional-type video content
Nothing galvanizes a connection quite like shared experiences. So when it came down to telling a story about tissue, there was no better way to do it than through "we've all been there before" confessions.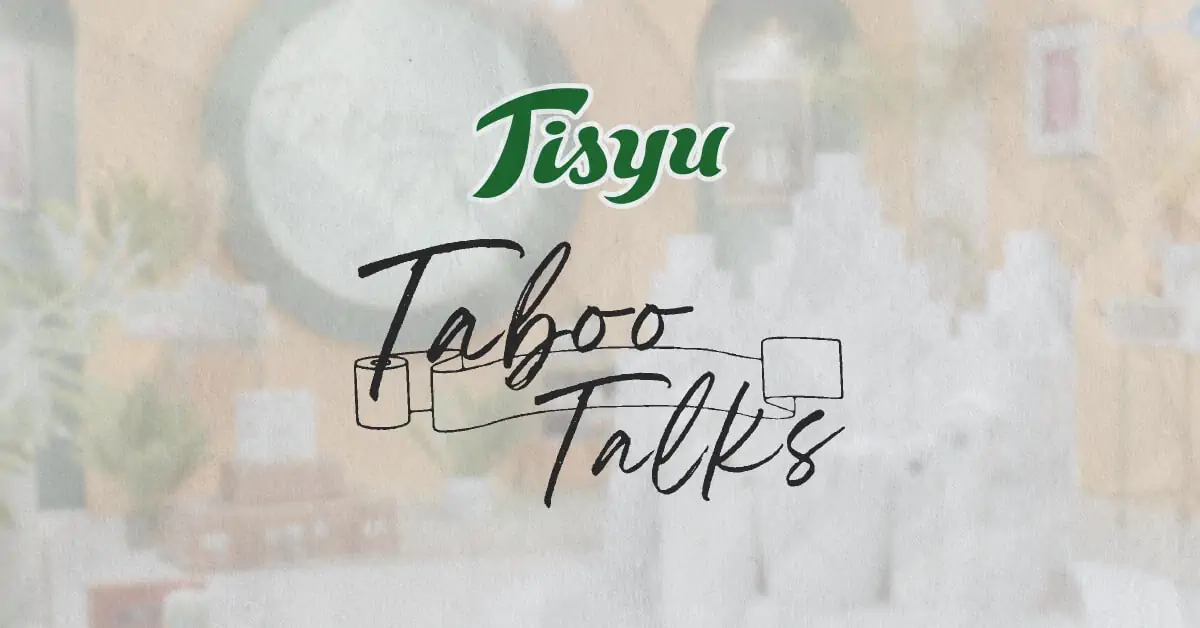 For the Philippine hygiene brand Tisyu, it was important to use vivid, candid stories that play with cringe humor for a widely relatable, and lasting impression. Through the 'Taboo Talks' campaign, they used this narrative to their advantage, amassing over ten million social media views and over 80 thousand watch hours on YouTube. All are mostly attributed to stories on *wait for it* pooping.
A case for genius bathroom ideas
In its recently concluded eight-part video series, Tisyu channeled relatable tissue (or lack thereof) stories. Specifically, those which spark and tackle the uncomfortable (or so-called "taboo") conversation about not having a roll on you when needing to "relieve yourself."
We challenge you to tell us that you haven't been in the same situation once, twice, or even thrice.
The goals were simple:
Strengthen familiarity with its family of 100% Pinoy-made products among Filipino audiences
Showcase its brand personality
Engage new and existing audiences
But through 'Taboo Talks', they did much more than that.
In the same campaign, Tisyu embraced the power of video content, asserting that they are more than willing to try new ways of telling stories. Simultaneously, they launched their YouTube and TikTok platforms, creating a new and timely medium for sharing their and their customer's important stories.
Telling the story: How we produced 'Taboo Talks'
A great story is one that is told in vivid and meticulous detail. Since the campaign would involve eight videos featuring the narratives of different people, much preparation was needed.
Pre-production for Taboo Talks began in the first quarter of 2022. Building around actual confessions, Tisyu and Propelrr worked on making these inspiring stories come to life.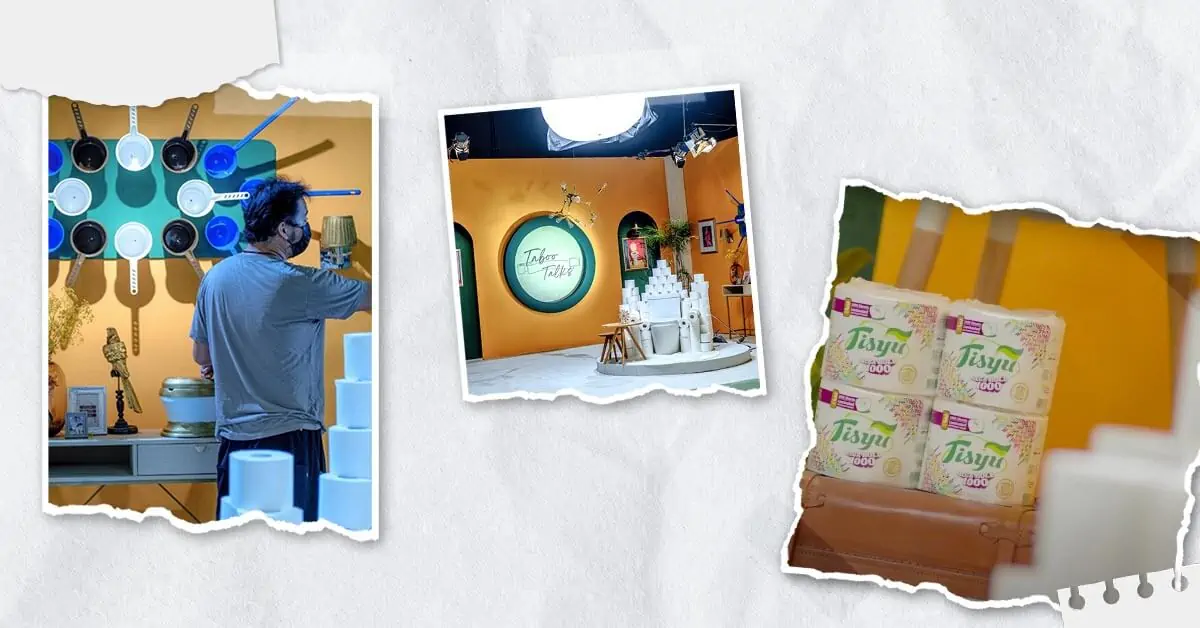 Characters of the series all had to sit on the "Tisyu Throne" while confessing their truths. While our chosen talent narrates the recalled situation, the video would transition to a skit where the scenario is reenacted.
The set was embellished with props that depict your "call of nature" situations issue rolls encasing a toilet would form the "Tisyuhrone" serving as the seat for the interviewee.
Taboo Talks maximized short-form videos lasting no more than two minutes. This is in consideration of the short video trends, with people having dwindling attention spans and keeping executions snappy.

The stories of our fictional characters named Nathan, Luke, Anna, Charm, Tita, Phil, Agnes, and James, pulled engagements with their candid confessions on Facebook, YouTube, and TikTok last May 2022.
By incorporating storytelling into Tisyu's marketing campaigns, they were able to emphasize the truth that Tisyu's tissue products are essential for everyday life. This resonated with Tisyu's target customers in such a powerful way that it increased customer engagement and improved brand recognition.
Tisyu was able to communicate the importance of its tissue products in creative, yet impactful stories—which opened up new channels for customer interaction and loyalty.
'How?' you may ask? We spill the details below.
Creating a shared "safe space" and community on social media
The Taboo Talks video series was mainly uploaded and promoted on Facebook, YouTube, and TikTok. To build anticipation for the campaign, a video teaser was shared to preview each story.
During the run, contests were also launched to crowdsource viewers' own stories and reposted them as user-generated content (UGC).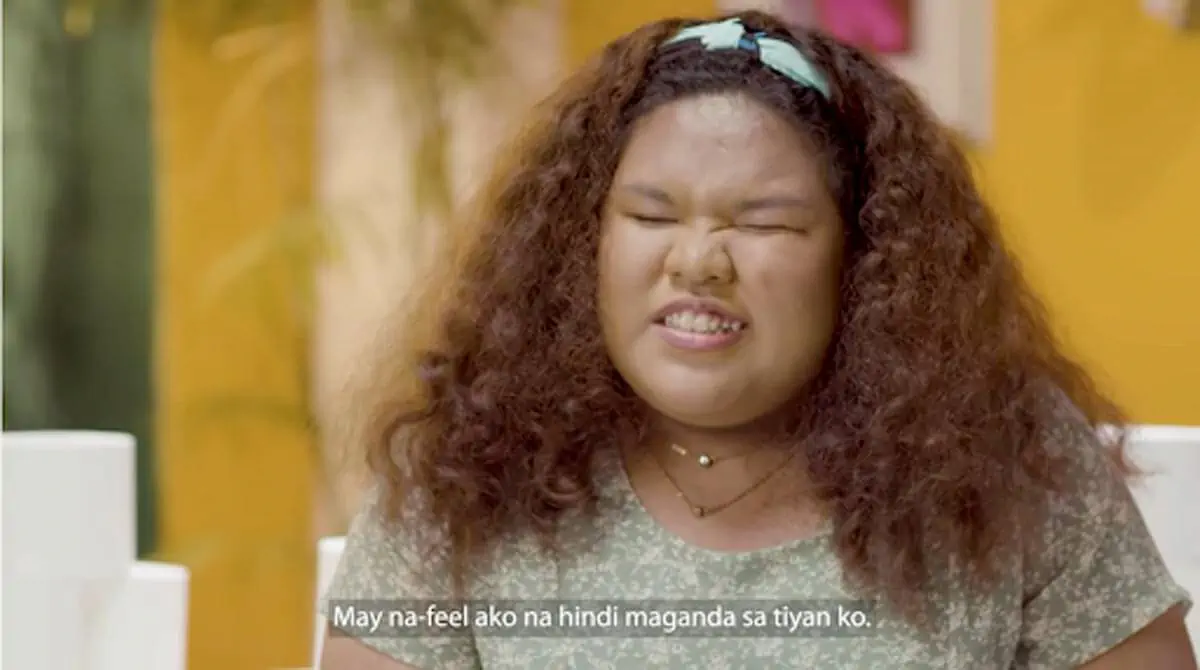 In addition, it launched an 'Isyu na Kailangan ng Tisyu' contest which garnered over 700 comments and entries. Moreover, in promoting the last batch of videos, Tisyu launched another contest asking fans where they usually go for "call of nature" scenarios. This contest garnered over 1,800 comments and entries.
Aside from comfort rooms, Tisyu's comments section suddenly became another safe space for release.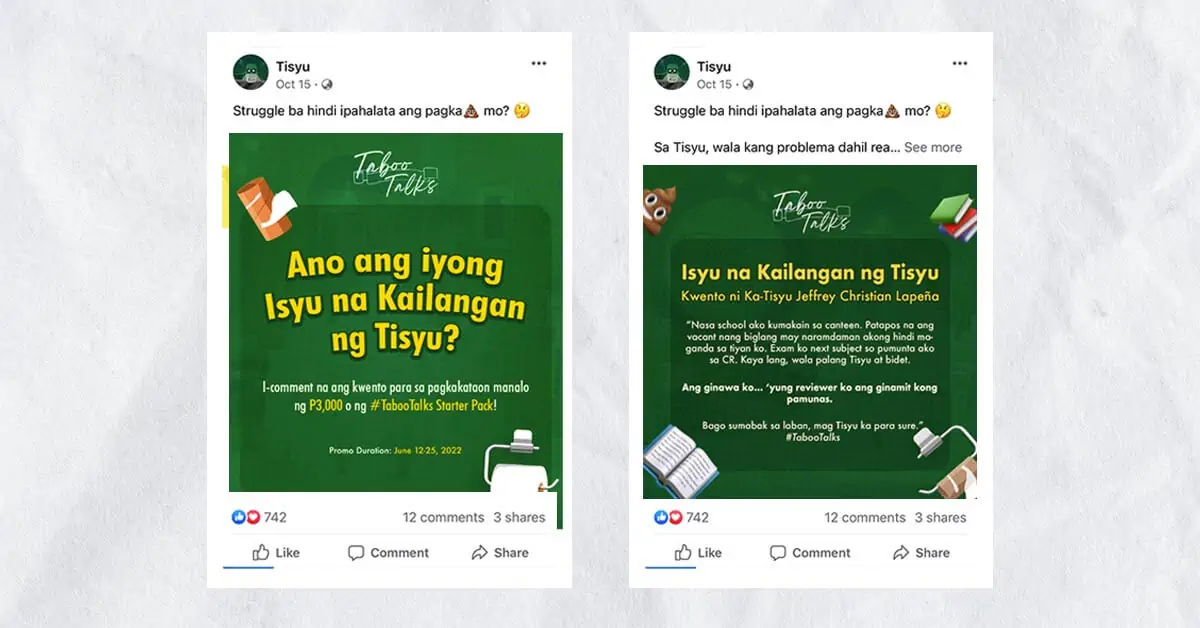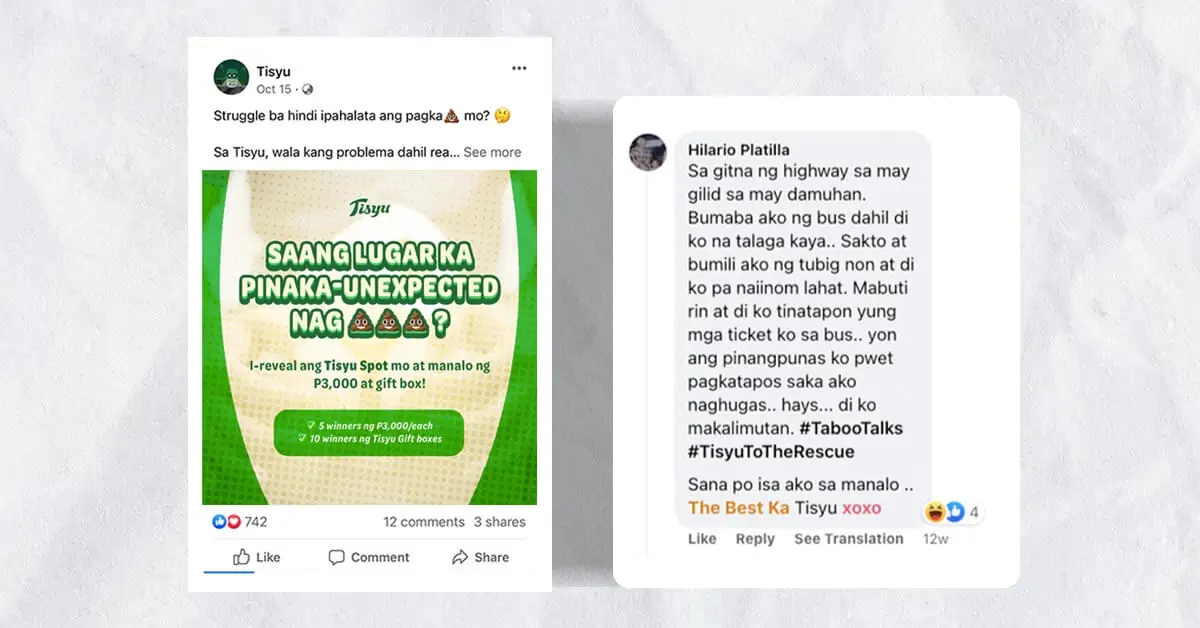 Long-term campaigns are often at risk of losing traction. To avoid this, especially for long-term video campaigns, it is recommended for brands to maintain hype by:
Extending the video campaign in business-as-usual social media content
Sharing user-generated content
Experimenting with blitz campaigns that aim to promote the videos
The pay-offs of 'Taboo Talks'
The 'Taboo Talks' series is the brand's first video campaign. It served as the premiering topic of its newly established YouTube and TikTok platforms. Thanks to storytelling, a resonant concept, and quality production, the campaign achieved results that are above par for a pilot video campaign for brands.
At the campaign's conclusion, Tisyu recorded over ten million views across different platforms. Altogether, the series received almost 11 million Facebook reach and 80 thousand watch hours on YouTube.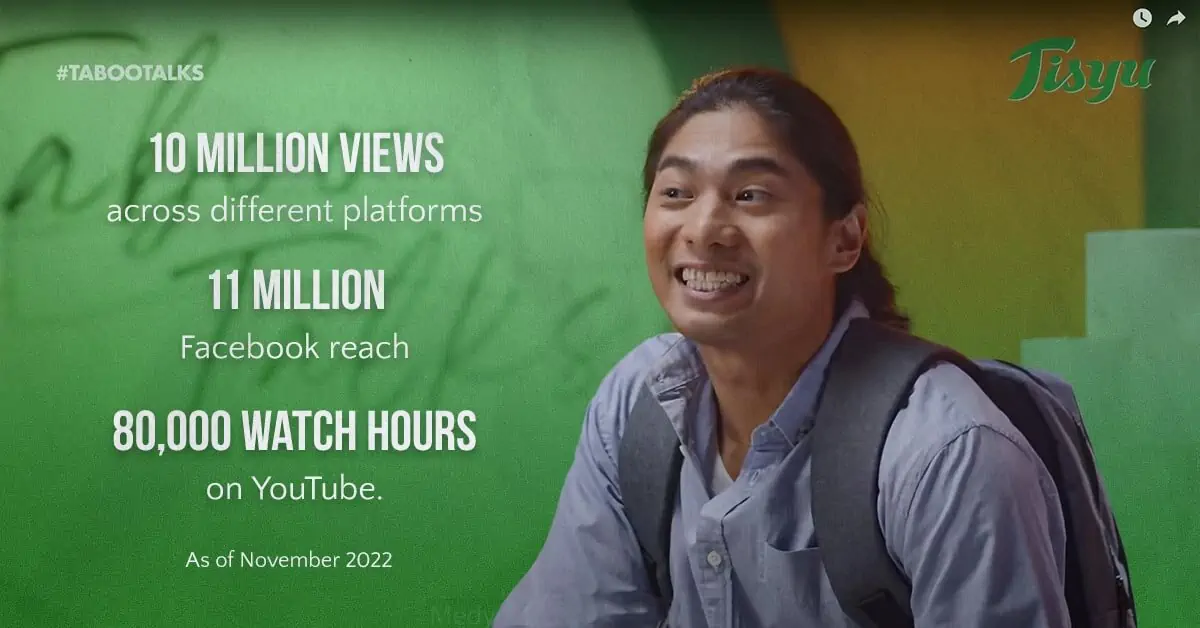 Moreover, engagements of the brand on Facebook ballooned, with growth sustaining months after the campaign period. After the end of the series users freely shared their own 'Taboo Talks' stories in comments leading to post engagements that are far better than what was observed earlier in 2022.
Turning success up a notch with paid media
With Organic performance doing well, Propelrr wanted our story to reach more people and capture an untapped market for Tisyu. For this, we turned to paid media.
Defining our metrics and performance indicators
Before starting, we took it upon ourselves to check the data we were working with. The first thing we looked at was completion rate – a metric of how many watchers finished the entirety of a video. We also looked at a second dimension – retention rates which would indicate how many people stayed watching for a given duration of the video.
Both metrics are strong indicators of video engagement in and of themselves. Combined, however, we gain deeper insight into which specific portions of a video are more engaging than others.
With this lens, we identified opportunities for improvement through paid efforts.
Assessing our opportunity areas
Looking at the completion rates, we noted that completion and retention rates for the first three videos at the quarter (25%) mark of the video dropped significantly.
This indicates a low completion rate that also told us that viewers let go of the video before the punchline and campaign message were delivered. Both were placed toward the end of the video.
Accordingly, we decided to test out potential solutions.
Marketing experimentation to uncover the best solution
We are never one to implement changes without solid grounds for doing so. Hence, we turned to marketing experimentation to uncover the most optimal solution for the poor completion and retention rates.
Hence, the team proceeded to examine the segments and formulate three hypotheses to test out. The results would point to which placement will yield the best results. Below are the hypotheses we tested.
Hypothesis # 1: Isolation of Placement in Facebook in-stream videos will improve cost per view (CPV), and cost per ThruPlay (CPThruPlay), with a higher video completion rate.

Setup: One campaign, two main ad sets: one isolated Placement for in-stream, and another for all placements excluding in-stream)

Results: Negative

Resulted in a lower cost per ThruPlay as the In-stream placement provides at least a 15-second preview of the video.
However, the completion rate is significantly lower for isolated in-stream compared to having other placements.
Therefore, as a use case, we will only use isolated in-stream placements if we want to generate a higher number of ThruPlays. However, results may not differ from opting for automatic placements.*

* Note: In the case of Manual Placements vs Automatic Placements, using the latter sets Facebook's algorithm to place your ads where it thinks it will perform the strongest. While that's great to build up initial performance, it's best to customize all of your placements in order to provide the highest quality ad experience to your audience.

Hypothesis: Isolation of Placement in Facebook Video Feed will improve CPV, CPThruplay, with a higher video completion rate.

Setup: One campaign, two main ad sets: one isolated Placement for Video Feed, and one all placements excluding In-stream. Our challenger has changed our learnings from Hypothesis 1, and Video Feed.

Results: Positive

We noted improvements in the performance of each video, but the resulting change is still insignificant. We also noted that:

Isolating Facebook Video Placement resulted in a significantly higher cost per ThruPlay and lower watch duration, despite achieving a higher completion rate.
With the use of the Campaign Budget Optimization feature, the changes are still not visible where most of the budget is used by the All placement ad set.
Despite using Campaign Budget Optimization and redirecting most of the budget to All Placements, the resulting improvements were still insignificant.

Story Placements and In-stream video placements are not optimal for long-form videos. isolated placements producing negative results, we thus, exclude these placements for future videos.

Hypothesis: Use Facebook Feed and Video Feed Placements only to increase video completion.

Setup: One campaign, where placements of ad sets are programmed manually to show on Facebook Feed and Video Feed.

Results: Positive

As seen on the graph, the video completion rate spikes with more than 10% completion rate on the succeeding video.

We increased the number of completed views by almost 4,000% (from 3,000 to 130,000).

Knowing who we want to target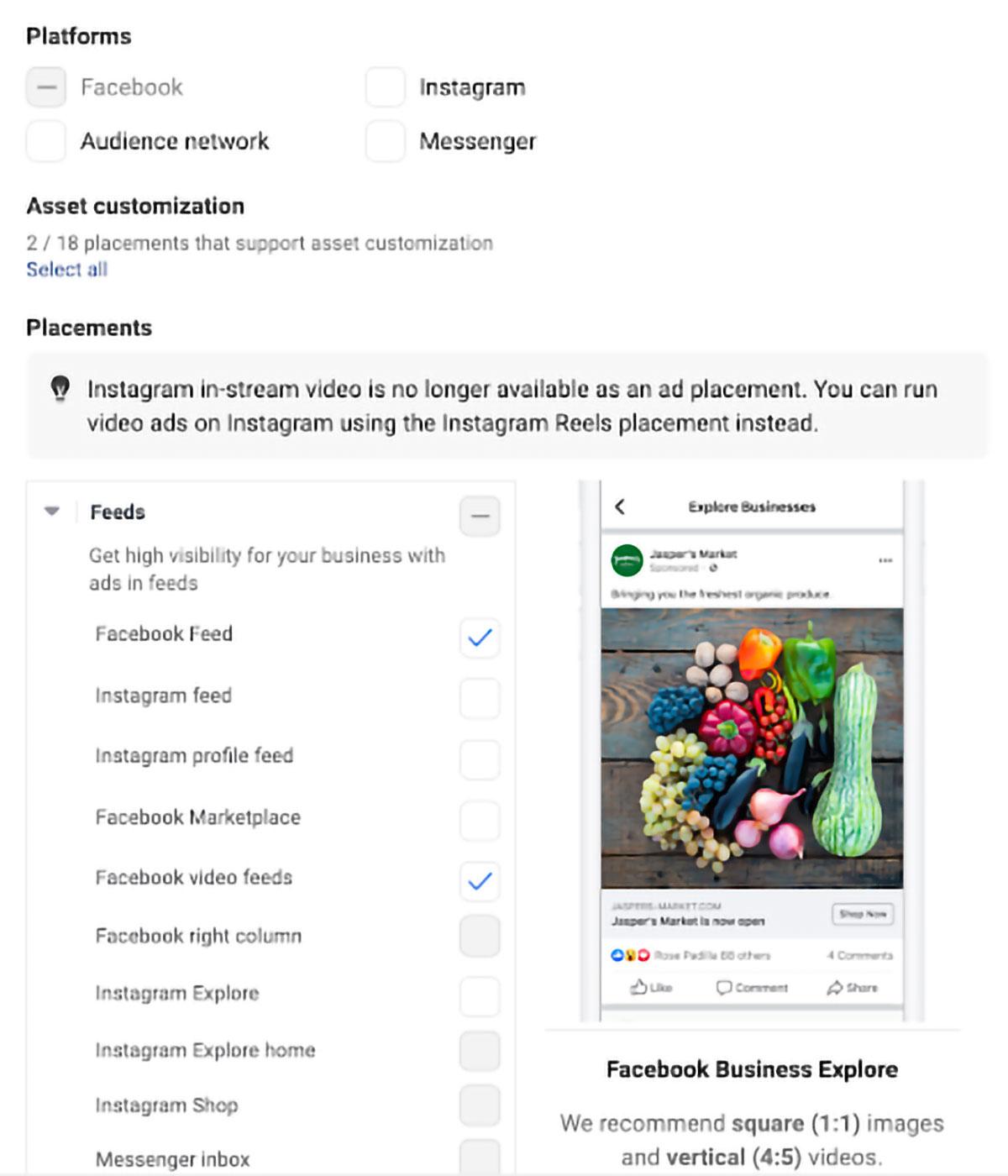 Other than those mentioned above, optimizations using Leveraging Audiences were done on both Feeds.
The utilization of custom audiences of people who have watched the video by more than 50%. These audiences have shown interest in the video series, and have a higher tendency to watch the succeeding videos.
The Custom Audience for Video 1 was added to Video 2, and so on. Similar audiences/Lookalikes (LAL) of the built Custom Audiences were also used.
The Custom Audiences generated the highest completion rate and average watch duration among the three audiences. However, given the audience size, the majority of the budget was spent on Core and LAL.
On YouTube, Video Completion also performed significantly better with around 33% of audiences watching the video up to the end.
Cumulatively, we have achieved 3,689,194 views on YouTube across all eight videos of the series; each having an average completion rate of 216.46%. Furthermore, the total amount of time people watched all of our videos on YouTube is 337,916,384 seconds.
Key takeaways
Key takeaway # 1: Importance of storytelling in content.
Humans are built to connect through stories they can relate to, thanks to our inherent ability to empathize with characters and react to narratives.
With Tisyu's roster of revelations and confessions, 'Taboo Talks' told relatable stories that everyone has or can experience. The experiences told were great anchors to sail the idea of having or not having Tisyu and the possible fate of Filipinos brushing off tissue products as an essential.
Video is an excellent medium but without a story, it's nothing but a shell. To achieve success for video campaigns, focus on compelling and striking stories rather than hard-selling.
In capturing people's attention in a saturated digital space, it is important to go back to understanding your own brand's personality and aligning this with your strategies.
Telling genuine stories while making this felt throughout all of your brand's available platforms makes you memorable to your audience. And, ultimately, when these customers hear about your brand, they won't simply remember your products. They also leave you with warm stories and a stronger feeling of connection with you.
Key takeaway # 2: The power of video content in storytelling and connecting with your audience.
There is no denying that video has always been the way to go for years now. Marketers can see this in the rise of entertainment-forward social platforms such as TikTok, Reels, and YouTube Shorts.
Add to that, video marketing statistics report that 86% of marketers shared that they use video as a marketing tool.
In order for brands and companies to stand out and be in with the times, do not turn a blind eye to the value of video content.
Key takeaway # 3: Test different Facebook placements to improve video performance.
In the first three videos, the completion rate was low at one of the vital parts of the content. The key message and punchline were missed on its first deployment, as these were placed toward the end of the video.
That data says a lot, but it should never be taken as a sign to back down. Don't settle for less and try testing out different aspects of your campaign to see how you can restrategize for the best results.
Always challenge your ideas and campaigns. You never know what will result from it.
To learn more about our success stories and campaigns, subscribe to the Propelrr newsletter to get updates! If you have any questions or inquiries, just reach out to us or follow us on our socials via Facebook, X, or LinkedIn.
Subscribe Now
Choose topics you want to get regular updates on: