Digital got you dazed?
Type it below, and we'll show you what we've written about it!
Propelrr Vice President Leads PMA's International Membership Committee
Ming Lagman

09 Feb 2023

3

min

read
Get to know the association's plans for international growth and the woman leading the charge.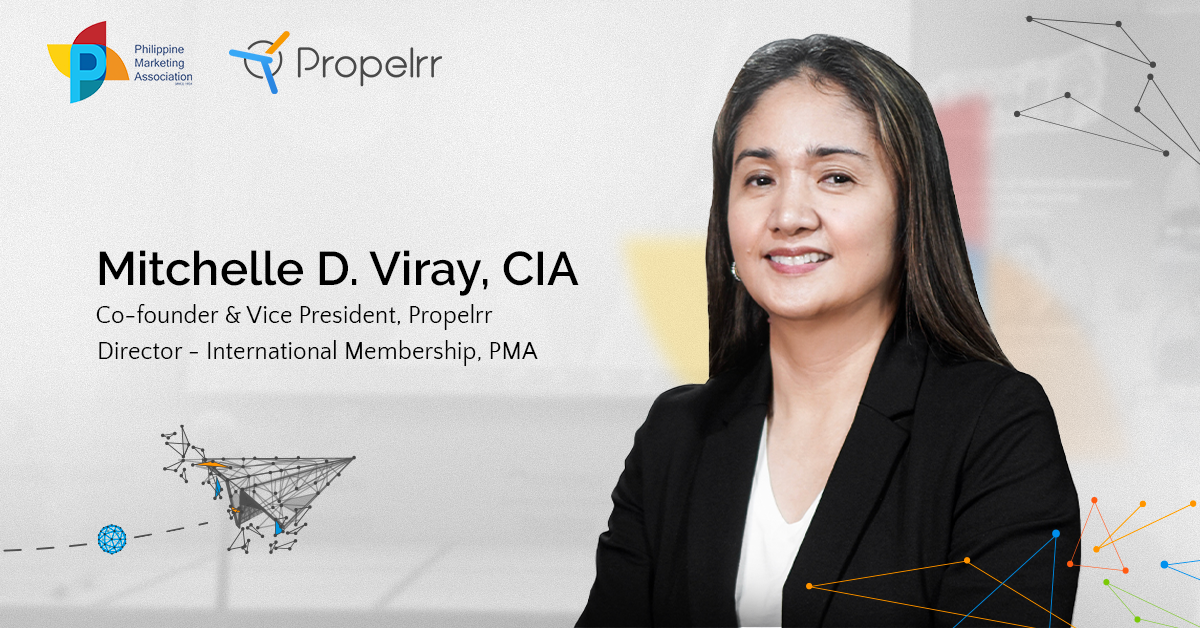 MANILA, Philippines – Seeking to connect and empower global and local marketing talents, the Philippine Marketing Association (PMA) establishes its International Membership Committee and appoints Propelrr Co-founder Mitchelle Viray as its Director.
As one of the long-standing pillars of marketing excellence in the country, the Philippine Marketing Association (PMA) is a reputable institute for nurturing and empowering local marketing talents. This, they prove, time and again through their well-attended seminars and networking opportunities provided during general membership meetings (GMM).
Last year was the same but, also, unique in its way of delivering these services. Catering to the particular needs of marketing talents amid an isolating pandemic, the PMA worked overtime to provide innovative solutions for the circumstances.
General membership meetings (previously led by Propelrr co-founder Mitchelle Viray), certification courses in digital marketing, and the plethora of their offline-only engagements were conducted via a hybrid setup. A challenge that brought forth yet another opportunity that the association charges into this year.
RELATED STORY: Propelrr's Mitchelle Viray Joins Philippine Marketing Association as New Board Member
For 2023, it's still the same goal of producing globally competitive marketing talents, albeit with a scope that reaches farther than the borders of the archipelago.
Pursuing international growth
Hybrid conduction of membership meetings proved that geographical limitations are easily erased when we use technology to scaffold our visions and missions.
"It's about time for Filipino marketers abroad to actively take part in the endeavors of the Philippine Marketing Association and open their doors to non-Filipinos as well."

Mitchelle Viray, PMA Director of the International Membership Committee
Digitalization has made globalization easier than ever. And whether they're overseas Filipino workers, outsourced remote talents, or local practitioners, local marketers have big chops to show off in the global arena. However, maintaining that momentum and developing globally competitive talents demands access to connections and information that can be attained only if we look outside of the country.
Hence, this year, PMA establishes its pioneering International Memberships Committee to be led by none other than Mitchelle Viray who shares:
"It's about time for Filipino marketers abroad to actively take part in the endeavors of the Philippine Marketing Association and open their doors to non-Filipinos as well."
This move follows the success of the hybrid general membership meetings which featured speakers and participants both from the Philippines and other parts of the world. It proves that "distance is no longer a limitation for us to continue…PMA's mission(s)" and so will no longer serve as a hindrance to building a community of globally competitive marketers.
The goals of the committee
As a specialized committee for the PMA, the International Membership Committee is the bridge that allows local and international marketing professionals to connect. In light of this overarching goal, the committee hopes to:
establish the process, infrastructure, and technology to build and support PMA's growing membership;
provide all members with a global community of competent professional marketers, and;
provide international members with a venue to gather and learn from marketing experts all over the world.
Mitch shares that, with the support of digital marketing agency Propelrr, the PMA will become a launchpad for local and international members to showcase their areas of expertise, encourage partnership and business collaborations among members of the organization, and benchmark with and access world-class marketing knowledge and skills.
Looking ahead, old and new members alike can expect engagements with a diverse group of marketing practitioners. It will also serve to support the efforts of other committees of the association such as Continuing Professional Development, GMM, Agora Awards, and National Marketing Conference.
Summarily, 2023 will be a year where the PMA will continue to tap each facet of intersectionality in the practice of marketing through diversified and borderless access to the necessary information and resources.
Get direct updates from the International Membership Committee through our newsletter or the Philippine Marketing Association's website.
Subscribe Now
Choose topics you want to get regular updates on: