Digital got you dazed?
Type it below, and we'll show you what we've written about it!
Social Media Management & Marketing
6 Essential Steps for Insight-driven Viral Marketing
Caleb Gasilao

09 Mar 2021

9

min

read
Viral marketing campaigns are often seen as the "epitome" of successful social media marketing. This is widely due to the fact that virality is synonymous with popularity, and can impact your visibility and sales on social media – that is, if you play your cards right.
The common notion among brands is that viral marketing on social media is a win-win situation. Well, we hate to be the bearer of bad news, but that's not always the case. At best, viral content should be seen as a double-edged sword since a lot of mechanisms involved in its success are mostly consumer-based.
What do we mean by this? The success of your viral marketing efforts relies on how your target audience interprets the messaging of your campaign. Add to that, the appeal of the content you'll be producing as the vehicle for your brand virality is also based on subjective audience experience with it.
We're not going to lie – there is no magical approach to viral marketing strategies. But with a data-informed social media marketing agency to help you out, you'll be able to formulate an approach to creating an effective viral campaign in no time.
Ready to go viral? Then let's dig into it then!
What is viral marketing?
From the name itself, viral marketing is a campaign that is shared and engaged to a point that it spreads like a "virus" from one user to another. It can be due to the relevance, uniqueness, or emotional resonance of the content to a brand's target audience. Consequently, viral marketing can impact a brand's sales, engagement, reach, and awareness dramatically.
Social media networks are the natural habitat and vectors of viral marketing campaigns since these platforms enable users to easily share the content they see online. It's relatively easier to produce content for viral campaigns since it mostly depends on the quality of the campaign and its promotion.
From there, the virality will rely on how the content clicks with the target audience. In some cases, it even happens by accident either for right or wrong reasons. What's important to remember is that you don't go overboard with your content and being spammy – all you have to do is sit back and wait for the "viral fuse" to light itself up.
Why is viral marketing important?
For starters, these types of campaigns are influential and widely-accepted by the public. As we said earlier, the success of viral content is mostly consumer-based. Viral marketing is important because it gives you insights into what content appeals to the needs and interests of your target audience.
From there, you are able to create viral content that can be created at a minimum effort but yields maximum impact in terms of cost efficiency and production. If you are able to identify your audience's pain points, interests, and behavior online, then you are able to spin a piece of content into something that can skyrocket your brand visibility and, eventually, your sales.
What are the advantages of viral marketing?
Pursuing viral marketing means digging into customer insights to produce content that emotionally triggers them to generate demand for your product and services. It can be through a funny video, a witty caption, or simply a distinct visual presentation that is worthy enough to be in everyone's social media feed.
Here is a list of advantages of producing viral content:
1. Cost-efficient promotions
What distinguishes a viral marketing campaign from other social media strategies is that a significant amount of promotion is done by the target audience. You don't necessarily have to go knee-deep in advertising your campaigns when your customers are already doing the work for you.
2. Great potential for awareness
In connection to the previous point, viral content can exponentially increase your brand awareness across all platforms.
A recent example would be this viral commercial of RC Cola which was released in December 2020. It made rounds on social media and swept the internet for its unique execution in promoting the cola brand.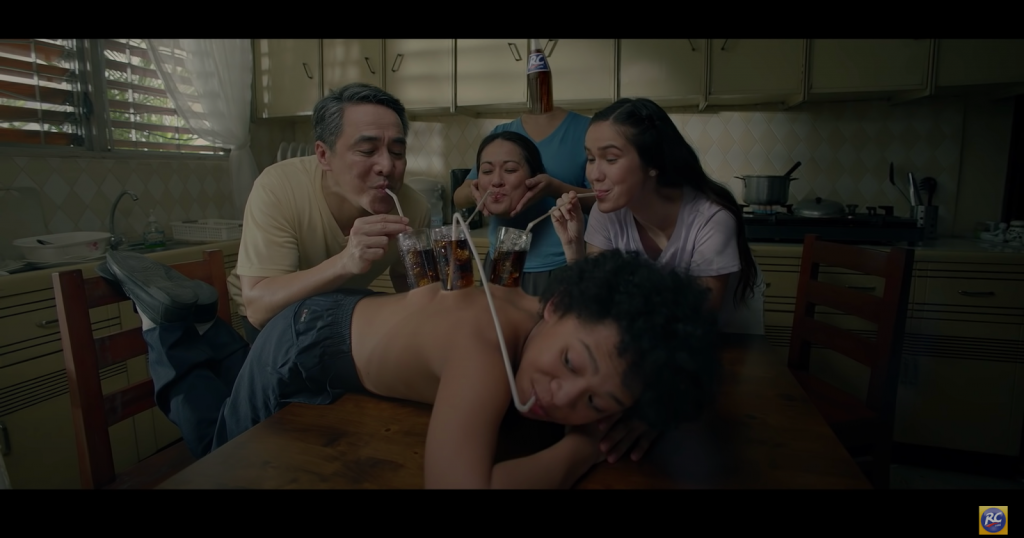 Screenshot from the RC Cola Commercial posted on YouTube.
The ad might be borderline creepy and straight out of an Ari Aster horror movie, but the results in terms of interest and garnering awareness speak for themselves.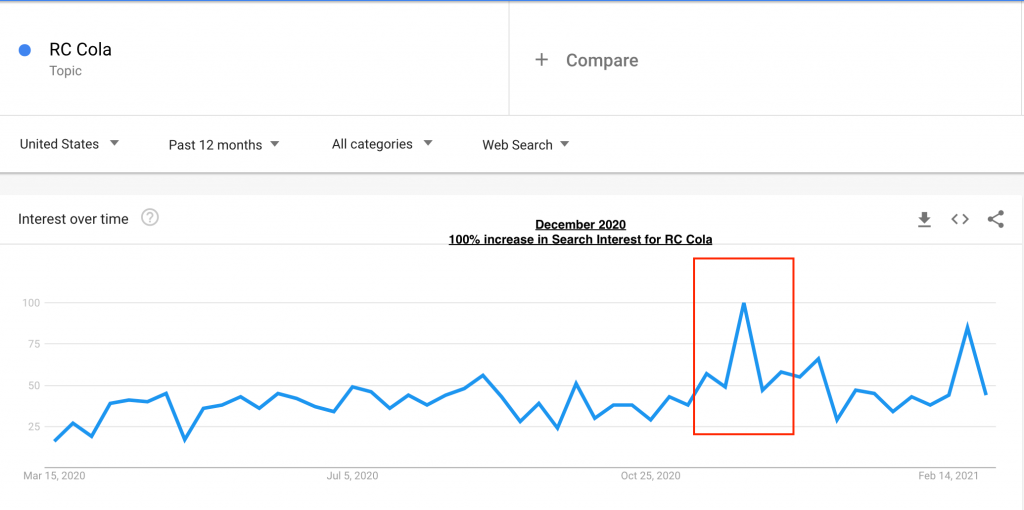 Screenshot taken from Google Trends.
This quick Google Trends search just goes to prove that a viral video has the potential to reach a larger and wider audience without having to invest a ton of money in your promotions. This opens an avenue for you to capitalize on the attention you've garnered and generate conversions for your brand.
3. It helps build brand identity
Once your campaigns go viral, your content becomes associated with your brand identity. This helps customers learn about your brand, products and services, and more. Eventually, it will also help build a personal connection between your customers and your brand.
Take the motorcycle ride-hailing app Angkas, for example. The virality of their social media content due to consistent meme-sharing has enabled the brand to build an identity of its own that its target customers can relate to.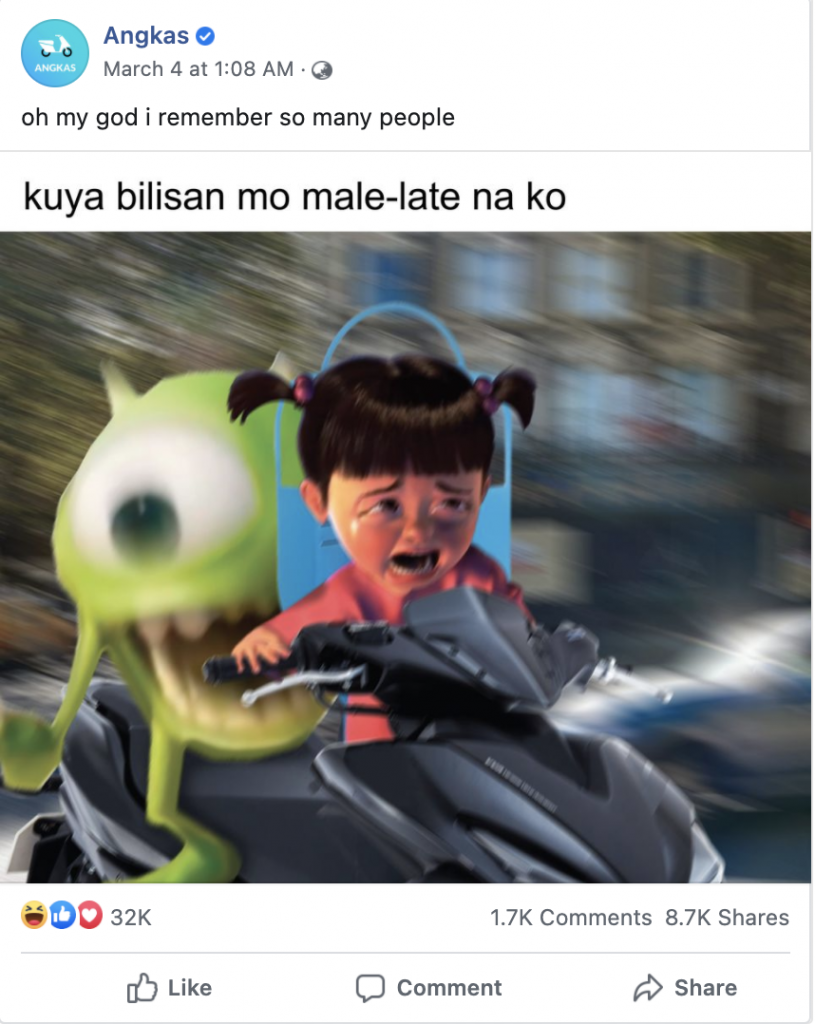 The screenshot is taken from Angkas' Facebook page.
This doesn't only translate for them as a significant increase in followers on social media, but also considerable downloads and usage for the Angkas app.
As we established earlier, viral marketing is a double-edged sword. Now that we've talked about the benefits of viral marketing, it's also important to keep in mind that it's not always beneficial and can even harm your business if your strategy-executions are not done properly.
Here are the four dangers that viral marketing can do to your brand.
What are the dangers of viral marketing for your brand?
Often when we talk about viral marketing, the discussion is mostly placed in a positive light. Who can blame you? Brands covet that meteoric rise of brand awareness that they deem as something that can catapult them to social media stardom.
But with the changing trends in digital marketing come dangers in your viral marketing campaigns that you need to be aware of. Here are some ways this approach can damage your brand identity when not properly planned or executed:
1. Spam Issues
Naturally, as a brand, you're all-out in promoting your content. You'll be exploring creative ways to boost campaign awareness, which can also include PPC efforts and the like.
The issue, however, can fall on how repetitive your promotional efforts are to the point that they get flagged as spam, even by your target audience. Be careful that you don't go overboard on content sharing your viral marketing.
2. Popularity becomes the company objective
Yes, brand awareness and engagement are indeed crucial KPIs in social media marketing. However, basing the performance of campaigns solely on popularity metrics such as likes, comments, and shares to measure campaign success is not advisable.
Remember that the key to tracking your success on social media is knowing what works for your brand and what doesn't. There are different social media metrics that you should track to determine if a viral campaign is successful or not.
Don't fall into the trap of thinking that garnering likes and reactions equate to revenue. Viral marketing should be seen as an avenue to create demand online for a certain product or service. If you can create demand but fail to supply it, you're going to get more than what you bargained for with your viral campaigns.
3. Your campaign might be open to misinterpretation
As we said earlier, viral marketing can be a double-edged sword if your message is not aligned with your audience's interpretation. This can result in misinterpretations or even parodies of your campaign efforts that mock your brand identity and goals.
Take for example this controversial Pepsi ad involving model Kendall Jenner. The initial intent of Pepsi as depicted in the commercial was unity amidst protest. However, this ad was released in the middle of the Black Lives Matter protest in America which was far from what Pepsi envisioned.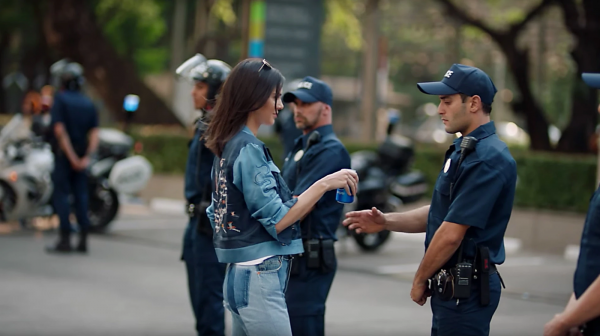 Screenshot from the Pepsi ad posted on YouTube, starring Kendall Jenner
As a result, there was a public outcry across the whole country condemning the ad for trivializing a nationwide protest. This commercial was eventually taken down, with Jenner even publicly apologizing for appropriating a "peaceful protest". 
Bottom line: Be very aware of how open to interpretation your campaign messaging is when it comes to viral marketing.
4. It becomes your sole focus
Viral marketing is not the be-all and end-all of your social media marketing. At most, it should be a component of a diversified marketing strategy instead. Relying solely on viral marketing for your brand success can do more harm than good to your identity, strategies, and ultimately your revenue.
Now that we've got that out of the way here are the helpful strategies and tips that can help you achieve a viral social media marketing campaign for your brand.
Key Steps to Help You Create a Viral Social Media Campaign
Of course, we're not going to leave you empty-handed on what steps you can take to create an effective viral campaign for your business. But as mentioned at the beginning of this article, there is no magic formula to it. However, the following steps can help set your strategies straight on the right path to virality:
1. Establish who the viral content is for
In any given social media marketing strategy, the target audience always comes first. You'll be able to craft a more personalized viral campaign if you know who you're talking to. Although the aim is to be viral, you wouldn't want your message to be incoherent and confuse your viewers on your campaign intent, right?
That's why establishing who you're talking to and what message you want to convey can communicate the intent of your campaign more clearly and effectively.
2. Identify your viral campaign objective
Before you strategize a viral campaign, you have to first understand that it has to be aligned with a certain objective you're trying to reach. Don't fall into the habit of planning "the next best thing" for your social media campaign without identifying why you're doing it in the first place.
Here are suggestions on what you can align your viral marketing campaign with:
Branding – content that establishes brand identity.
Positioning – campaigns that distinguish you from your competitors.
Product launch – promotional efforts that hype up a certain product and create demand-generation.
3. Determine your content type
Picking up from the current social media landscape, viral content can take on different forms and lengths nowadays. It can be through a meme, a short-form or long-form video, and even through an attention-grabbing article headline.
The possibilities are endless on what type of content you can pursue your viral marketing campaign. But bear in mind that it should fit the emotional trigger and resonance you're aiming for with the content you're producing.
4. Trendjack relevant updates
This strategy can be a good introduction for your brand in the world of viral marketing. Trendjacking is the practice of hopping your content on popular cultural references to gain public traction.
A good way to determine what popular trends you can ride on is through social listening. This gives you relevant customer insights on what you can trend jack to stay relevant with your viral campaigns.
5. Explore influencer marketing
Using influencer marketing can also be a great way to boost your viral marketing performance. Aligning their following to your campaigns can add significant value to the impact of your viral content.
6. Include analytics in the mix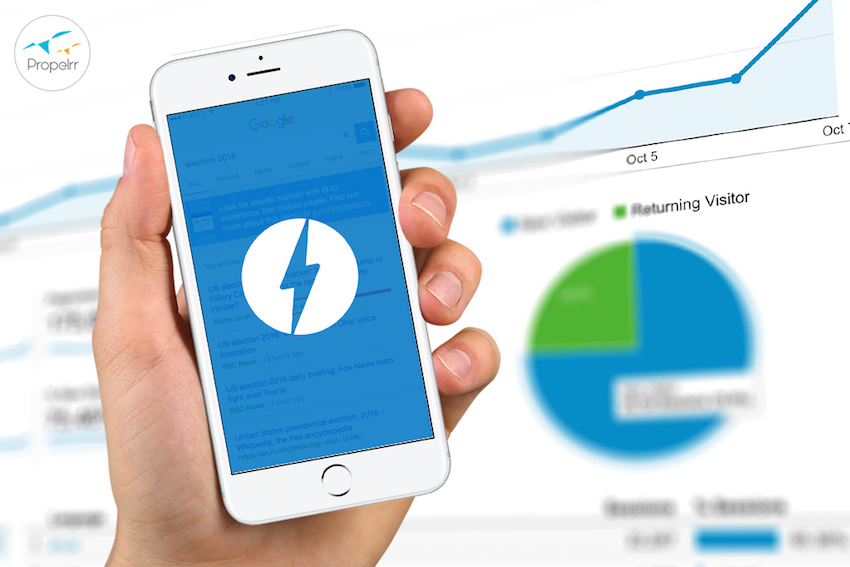 Finally, once you've planned and plotted your viral campaigns, it's important to include an analytics component that tracks your overall KPIs and performance. There are different social media metrics you can use to determine what's working and what's not for your viral marketing.
Key Takeaways
There is no clear-cut roadmap to going viral on social media, but knowing the strengths and limitations of viral marketing can help determine the best course of action for your social media strategy.
More than garnering virality for your social media campaign, ensure that you are tracking the right metrics that directly translate to improved conversions and leads. Otherwise, you're just racking up attention without the revenue.
When focusing on virality, make sure that the content is more about the audience and less about your brand. What makes viral campaigns successful is that they reflect the emotional resonance of their target audience, which makes them want to share it more since it is relatable.
Viral marketing is a cog in the whole mechanism of your social media strategy. Do not make it your only viable option for success, explore different strategies that can help boost your awareness, engagement, and conversions on social media.
Got any comments or questions on viral marketing? We'd love to hear your thoughts about social media marketing. Talk to us over at Facebook, X or LinkedIn.
Subscribe Now
Choose topics you want to get regular updates on: