Digital got you dazed?
Type it below, and we'll show you what we've written about it!
This Heartwarming Story of Care Raised the Brand Awareness of Sanicare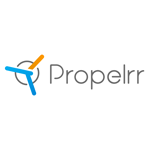 Propelrr

15 May 2023

6

min

read
Resonating with your audience through care can do wonders for your brand.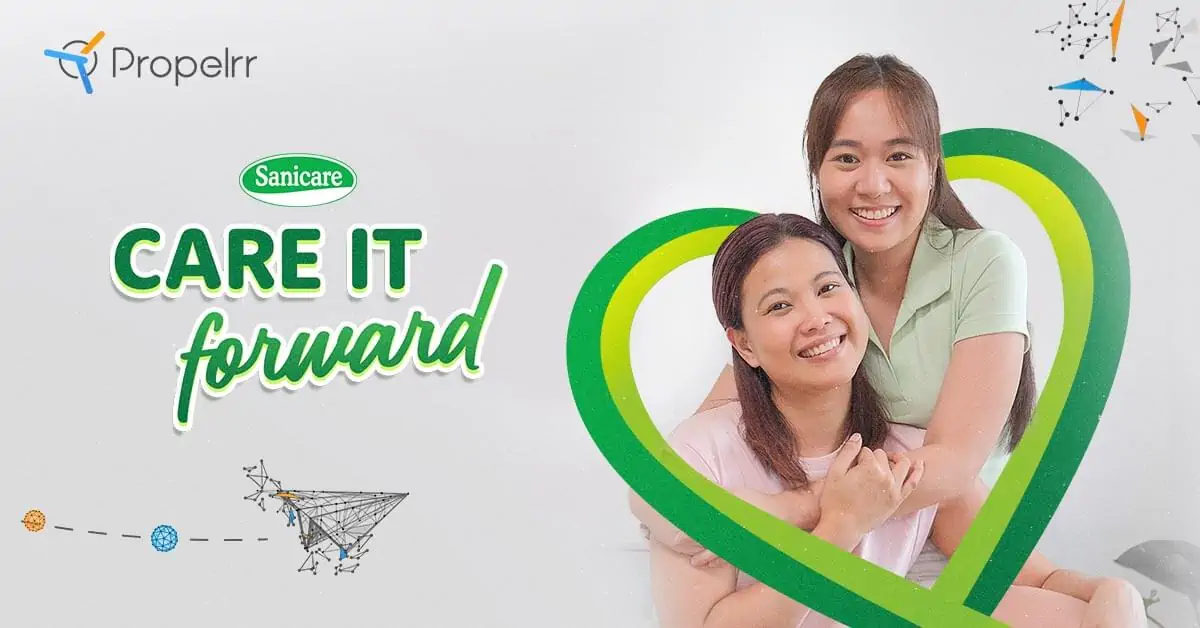 Tearjerker stories seem like an old-fashioned advertising approach. Yet it proved effective in communicating Sanicare's key message of care across all generations.
Leading Philippine hygiene brand Sanicare, along with partner agency Propelrr, kicked off the first quarter of 2023 with a widely viewed campaign titled 'Care It Forward'. Working in close partnership with local social media marketing agency Propelrr, Sanicare was able to produce a campaign that not only touched the hearts of millions but also helped amplify their brand awareness performance.
Multiple digital efforts contributed to the success of this campaign including those published on Sanicare's Facebook and Instagram pages. Because of this multi-pronged and deeply resonant campaign, the brand also successfully engaged its core audiences.
Doubling up on the organic efforts to maximize performance, Sanicare and Propelrr also tapped into pay-per-click (PPC) advertising to stretch the campaign's reach, especially as the brand made sure to cover all their bases in terms of channels.
Collectively, ads deployed on Facebook, Instagram, YouTube, and TikTok, the campaign amassed: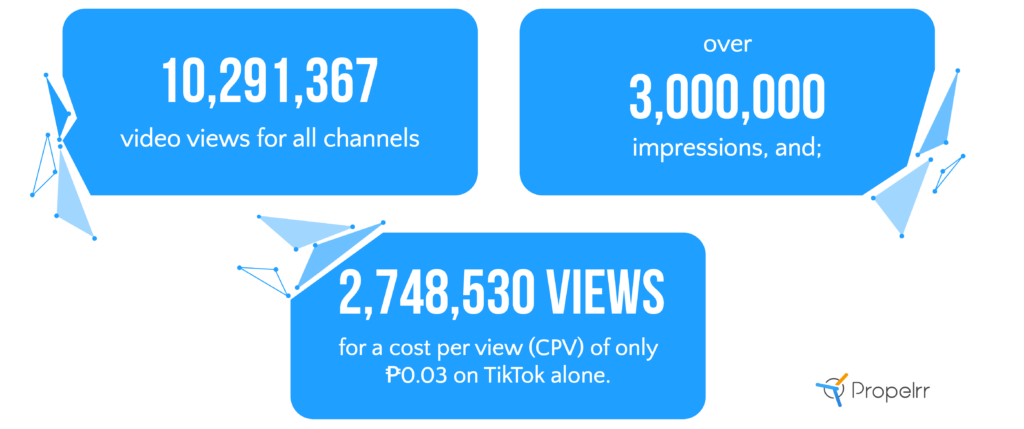 The paid ads performance especially on TikTok showed positive results as it did better than the projected target campaign results.
Read more to find out how Sanicare through the 'Care It Forward' campaign developed in partnership with Propelrr, boosted Sanicare's brand awareness performance.
The need to 'Care It Forward'
Care is at the heart of everything Sanicare promises – care for quality, for the environment, and for their customers. They demonstrate this in the advocacies they practice and further as a brand.
Sanicare, one of the hygiene staples present in most Filipino homes, has been an advocate of getting #TheCareYouDeserve for years. While this messaging is still pertinent, amplifying its relevance to all life stages was necessary.
With this goal in mind, the project team – comprising of brand representatives from Sanicare, Propelrr, and the video production partner – came up with a narrative that zooms into one of the brand's promises: Care for customers.
The big idea behind 'Care It Forward'
During the earlier stages of the brainstorming process, the first thing on Sanicare's checklist was to revisit the messaging of previous campaigns.
Getting the #TheCareYouDeserve with their brand of hygiene products is a recurring theme in prior executions. And, initially, they zoomed in on self-care to convey the message of guiltless pampering received from the quality care of Sanicare. However, to better align the campaign with its objectives, some tweaks were made.
Meaningful and relatable stories are what make brands connect with audiences – both for self-care and care for others. Hence the goal of brand relevance with a story that depicts common micro-moments in every Filipino household was married to form the overarching message of the 'Care It Forward' campaign.
The collective believes that people are innately inclined to spread kindness if they experience care themselves. Building off of that, the 'Care It Forward' campaign references the lesson learned from the movie 'Pay It Forward' (2000). Taking inspiration from the said film, the project team envisioned how care is passed on from one generation to another. This idea helped showcase how Sanicare's products are useful for different moments and people of different ages.
Helping their daughter with her homework, waiting for them to come home until late at night, and being a shoulder to cry on. These are just some of the ways our nanays and moms show how they care for their children. Transposing those into the 'Care It Forward' campaign, audiences are led to follow the story of Evelyn and Sunny showing this dynamic. All the while, Sanicare is present – a constant artifact in each of their life milestones.
But it's far from existing in the narrative as a prop.
In the story, Evelyn represents Sanicare – a mother who demonstrates constant care provided throughout the years. The daughter Sunny, meanwhile, embodies the brand's audiences whose growth and development we pay witness to in the story.
The video campaign made use of a poem titled 'As Life Unfolds' – penned by one of Sanicare's leadership and her dear friend – that encapsulates this dynamic. Below is an excerpt of it:
In your most fragile years, I'll be your comfort and protection.

And in your wonder years, you can count on me to be your best bud.

[…] I'll cheer for you however life unfolds.

Don't you worry, my precious child.

You carry my love.
Watch this beautiful campaign by Sanicare in the video below:
Caring it forward organically
Oftentimes, marketers overthink and complicate the manner of promoting a campaign without realizing that the available functions on social media platforms are sufficient to support it. In the case of 'Care It Forward', the team utilized Facebook and Instagram to organically promote the campaign.
READ ALSO: The Power of Social Media and Choosing the Best to Drive Traffic
Business as usual content
Initiating just after the close of the Valentine's season was a crucial element as direct and indirect competitors often saturate the digital playing field during love month. With that considered, Sanicare opted to initiate the campaign at its end so that we can capture more air-time and reach for our organic efforts.
The frequency of the posting was also an important factor. Instead of publishing the usual "x days to go" assets, snippets of the campaign were incorporated into the brand's routine posts to help followers know what to expect. By doing this, the brand avoids bombarding social media feeds with repetitive and overdone content.
Contests for boosting organic engagements
Other activities also took place to promote the campaign organically. The brand launched two contests before and after the launch to drum up noise and sustain engagements. The contest assets are published organically to contest participants who are part of the brand's core audience.
For the pre-promotion contest, Sanicare used Instagram's Add Yours stickers to get entries for 'This is how I show care'. To win a bag of Sanicare products, audiences needed to post photos of them performing acts of care in their stories.
To help widen the reach of the organic posting, Sanicare brand ambassador Bianca Gonzales Intal shared an entry as well. A total of 60 entries among the brand's core audiences were received.
On the other hand, another organic contest was conducted to conclude the campaign. The 'Inspire to Care It Forward' asked the brand's audiences to upload snippets of them sharing caring stories. Such that tackled how they themselves have received care. Winners received a bag full of Sanicare products. In addition, the participants also nominated recipients of a cash prize.
To help monitor this type of campaign promotion, it was important to use a unique hashtag that indexes entries. Contest participants were asked to use the #CareItForward to strengthen the association between the brand and campaign name.
Caring it forward with paid ads
A strong foundation of trust is an important factor in the collaboration of Sanicare and Propelrr. This equipped Propelrr to better understand the performance needs of Sanicare. Using a data-driven approach, the PPC team evaluated the insights generated from Sanicare's previous campaigns to optimize the campaign.
Determining the target audience and planning the campaign structure thoroughly helped in identifying and removing hurdles to hitting its targets. Sizing up each platform's Target Addressable Market (TAM) and projected cost per unit (CPU) was just as integral to budgeting.

In terms of the video completion rate, the team found that TikTok ads were the most effective. The optimizations made for the promotion assisted in lowering the CPV and maximizing the budget for the PPC ads. However, it is important to note that ads on this platform were shorter versions of the actual video.
Various targeting methods are also an important consideration for improving ad visibility. For the Facebook ad campaign, we made use of Core, Custom Audience, and Look-alike audiences. While for the other three platforms, the team aligned with the brand's Core audiences.
Key takeaways
An in-depth understanding of the brand, its goals, and its target audience are important considerations in creating brand awareness campaigns. Without these, it would be difficult to build a campaign that achieves the same results shown above.
Below are some of the things to consider to successfully 'Care It Forward' with your brand's campaigns:
Write to resonate with your audience. A good storytelling strategy can win your audience's attention and help you effectively convey your message. Delight your target audiences by crafting a story that mirrors a similar experience as them. Understand what piques your customer's interests and incorporate them in the story that ticks all of the brand's objectives.
Create a sound strategy by using historical data. Understanding what worked and did not work in the previous campaigns is fundamental to optimizing your paid ads. Without doing so, you can't maximize results while remaining within budget.
Acquaint organic efforts with paid ads for better campaign performance. As the digital playing field becomes more saturated, paid ads play an important role in boosting brand awareness. Combining these with organic efforts such as incentivized activities is sure to skyrocket your campaign performance.
For data-driven, impactful social media and PPC campaigns, feel free to shoot us a message. We'd love to share our ideas for how you can optimize your online campaigns.
Get news about our projects with clients straight in your email by subscribing to the Propelrr newsletter.
Subscribe Now
Choose topics you want to get regular updates on: