Propelrr Wins Netty Awards for UX Research and User-Centric Design
Anna Dominik Banzon
November 14, 2023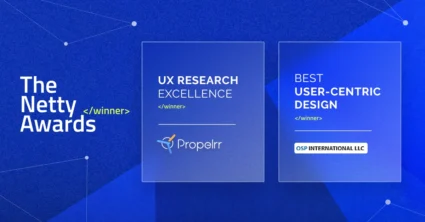 MANILA, Philippines – Digital marketing agency Propelrr won two awards in the Design category at the prestigious 2023 Netty Awards, namely: UX Research Excellence for Propelrr and Best User-Centric Design for client partner, OSP International LLC.
The Netty Awards is one of the most trusted awards in the industry as it recognizes and celebrates top leaders and companies in over 100 unique categories for their creativity, innovation, technical proficiency, and expertise across various industries in the digital age.
UX Research Excellence Award for Propelrr
Propelrr won the UX Research Excellence Award, one of the highest accolades at the Netty Awards in the Design Category.
The award recognizes Propelrr's holistic UX design work and revamp anchored on comprehensive UX research tackling both quantitative and qualitative approaches in revealing key conversion elements that shape the website's customer journey. The team implemented a user-centric layout in tandem with high-impact copies that catered to the needs and pain points of their target audience, based on frameworks like The 7 Levers of Conversion by André Morys, Product Messaging Heuristics by Momoko Price, and the 247-point Web Usability Heuristics
This led to significant growth in organic performance, generating 43.19% and 51.80% growth in sessions for overall and organic traffic, respectively. Apart from improving the Website performance, the research and revamp increased Propelrr's Customer Life Value (CLV) for converted leads on the website.
Overall, the UX research helped Propelrr create a living document for customer insights that continuously evolves as they iterate and experiment on future copies and design layouts. It serves as a benchmark and guide for marketers and optimizers to become more efficient in analyzing, processing, and generating insights anchored on audience data, ultimately ensuring that the improvements are bred out of data-backed and actionable insights.
Best User-Centric Design for OSP International LLC
Propelrr's work for OSP International LLC, on the other hand, was recognized as one of the Best User-Centric Design implementations, lauded for its creative and customer-centric features that culminated in an intuitive and seamless UI/UX design and website experience that drove growth in sales.
They earned this award for their UX Design work for OSP International LLC, specifically The PM PrepCast™ – a project management training provider in the United States that needed to boost sales through online training courses and exam simulator purchases.
Strategies and executions were based on research-oriented conversion optimization principles leveraging various data sources to develop sound and specific hypotheses for experimentation on conversion, including:
Qualitative and quantitative conversion research to flesh out customer pain points
Pinning down priorities based on business value using a Hypothesis Prioritization Framework (HPF),
Developing conversion-driven copies and page layout designs guided by insights from heuristics and all other data sources, and;
Conducting A/B testing to determine which hypotheses proved to be true and valuable in delivering results that contributed to the business KPIs.
This UX design work and experimentation amounted to a total of 285 successful research-based hypotheses implemented on the website since 2021, all achieving additional increments in set conversion goals for each page.
Today, their pages are conversion-driving machines that are able to sell, in their own right, the portfolio of training courses, materials, and packages of The PM PrepCast or The PM Exam Simulator.
Cornelius Fichtner, the CEO of OSP International LLC, commended the team for their efforts to optimize their online touchpoints to better service their customers:
This case study also won the Gold Award for Excellence in Data-Driven Marketing at the 2023 Marketing Excellence Awards.
With these recognitions from The Netty Awards, Propelrr is more than dedicated to continue learning and experimenting with UX Design and Conversion Optimization, advocating for user-centric designs and website strategies that provide the best possible customer experience.
Discover the work that makes us different (and wins awards!) at Propelrr. You can also catch us on Facebook, X, Instagram, or LinkedIn for more updates.
Don't forget to subscribe to our newsletter if you're looking for other helpful content on digital marketing and tech!