Propelrr Bags Two Wins at the Marketing Excellence Awards 2023
Anna Dominik Banzon
October 20, 2023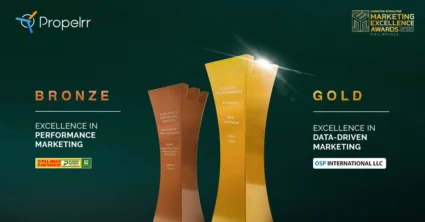 MANILA, Philippines – Digital marketing agency Propelrr bags two prizes, together with their partner clients, for the Marketing Excellence Awards 2023.
Marketing Excellence Awards (MEA) are designed to celebrate, recognize, and reward the Philippines's outstanding marketing campaigns. It is the premier platform for marketers to showcase their creative excellence, successful strategies, and effective delivery.
The 2023 winners were chosen by an independent judging panel composed of high-caliber, senior industry experts from reputable brands.
On its first run, Propelrr was already content with being a finalist. But when the night ended, Propelrr was walking tall among fellow winners holding the weight of awards in two separate categories.
Gold Award for Excellence in Data-driven Marketing with OSP LLC
The first prize awarded to Propelrr for the night was in the category Excellence in Data-driven Marketing. They earned themselves the gold, and it takes only a fitting prize for all the effort put into conversion optimization (CO) works with OSP LLC.
In the conversion optimization case presented, there's no questioning Propelrr's expertise in research, data-gathering, analysis, and processing for conversion optimization. It serves not just as a case for the importance of CO for modern businesses but, it's a testament to the excellence of the skills, techniques, and execution of the Propelrr team.
In the same case, you can see how the entire research process helped inform the strategies they employed to address OSP LLC's greatest challenges. Implementations in web design and development were tested, reiterated, and validated for significant impact on conversion uplift before they were deployed.
In a similar way, insights from the research and data analysis that are often part and parcel of CO created the blueprint for hyper-personalized and resonant copywriting for OSP's pages.
Cornelius Fichtner , the CEO of OSP LLC, commended the team for their efforts to optimize OSP LLC's online touchpoints to better service their customers:
Bronze Award for Excellence in Performance Marketing with Palawan Pawnshop Group
The second award Propelrr took home that night was for the category Excellence in Performance Marketing. It was a bronze earned for their paid digital advertising campaign developed and executed with long-time client partner Palawan Pawnshop Group .
The winning case was a show of prowess in audience targeting for pay-per-click (PPC) campaigns and expert mastery of data analysis and experimentation approach. Resulting in an ad value  with a return on ad spend (ROAS) that's way higher than the industry benchmark in Fintech.
Arguably, on top of audience targeting, it also helped the performance of the paid ads campaign that the overall creative direction for the ads and contests was impressive and memorable.
The awards that Propelrr is honored with serve as evidence of its commitment to delivering excellence to marketing clients in and outside of the Philippines. For both OSP and Palawan Pawnshop, Propelrr delivered award-winning campaigns possible only because of this commitment and, of course, with the expertise of the team.
If you have any other questions, send us a message via our Facebook , X , and LinkedIn accounts. Let's chat.
Subscribe to the Propelrr newsletter as well, if you find this article and our other content helpful to your needs.