Digital got you dazed?
Type it below, and we'll show you what we've written about it!
ThrivingAt13 – Propelrr's Anniversary Celebration Highlights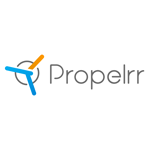 Propelrr

04 Aug 2023

6

min

read
Catch the highlights of Propelrr's 13th anniversary celebration, right here.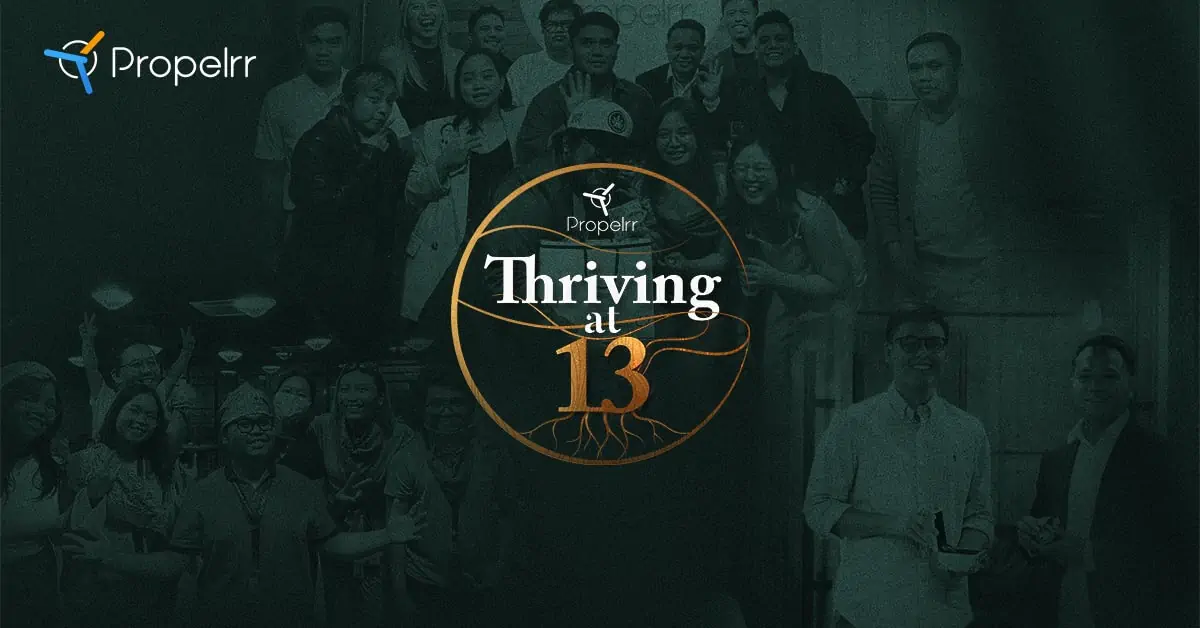 MANILA, Philippines – For its 13th year of thriving as a digital marketing agency in the Philippines, Propelrr hosts an auspicious celebration of growth of its company and its people.
Numbers don't exist as lucky or unlucky with Propelrr. After all, celebrating a 13-year-long run in the volatile digital marketing industry is a feat that transcends concepts of fortune. The celebration, held July 7, 2023 was a night filled with congratulations – for the company and its people alike – as it honored growth and toasted to more success in years to come.
From activities that celebrated the many milestones of Propelrr to awarding its most loyal members, let's all look back at the highlights of the occasion in the images below.
Remembering our origins at #ThrivingAt13
Thirteen is an unlucky number. If superstition is to be followed, you're better off counting it out, jumping straight to 14 from 12. And yet, defiantly, Propelrr celebrates its 13th year, in a fashion that proves that, in leaving nothing to chance, you take charge of your success.
There was no work for the Propelrr team for that day – a mandate for the people to bask in the wins accumulated in the past 13 years. Instead of scrums and alignment meetings, the Propelrr team started their day with light stretches preparing them for a mini "Amazing Race" around Bangkal, Makati City.
It would take the Propelrr team through a journey of remembrance – recalling key moments that led the company to where it is today.
After dividing the team into smaller groups, they hunted down and answered clues at five different stations. Each had its own unique challenge and questions which included anything from what is the company's core values to what was the first registered office address of Propelrr.
The answer to the latter was Lingayen, Pangasinan – far not only in distance from now at our Makati office, but in structure, size, and accomplishments.
Pulling the Propelrr team back to the present moment, were challenges to guess at the tagline of the event from a set of photos. And then, a puzzle that would assemble into what our logo looks like today.
To hoping for future successes, taking eager strides forward, each team was to write (in what little time they were given while running to the finish line) a team cheer and perform it for the game masters. This capped off the activity with jubilation as each succeeding team performed their cheers back at the head office.
The celebration didn't end there, though.
After a warm and nourishing lunch, the team was dismissed for the afternoon to give them time to freshen up for the evening festivities.
#ThrivingAt13, celebrating collective and individual wins
At 5:00 PM of the day, the team reconvened at Propelrr headquarters dressed for the theme of continuous growth and innovation.
Suits buttoned up and dresses dawned, the men and women of Propelrr gave us a grand entrance in teams with everyone strutting proudly in winning looks.
In the next photos are the handsome men and women comprising the Tech Division of Propelrr.
Next up, is what you would call the very backbone of Propelrr: the Administrative Team who still served looks while making sure that this celebration was put together.
Finally, the Marketing Division of Propelrr makes their entrance in units as well. In the next photos are members of Propelrr's pay-per-click (PPC) management team, creatives, social media marketing, and content teams.
After opening with a quick message from our President Gary Viray and Vice President Mitchelle Viray, the night kicks off light and jubilant. There was food, music, drinks, and still a number of games for the team to participate in and enjoy.
The night took a quick turn to the upbeat following the opening remarks with the Copywriting Team Leader Caleb Gasilao following up with a performance alongside his band Lemlunay. Performing their renditions of popular songs both local and international, the team enjoyed both being serenaded and singing along with the band.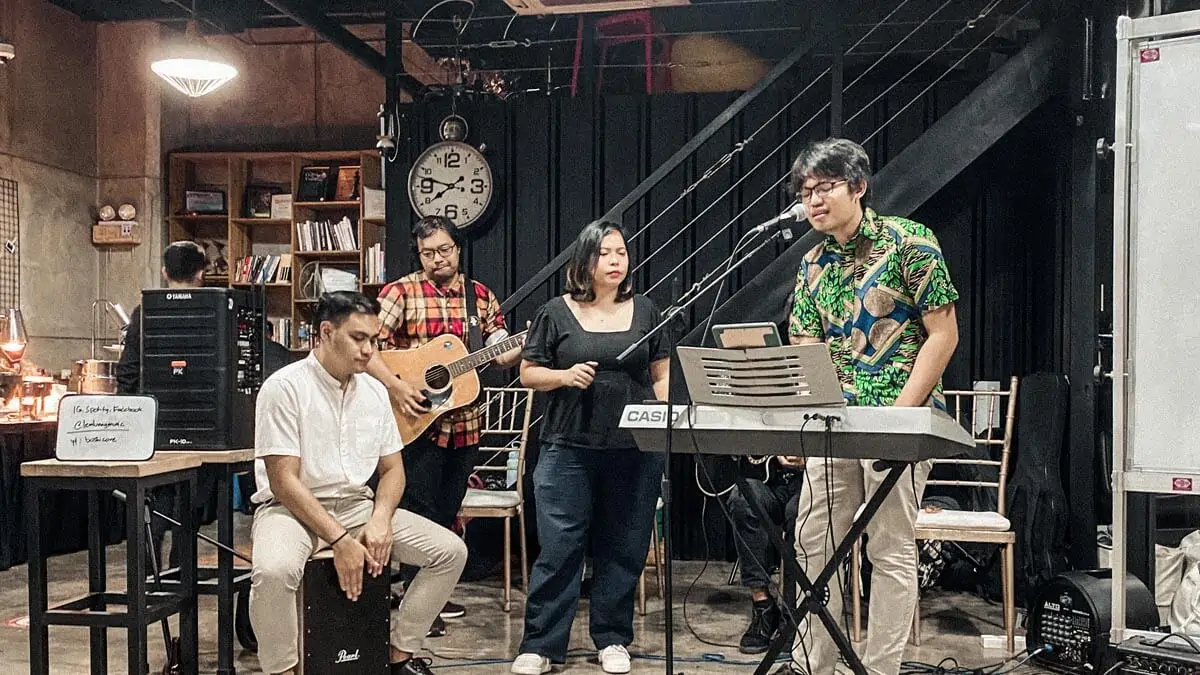 As the music faded to a stop, the Propelrr team turned the spotlight from the band back to its employees – particularly those who've shown great loyalty to the company. After all, Propelrr wouldn't be where it is today if not for – as Gary always points out – its people.
Loyal employees who, in his words, are "bold" and have a "brave outlook in pushing the bar higher." For it is through them and the rest of the team that Propelrr continues "deepening our roots to constantly experiment and bring value to everyone and everything we do."
For this year, Propelrr awarded three loyal employees. As thanks for their five years of loyal and excellent service to the company, they were awarded with the traditional token of TW Steel watches.
Post awarding, the night continued at headquarters; a low hum restarting and building up to a chorus. The office is again filled with the same laughter that saturates it on report-to-office days, albeit slightly more charged and exhilarated. People were passing around libations and a karaoke mic, singing along to songs – sometimes on, mostly off-key – with a tenor of joy.
Altogether, it sounded like a song to counter and turn ominous into auspicious – a welcome song for more success and growth.
For more news and updates on the ongoings at Propelrr headquarters, make sure to subscribe to our newsletter.
Subscribe Now
Choose topics you want to get regular updates on: