Top Content Optimization Tips for Your Existing Content
Propelrr Contributor
December 3, 2020
As an expert SEO service company and content writers, the need to craft high-quality yet search-engine-centric content for your virtual audiences is essential.
Despite your best efforts, imagine if your content fails to reach the right audiences or gain enough traction because your SEO efforts were not enough or you failed to use the right or the most effective content marketing tools. It would just be such a shame to see your content underperform on the Web, wouldn't it?
Ideally, all the hard work, resources, and storytelling efforts you put into content development would result in a better return on investment, more visitors, and conversions.
The good news is there's a surefire way to achieve these, and we are here to help you learn the most effective strategy of content optimization.
What is content optimization?
It is the process of writing and publishing content such that it reaches the highest number of potential audience at the right place and the right time. Content optimization helps retarget your pre-existing content to boost its click-through rate.
This strategy incorporates relevant on-page factors such as keywords, meta description, title tags, inbound and outbound links, to name a few. All these aspects help guide search engines to better discover your content. In turn, the search engines push it to the relevant audiences, as it ranks higher on search engine results pages (SERPs).
Google and similar search engines continuously evolve by updating their algorithms, to provide relevant information to users. According to Small Business Trends, 53% of Business to Business (B2B) and 86% Business to Consumer (B2C) marketers consider content marketing as a crucial part of their overall marketing strategy. So there is no doubt that well-planned content development and management have very good potential to produce the expected results for your online presence.
As a content marketing agency, below are some of the most manageable and effective strategies you can employ on your blog, to help improve your website's organic visibility, traffic, and results:
Content Optimization Tips for 2022
1.Catalog your content.
The first step to optimizing your content is to recognize the extent of your work by cataloging it on a spreadsheet. To make your task less bothersome, you can rely on online software and tools such as Screaming Frog or Content King, to help you organize all your URLs in one place.
In addition, you will need your keyword-research-ready to determine pages that are already on the cusp of ranking on page one for a given keyword.
2. Score your content.
Consider the possibility that your content is not performing as well as it should be because it lacks certain aspects that your competitors are already successfully incorporating in their own content.
To help resolve this, you will need to perform a content analysis to uncover the ideas which will help you properly fulfill the search intent. Then add the intended target audience, target keywords, present stage in the sales funnel, traffic, conversion rates, and the ultimate goal you would like to achieve in your content on the spreadsheet you made earlier.
3. Implement an effective URL structure.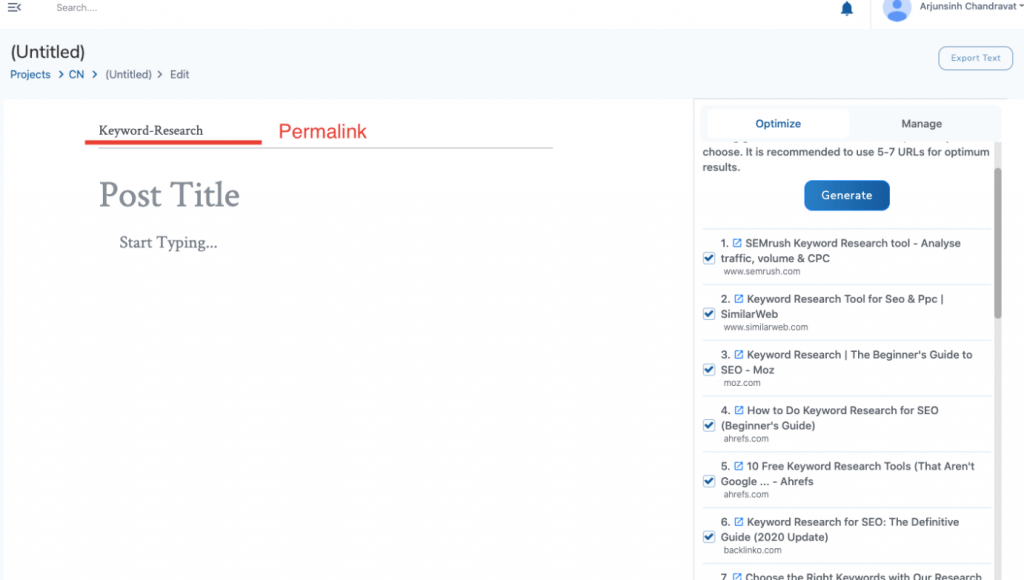 URLs are crucial in enlightening search engines and users, alike, about your site's content. URLs help improve users' experience and are a minor ranking factor to search engines by communicating the relevancy of the page source to the search query.
This is essential to adding target keywords in your URL. Additionally, a well-thought-out URL name will make it significantly straightforward for you to track the analytics report of the webpage. This ease of reporting will go a long way in simplifying the process, in terms of multiple webpages and blogs.
4. Improve your content by prioritizing key elements.
You also need to prioritize other elements such as title tags, heading tags, meta description, inbound links on other pages of the website, along with image optimization. To add these elements correctly, you can use a variety of free content optimization tools available on the Internet.
The importance of incorporating the right keywords to the appropriate pages is not going to lose traction; so this should form the foundation of your content's body. 
Your keyword research should also revolve around synonyms and Latent Semantic Indexing (LSI) keywords which are related variants of the target keywords. This is because Google AI now understands and considers these keywords, too.
5. Identify and satisfy content gaps.
Use the information from the content gap analysis you performed earlier to fulfill the missing elements, and push your work to rank better and reach more readers. You can also find where you are lacking by checking the first page of the Google SERP for a particular topic.
Instead of adding additional webpages to fill in this gap, you can add the relevant subject in the form of blogs. Doing so will help minimize the effort and maximize the SEO output. Recognize the ranking SEO phrases and topics that your blog or website lacks, and add relevant content around it.
6. Boost your content's CTR.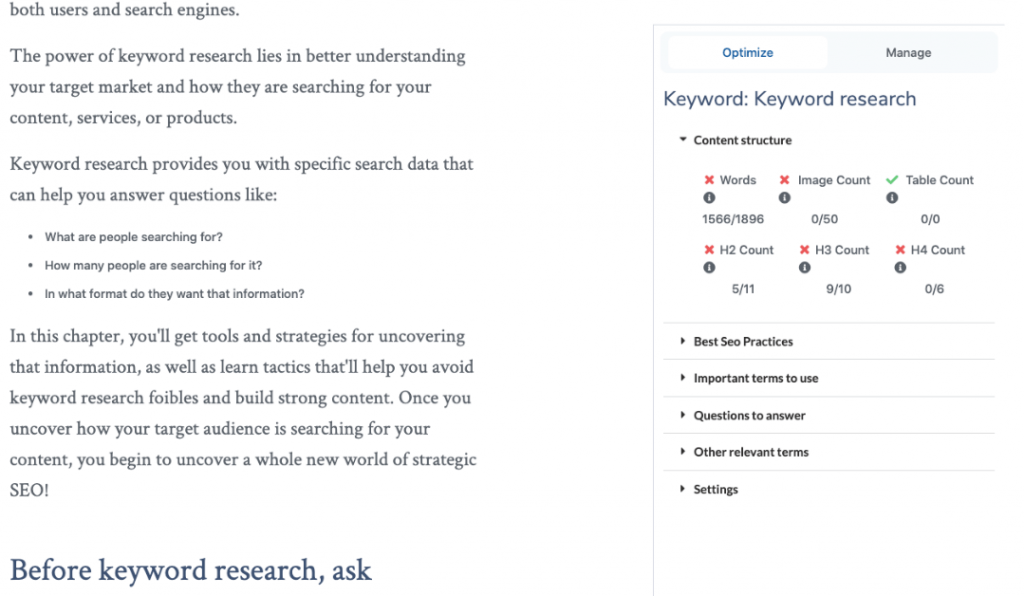 Even great content would sometimes fail to generate a high CTR. To resolve this, analyze the three chief aspects in which your competitor might be putting more effort: titles and meta descriptions; structured mark-up to induce uniqueness; and Google snippets.
The titles and meta descriptions should be of appropriate length, contain the right keywords, and Call-to-Action (CTA); they should also be easy to read. Structured mark-up includes features, like Google reviews with stars, which help make your content stand out from the crowd.
Lastly, featured snippets are the answers Google provides for questions in the form of a snippet on the top of the page. A study by Ahrefs found that featured snippets in a search result get 8.6% of the clicks, on average, which is basically dipping into the CTR of the actual organic #1 ranking result.
7. Generate more social media traffic.
Keeping tabs on the appearance of your webpages and blogs, when shared on social media, will enhance the traffic that comes from there. Consider, for instance, the convenience of the users when they come across your blog about on-page SEO having a catchy title and a brief summary along with a picture.
Open Graph is a specialized format for sharing blogs on Facebook and LinkedIn, while X offers a Twitter Card. With all these social media channels becoming a crucial part of SEO efforts to gain more readers and a better ranking, most content management systems support both Open Graphs and Twitter Cards with a time-saving option to automate them.
8. Strive for greater content relevance.
It is clear that search engines exist and continuously evolve to make it convenient for users to find relevant information online. With this in mind, understand that even your services and, essentially, the content that you plan to offer should ultimately meet user requirements by focusing on the relevance of your content.
The more time a user spends on your website without bouncing off, the clearer it will be to a search engine that your content is worth ranking on the first page. In addition to offering the correct information, improve the user experience with infographics, videos, FAQs, reviews, and additional quality resources in the form of external links.
9. Update your content to keep it current.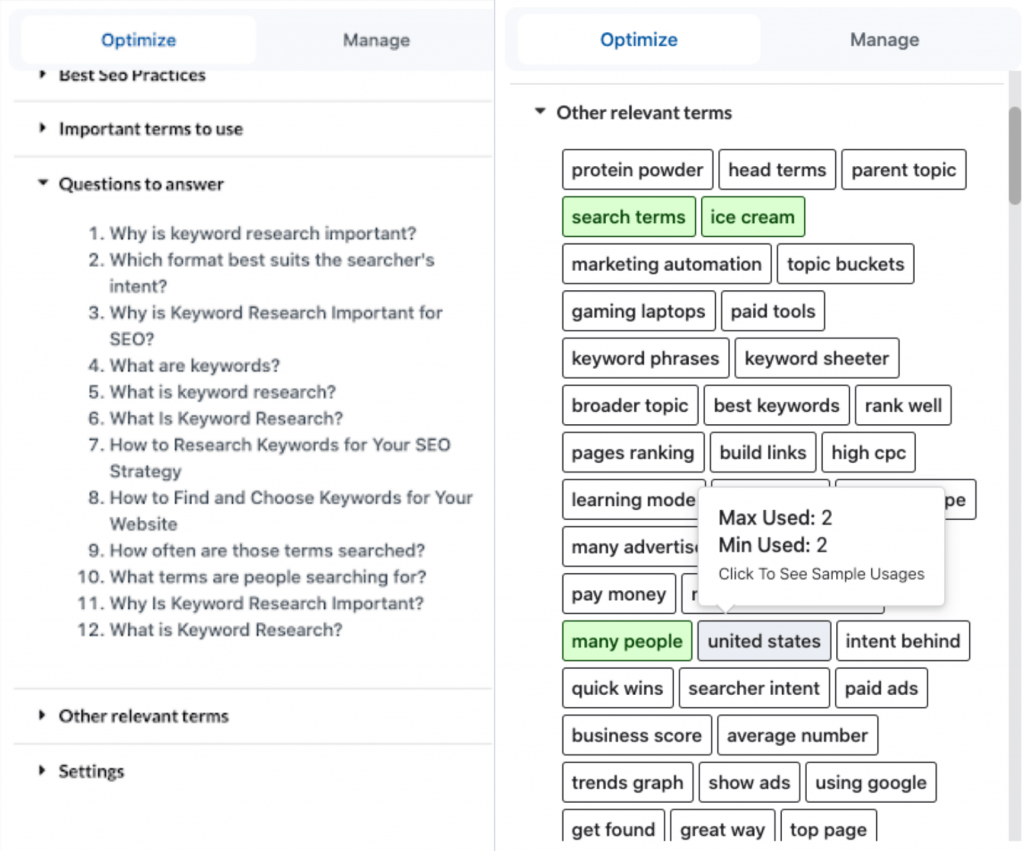 Just because your older published work did not gather adequate traction or became obsolete from the constant updates on the Internet does not mean you cannot bring it back to life.
For instance, if you write a blog about the SEO updates offered by Google, there can be multiple minor changes added later, which you will then update in your blog,  to make your content relevant anew. Use this time to analyze and re-evaluate your content, to see if you can incorporate any additional feature to your blog that will make it unique.
10. Add optimized multimedia.
Images and videos play a significant role in making your content more user-friendly and relevant. While some webpages might require only text-based inputs, fusing some form of multimedia naturally into it will make it look better and effortless to retain for the users.
These will also help boost your SEO strategy when you describe your images using ALT+text tags, having target keywords, for the search engine to recognize it accurately. Many people are in the habit of skimming through a piece of content, thereby missing the relevant information. You can use video content to fill in this information gap.
11. Enhance your content's readability.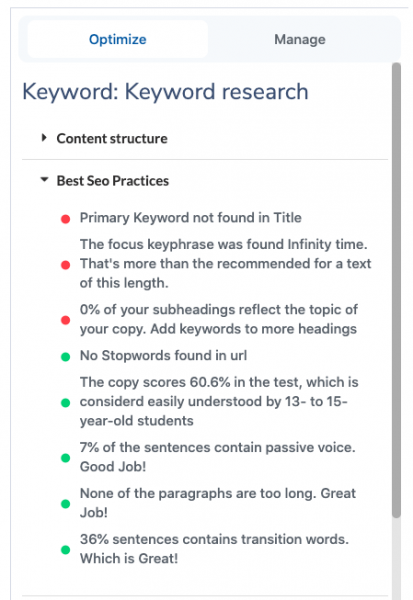 With the rise of data availability over the Internet and the increasing amount of screen time and digital devices, the attention span of users continues to decline. From 15 seconds in the early 2000s, it has now dropped to a staggering 8 seconds.
In this scenario, if your blog or webpage lacks the ease of readability and visual appeal and is simply a long text form, it will fail to invite enough attention. You can heighten user accessibility by including subheadings, paragraphs, media elements, and mobile-friendliness. Make sure your content can hold the attention of the users effortlessly.
Key Takeaways
Catalog all of your content on a spreadsheet, including all your goals and level of satisfaction for each. This will help create a visual picture of the work that you need to do.
Improve upon the performance of your content by incorporating elements, like title tags, heading tags, meta description, inbound links to other pages, to name a few.
Improve your CTR by optimizing Google snippets and title and meta descriptions along with your unique content. This will help guide your work to gain a higher ranking and traffic on SERP.
An improved visual image of your blog, when shared on social media, is essential to catch user attention.
Re-writing older, obsolete content by integrating the latest trends or updates will help preserve and boost its value over time.
Incorporating relevant images and videos with target keywords for alt+text tags can help increase visitors' engagement as well as search engine association.
Got any tips to add? Just comment below or reach us over at Facebook, X, and LinkedIn.