Digital got you dazed?
Type it below, and we'll show you what we've written about it!
Propelrr Hosts the Second Aviator Awards Night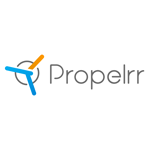 Propelrr

26 Jun 2018

7

min

read
The Propelrr family doesn't just celebrate. We do it with style.
For the second Aviator Awards, Propelrr Aviators went to the Primac Exclusive Resort last June 9, 2018. Outstanding individuals were recognized for their impressive development while the whole team was given the opportunity to be exceptional too as we all went through obstacles and skill set development activities. Both activities profoundly made an impact on the team. Well, what can I say? Propelrr has a unique way of giving great credit where credit is due, and building value for future greatness.  
The night started with people lining up at a photo booth right outside of the function hall to immortalize how the Aviators graced the event. Everyone looked fabulous and was dressed to impress. The gentlemen looked sharp in their black and white suits. And the ladies were stunning and beautiful in their black and white outfits. The night was young, and there was so much more in store for the team.
The program was started by Propelrr's main man Francis Gary Viray, followed by an insightful introduction of the Aviator Awards by Propelrr's First Lady, Mitchelle Viray. Outlining the qualifications of every Aviator Awardee and discussing the journey it required was taken care of by Michael Millanes. He also presented the previous title holders of the Propelrr Supersonic, Propelrr TurboJet, Propelrr Gearbox, Propelrr Pilot, and Propelrr Captain.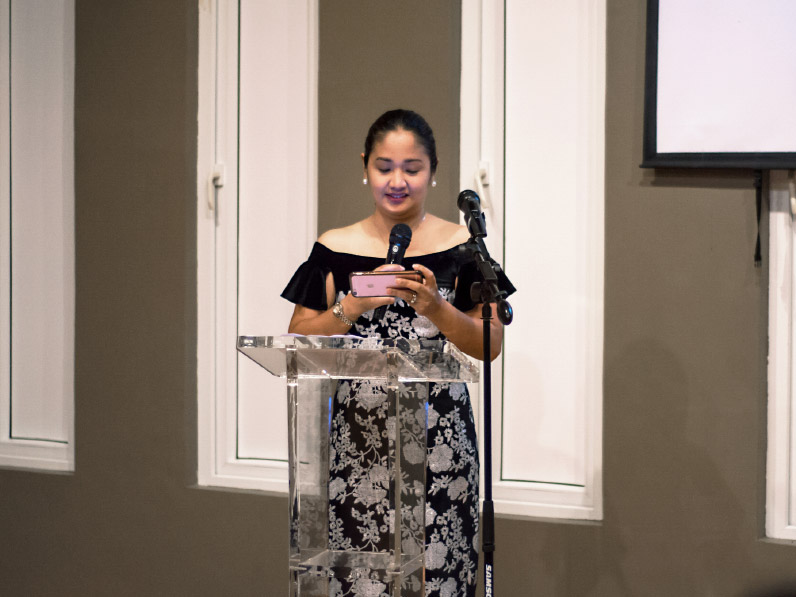 Mitchelle Viray gave her warmest welcoming remarks for the 2nd Aviator Awards Night.
Before the awarding began, the previous awardees gave kind messages to the next title holders, like a passing of the torch moment. They even prepared a very entertaining production number for everyone. At one point, I found myself questioning what type of agency we were — a digital marketing company or a talents acquisition agency.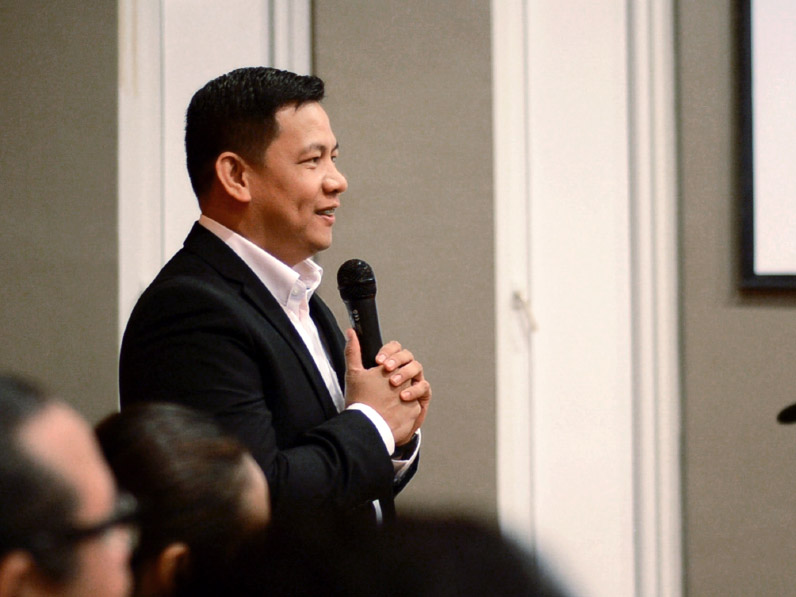 Propelrr President Gary Viray bids good luck and congratulations to this year's nominees and awardees.
The 2018 Aviator Awards
At around nine in the evening, everyone couldn't sit still in their seats anymore. This was the part everyone was waiting for — the announcement of the 2018 Aviator Awards winners. Like all awarding ceremonies, the criteria for judging was presented. We are a process-oriented company after all.
Here was how the awards were given.
The Propelrr Supersonic Award was awarded to the individual who has been a part of Propelrr for at least one year. As an Aviator, he or she has shown remarkable improvement regarding job performance. This Aviator demonstrated a significant increase in overall job performance regarding their technical skill set, communication, and collaboration.
The Propelrr Turbojet Award recognized a promising newbie in the organization. To qualify, the nominees should have had at least six months worth of experience in Propelrr. The awardee should have captured the potentials concerning skill growth and have exhibited an overall positive attitude.
The Propelrr Gearbox Award went to the Aviator who had at least one year tenure in Propelrr, is individually connected to the "character building program" of Propelrr, and exemplified great willpower in integrating lessons learned in his or her life which manifested in the observed remarkable changes in attitude and work ethics.
The Propelrr Pilot Award is given to the Aviator who had at least two years of tenure in Propelrr. He or she should have exhibited extraordinary mastery of his/her craft and went beyond what was expected of them regarding professional proficiency. The Propelrr Pilot should have demonstrated how his/her expertise contributed significantly to the overall performance of the team. As Malcolm Gladwin said in his book "Outliers," they were markedly different in value from the others of the sample.
The Propelrr Captain Award went to the Aviator with a minimum of two years tenure. The winner personified excellent leadership skills and character and guided others to traverse even unsettled terrains, leading with the courage of a warrior and the magic of a wizard. The Propelrr Captain demonstrated how he/she had spearheaded either a project, an initiative or an activity and, by utilizing the skills of teammates, orchestrated its success. The awardee is seen as someone who fierce when it came to working but was  empathetic when dealing with teammates and clients.
2018 Aviator Title Holders
The announcement of awardees started with a video greeting from each of the winners' families and closest friends. The award loot included the Propelrr trophy, a trip to Taiwan, and a certificate of achievement handed by Michael, Mitchelle, and the previous title holder.
Drums went rolling as the lights were turned off, and the video greetings from the families and friends started playing. Then, the awardees were announced:
The first awardee, Propelrr Supersonic, went to Accounts Management Team's Charmaine Perillo. Charmaine shed a few tears and shared a beautiful speech, all while being surprised that she won the award. This year's Propelrr TurboJet is Denisse Dumpit from the Content Team. Propelrr GearBox for 2018 went to Jahren James Bautista of the Creatives Team and SEO Team's Allen Cerezo, who also won the Propelrr Pilot award. Talk about SEO reppin'.
All of them deserved the recognition they got for their excellent, excellent work.

Charmaine Perillo bags the first award of the night, the Propelrr Supersonic. Awarded by Mr. Michael Millanes, Ms. Mitchelle Viray, Nina Estenzo, John Levi Cuyoca, and Veronica Beguas.
Everyone had their bets for the most important award of the night, the Propelrr Captain. This 2018, the winners are Tech Team Lead Dexter Loor and Content Team Lead Veronica Beguas. Dexter was awarded Propelrr Captain the previous year, making it a back-to-back Captainship, while Veronica bagged her first Propelrr Captainship. With their undeniable professional excellence, grit, wit, personality, and a whole lot of what makes a Propelrr Aviator a Propelrr Aviator, no one was surprised.

(From left to right: Allen Cerezo, Denisse Dumpit, Veronica Beguas, Jahren Bautista, Charmaine Perillo, Dexter Loor) Propelrr awardees were striking a pose with their Propelrr trophies and owning that winning smile.
Here at Propelrr, we believe that working hard as a team must be accompanied by playing hard as a family — no one is left behind. Everybody received a special award that night. Team leaders awarded each team member a unique gift. Most of the members received a customized pen with their name and the word "Aviator" engraved on it.

(From left to right: Allen Cerezo, Vino Bolisay, Veronica Beguas, Chee Saplala, Dexter Loor) Propelrr Team Leaders gather together for the awards night.
Team building winners were awarded gift certificates. Propelrr Aviators who have been a part of Propelrr for five years were also recognized for their continuous service and significant contribution. They received a unique watch specially chosen by the President himself. Knowing Gary and his excellent taste for wrist watches, they were definitely great wrist candies.

(From left to right: Michael Millanes, Freddie Santos Jr., Jarniel Cataluna, Kevin Santos, Patricia Espidol, Midge Robles) Representatives accept their gift certificate awards from the team building.
The admin team and great men and women who completed the Propelrr family were also acknowledged. Nicole, Midge, and the rest of the gang were given awards for making work bearable and helping a Propelrr Aviator out in all ways possible. Who could forget the man who helped form and hone the Propelrr culture himself, Michael Millanes? He was given special recognition, too. What would Propelrr be without these amazing people?
We take great pride in our achievements, that's why we provide greater acknowledgments to every individual's success. But we aren't all glitz and glam. Behind the wins, we take greater pride in the challenges we have conquered, the differences we've overcome together to develop an outstanding solution, and most of all, the culture of honesty that has allowed us to acknowledge our shortcomings and fail forward. In every Propelrr Aviator lies the next Supersonic, TurboJet, GearBox, Pilot, and Propelrr Captain. With the people around us and the culture we've built, these aren't possibilities. They are certainties.

Meet the 2018 Aviators.

A sweet toast to cap off the night.
The night didn't end after the awarding. Staying true to our belief of working hard and playing hard, everyone grabbed a bottle of beer, took a shot of tequila, and danced the night away.
Celebrating everyone's success is what Propelrr is — it's how we choose to conquer the difficulties we face and how we stand by each other as we raise our glasses to celebrate.
According to Michelle Obama, there is no magic behind achievements. At the end of it all, it's really about hard work, choices, and persistence.
Surely, everyone is looking forward to the next Aviator Awards. Until then, we are going to soar higher the way we do best — together.
Ever upwards, Aviators!
Subscribe Now
Choose topics you want to get regular updates on: