Propelrr Partners With The North Face For a Seamless Brand Experience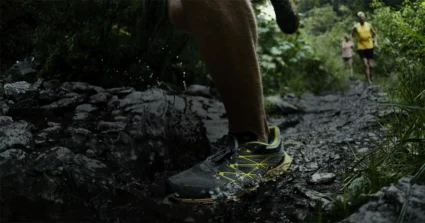 The North Face is an established outdoor product brand that specializes in outerwear and other apparel and equipment. Committed to bringing the outdoor experience to more people, last year, they took their annual race, TNF100, to a wider audience with a seamless integration of online and offline marketing efforts. The result? A campaign value of over 36 million pesos.
So how did they do it? The North Face team was already employing a full array of online and offline marketing efforts, each undoubtedly working towards getting the word out there and gathering as many people to register to TNF 100 as possible.
However, staying true to its mission of breaking boundaries, they wanted to take their campaign far and beyond their own.
Enter Propelrr. The digital marketing company integrated all of The North Face's marketing efforts seamlessly by implementing nonlinear approach using the latest innovations at that time.
Needless to say, the partnership turned what The North Face had in mind into reality. Even at a glance, the numbers were staggering:
PhP 5.59 million in running revenue.
19.58% lead-to-customer conversion resulting in over PhP 3 million in product revenue.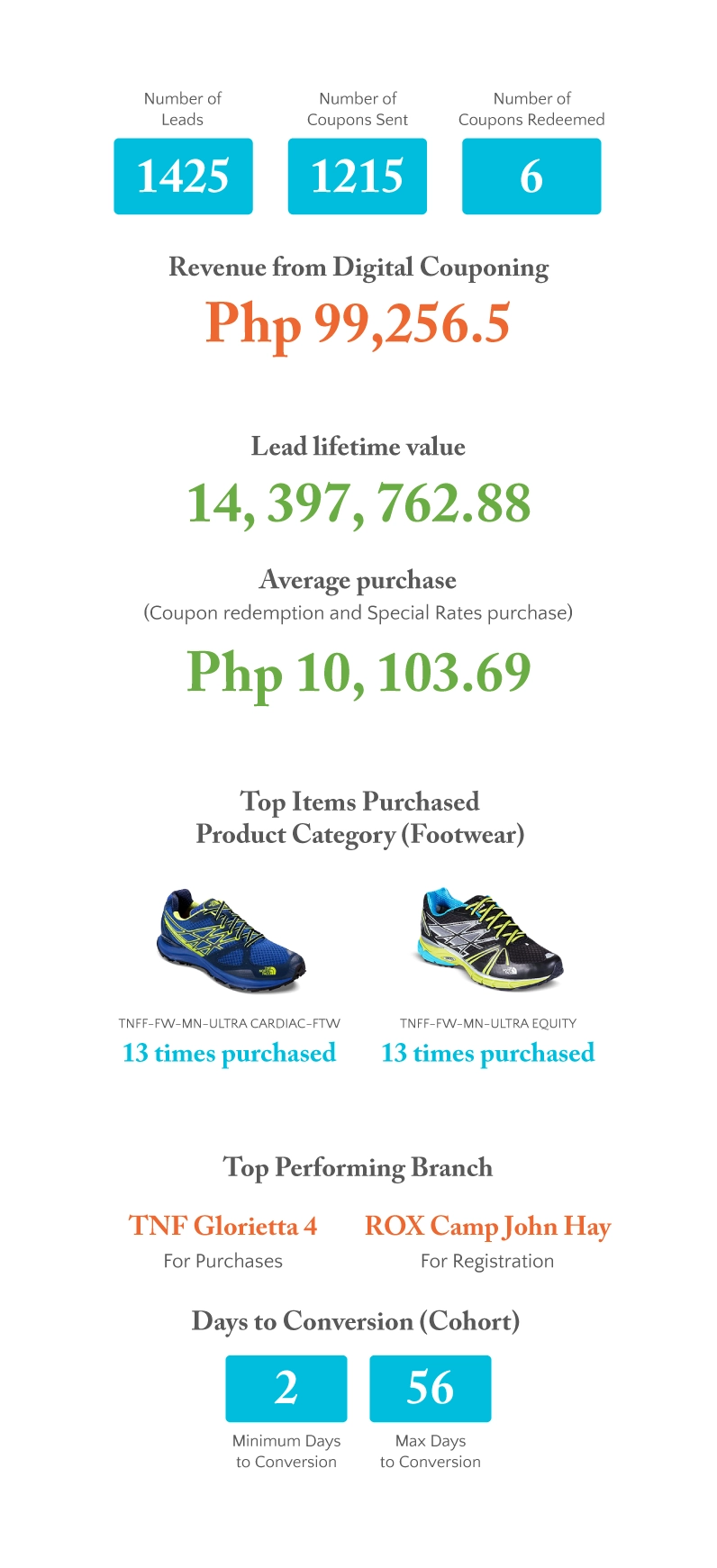 Mobile-First Microsite
As smartphones become more sophisticated, creating a microsite designed with mobile as a priority has become all but essential to any digital marketing campaign.
Thrill of the Trail was not only designed mobile-first, but it also provided a rich and comprehensive platform that serviced 2016 TNF100 runners from registration, payment, trail guidelines, claiming their kits to getting their race results.
If the results are any indication, the effort was appreciated, to say the least.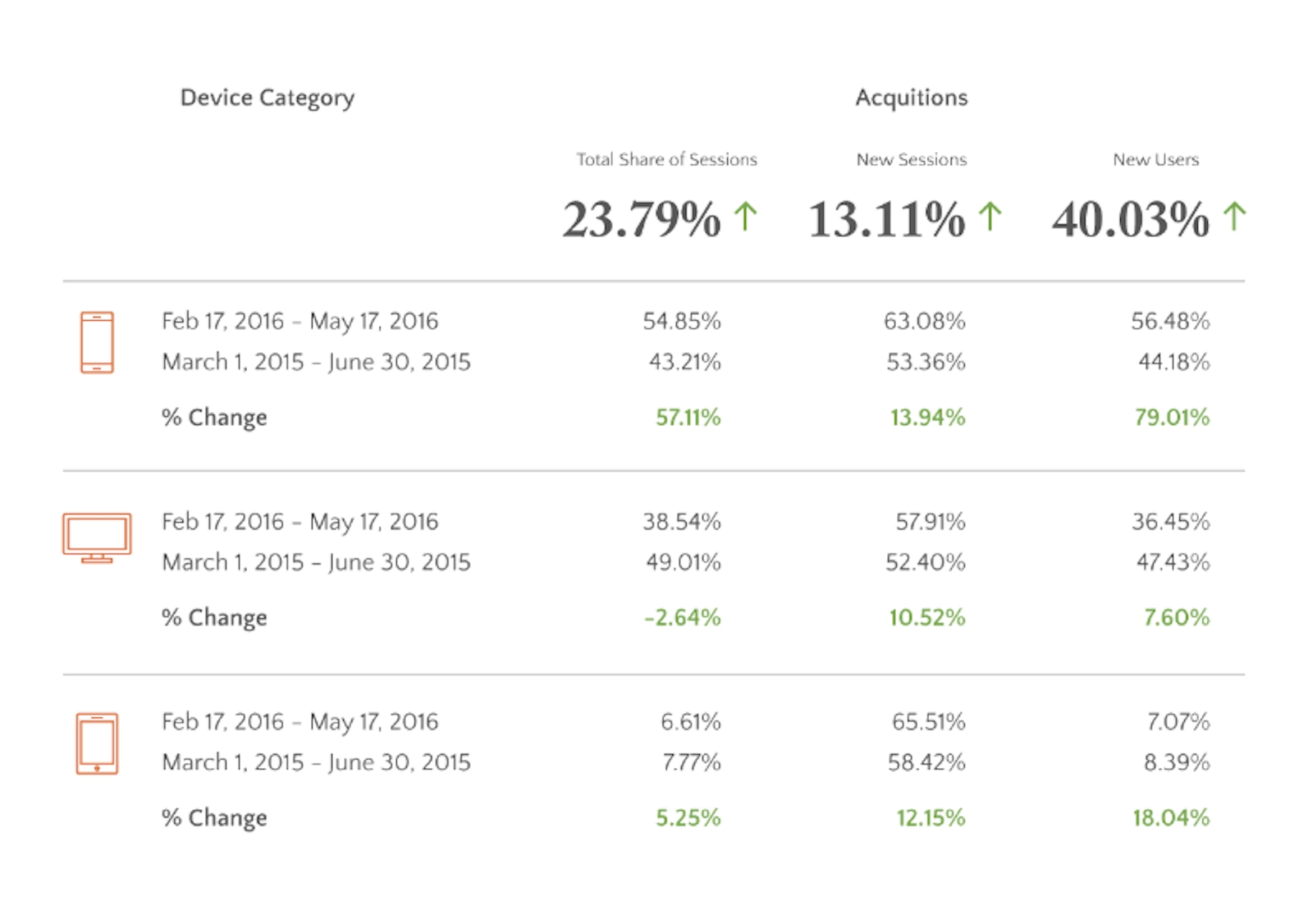 And mobile isn't budging anytime soon.
Geo-Targeted Event Ads and Retargeting
TNF100 isn't just a local event. Trail running enthusiasts from all over the world cross oceans to be part of it!
To this end, Propelrr implemented geo-targeted event ads to reach trail runners from anywhere in the world with content tailor-fitted to their locations. Runners from 19 countries across the world flew in for 2016 TNF100.
| Country: | Registrants: | Country: | Registrants: |
| --- | --- | --- | --- |
| In Store – Philippines | 864 | Finland | 2 |
| Philippines | 490 | France | 2 |
| Thailand | 19 | Indonesia | 2 |
| Singapore | 11 | Mexico | 2 |
| Hongkong | 9 | Taiwan | 2 |
| Canada | 4 | Australia | 1 |
| Japan | 3 | Brunei | 1 |
| Malaysia | 3 | Kuwait | 1 |
| Qatar | 3 | Norway | 1 |
| United States | 3 | South Korea | 1 |
Real-Time Monitoring
Through the Propelrr Dashboard, TNF's marketing team received event-driven metrics in real time from both online and offline channels. Anyone with access can get the dates when each runner registered, how much they spent on TNF, and exactly which items sold the most during the course of the campaign. This information allowed marketing efforts maximum maneuverability that extended far beyond the campaign's duration, causing ripples that influenced future marketing initiatives.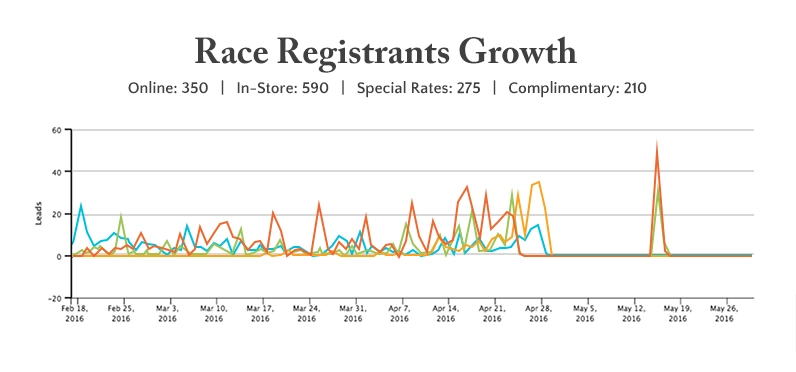 Social Wall
The 2016 Social Wall compiled all posts bearing the hashtag #TNF100Ph2016 from Instagram and Twitter, and displayed them in one location. The Social Wall provided the audience with a running feed of all the relevant posts about the event. Just as importantly, the Social Wall also gave real-time analytics on visit rates, post frequency, and influential contributors.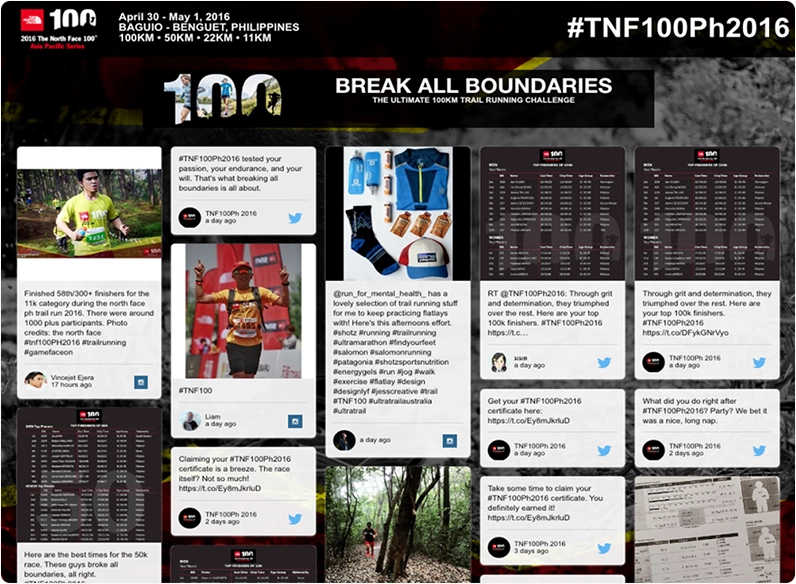 Takeaway
All of these factors add up to what, exactly?
Running campaign revenue amounting to PhP 5.53 million.
Running lead lifetime revenue amounting to PhP 16.08 million.
Running social media value amounting to PhP 14.78 million.
Going the extra mile to provide a seamless brand experience just works, and pays dividends in sales. With the audience becoming enmeshed in the digital world, combining both offline and online marketing efforts is not only effective, but essential to any marketing plan.