How Repurposing Gives Your Content Marketing Strategy More Mileage
Propelrr
December 1, 2022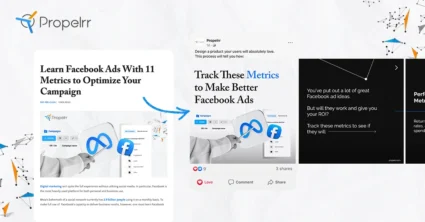 If you're a content creator or a brand marketer and you're not into content repurposing, then you're really missing out on a lot.
Creating original content can be time-consuming and expensive. If you want to get the most out of your investment, you need to find ways to repurpose that content across a variety of channels.
This is a technique in content marketing called content repurposing.
What is content repurposing
Write an article about how content repurposing is a technique in content marketing that can help you get the most out of your investment. By reusing and recycling your original content, you can reach a wider audience and maximize your results.
Why should you repurpose content
One great advantage of content repurposing is that it can help you reach a wider audience. By reusing and recycling your original content, you can reach people who may have missed it the first time around. You can also target different audiences with different pieces of content.
Another advantage is that repurposed content is often more engaging than original content. When you recycle content, you can update and adapt it to make it more relevant and interesting. This can help you attract more readers and keep them engaged.
Finally, repurposing content is a great way to save time and money. You can create a lot of content with limited resources by recycling what you've already created.
FURTHER READING: The Power of Repurposing Content and How to Do it Right
Ways to repurpose content
Now we arrive at the fun part: repurposing the content. When planning for your content creation efforts, it helps your repurposing efforts to plan for them as well.
Before shooting, writing, or publishing your content, think about the ways to repurpose content below.
Create a video series. Turn your blog posts into a video series that you can post on YouTube or another video platform. You can also use these videos as fodder for social media posts or even create short advertisements.
Develop an E-Book. Compile a few of your best blog posts and turn them into an e-book that you can offer as a free download on your website. This is a great way to capture leads from your website visitors.
Create an infographic. Take complex data from one of your blog posts and turn it into a visually appealing infographic. This is an excellent way to make your content more shareable on social media.
Republish as a guest blog. Is there another website or blog in your industry that has a large audience? Ask if you can republish one of your blog posts on their site (with attribution, of course). This is a great way to get exposure to new people who might be interested in what you have to say.
Leverage social media. As we mentioned before,social media is a great way to get more mileage out of your content. Create shareable visuals for each blog post and schedule them to go out over the course of several weeks or months. And don't forget to include links back to your website.
Speak at an industry event. If you've written about a particularly timely or relevant topic, see if there are any industry events happening in the near future that would allow you to speak about your article. This is an excellent way to build thought leadership and get your name in front of potential customers or clients.
Conduct an interview. Did you interview anyone for your latest blog post? If so, why not break that interview out into its own standalone piece? You can post it on your website or even submit it as a guest post to another site.
Develop marketing collaterals. Take key points from several of your blog posts and incorporate them into marketing collateral like brochures, case studies, or one-sheets. This is a great way to generate leads and sales opportunities from potential customers who might not be ready to commit to working with you just yet.
Host a webinar. Do you have expertise on a particular topic that would be valuable to others? Hosting a webinar is an excellent way to share that knowledge while also promoting your business
Create a podcast episode. Have you ever considered starting a podcast? If so, repurposing some of your best blog content into podcast episodes is a great way to get started without having to start from scratch.
Key takeaways
The ways presented above are just some of the formats and methods you can use for repurposing your content. When it comes to increasing the mileage for your content, all it takes is a little out-of-the-box thinking to get great ideas.
Apart from these methods, some other things to remember when repurposing content are:
Repurpose top performing content. This is a general rule of thumb that ensures your repurpose content also gets mileage. After all, if it worked as one format, it can also work as another – maybe even better.
Always link to your original piece. This ensures that you do extend its value like you intended. Neglecting to do so will mean that you don't get the additional traffic and engagements you repurposed the content for.
Don't limit your ideas. No matter how quirky you feel they are, your ideas have value. And, at the very least, if they don't perform well, you can use it as a case for further experimentation and improvement.
Do you have a favorite way of repurposing content? Share them with us on Facebook, X, or LinkedIn. We love hearing and getting inspired by your ideas.
For more helpful tips in content marketing and creation, make sure to subscribe to our newsletter and we'll send it straight to your inbox.