Top 50 'Near Me' Businesses in the Philippines this 2019
Propelrr
November 21, 2019
People have relied on smartphones and the Internet to solve even the simplest problems. For example, when something needs to be fixed at home, they can ask Google how to do these repairs. If do-it-yourself repairs prove to be unsuccessful, the usual next step taken is to search for 'near me' businesses and service providers to cater to their needs. 
The convenience of gaining information with just a simple search is optimized through search engine optimization or SEO, thus giving the users the answers they need right here, and right now. 
But what are Filipinos searching for urgently anyway? Before we give you the top searches, there are a few terms you need to know:
The keyword is essentially the term or group of words searchers use when finding what they need on a search engine like Google.
Search volume is the number of people who are searching for the keyword on a monthly basis.
Return rate refers to the likeliness of searchers using those keywords again when using search engines to look for nearby places, establishments, and services they may need.
Wondering what the top local businesses are? Here is a shortlist of the most searched 'near me' businesses in the Philippines this 2019: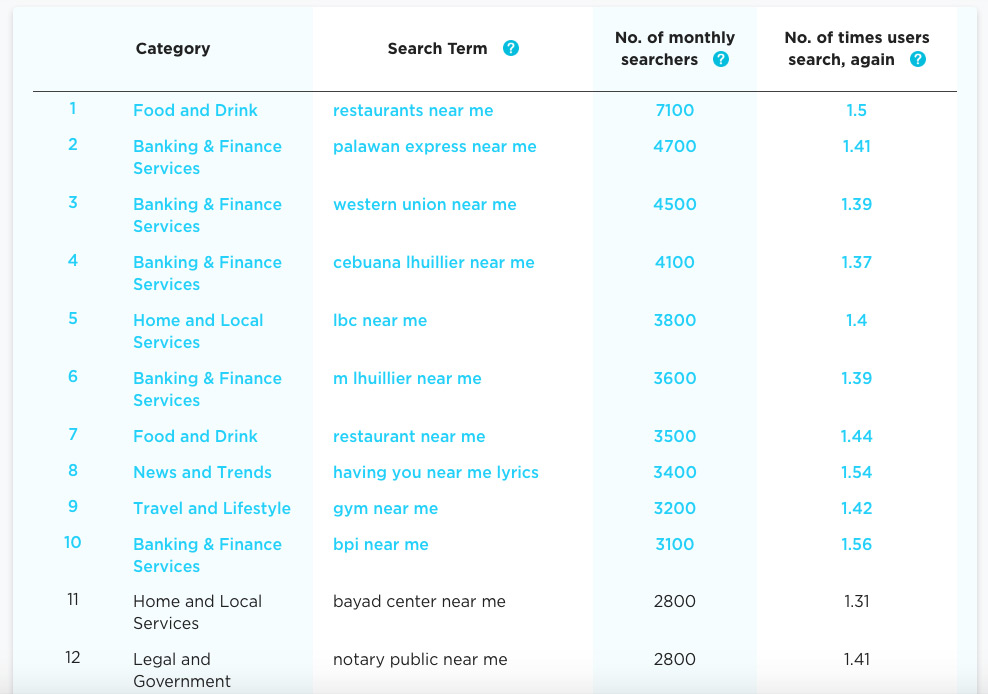 This is only 0.01% of the search results. We gathered 5,000+ 'near me' searches in the Philippines, all with the help of Ahrefs' Keyword Tool. If you want to dive into the data, feel free to check it out for yourself.
With knowledge comes power. This data can help you leverage your company's local SEO and give you higher chances of being found online. It will increase foot traffic in your establishments; potential customers are bound to try out your service and even build up your reputation. All of these, of course, will yield higher ROI for your business. And who doesn't want that?
If you want to be on top next year's list, send us a message on Facebook, X, or LinkedIn.