Digital got you dazed?
Type it below, and we'll show you what we've written about it!
Keep Your Readers Wired by Using Contextually Relevant Buzzwords
Propelrr

10 Sep 2015

7

min

read
Not a fan of buzzwords? Well you can, in fact, leverage them in contact. Here are a few tips to do it.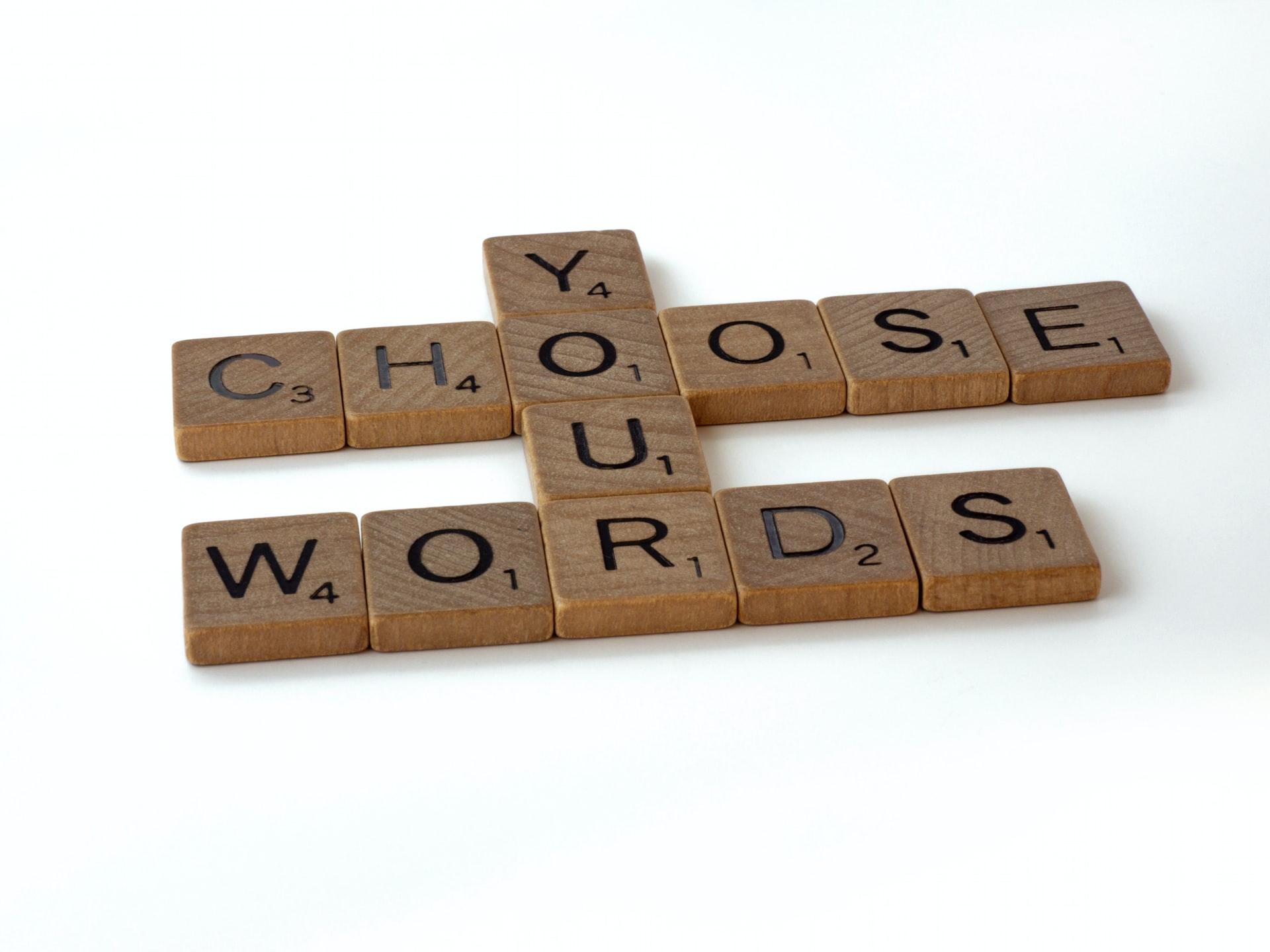 Buzzwords, for so many years, have been evident in the marketing industry. Young professionals, even if it makes them cringe, can speak it fluently. Metaphorical terms such as "bleeding edge," "pain points," and "low-hanging fruit," have been used for years. These terms in turn have influenced the way people think and speak. Over time, other  industries have begun creating their own "native" speak, thus making the buzzword vocabulary bigger.
The most glaring use of buzzwords is in marketing. While some buzzwords are intensely valuable, some are just fine, but others get stuck in our head. Instead of helping others to understand things better, people end up listening to vague jargons.
Buzzwords In The Industry
Jumping to 2015, thousands of buzzwords have been created and heard, but only a few were remembered and became popular. In this data-driven digital era, the most popular buzzword which I think is germane in this generation is "millennials." Millennials, a term coined by sociologists Neil Howe and William Strauss, are those born from 1980 to 2000, and the generation shaped by technology. Some of the most influential and most recognized millennials include Mark Zuckerberg, David Karp, and Sophia Amoruso to name a few.
The U.S. Census Bureau noted that 75% of millennials create social networking accounts as a form of self-expression. The use of social media exposes them to diverse and unfiltered opinions and ideas different than their own. Because of this, what they post on their social media accounts become an even mix of similar and different opinions from their own. Millennials are also recognized as the target market of most digital marketing agencies because they are constantly involved in the social media and have an "always connected" attitude.
There are thousands of marketing buzzwords that can be listed here and we'll never finish if we explain each. Instead, I listed down a few of the commonly-used and overused buzzwords. I'm sure you'll recognize most of them.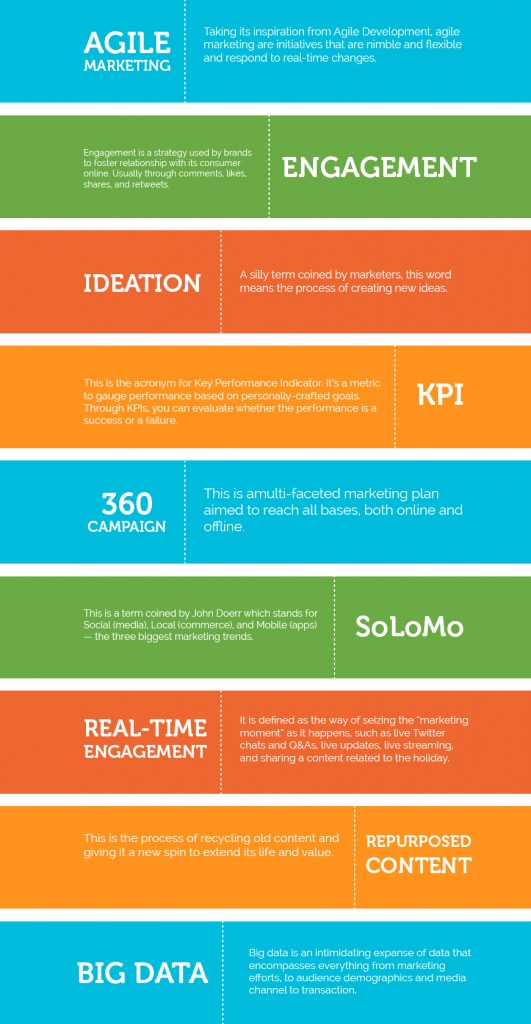 Buzzwords in Content Marketing
Content development is one of content marketing's highly esteemed services. Marketers generate different kinds of content such as infographics, curation and snackable content as a way to encourage readers to consume and interact with the medium. One way to attract readers to click on the content is by incorporating buzzwords on the title or headline. With over 2 million blog posts in a day, 294 billion emails, 864,000 hours of video, and more than 400 million tweets, how can you win someone's attention? Does using buzzwords really work? Or does it turn off your target audience?
Moreover, your audience only has 7 seconds to spare and read your content. Eight out of 10 people will read the headline copy but only 2 out of 10 will read the rest of the article. You are probably 1 of the only 2 who read the rest of the article. Thanks, bud!
Going back, every headline or title has only one mission—to get the next sentences read. This is the point where the decision making takes place. Readers decide whether the subject matter is relevant to them and to their business or not. Sadly, most of the time, readers are turned off due to the copy's failure to live up to the expectations built by the buzzword-filled title, which can result to high bounce rate. Big data, brandscaping, brand "emojification" are just some. Hearing these words in action would make you feel like pulling out your esophagus to survive. Yeah?
Well, another reason readers are turned off is because of outdated buzzwords. In content marketing, keeping yourself constantly updated with the latest trends in digital marketing, especially with buzzwords, is a must. Buzzwords are constantly changing; you can compare it to a carton of milk that you need to consume before it gets spoiled. A buzzword might be trending today, but tomorrow, another better buzzword might have been created. And before you know it, the buzzword that you know has gone sour and has already expired.
A great example would be how Jason Klein defined and compared personalization, relevance, and context. He said that personalizing content for your consumer is unarguable, but just using the word  "personalization" turns off consumers in an instant. Over time, the term "relevance" has taken over "personalization." But since buzzwords have a shelf life, marketers grew tired of using "relevance." For the past two years, "context" has been circulating and has taken digital marketing by storm. Many marketers has embraced this term to describe marketing as "hyper-relevant" and ditched "relevance" as it doesn't make the cut anymore. In the chart below, you'll see how some buzzwords have evolved. You'll also notice how these buzzwords are actually starting to make sense and not just used as  jargon anymore.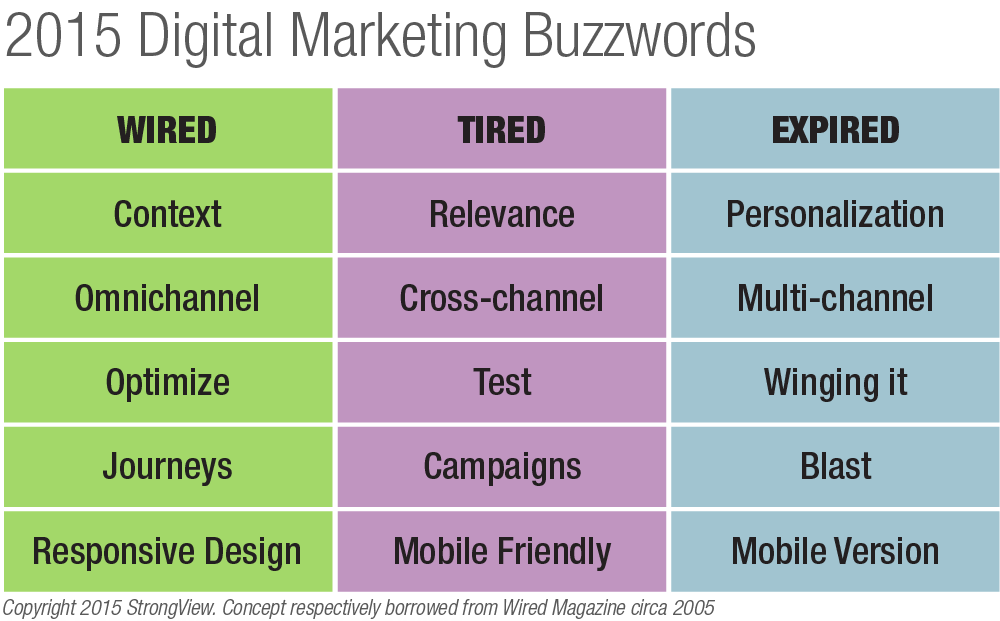 Elements of Click-worthy Titles
Certainly, one quirky way of attracting readers to click on your content is by how you craft your titles. But how can you make it click-worthy?
Crafting a title is not an easy task, even if it only contains more or less than 50 characters. You can't go beyond that word count  since readers might get bored reading an extremely long title. You can't aim for shorter ones either as they might not get what you're trying to say, which is not always the case. Confusing, right? Even advertising executive David Ogilvy took weeks to craft the perfect headline for one of his most famous and successful ads. In these kinds of situation, seeking help from the experts and finding solutions from persons who've experienced the same thing seem to be the most viable solution.
For example, Moz's Title Preview Tool is a handy tool for marketers who are skeptical if their titles will make it or not. It also mentioned that the most reasonable length for titles is 55 characters long, but that doesn't mean that you should always conform with it. Following the 55-character rule does not mean that you're doing a good job. There are still factors to consider such as capitalizations, narrow letters, and the width of the query keywords (Google bolds query keywords).
You see, Google's SERP redesign has a huge impact on SEO, specifically on its title tag redesign. For casual observers, they might not notice these changes but for marketers, it's a challenge on how to fit the title within this "magic number." So how can you keep your content in context and at the same time irresistibly click worthy with a title tag length that won't get cut off? Here are 4 elements to help you crack the code:
Drafting working titles is a great way to start. It's like the rough draft of your rough draft. Yes, you have a topic in mind, some specific points that you want to address, and so on. Having a working title helps your content remain within context.  If you're like me who doesn't outline blog posts and is more of the write-as-you-go type, this can be very handy.
Throughout your research you may find interesting key points that you can tackle, but when you look back on your title, this may come off as irrelevant. Working titles, however, are not flawless. As I've mentioned, it's a rough draft and it can still change throughout the process.
Having a little advertising background as copywriter intern, being tasked to create 50 to 100 headlines for a single ad was both hellish and interesting at the same time. Today, I'm thankful that I had that experience because it comes in very handy in my work.
When it comes to working titles, I use this technique to draft  the most suitable title for any article. You don't have to work on 50 working titles though. Having at least 5 choices is sufficient.
Food for Thought and Trigger Words
I visit Buzzfeed's website a lot, and I can say that I click most of their content to the point where my browser hangs because I have too many open tabs.  Sometimes I ask myself why I get lost to this clickbait, and then I realize that it's mainly because they used a lot of trigger words and feature images that spark my curiosity. Whenever you formulate titles, make sure to include elements of curiosity, controversy, and question. These elements will surely draw your readers' attention, just make sure to support your content with data or else your content might create a different kind of controversy. A detailed look at Buzzfeed's headline explains it.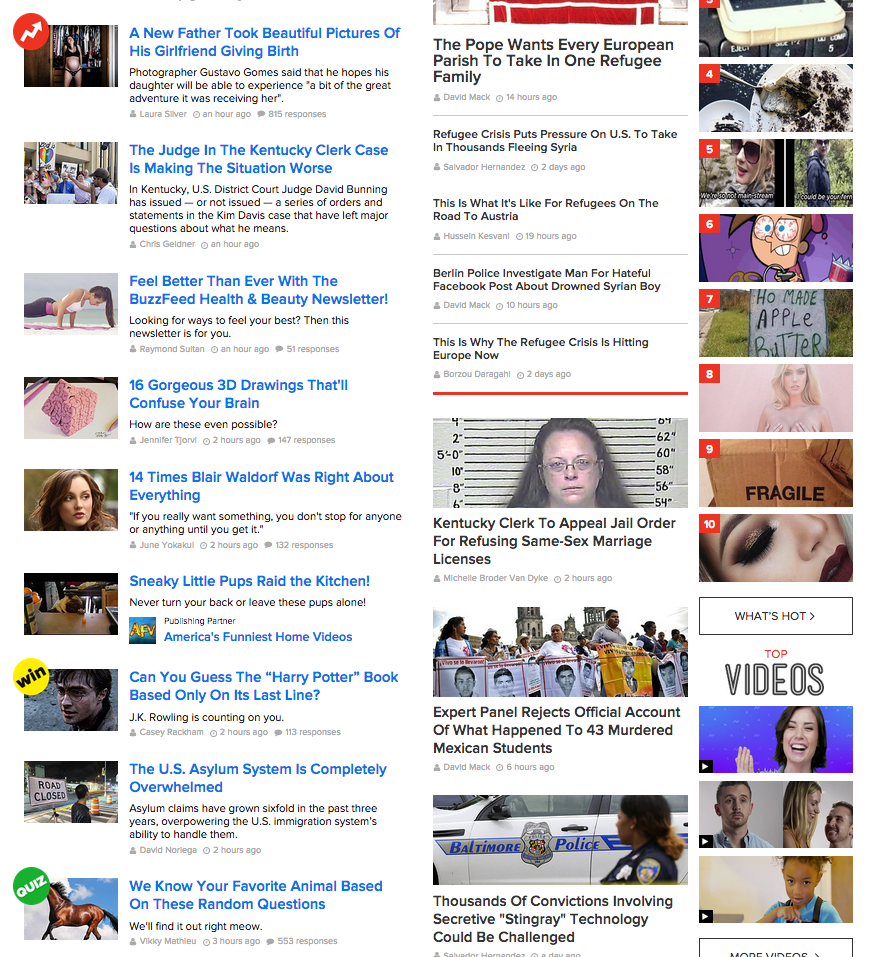 Keywords and Optimizing for SEO
If optimizing for SEO or to gain profit from your content is your primary concern, then what's the sense of your content if you don't include keywords in it? Incorporating keywords aids readers to find your content easily. I understand that the title is the anchor text when it comes to SERPs but don't include keywords that are unnecessary. If you're unsure on which keyword works best, there are several ways to help you with keyword research such as Google AdWords. However, if you don't have the budget you can try free keyword tools such as Majestic SEO.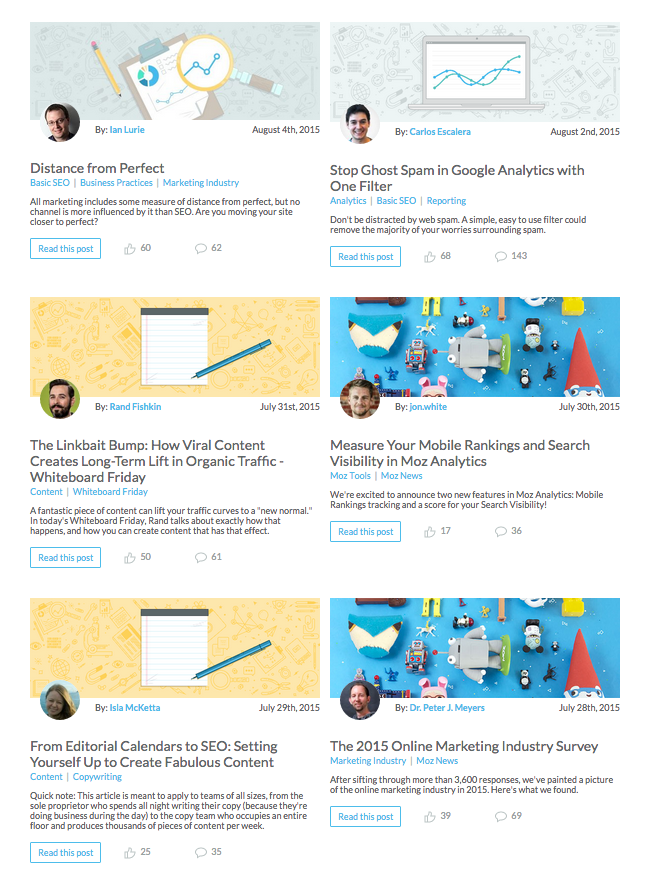 Buzzwords sum up the three elements that I mentioned, but it can turn off readers and give false promises. When used properly, buzzwords can evoke readers' interest towards your content.
Once you've finally finished writing and proofreading your article, you can now confidently work or re-work on your title. Read your article then ask yourself, "Is the title relevant to the topic?" (and vice versa), "Am I on the right track?," "Did I convey the message clearly?" If your answer is yes to every question, then slow clap to you. If the answer is no, then no worries, it's not the end of the world. Take time to think long and hard about the title that you want and try to incorporate these elements when crafting your titles.
When used properly, buzzwords can be helpful in explaining terms when you can't remember the right words. It is also a quirky way to share knowledge with friends and colleagues. Buzzwords are actually fun, but since most are overused, they become pet peeves.
Plugging this concept into your digital marketing efforts will make your data look better and sound more trustworthy. Consumers will gravitate towards your brand, too. Whenever you use a buzzword, always strive for wired, and ditch the tired and expired. If you're still using old buzzwords, start  rebuilding your vocabulary and you'll see better results in no time.
Never miss a beat.
Get regular updates in your inbox
on what's new on digital.
Subscribe Now