Digital got you dazed?
Type it below, and we'll show you what we've written about it!
Social Media Management & Marketing
Leverage Influencer Marketing to Boost Your Social Media Presence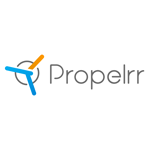 Propelrr

17 Jan 2023

8

min

read
TikTok dance challenges and influencer marketing all seem like a fad for the moment, until it helps a heritage brand maintain relevance.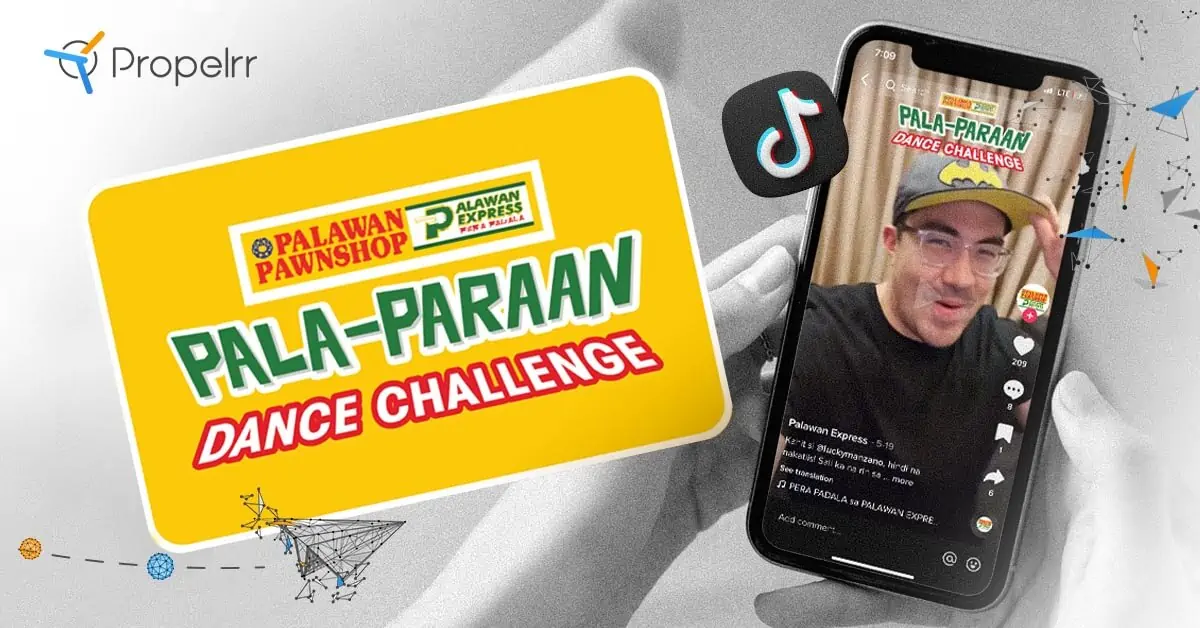 In a recent marketing campaign, social media management and marketing agency Propelrr helped amass millions in brand awareness performance for Palawan Pawnshop – Palawan Express Pera Padala (PPS-PEPP).
When it comes to money services, PPS-PEPP has a lot to compete with. From mammoth competitors that have established brand reputations to fully digital alternatives eating up the market, maintaining brand relevance can be an uphill battle.
But with its recent efforts to explore modern, data-driven platforms and techniques for online marketing, PPS-PEPP, along with its partner agency Propelrr, proved that the odds can be turned to favor their goals.
Combining influencer marketing, TikTok marketing, and pay-per-click advertising, the brand achieved 17.6 million total views for its promotional videos highlighting the brand's key services. It even led to a growth in followers and cemented its position as the top, affordable, money services brand in the country.
Below, are the insights, specific actions taken, and details of the results broken down for those who are looking to explore such a triple-combo technique for online brand growth.
Influencer marketing and TikTok dance challenges for brand awareness
Palawan Pawnshop – Palawan Express Pera Padala is committed to providing fast, resilient, and inclusive money services for Filipinos. It aids its partners by providing money remittance and pawning services, insurance, and by democratizing access to financial services.
Summarily, by providing these inclusive and quality services, PPS-PEPP helps Filipinos improve their quality of life.
Cementing reputations amid rising contenders
Competition between money remittance providers has always been tough, especially with the rise of alternative services. PPS-PEPP wanted to amp up its brand relevance and cement its position as the top one-stop shop for money services.
The route we chose to take? Infectiously fun and memorable.
It involved creating a brand jingle and a dance challenge choreography that were to be promoted on TikTok, as the platform provides the best chances for virality. Or, at the very least, we can amass engagements through the strategy.
The new brand jingle would highlight some of PPS-PEPP's unique value propositions to make sure fresh audiences know of the brand's specialized services. To an upbeat melody, PPS-PEPP's brand ambassadors sang lyrics that highlight its flagship services:
low-interest rate pawning with high appraisal values;
fast cash-outs for Pera Padala, and;
their dominant presence – boasting over 10,000 branches, and;
their low transaction fees.
The Big Idea – discovery and habit-forming
The campaign, launched alongside PP-PEPP's long-standing partner digital agency Propelrr, was dubbed "PALA-PARAAN" – a campaign centered around the colloquial expression of discovery "pala".
"PALA", as the root word in the vernacular, is an expression of discovery or realization. As a prefix, it is attached to verbs to denote a habitual action or pattern.
These served as the etymology for the campaign's key buzzwords. As an example:
Using PALA to express discovery:

"Pwede PALA!"
"Iyon naman PALA!"
"Kaya naman PALA!"

PALA as a prefix to describe a habit:

"PALAbiro."
"PALAtakbo."
"PALAisip."
Banking on these expressions, PPS-PEPP aims to position the brand as a solution to every Filipino's pain points with money services.
Easy, fast, and secure way to send money? Pwede PALA sa Palawan!
Pay your bills through your phone? Meron PALA sa Palawan!
Pawn your gold jewelry during an emergency? Kaya PALA sa Palawan!
And that for every 'HALA' (an expression of surprise; a reaction to an unanticipated, often unpleasant situation), may 'PARAAN' (a solution) sa Palawan.
Thus, the PALA-PARAAN campaign was born.
Method #1: Getting jiggy with a jingle
The brand launched PALA-PARAAN as a video campaign; tapping its brand ambassadors Luis Manzano and Meann Mendoza to generate traction.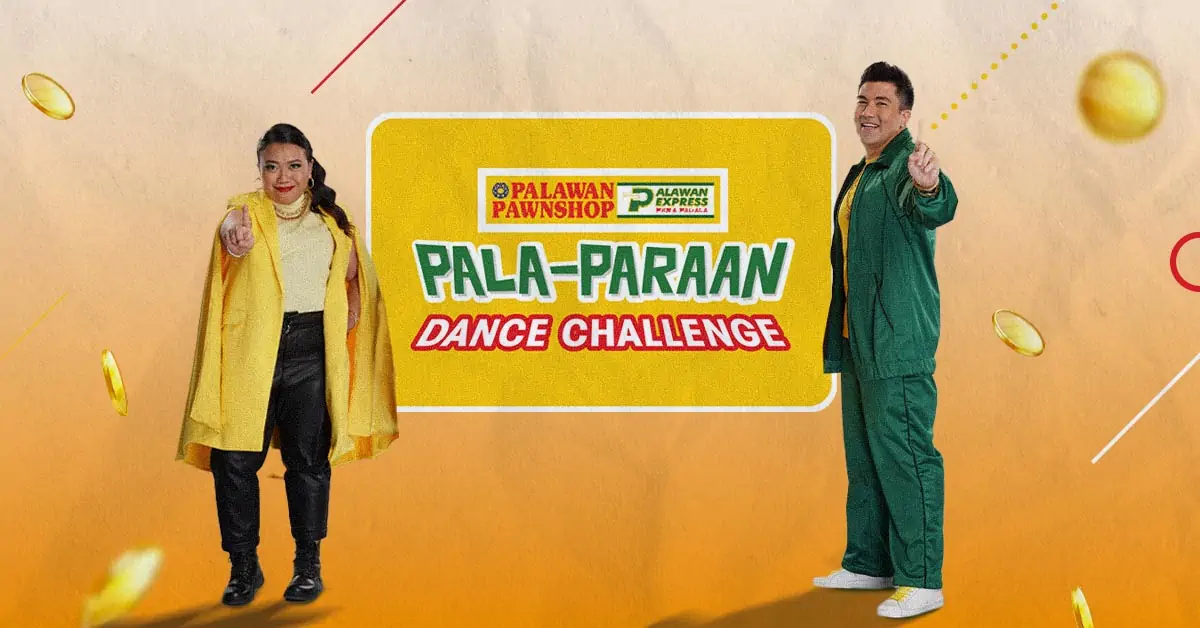 First, YouTube and Facebook.
Publishing a music video on YouTube, the brand spread its catchy jingle that highlights why they remain the leading money services provider in the archipelago.
As of November 10, 2022, the music video has been viewed over 12.7 million times on Facebook and more than 4.9 million times on YouTube.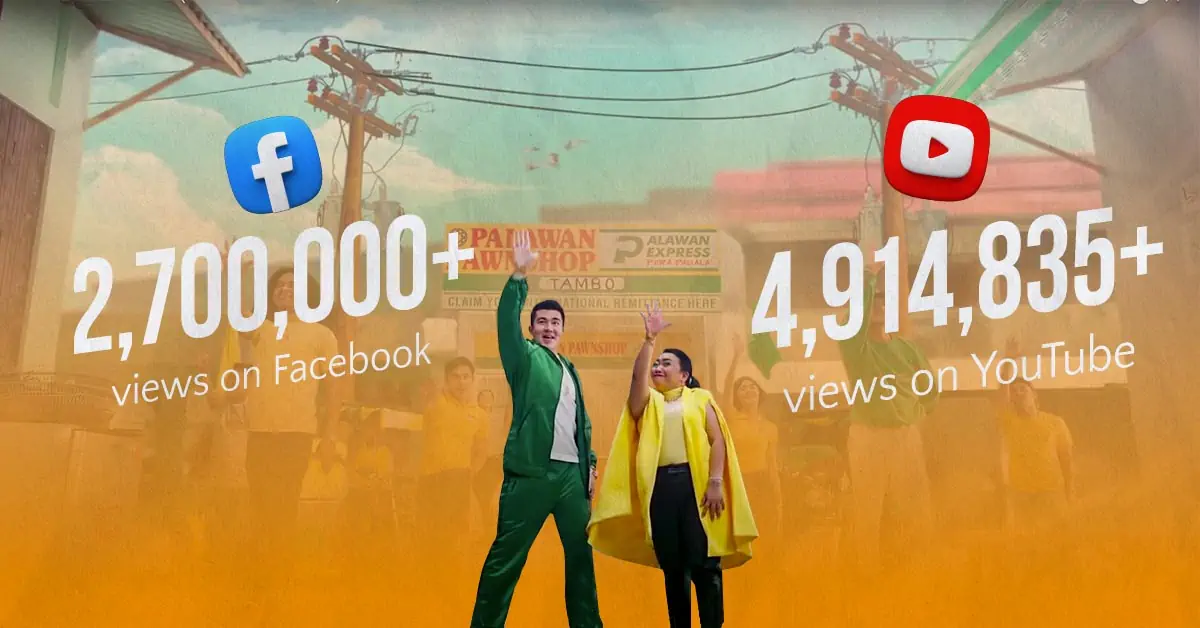 Then, on TikTok.
And, to keep its momentum going, PPS-PEPP and Propelrr launched PALA-PARAAN DANCE CHALLENGE. This would garner more engagements and views – spreading the catchy new jingle like wildfire.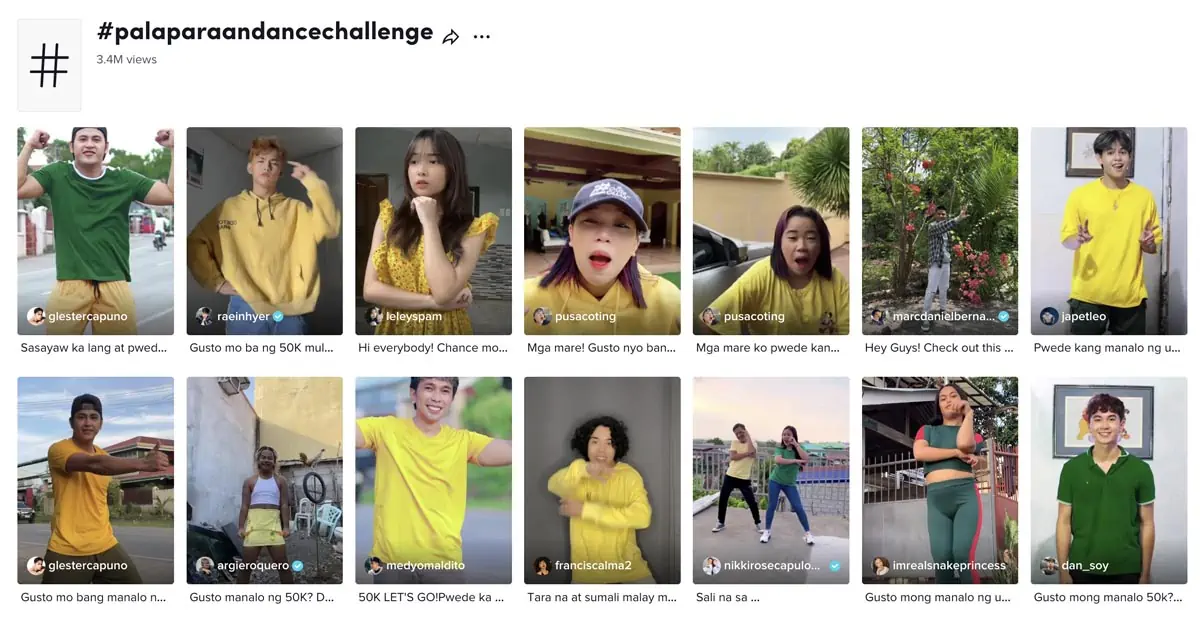 The Pala-paraan Dance Challenge was primarily launched on TikTok, where audiences were asked to dance, sing along to the jingle, and urge their friends to participate.
For variety, three versions of the 30-second jingle were released:
one that focused on Pera Padala (the money remittance service),
sangla or pawning, and;
one that combines both.
Participants were also required to include #PalaParaanDanceChallenge in the caption.
Method #2: Hyper-localization with influencers
For better resonance, the influencer marketing strategy had to be hyper-localized.
To that end, various content creators were tapped to send in their own entries; all handpicked based on how dominant their presence was in specific regions.
Here are a few of the regional influencers we tapped to participate in the campaign.
All of their entries were cross-posted on all relevant platforms, helping the campaign reach more potential participants.
Amassing over two million views from influencers, the activation played a vital role in promoting the campaign, with some of the best-performing content coming from regional creators like Glester Capuno from Bisaya Squad, Ana Coting from The House of Collab, and Raeinhyer.
It successfully boosted the brand's followers on TikTok too.
Method #3: Casting a wide net with digital ads and cross-platform sharing
The influencer efforts were deliberately coupled with digital advertising that targeted audiences on Facebook and Instagram. This resulted in a staggering Reach of 970,747 and Total Impressions of 1,012,589.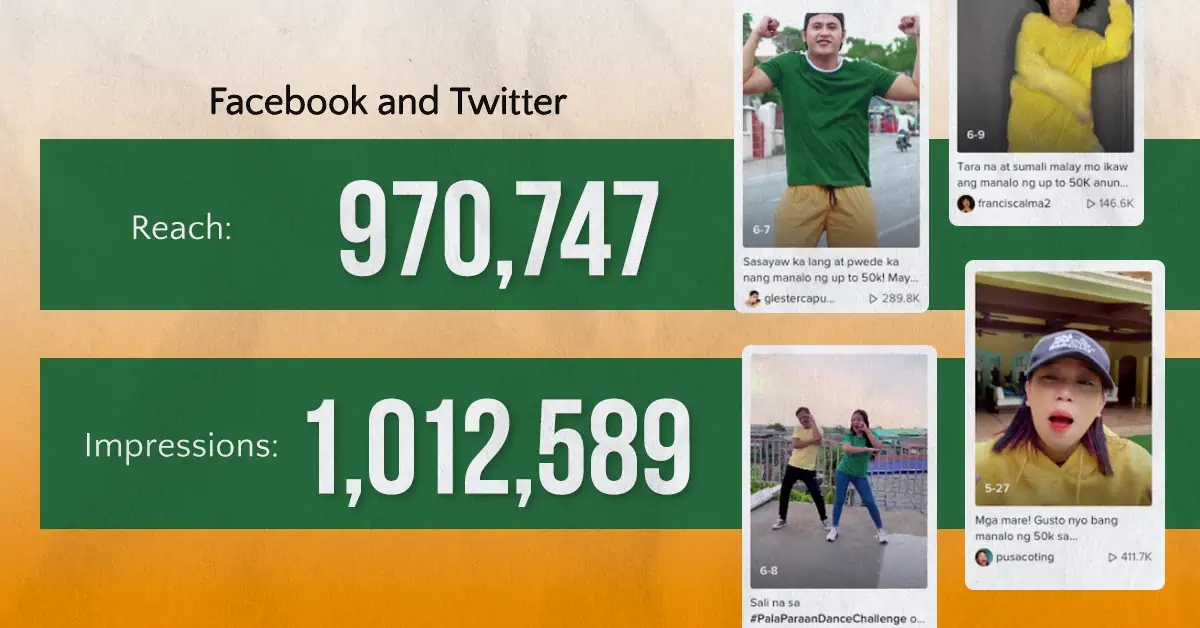 READ ALSO: TikTok Advertising Guide to Setting up and Optimizing Campaigns
PPS-PEPP Facebook audiences were targeted and directed to its TikTok page where they can see the mechanics, ambassadors dancing and singing along with the jingle, and other entries cross-posted on the platform. The campaign achieved a lower CPR/CPM of around PHP 20.
Overall, nearly 500 user-generated content was submitted – amounting to roughly 300 minutes worth of content.
Entries are oozing with quirks and creativity. We linked some of our favorites below!
@mitxiigan @palawanpawnshop #PalaParaanDanceChallenge #iPalawanMoNa ♬ PERA PADALA sa PALAWAN EXPRESS – Palawan Express
@ajhongpaguirigan Ano pang hinihintay nyo? Sa @Palawan Express na!!!! #PalaParaanDanceChallenge #iPalawanMoNa ♬ PERA PADALA sa PALAWAN EXPRESS – Palawan Express
Fun and collaborative – the secret to TikTok's popularity
TikTok started out as a social media platform for sharing short-form, 60-second videos. But what sets it apart from others is the way users can easily interact with each other and create content together.
These factors combined have led to the creation of many viral trends which, in turn, made TikTok one of the most talked about social media apps today.
Among those viral trends are dance challenges, where users learn a specific choreography, record themselves doing it, and post it or share it with friends.
They are, put simply, entertaining and buzz-worthy. So much so that they have captured the attention of people of all ages and statuses. Even celebrities, professionals, and industry leaders join dance challenges to "keep up with the kids."
How does TikTok benefit brands?
Other than social relevance, TikTok has become a powerful marketing tool that comes with numerous social media benefits to brands. In its unique way, TikTok allows brands to reach younger customers and engage with their target audience in a fresh way.
1. Opportunities for expanding reach.
Brands use the app to create short videos that promote their products in a fun, entertaining, and innovative way. The platform also provides an excellent avenue for outreach and collaboration, as it makes it easy for businesses to connect with influencers who can share their content with large audiences.
2. Achieve organic results and tools to measure them.
With TikTok's algorithm favoring engaging content, brands have a prime opportunity to amplify their messages organically.
Moreover, TikTok also offers brands analytics tools to track how many people are viewing and/or engaging with their posts. This helps them, in turn, to adjust their content accordingly and focus on what's connecting best with their followers.
3. Fresh new ways for creative expression and connection.
The app's fun and interactive features have allowed users to connect with each other, create content together, and express their creativity in ways never before seen on other platforms.
Subsequently, brands harness this potential as a powerful mechanism to relate with new and existing customers.
With such immense potential, TikTok remains one of the most prominent players in the social media space. That's why, as a digital marketing agency, Propelrr took these cues as a signal of opportunity to help the brands we work with get ahead of the curve.
To that end, we led the charge in launching Palawan Pawnshop – Palawan Express Pera Padala on TikTok and starting campaigns that will anchor its position in the market.
Key takeaways from our TikTok Campaign
Key takeaway #1: Choosing the right influencer for your campaign is crucial.
The Palawan Pawnshop Group maximized influencer marketing to leverage TikTok stars in driving uploads generated for its recent Pala-Paraan Dance Challenge.
But the key driver of success is choosing the right key opinion leaders (KOLs) to create conversations about their brand for them.
In choosing the right influencers or KOLs, there are plenty of factors to consider.
First, it is important to align your brand's values with those of the creators you have in mind. Second, look into the creators' social media pages and ensure they are credible. Lastly, work collaboratively with influencers and allow them to work their magic with you.
Through careful planning of the influencer marketing strategies, Palawan Pawnshop did not just easily achieve over 3.3M hashtag views. It also identified which influencer content performed best – strategies that generated significant results – and established data for use in its next efforts.
Key takeaway #2: Promoting campaigns organically and through paid media can double your reach.
Another touch that contributed to the formula for Pala-Paraan's success was paid advertising efforts. Specifically, efforts that were aimed at promoting the contest and boosting main communication materials.
These efforts were put in place to reach more participants while promoting the main music video that featured the brand's unique value propositions.
Paid ads play an important role in generating more visibility for the campaign, engagement, and in generating clicks. Overall, we amassed a total of 970,747 unique users that contributed over a million impressions and around 4,538 clicks were generated.
In a competitive and saturated market, brands can stand out and connect with more audiences through paid media.
Key takeaway #3: Brands can remain relevant in an entertainment-driven landscape.
In keeping things exciting for the brand's audience, it must continue to provide fun and engaging social media campaigns similar to Palawan Pawnshop's Pala-Paraan Dance Challenge.
While doing this, take note to consider and maximize rising platforms like TikTok. Your brand should always be keeping track of trends and using these to its advantage.
Efforts can include TikTok and its various features including duet/stitch, live streams, Shops, and more. Aside from TikTok, Statusbrew.com notes Twitch as another platform to watch out for.
By opening doors for these, your brand can remain relevant in a competitive and entertainment-driven landscape.
To learn more about our success stories and campaigns, subscribe to the Propelrr newsletter to get updates! If you have any questions or inquiries, just reach out to us or follow us on our socials via Facebook, Twitter, or LinkedIn.
Get direct access to stories about how brands can tap into emerging online marketing technologies and techniques for growth by subscribing to the Propelrr newsletter.
Subscribe Now
Choose topics you want to get regular updates on: